Tigernut horchata, also known as tigernut milk or horchata de chufa, is regaining popularity outside of Spain because of its numerous health benefits. 
As I've been slowly trying to organize old photos on my computer, I found over 60 (Yes, you read that right!) crafts and recipes that I had made and photographed, but that I hadn't gotten around to sharing with you yet!
By now, some of those pictures will never be used because I'm a bit pickier that I used to be about which sorts of photos are decent enough to make it on my blog. In fact, you may have noticed that I've been even going through some old posts and giving them a bit of a facelift! For a good laugh, here are some of my before and after shots!
One of my favorite never-got-posted recipes was for tigernut horchata known in Spain as horchata de chufa (or orxata de xufa in Valencia, the region where it originated), and in the US I've recently been seeing it labeled tigernut milk in the health communities.
Last year, after making and taking pictures, I asked some of my fellow blogger friends if they had any posts about resistant starches or the health benefits of tigernuts so that I could link to them in my recipe post. When nobody answered, I guess I just put off posting the recipe, and once winter hit I stored it away for the summer.
You see, while you can enjoy tigernut horchata and its health benefits year round, here in Spain it is really mostly a summer beverage that is served very cold or even as a slushy. Supermarkets sell the bottled stuff year round, but the homemade artisan beverage is only available at certain ice cream parlors during the warm months. While tigernut horchata has always been popular in Spain, tigernuts had lost popularity in the US over the last decades.
Why are tigernuts regaining popularity outside of Spain?
Apart from the fact that tigernut horchata is a gluten and nut free alternative to milk, tigernuts in general have hit the news after a Spanish study showed them to have high levels of resistant starches, which are thought to have numerous health benefits. Not only do they fill you up, meaning you will likely take in less calories after consuming them, but they are also prebiotic meaning they help your body be able to more easily grow helpful probiotic bacteria, and they lower your LDL (sometimes known as the "bad" cholesterol) levels.
Apart from resistant starches, tigernuts are also high in antioxidants, vitamins C and E, and minerals such as iron, potassium, and magnesium. While they are called tigernuts, they aren't nuts at all, but are actually the tubers of a type of grass-like plant. In fact, you can plant some of your tubers and grow some tigernut grass of your own! I just started a batch now and will try to show it to you when they start growing. 🙂
What is Horchata?
As I was saying, the Spanish horchata de chufa originated in my part of Spain, the Valencian region. It is basically a sweetened tigernut milk that is served cold during the summer. While it originated here in Spain with the tigernut, other countries have made their own versions using rice, almonds, or other seeds or nuts. Apart from being my favorite, the version with tigernuts is arguably the healthiest of them all.
Did I convince you you need to try this?
Good!
Let's make some tigernut horchata!
Ingredients
1

cup

tigernuts

rehydrated

2

cups

water

cold

2

Tbsp.

maple syrup
Instructions
To rehydrate the tigernuts, let them soak for a minimum of 12 hours in enough water to more than completely cover them. If you are able to, change the water several times throughout the process to get rid of any impurities.

Once rehydrated, they should plump up and their volume will grow slightly. So, if you only want to make 2 cups of tigernut horchata, you can begin with just under 1 cup of dried tigernuts.

Using an immersion blender, begin to blend the tigenuts with half of the water until they have formed a white paste.

Strain the liquid through a strainer into another container and add the tigernut paste back into your blending container.

Add in the rest of the water and continue to blend for another minute or so.

Strain the liquid out once more, this time pressing hard against it with a spoon (Or squeezing it through a cloth) to try to get out any remaining liquid.

The liquid that you have strained from the tigernuts is the tigernut horchata or tigernut milk. You can now sweeten it to taste with some maple syrup, and can optionally add in some ice.

After adding in the maple syrup (and ice), blend it some more to mix in the syrup well and to make a sort of slush if desired.

Serve immediately. Homemade tigernut horchata will tend to separate and doesn't keep fresh for very long. In ice cream parlors it is kept fresh in special machines that keep it cold while constantly stirring it. Store bought versions have added preservatives.
Notes
The traditional tigernut horchata recipe calls for 250 g tigernuts, 1 liter of cold water, and 125 g. of sugar. I have adapted the recipe to make it paleo and lower the sugar content a bit.
While the homemade tigernut horchata doesn't keep for very long, you can keep rehydrated tigernuts for at least a couple of days in the fridge, that way you have them on hand for making horchata at the last minute.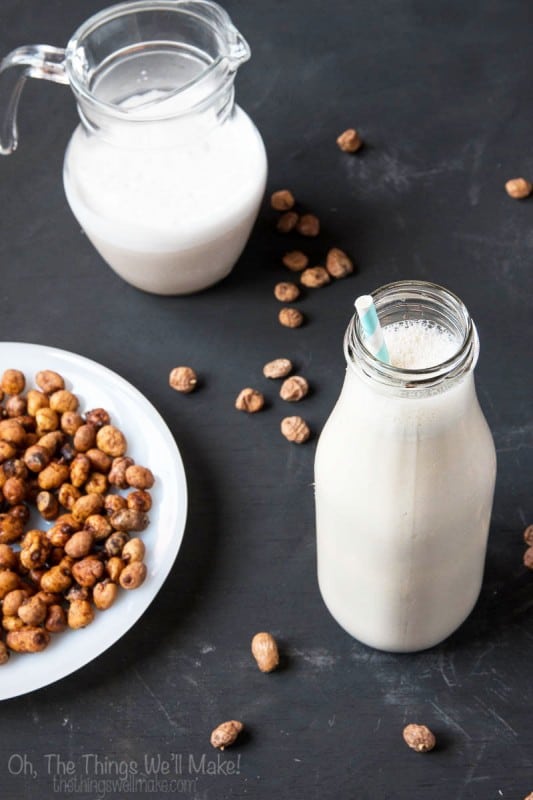 What should you do with the leftover tigernut pulp?
Make tigernut flour, of course!
While most people throw it out, I like to dehydrate it and then finely grind it into tigernut flour.
It's simple to do. Just dry out the pulp in a dehydrator or in your oven, like I do. Once it is completely dry, use a coffee grinder or a heavy duty food processor to grind it into a fine, high fiber flour.
I've thrown it into cookies and other things I have made at home. Perhaps I should come up with a recipe or two for you to use yours!