Define your curls and waves naturally with this easy homemade hair gel that can be made with or without aloe vera. It's the perfect simple hair gel for when you are on the go.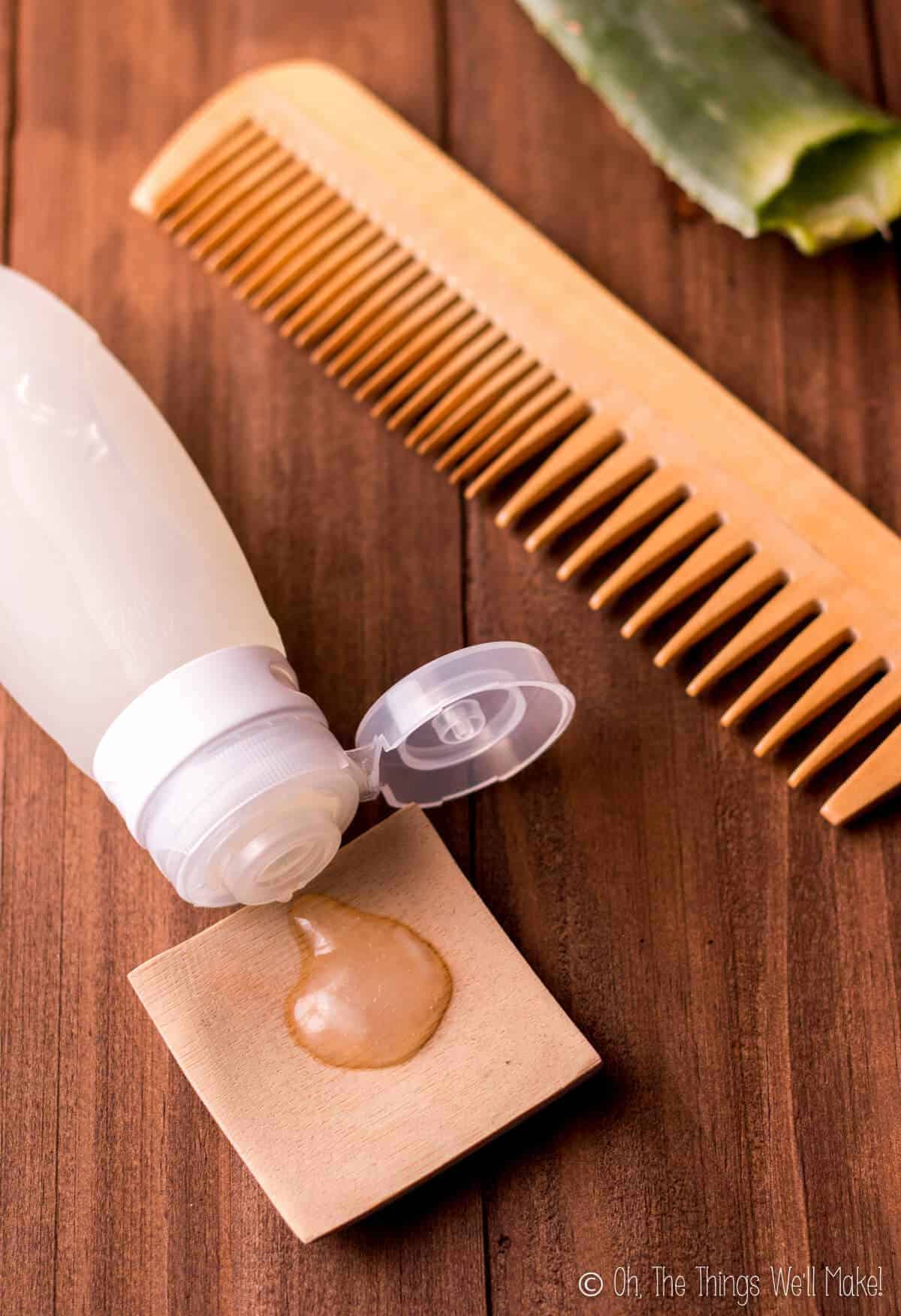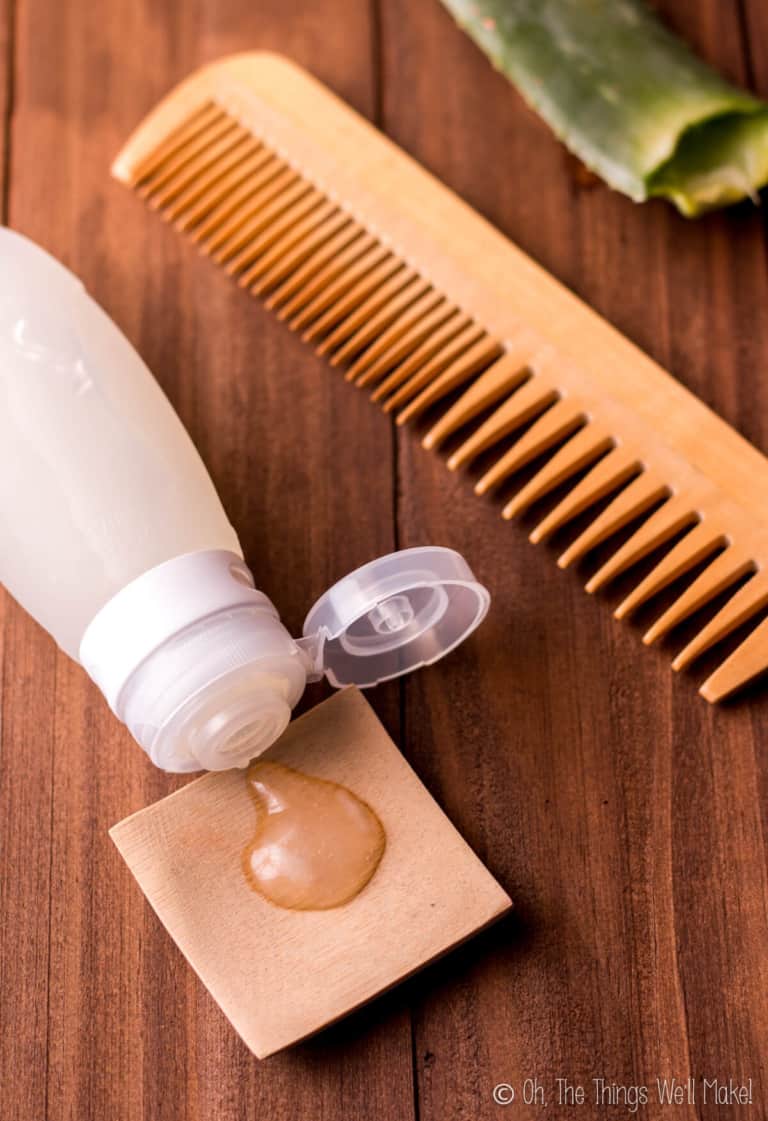 A couple of years ago I showed you how to make a homemade hair gel using flaxseeds. I love how natural that homemade hair gel is. It leaves my hair with defined curls while feeling soft to the touch.
I had previously been drying my hair straight and decided that I wanted to allow it to air dry and be its naturally wavy self. (With the help of my homemade conditioner, my hair was healthy enough to finally be able to do that!) Using a homemade hair gel allows you to define your waves and curls so that your hair looks its best.
With as much as I love making and using the flaxseed hair gel (that is a quick and easy recipe), it isn't always the most convenient option. Not only do you need to cook the flaxseeds with water over the stove and strain the mixture, but most people store it in the fridge and make a new batch each week. (I have since updated the post with tips for preserving it, though.)
Making a homemade aloe gel
I accidentally stumbled on this homemade hair gel when trying to make myself a non-sticky, homemade aloe gel to soothe our skin after being out in the sun.
With some recently bought aloe vera juice in my fridge, I decided to try thickening it into a gel with some xanthan gum.
At first glance, the homemade aloe gel was great. It didn't feel slimy like a homemade aloe gel made from blending up the pulp of aloe vera leaves. Plus, it had a consistency similar to store-bought aloe gels, but there was a problem with it.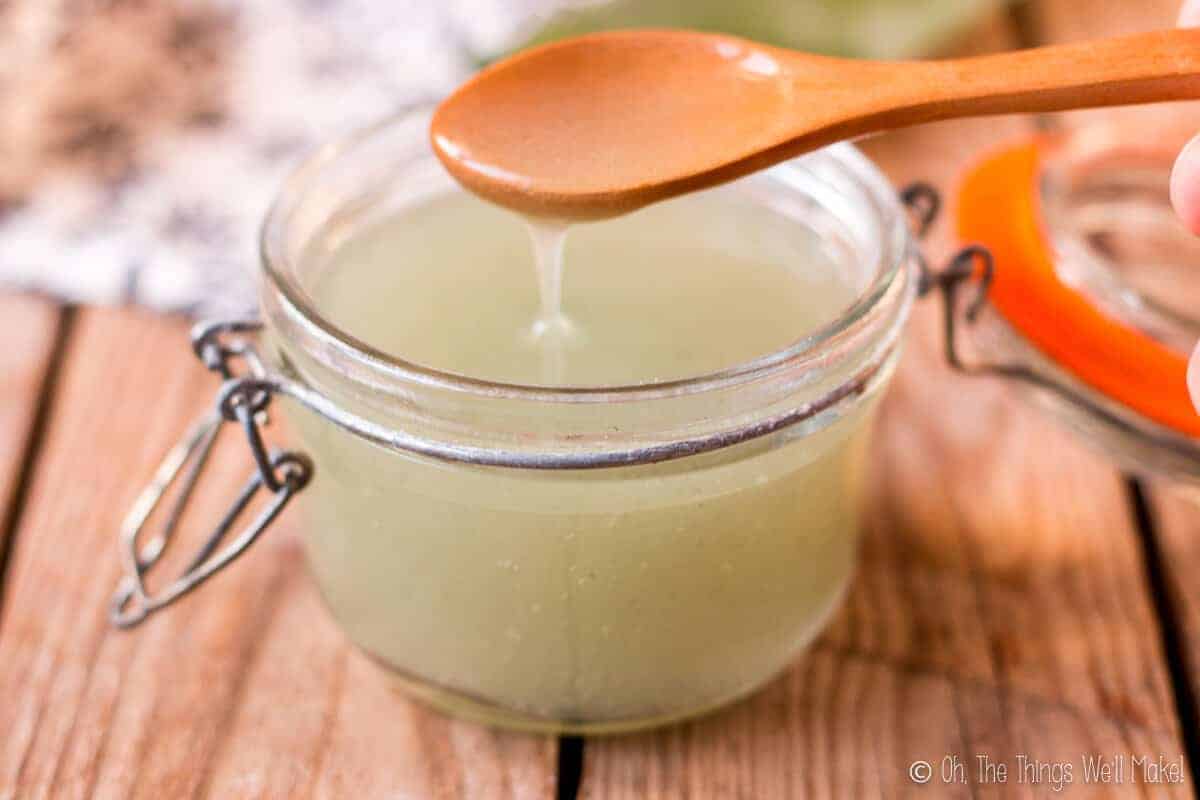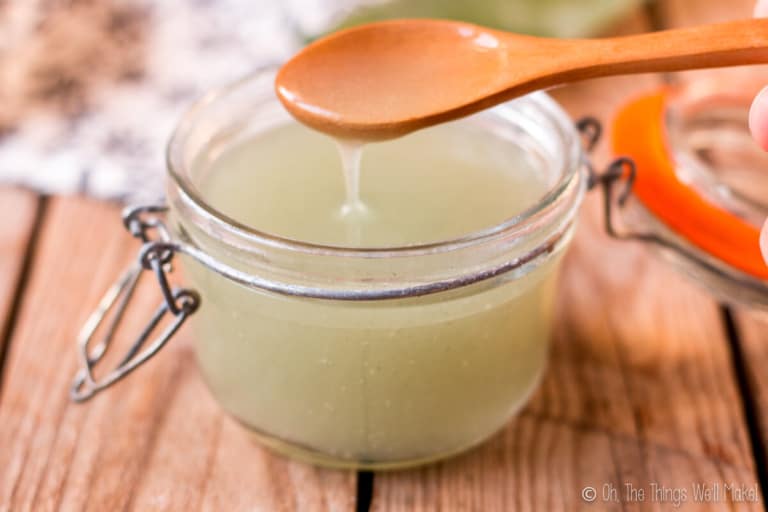 While the aloe gel made with xanthan gum doesn't feel sticky, it does feel slightly weird on your skin. When you allow it to dry, it leaves a bit of a skin that feels tight and then cracks. Once cracked, it isn't really noticeable anymore. (I've since found that one of the more natural brands of aloe gel that my husband bought also leaves the same sort of feeling on your skin as it dries.)
I wasn't really impressed with it for use on skin but instead found a new use for it. The homemade aloe gel gave the same sort of sensation on my skin that my homemade flaxseed hair gel left on my hair, so I figured it might make a perfect hair gel. The hair gel dries stiff, which helps define your curls. When you scrunch your hair and "crack" it, it feels soft and clean, while keeping its shape.
Ingredients
Just like the other gel, this simple recipe uses only two main ingredients. It can be made with water (preferably distilled water or pre-boiled water) or aloe juice (or even a floral water or hydrosol). To thicken the liquid, you'll need xanthan gum (or a similar gum powder).
If you don't want to have to store it in the fridge and make a new batch every week, you can also use a preservative. The preservative will allow you to store the gel at room temperature and keep it for around 3 months.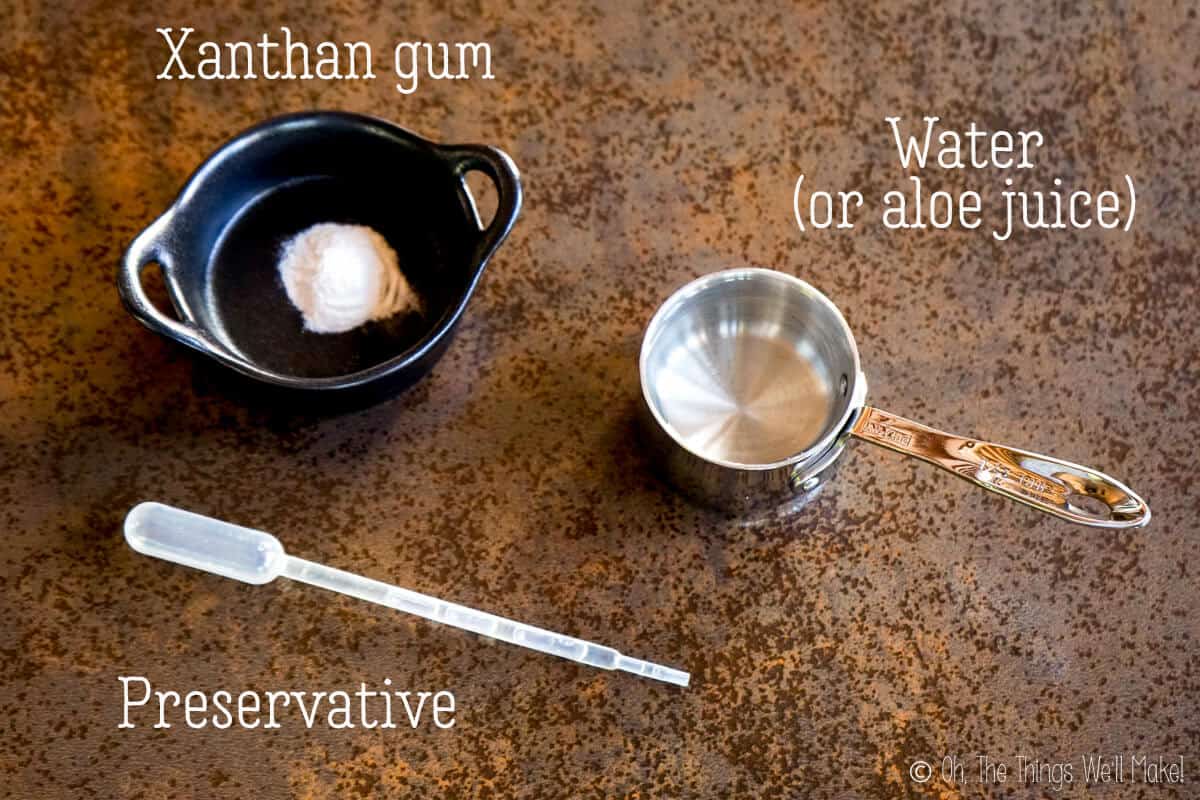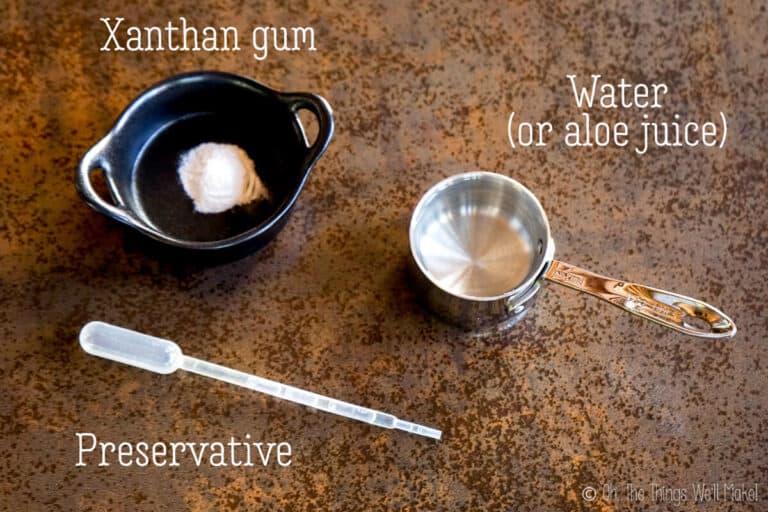 What is xanthan gum?
Xanthan gum is a thickener and stabilizing agent that is used in foods, cosmetics, and industrial products. It is made by fermenting glucose with a bacteria, Xanthomonas campestris. It is solidified when reacted with alcohol, and then the solid precipitate is dried and ground into a powder.
The powder is often used in cosmetics in the same way that gelatin is used to thicken certain foods.
While I make this with xanthan gum, you could also probably make a decent hair gel using guar gum or one of the other gums.
Why make this?
Making your own hair gels is an easy, frugal way to style your hair. Because you can reuse the packaging, it's also a sustainable option.
When I first posted my flaxseed hair gel recipe, a lot of people told me that they loved it, but that they found it inconvenient to make, especially when traveling. They wanted to know if I could suggest something that could be made on the go.
While a pre-made and preserved flaxseed hair gel should keep for the length of most travel stays, some people prefer to not travel with liquids and gels.
Xanthan gum is a powder that you can easily take with you and mix with water as needed once you've reached your destination. Since you don't need a stove or a strainer, like you do when making flaxseed gel, the process of making the gel away from home is simplified.
How to make it
Making this gel is very simple. Basically, all you need to do is combine the xanthan gum with the water or aloe juice. While this sounds easy enough, xanthan gum can be a bit tricky to blend with liquids without clumping.
Tricks for blending xanthan gum with liquids
While you don't need a stove to make this gel, I will admit that it can be tricky to mix xanthan gum with water without it clumping. Xanthan gum is so good as a thickening agent that it starts thickening before it gets well dispersed throughout the liquid, making thick, hard clumps within your gel.
Use a blender
To avoid getting a clumpy mixture, the ideal way of mixing xanthan gum into water or aloe juice is to pour the powder right into the whirl cause by an immersion blender as you blend and pour simultaneously. Of course, if you're traveling, it isn't likely that you have an immersion blender on hand. I have a tiny, inexpensive milk frother that I like to use for this sort of thing, but most people don't take something like that along with them on their trips either.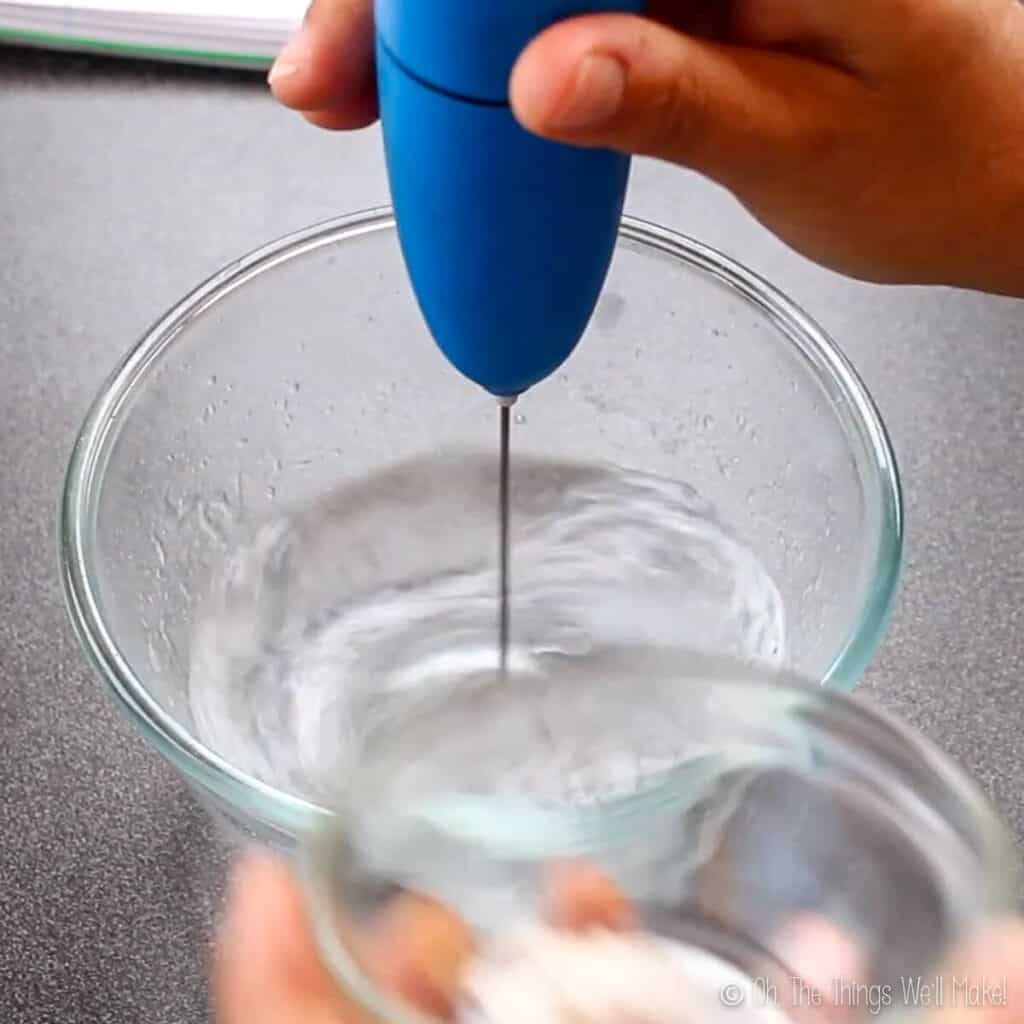 Mix little by little
Another way to help blend the xanthan gum with the liquids is to divide the liquid in half, and slowly add the powder to half of the liquid while stirring constantly. Then, more liquid can be added as needed until all of the water or juice has been used. I've found that any clumps that do remain will eventually hydrate enough so that stirring later on will break up the clumps. If you do end up with little clumps in your gel, just allow the gel to rest for a couple of hours before stirring again.
Using heat
If you have access to a stove, using a double boiler to help slightly heat the mixture while stirring also helps prevent clumping. You can also heat up the liquid before adding the xanthan gum powder to help disperse it more easily.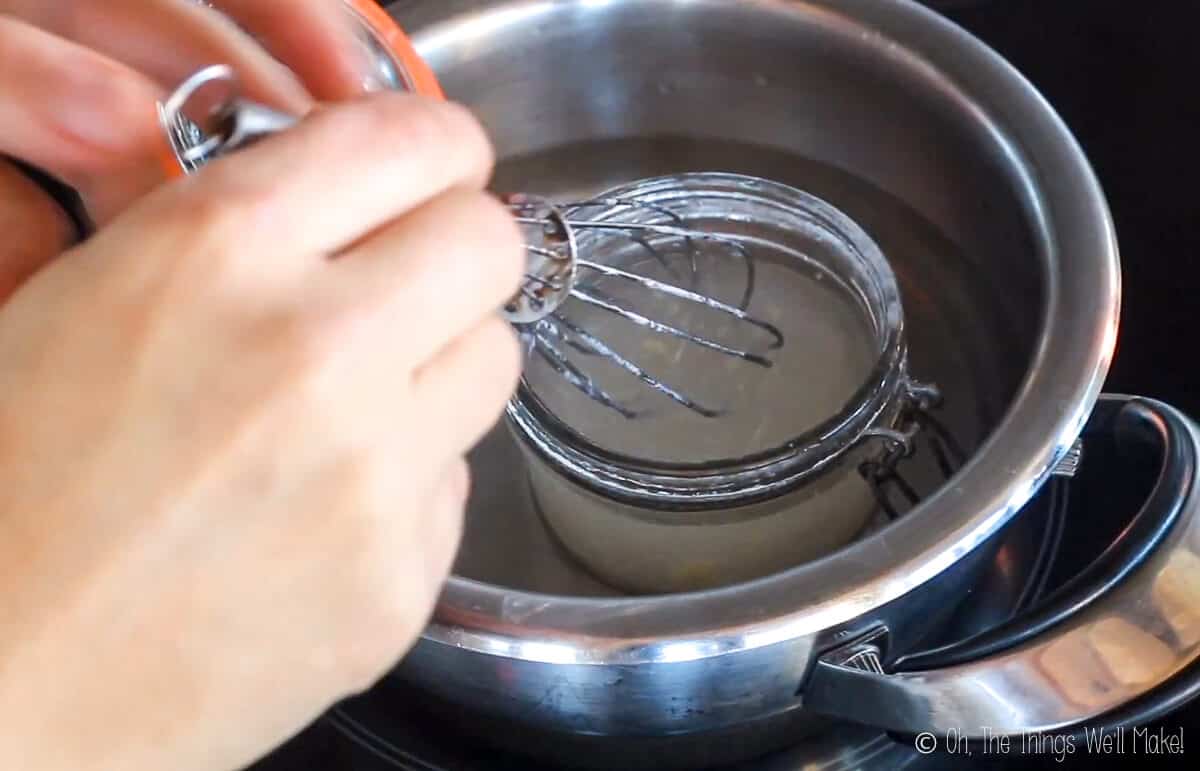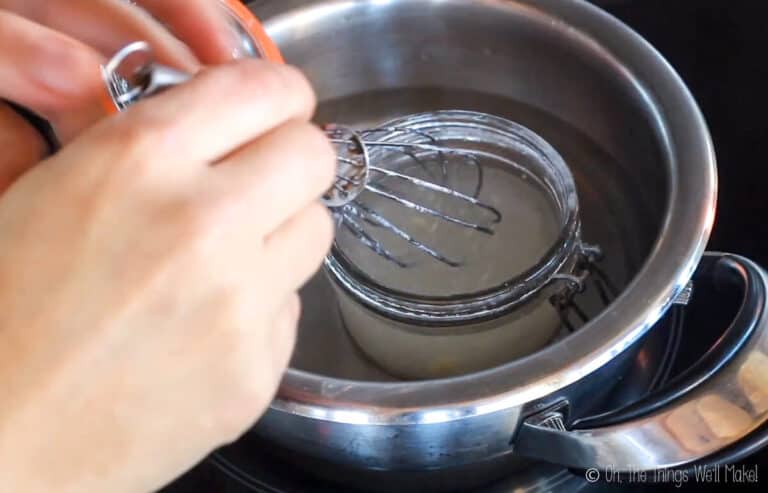 Using Glycerin
Another way to easily disperse xanthan gum in a liquid is to first combine it with glycerin. Glycerin is a humectant that can help draw moisture into your hair, so it's not a bad addition to a homemade hair gel anyway.
To use glycerin, add a small amount to a bowl. (I suggest using a maximum of 5% of the recipe, by weight, so that it doesn't feel too sticky. So, for every 100g of gel, you could use up to 5g of glycerin.) Add the xanthan gum powder, and mix it into the glycerin. Once the mixture is smooth, you can slowly add in the liquids.
Preserving this homemade hair gel
If you want to preserve the gel, there are a few things to keep in mind.
Choose a water-soluble preservative.
You should test the pH of your hair gel to ensure that it falls into a range in which your preservative is effectives. The gel will likely have a pH around 7.
If you want to adjust the pH down slightly, which would bring it into a better pH for your hair and for most preservatives, you can use a couple of drops of lactic acid or a citric acid solution.
Make sure to use the right dosage for your particular preservative. Most natural preservatives have a recommended dosage of 1% by weight. That means that for every 99g of gel, you'd add 1g of preservative. (Some, like Leucidal, need a higher dose to be effective.)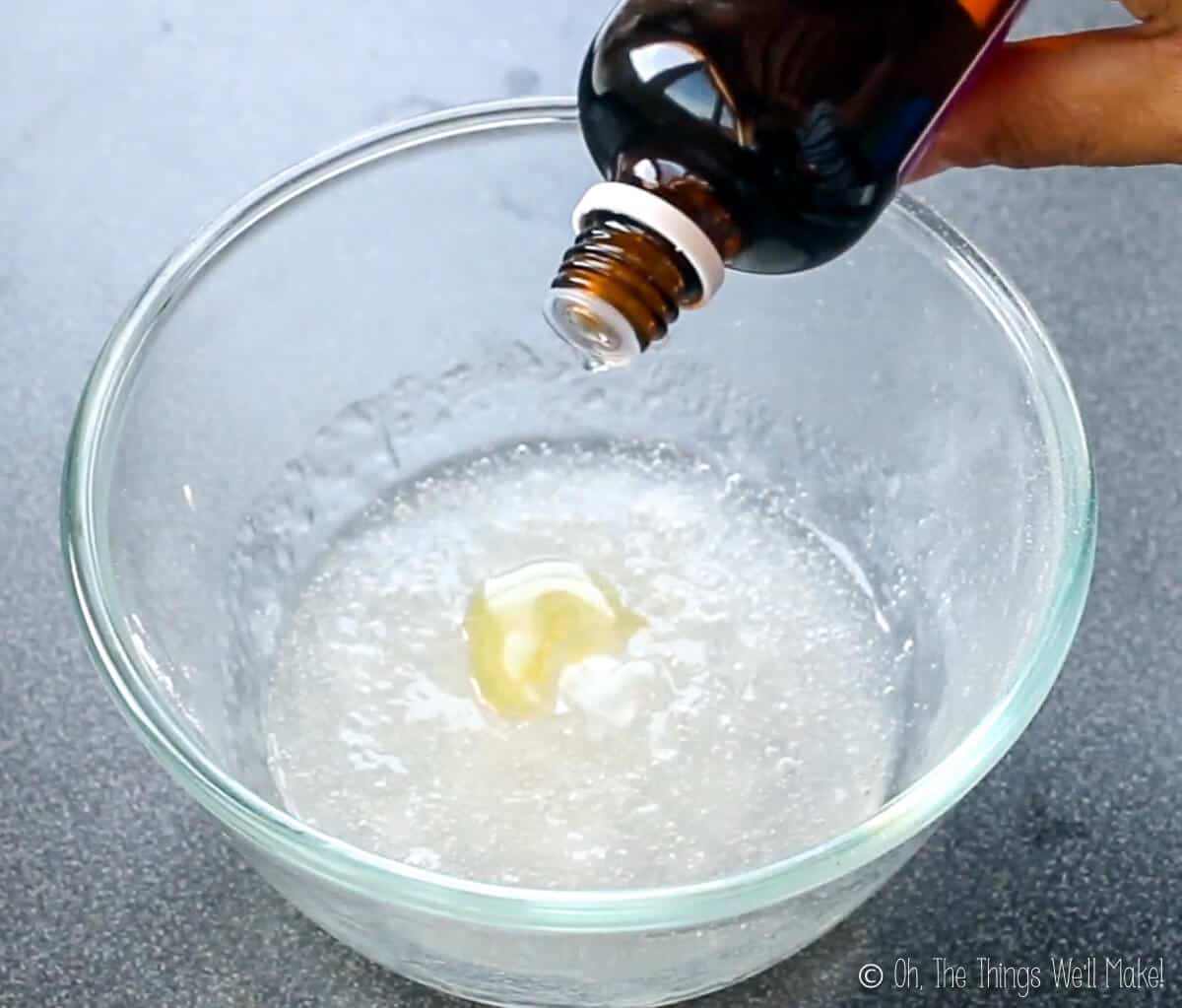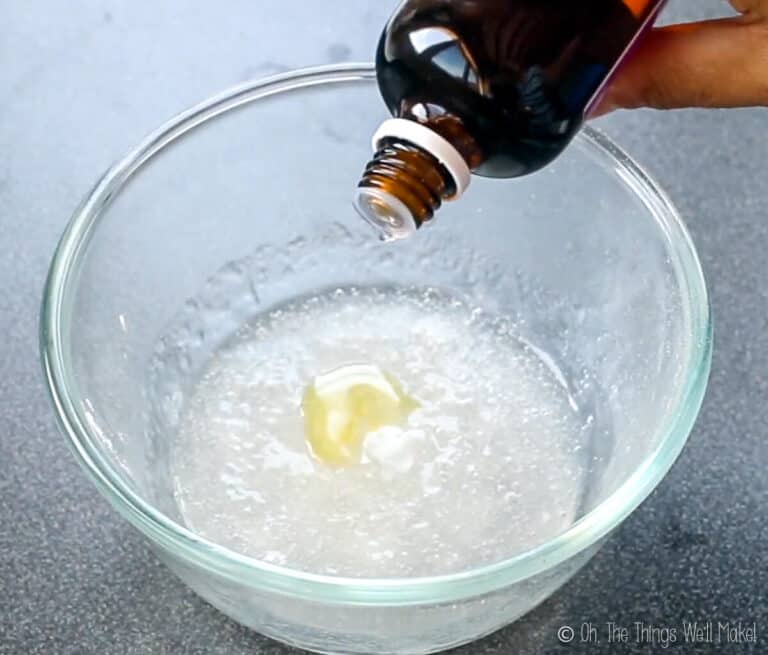 For more information about natural preservatives, check out my beginner's guide to natural preservatives.
While I chose to use volume measurements for this recipe to make it easier for those who are just starting out on making their own homemade products, you really should weigh out the product if you want to properly preserve it.
For those who will be making their own soaps and other cosmetics, having at least one scale is essential. You can buy an inexpensive kitchen scale for under $20. A kitchen scale is great for recipes where you don't need to be super precise. It will give you a reading to the nearest gram.
More precise measurements may be needed for making smaller batches. (For example, when measuring out preservatives or when making a homemade serum.) I use an inexpensive jeweler's scale for those times.
Optional ingredients
Apart from the xanthan gum and liquid, you can add a fragrance to your gel with essential oils. A good dosage rate is around 1% of the finished product by weight. (1 g of essential oil for every 100g of gel)
You may also consider adding vitamins and/or other beneficial additives to your gel. I like to add d-panthenol to most of my hair and skin products at around 2% of the recipe. I also occasionally add some proteins like hydrolized wheat protein. (Also around 2%)
Packaging
While I have shown the gel in glass jars, I usually package my homemade hair gels in silicone travel tubes. The advantage of using travel tubes is that you can dispense the gel easily without contaminating the rest of the gel with your hands.
Video
Easy Homemade Hair Gel
Looking to make more?
Subscribe to my newsletter for the latest projects (and recipes)!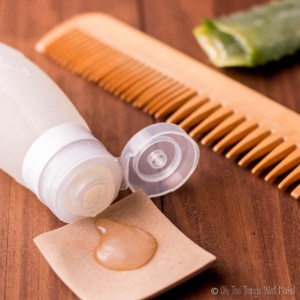 Easy Homemade Hair Gel (With or Without Aloe Vera)
This easy homemade hair gel can be made with or without aloe vera, and is the perfect natural hair gel for when you are on the go. It can be preserved with natural preservatives for up to 3 months.
Print
Pin
Rate
Materials
1/4

tsp.

xanthan gum

(1g)

1/3

cup

aloe juice

or distilled water (80g)

.8

g

natural preservative

Follow the dosage for your preservative!

essential oils

optional, for scent
Instructions
Mix together the xanthan gum with the aloe juice or distlled water. This is easiest when using an immersion blender. For best results, blend the water and then slowly add the powder to the whirl created by the blender.

If you plan on keeping the gel for more than a few days, add a preservative following the recommended dosage for the preservative chosen.

To add a fragrance, and possible other beneficial properties, optionally add in essential oils (Around 1% of the recipe by weight). Lavender and rosemary are great oils for your hair and smell great in a homemade hair gel.

If you end up with small clumps of xanthin gum in the gel, heating up the mixture can help dissolve them. You can also leave the gel to rest for several hours so that the clumps are better hydrated. After several hours, you can blend the mixture again and the clumps should disappear.

Pour the gel into storage containers. I prefer silicone travel tubes because it's easy to dispense the gel without contaminating it with bacteria from your fingers. They also travel well without spilling or leaking.

You can use the gel on both wet or dry hair. I usually use it right after having towel dried my hair. I find that it defines my curls well as my hair dries. You can also apply it to frizzy hair or dry hair when you want to smooth it or define your curls. I often wet my hands and dampen my hair slightly with my wet hands before working the gel in so that I can distribute the gel more easily.
Notes
If using Leucidal as your presevative, the dosage will need to be increased to around 2.5g.
This post was originally published on June 24, 2017. It was rewritten in April of 2021, adding new photos and more information.