As you may have noticed, I've been making good use of all of those pumpkins that I've been pureeing. I am starting to freeze some of it for use throughout the year, but have also been making a lot of pumpkin based recipes.
Today, though, I'm not going to show you something fancy.
Actually, it does look fancy, but it's really very simple and easy to whip up.
Most people think of parfaits as being a dessert, but I've been eating it for breakfast several times a week lately. 😉
This is so simple, I'm almost embarrassed to call it a recipe, but I do think it is something that you should try if you like both yogurt and pumpkin.
So, let's make a spiced pumpkin yogurt parfait!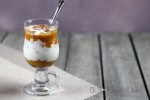 Spiced Pumpkin Yogurt Parfait
Ingredients
1

cup

pumpkin puree

depending on the size of your parfait glass- I make my own.

1

cup

yogurt

(Greek yogurt works especially well here)

toasted pecans or granola

3/4

tsp.

pumpkin spice

(Or a combination of cinnamon, nutmeg, ginger and cloves)

honey

Optional- to taste
Instructions
Mix the pumpkin with the pumpkin spices and honey to taste. I find pumpkin puree sweet enough on its own for me, but most people will probably want to sweeten it a little.

Toast the pecans, and put a small layer of pecans (or granola) in the bottom of the glass you plan on using for your parfait.

Fill the parfait glass a little under a fourth of the way up with (around half of) the pumpkin puree mixture.

Layer with the yogurt, followed by a thin layer of pecans or granola, followed by the rest of the pumpkin puree.

Add a dollop of yogurt on top, and garnish with more pecans or granola.

Enjoy!
This post is also available in Español.