Simple to make and great for gifting, this easy spiced pumpkin butter is perfect for spreading on cookies, bread, or even for dipping fruit.
As you may have noticed, lately I've been making a lot of recipes with my homemade pumpkin puree. With all of the fresh butternut squashes and pumpkins around, I find myself always having some fresh pumpkin puree in my fridge, and looking for new ways to use it.
One of the most recent additions to my pumpkin repertoire is pumpkin butter.
I have always loved apple butter, and growing up it was the only fruit spread that I ever really ever used. We bought it locally made, and it was incredible. Jams and jellies never really appealed to me. Jam tends to be too sweet for my taste, and jellies even more so. Fruit butters, though, are a whole, different game. They are thick, smooth and creamy, and I love the texture. They also tend to be less sweet, which I love.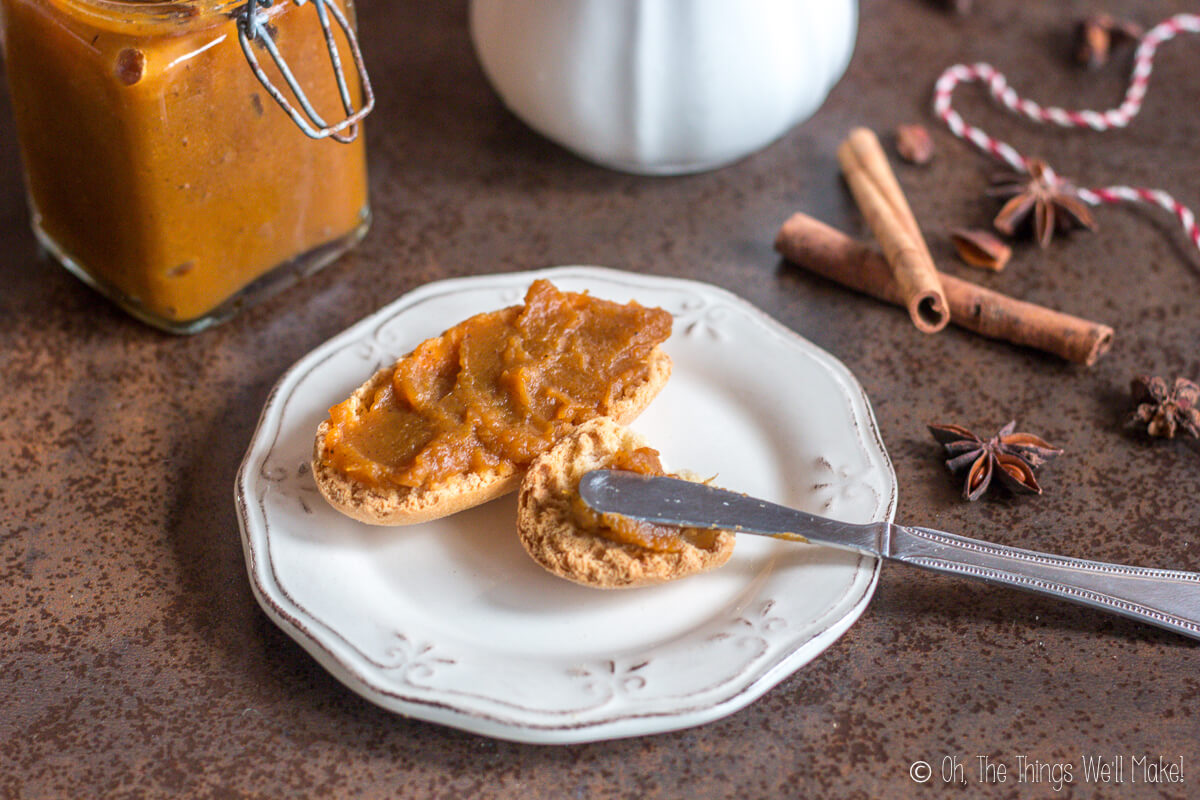 Apple butter is not something that I can find around here, so I have been making my own in my slow cooker (You can now find my apple butter recipe here). Now, though, 'tis the season of pumpkins, so I'll show you how I made my spiced pumpkin butter.
Spiced pumpkin butter is quite simple to make, and is easier and quicker than apple butter, assuming you have your pumpkin puree ready before you begin.
So, let's make some Spiced Pumpkin Butter!
Watch how to make pumpkin butter
Making substitutions
I've always made this using a homemade pumpkin puree. It's very easy to make and is as simple as roasting a pumpkin or butternut squash in the oven. (You can also choose to boil it instead.) While that's the general gist of it, I have more tips and tricks in my post. That said, I do know of people who use canned pumpkin puree to make pumpkin butter. I can't imagine it will turn out the same, but you can try it in a pinch.
For sweetening this recipe, I've used coconut sugar, organic demerara sugar, and maple syrup. They've all made a lovely pumpkin butter. You can increase or reduce the amount of sweetener to suit your taste, but keep in mind that the more sugar you add, the longer the pumpkin butter will keep.
As for the spice blend, this is also something you can customize to suit your taste. I like using mixes of various spices such as cinnamon, ginger, nutmeg, and cloves. Feel free to adjust the spices chosen and the amounts used.
Storing your homemade pumpkin butter
Once your pumpkin butter has cooled, you should store it in a lidded jar in the fridge. It should keep there well for aorund 2 weeks, depending upon the amount of sweetener you add and how fresh your pumpkin puree is to begin with.
Some people have asked me if it is OK to can pumpkin butter, but I've since read that you shouldn't try to can pumpkin or squash purees. You can find more information about why you shouldn't can pumpkin butter here.
Instead, I like to freeze leftover pumpkin butter. It stores very well in the freezer, for up to a year, and I usually use these perfectly cube ice cube trays so that I don't waste any space in the freezer. (You can see my method in my post about storing fruit purees in the freezer.)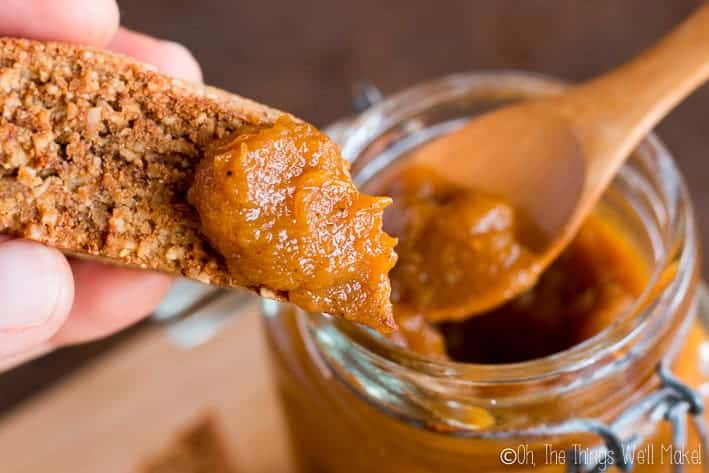 Easy Spiced Pumpkin Butter Recipe
Craving more?
Subscribe to my newsletter for the latest recipes and tutorials!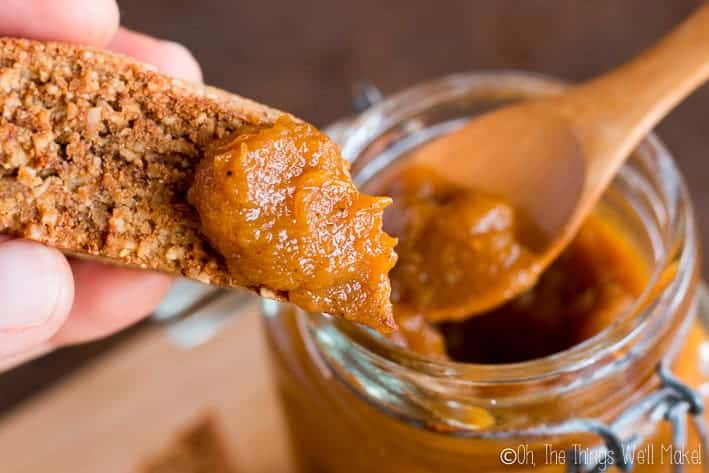 Easy Spiced pumpkin butter
Simple to make and great for gifting, this easy spiced pumpkin butter is perfect for spreading on cookies, bread, or even for dipping fruit.
Print
Pin
Rate
Instructions
Mix together the pumpkin purée, spices, and sugar, along with the juice from the ½ lemon in a pan over low heat.

Blend until smooth with a handheld blender.

Let simmer for around 20 minutes, stirring occasionally to prevent it from burning. The amount of time that you need to cook the pumpkin butter will be dependent upon the water content of type of pumpkin puree you are using and the desired thickness.

Once the mixture has reduced and thickened, remove it from the heat. It should continue to thicken slightly as it cools.

Allow it cool, and store in a jar in the fridge.

Enjoy!
Serving:
1
Tbsp.
|
Calories:
11
kcal
|
Carbohydrates:
2
g
|
Sodium:
4
mg
|
Potassium:
33
mg
|
Sugar:
1
g
|
Vitamin A:
2435
IU
|
Vitamin C:
1.2
mg
|
Calcium:
5
mg
|
Iron:
0.2
mg