Quick, simple, yet elegant, these cheese and walnut stuffed dates are the perfect addition to your holiday appetizer lineup.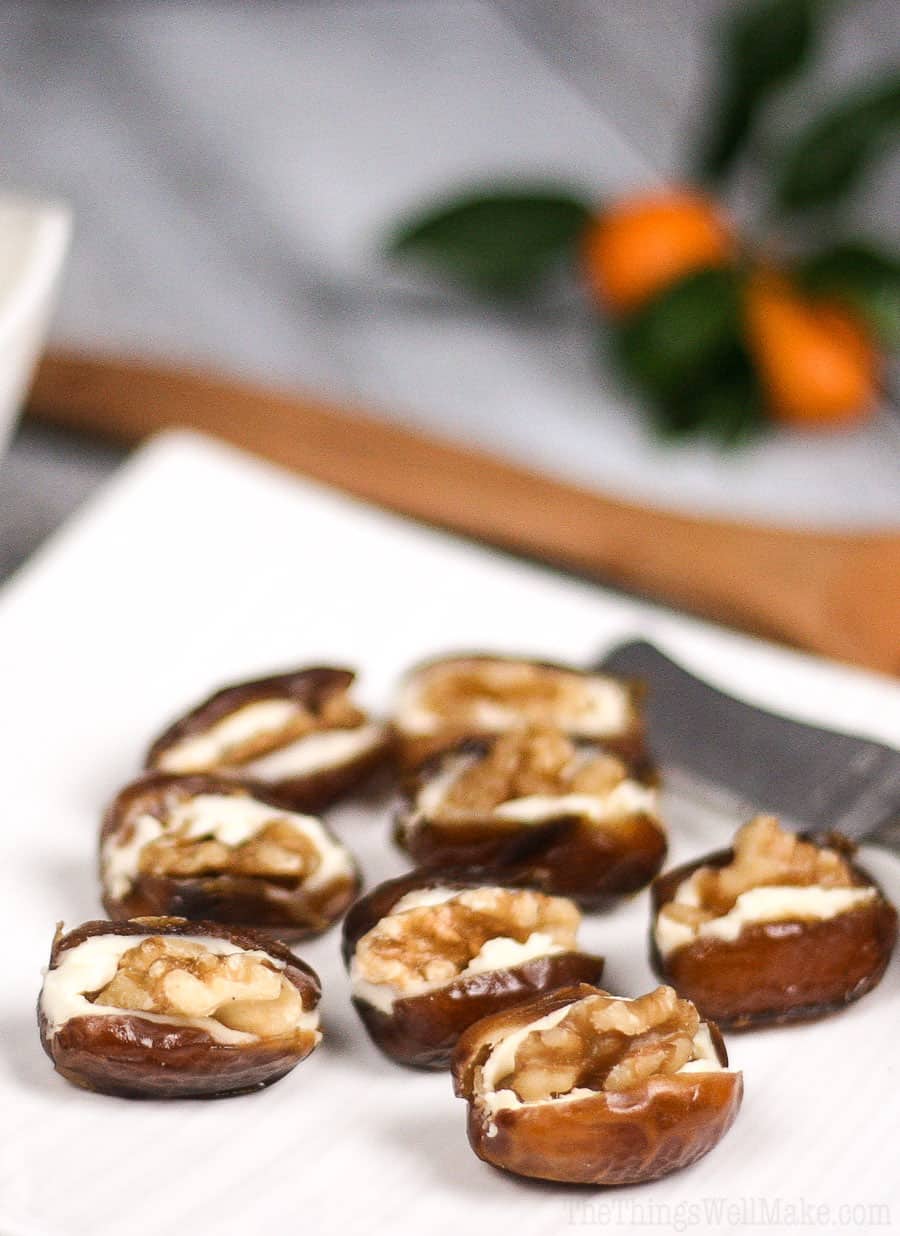 Looking for something simple, yet elegant that you can whip up at the last minute and still impress your guests?
Aren't we all?
Today I'm going to help you out with a great holiday appetizer that seriously is all of that. I have served them many times by now when I have guests to dinner, and usually get lots of complements.
Basically, all you have to do is spread some cream cheese in a pitted date, press a walnut half into the cheese, and set the finished appetizer on the plate. It doesn't get much quicker or easier than that!
I would like to mention one thing. This is one of those cases that I really prefer to use organic dates if I can find them. Here in Spain a plague of the red palm weevil is killing off many different types of palm trees, especially the date palm and Canary Island date palm. To try to save the trees, they are constantly being sprayed with high doses of pesticides. We actually had two Canary Island date palms and lost them both to the beetles. As sad as I was to lose my only palm trees, I was relieved to not have them because by law we had to keep spraying them while they were in our garden. I no longer have to use any sort of pesticides or chemical fertilizers in my garden.
The red palm weevil is highly invasive and affects the date palms of many regions now. I can only imagine that most date trees, at least in my area, are highly sprayed as a result. That's why I prefer to use organic dates if I can find them, just to be safe.
Customizing the stuffed dates with other cheeses and nuts
Another thing that I love about this appetizer is that it is very easy to customize to suit your taste and the taste of your guests.
Which cream cheese should you use?
Before making these, I wasn't aware of how many types of cream cheese are available for sale. You can use any type of cream cheese that you like for your stuffed dates. I have used the most common types of cream cheese, goat milk cream cheese, blue cheese cream cheese, and mascarpone. They all work perfectly, each giving the stuffed dates a new twist.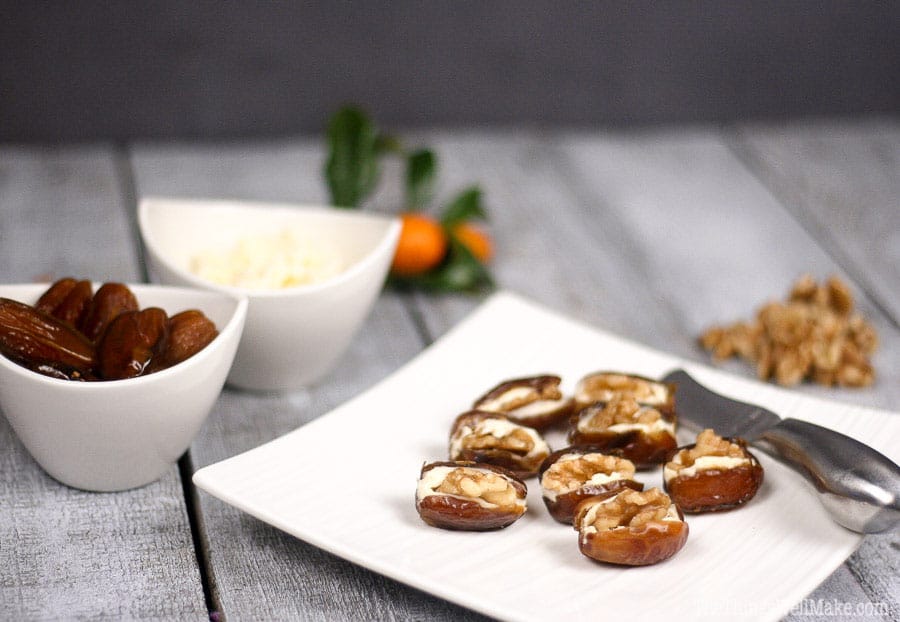 Which nuts should you stuff the dates with?
I used walnuts because that's what's commonly found here in Spain. I have to admit, though, that I'd probably enjoy them even more with pecans. Up until recently, it was impossible for me to find pecans here. Now that I have found one place that sells them, I may have to use them for the stuffed dates I make this Christmas Eve.
Experiment away and show off this tasty new appetizer when your guests come to dinner. It's perfect for the holidays, and couldn't be easier to make! I'd love to hear what combinations you try, and which you find the best.
Center Pinterest Embeds
This post is also available in Español.