Lately I have been having a lot of fun making up new holiday soap recipes.
Christmas is the perfect time for making up a holiday soap because soap makes such a practical DIY gift. People are so impressed when you tell them you made the soap yourself. If they only knew how easy it was!
This year I decided to stick with something simple, and basically just added a few new ingredients to my Easy Beginner Soap, turning it into an ultra easy gingerbread soap.
My idea was to have something festive that anybody could easily make. Plus, I wanted to concentrate on the new ideas for presenting my soap. My thought was to make little gingerbread men, and maybe even make little gingerbread soap on a rope. In the end, I decided to leave that idea for another day.
At first my easy soap wasn't as easy as I thought, though. The first time I made this recipe, I decided to add my molasses into my lye solution. Not only did the solution get mildly explosive (Good thing I mixed it in a large container and didn't get any spillage), but the end soap just wasn't coming to trace very quickly, and my final product just wasn't as hard as I would have liked. In the end, it did harden up. It just took longer than most of my soaps usually do. I was afraid that the whole process might freak out a beginning soap maker, though.
I was pretty sure that the recipe was sound, and that it would work out much better by adding in the molasses during trace, but there was no way I was going to post it here without actually making it successfully myself. I find it very frustrating that some people do that. Rest assured that I will never post anything that I haven't successfully made myself nor will I post things that I don't like!
So, I decided to try again. This time, I used a very old jar of molasses that had crystalized because I didn't want it going to waste. It was an old jar that I found hidden away in my garage because I had bought it for using to make compost tea. I thought that during mixing the crystals would dissolve, and they did seem to. While setting, though, the crystals of the molasses separated out and came to the surface of the soap. It didn't ruin the soap, but it wasn't attractive either. Sigh.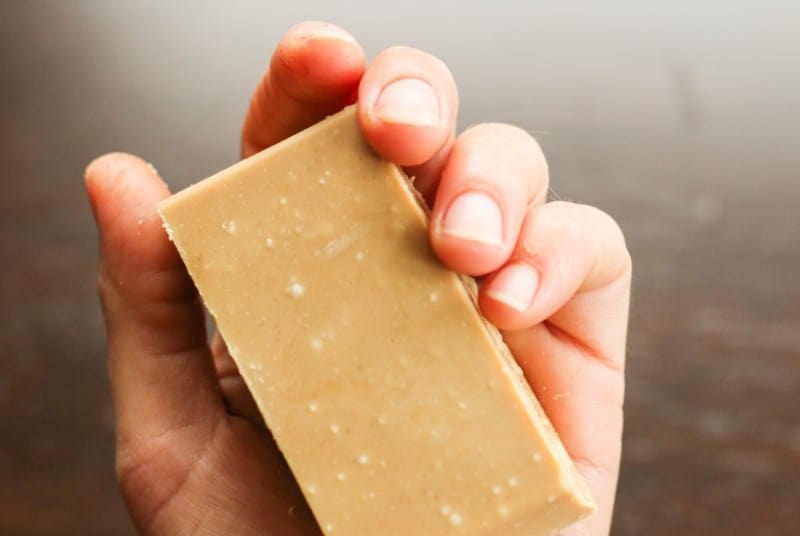 So, I made the recipe again, adding fresh molasses to the mix, at trace. Third time's the charm, I guess!
Molasses is a great addition to soap. It's one of the main ingredients that gives gingerbread it's characteristic taste and color, so it makes sense to add it in. Not only does it help make the soap a beautiful gingerbread color naturally, but it also adds in some minerals that are nourishing to your skin. Plus, the sugar in it helps make more lather.
So, are you ready to make some gingerbread soap yourself?
Ingredients
500

g

olive oil

100

g

coconut oil

80

g

lye

150

ml

water or tea

I made a chai tea for my liquid component

1/4

cup

molasses

essential oils

(I used ginger, cinnamon, and clove)

1

Tbsp.

vanilla extract

optional (see notes below)
Instructions
Make your lye solution by pouring the lye into the chai tea or water (your choice) and stirring until the lye is dissolved. The solution will get very hot and will slowly cool down. It's a good idea to do this step outside or in a well ventilated area, and avoid inhaling the fumes. As always, add your lye to your water and not the other way around! Be very careful when working with lye and the lye solution. Wear gloves and protective goggles!

Let the solution cool down in an area where it won't be touched or knocked over by other people or pets. Meanwhile, mix together your olive and coconut oils, and measure out your molasses. I personally don't heat my oils. If making this soap in the winter when coconut oil is solid due to the colder temperatures, you can either melt it first, or just blend it into the olive oil with an immersion blender. The remaining heat from the lye solution will also slightly warm up the oils. You can also now take the time to prepare your molds by oiling them down. I use silicone molds and plastic containers for my soap molds.

When the lye solution has cleared up and isn't too hot to work with anymore, you can pour the lye mixture into the oil mixture and carefully stir them together. Once you have incorporated the lye solution into the oils you can begin to mix them together with a hand blender.

When you start to reach trace, the point in the soap making process in which your mixture begins to look like mayonnaise in texture, you'll want to add in your molasses and essential oils. You can also add in vanilla extract, which will help darken the soap a little more and will add a bit of vanilla scent, at least for awhile. Most soap makers say that the scent from vanilla extract is very short lived, and some people have had problems with the alcohol in the extract causing the soap to seize (I didn't have that problem), so you may not want to risk adding it in.

As for the essential oils, this time I added more ginger than anything else, followed by cinnamon, and just a few drops of clove oil. I usually don't measure and just let my nose guide me, but it usually ends up being about 5ml of EOs overall.

Mix together all of your ingredients, and pour them into your prepared molds. I like to wait until it gets to a slightly thicker mayonnaise texture (but not too thick) to make sure it is completely and thoroughly mixed and to be certain it has reached a definite trace.

Cover your soap with a cloth and set aside for at least 24 hours. After 24 hours has passed, you can carefully unmold your soap. If you used a large mold, you can cut your soap into bars at this stage. I decided to use a cookie cutter to cut a few bars of soap into a gingerbread shape. While I think it makes a cute gift that way, I must admit that I like the practicality of a bar of soap much better.

Leave your soap to fully harden for about a month. To help the process, leave space between each bar, and turn them over every day or two, at least at first.

Enjoy your soap!
Other notes…
If this is your first time making soap, you may like to read my post about making a beginner soap before you begin.
My soap got lighter in color as it cured and fully hardened. If you want a darker, more orange gingerbread color, you can add in a tiny bit of red clay to your mixture at trace.
If you want to present soap as a gift, might I suggest making a Christmas-y snowflake gift pouch?