Better than candy, these chocolate covered strawberries are easily made into a heart shape that is perfect for gifting on Valentine's day, but you can enjoy them year round. 
With Valentine's Day comes romantic dinners and sweet treats, and it all comes at just about the same time that fresh strawberries begin to hit the market again. Perhaps it's the timing, or their color, or maybe it's their tiny size, or likely a combination of all of those things, but they end up showing up in numerous Valentine's day recipes this time of year.
I'd be a lot sadder about not being able to find fresh pomegranates, one of my favorite fruits if it weren't for the return of strawberry season. I also happen to love strawberries, though, and love their versatility for use in all sorts of desserts and salads.
While they are very versatile, my favorite way to serve strawberries is still in simple combinations with only one or two ingredients.
Making chocolate covered strawberries special for Valentine's Day
As is, one of the more popular romantic treats for Valentine's Day is chocolate covered strawberries.
Sure, they are beautiful and sweet. But why not take this popular treat one simple step further and make chocolate covered strawberry hearts?
The conical shape of strawberries lends itself to easily make them into heart shapes. While many people leave the stems on their chocolate covered strawberries, if you decide to cut off the stem section, you've already taken a huge step towards forming the heart-shape.

Watch How Easy it is to Make These Heart-Shaped Chocolate Covered Strawberries
How to Make Chocolate Covered Strawberry Hearts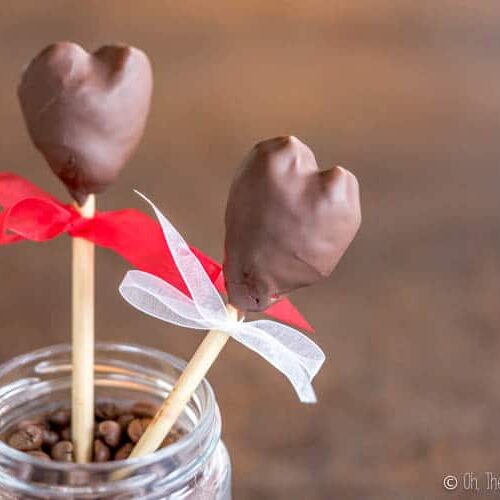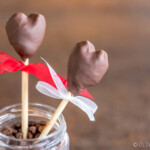 Chocolate Covered Strawberry Hearts
Perfect for Valentine's Day or any other special occasion, these chocolate covered strawberry hearts are a simple, healthy treat that will surely be appreciated by those you love.
Print Recipe
Pin Recipe
Ingredients
12

strawberries

150

g

chocolate

(Easier with melting chocolate)
Instructions
Thoroughly wash and dry your strawberries. It is important to dry the strawberries well as the chocolate won't stick as well to wet strawberries. Also, any water that drips into your melted chocolate can cause the chocolate to seize.

Melt the chocolate in a double boiler or in the microwave until it is just melted. I love using these double boiler inserts for this sort of recipe because they are also handy for making your own lotions and other DIY cosmetics. You can also find special chocolate melting machines that will help keep the temperature just right for keeping the chocolate tempered.

Cut the top stem part off of your strawberries.

Cut a small triangle out of the center of the cut part of the strawberries, rounding off the edges if necessary to make them look like strawberry hearts.

Push a lollipop stick or skewer partway into the bottom of the strawberry. Don't push too far or you will go all the way through the delicate strawberry, and it won't stay on the stick. If you are having a hard time getting them to stay on the sticks, you can dip the tips of the sticks into some melted chocolate before pushing them into the strawberries.
This also works much better with smaller strawberries. Larger strawberries have a somewhat hollow center that doesn't grab onto the skewers well, and their added weight means they are more likely to fall.

Carefully dip the strawberry hearts into the melted chocolate, pull them out, and let the excess chocolate drain off. If you are using small enough strawberries, you can lightly tap off the excess chocolate. Otherwise, use a knife to help pull off some of the excess chocolate as needed. Be very gentle or the strawberries will fall off the sticks.

If you are having a hard time with the last step, it is most easily done by using room temperature strawberries and/or using a special chocolate made for melting/dipping. You can also choose to cover the strawberries in the chocolate before pushing the lollipop stick into them if you have larger strawberries that don't bear the weight of the chocolate well.

Stand the chocolate covered strawberry hearts up in a cake pop stand, some styrofoam or prop them up some other way until they cool and the chocolate hardens. (you can see that I was able to hold them up well in a glass jar filled with coffee beans.)

If you like, you can also cover other fruit with chocolate. I tried slicing apples and cut the slices with heart-shaped cookie cutters. The smaller, flatter heart in this picture is a chocolate-covered apple slice.

Give your hearts a special touch by decorating them with ribbons. You can also decorate the dark chocolate by drizzling white chocolate over top or by dipping the hearts into other toppings while the chocolate is still melted. I kept mine plain and simple, but you can experiment and make them your own! Enjoy!
Notes
The amount of chocolate used will depend on how thickly you are covering the strawberries, which will also affect the nutritional information, of course.
 You'll need to melt more chocolate than you'll actually use to be able to easily dip the strawberries in the chocolate.
Nutritional Information
Serving:
1
strawberry
|
Calories:
67
kcal
|
Carbohydrates:
8
g
|
Fat:
4
g
|
Saturated Fat:
2
g
|
Sodium:
2
mg
|
Potassium:
54
mg
|
Sugar:
7
g
|
Vitamin C:
7.1
mg
|
Calcium:
5
mg
|
Iron:
0.4
mg