Better than candy, these chocolate covered strawberries are easily made into a heart shape that is perfect for gifting on Valentine's day, but you can enjoy them year-round.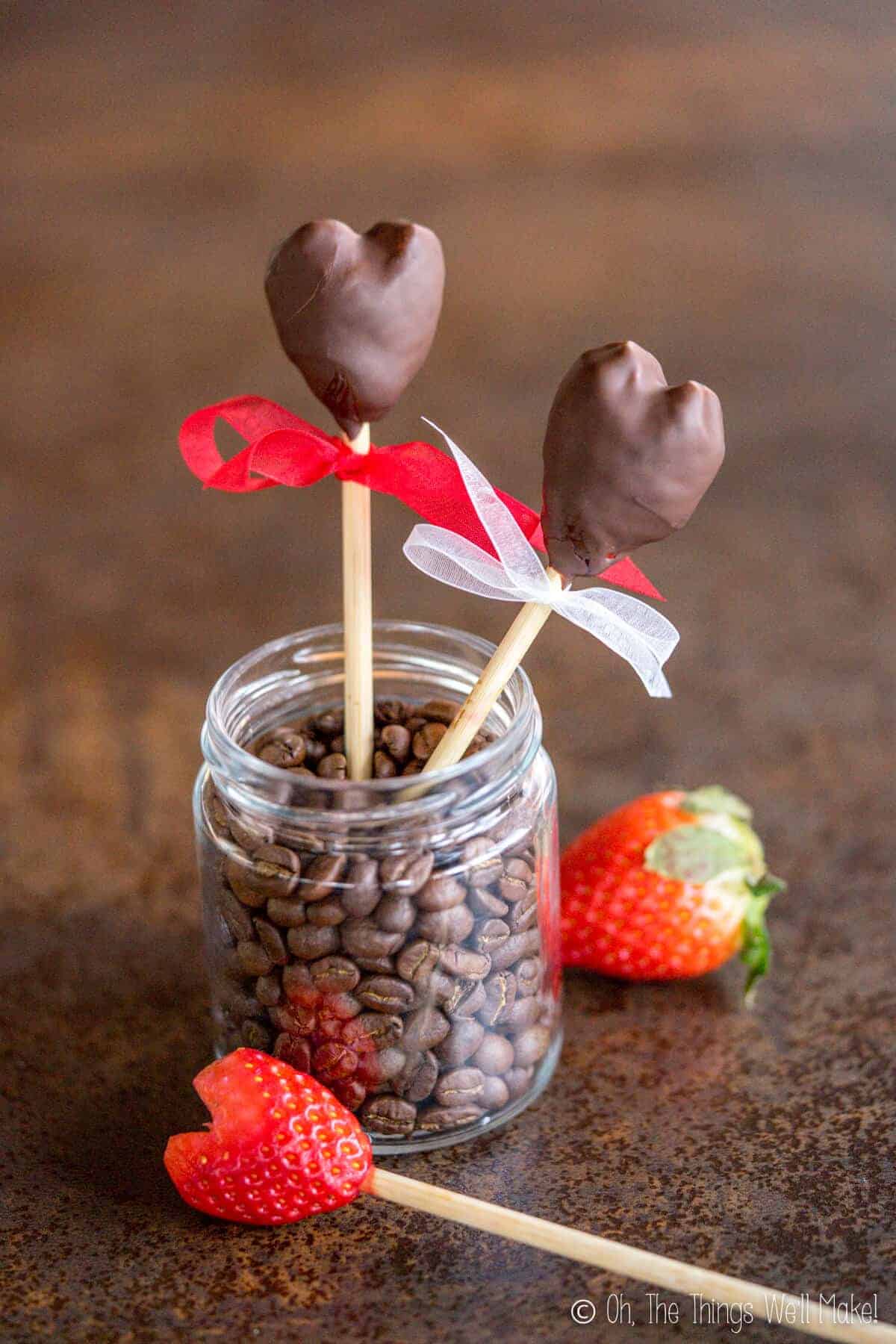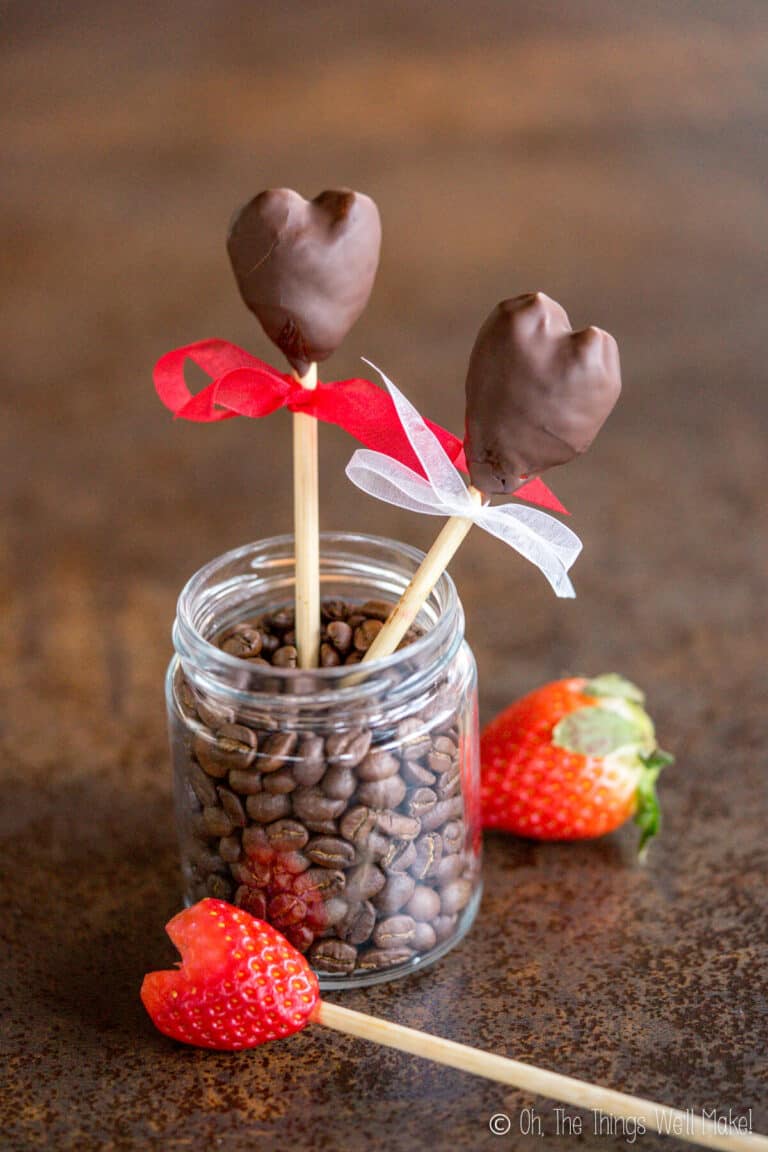 With Valentine's Day come romantic dinners and sweet treats. They all come right about the same time that fresh strawberries begin to hit the market again.
Perhaps it's the timing. Or maybe it's their color and their conical heart-shape. It's likely a combination of all of those things. Whatever the reason, strawberries make their appearance in numerous Valentine's day recipes.
While they are very versatile, my favorite way to serve strawberries is still in simple combinations with only one or two ingredients.
Making chocolate covered strawberry hearts
One of the things that I love about strawberries is their small, conical shape. Their shape is ideal for easily carving them into hearts.
Making strawberry hearts is simple. All you really need to do is to cut off the strawberry stem. Once you've done that, cut a v-shaped wedge from the top center part of the strawberry.
For large strawberries, or for strawberries where you've cut a bit too much off the top, it can help to round off the top edges with a knife.
If you slice the strawberries, you end up with lots of thin strawberry hearts that are perfect for garnishing all sorts of Valentine's day treats. Any of my Valentine's day desserts would look great with strawberry hearts on them. It's also what I used, along with bacon roses, on my Valentine's Day salad.
Valentine's Day Salad: Baby Spinach with Bacon Roses and Strawberry Hearts
Give your Valentine's Day meal a special touch with this gorgeous salad adorned with bacon roses and strawberry hearts!
Check out this recipe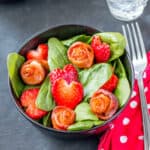 Watch Me Make Heart-Shaped Chocolate Covered Strawberries
Covering the strawberry hearts with chocolate
For today's Valentine's Day treat, there is no need to slice the strawberries. Instead, we'll leave them as whole, 3-d shaped strawberry hearts. To make them special, we'll be covering them in chocolate.
What could be more romantic than chocolate-covered strawberry hearts?
Again, this is quite simple to do. All you really have to do is poke skewers into the bottom of the strawberries and dip them into melted chocolate.
Melting the chocolate
There are several easy ways to melt the chocolate.
When using the microwave, it's best to use short intervals. After about 30 seconds, remove the bowl of chocolate, mix it, and return it for another 20 seconds or so. The heat of the bowl will help melt the outer chocolate. By stirring after each heating interval, you ensure the chocolate won't get overly hot. Repeat the process until there are no remaining chunks of chocolate.
Avoid heating the chocolate directly over the stove without using a double boiler. It is likely that you will burn the chocolate.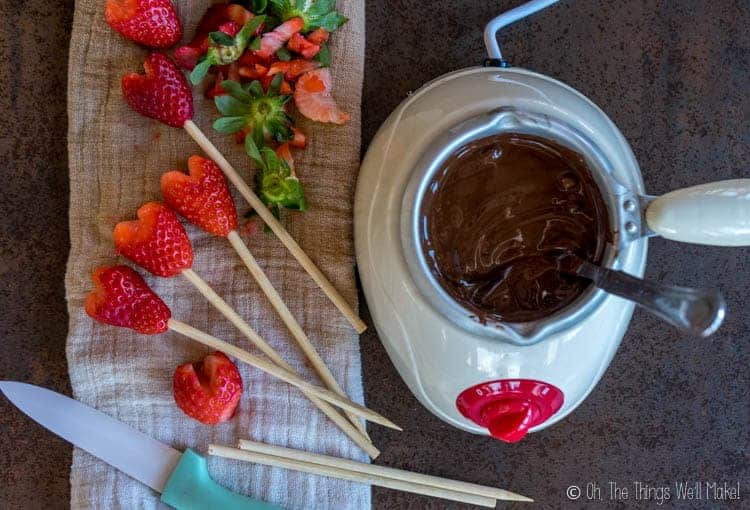 Tempering the chocolate (or alternatives)
Ideally, you don't want to heat the chocolate too much or you will lose its temper. The tempering of chocolate is a process that helps make the chocolate shiny and have a nice snap when it cools and hardens.
You could go through the process of tempering the chocolate, but I prefer to keep things simple for a recipe like this one. When heating in short bursts of low heat, just enough to melt it, it is likely that the chocolate will stay in temper and look great when cooled. Using a chocolate melting pot also helps keep the chocolate in temper.
Some people add some butter to their chocolate to give it some shine when it gets out of temper. Others, just accept that the chocolate will have more of a matte finish. It's really up to you.
Another option is to buy special dipping chocolate or chocolate candy melts. Melting chocolate has a consistency that is easy to use for dipping, and it isn't meant to be tempered.
Dipping the strawberries in chocolate
while it may look simple, there are several tips that will help ensure perfectly covered strawberries.
Use room temperature strawberries
While you don't want to leave the strawberries out too long so that they don't get soft, you don't want super cold strawberries directly from the fridge either. Leaving them out of the refrigerator for an hour or two helps ensure the chocolate will stick to the strawberries better.
Use perfectly dry strawberries
There are several reasons that you'll want to make sure the strawberries are perfectly dry before dipping them in chocolate.
First, water that falls into the chocolate can cause it to "seize." That changes the texture of the chocolate and makes it difficult to use it for dipping.
Second, the water can form a barrier that prevents the chocolate from sticking to the strawberries.
Keeping the strawberries from falling off the skewers
To prevent the strawberries from falling off the skewers when dipping them in chocolate, there are several things you can do.
Use smaller strawberries. They're less likely to have hollow interiors, meaning they'll hold onto the stick better. They also weigh less.
Use firmer fruit. (Yes, you want ripe strawberries, but soft ones are sure to fall off the sticks while dipping.)
Hardening the chocolate
Once you've dipped the strawberry hearts in the melted chocolate, you'll want to have an area prepared to allow them to cool and harden. The first time I made these, I added some playdough to a jar and stuck my skewers into the dough. The next time, I filled a jar with some coffee beans. Either way worked fine.
Some people prefer to use floral foam or styrofoam blocks. You can poke the sticks into either to help hold the strawberries up.
The most ideal option is probably to use special stands made for cake pops. The great thing about cake pop stands is that they can also be used to serve/display the finished chocolate covered strawberry hearts.
Some people prefer to speed up the hardening process by placing the strawberries in the fridge until the chocolate has hardened. If you choose to do that, remove them from the refrigerator as soon as the chocolate has hardened. Leaving the chocolate covered strawberries in the fridge too long can cause them to sweat once you remove them to eat them.
How to store chocolate covered strawberries
Chocolate covered strawberries are best served immediately, or at least within the first day after making them.
It's best to leave them at room temperature in a cool, dry area until you are ready to serve them. If you store them in the fridge and then take them out to serve them, they will likely form condensation that people refer to as "sweating."
If you aren't able to finish them within a few hours after making them, they can be stored in the fridge, but, again, the result isn't as good as if you were to leave them out and serve them soon after making them.
Preventing "sweating"
If you need to store the chocolate-covered strawberries for another day or two, it's best to place them on several sheets of an absorbent paper like paper towels and wrap them in wax paper inside a storage container. This helps prevent condensation that can negatively affect their appearance.
Adding a desiccant packet to the storage container could also help preserve their appearance.
Freezing chocolate-covered strawberries
If you plan on freezing them, plan on serving and eating them frozen. If you freeze and try to thaw them, the strawberries will get soft and won't have a desirable texture.
Chocolate-Covered Strawberry Hearts Recipe
Craving more?
Subscribe to my newsletter for the latest recipes and tutorials!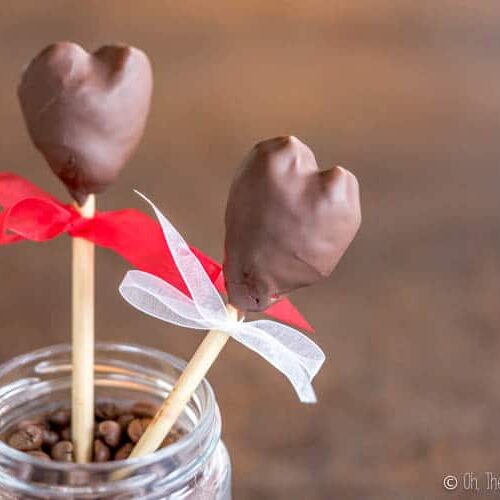 Chocolate Covered Strawberry Hearts
Perfect for Valentine's Day or any other special occasion, these chocolate covered strawberry hearts are a simple, healthy treat that will surely be appreciated by those you love.
Print
Pin
Rate
Servings:
12
strawberries
Ingredients
12

strawberries

150

g

chocolate

(Easier with melting chocolate)
Instructions
Thoroughly wash and dry your strawberries. It is important to dry the strawberries well as the chocolate won't stick as well to wet strawberries. Also, any water that drips into your melted chocolate can cause the chocolate to seize.

Melt the chocolate in a double boiler or in the microwave until it is just melted. I love using these double boiler inserts for this sort of recipe because they are also handy for making your own lotions and other DIY cosmetics. You can also find special chocolate melting machines that will help keep the temperature just right for keeping the chocolate tempered.

Cut the top stem part off of your strawberries.

Cut a small triangle out of the center of the cut part of the strawberries, rounding off the edges if necessary to make them look like strawberry hearts.

Push a lollipop stick or skewer partway into the bottom of the strawberry. Don't push too far or you will go all the way through the delicate strawberry, and it won't stay on the stick. If you are having a hard time getting them to stay on the sticks, you can dip the tips of the sticks into some melted chocolate before pushing them into the strawberries.
This also works much better with smaller, firmer strawberries. Larger strawberries have a somewhat hollow center that doesn't grab onto the skewers well and their added weight means they are more likely to fall.

Carefully dip the strawberry hearts into the melted chocolate, pull them out, and let the excess chocolate drain off. If you are using small enough strawberries, you can lightly tap off the excess chocolate. Otherwise, use a knife to help pull off some of the excess chocolate as needed. Be very gentle or the strawberries will fall off the sticks.

If you are having a hard time with the last step, it is most easily done by using room temperature strawberries and/or using a special chocolate made for melting/dipping. You can also choose to cover the strawberries in the chocolate before pushing the lollipop stick into them if you have larger strawberries that don't bear the weight of the chocolate well.

Stand the chocolate covered strawberry hearts up in a cake pop stand, some styrofoam or prop them up some other way until they cool and the chocolate hardens. (t I was able to hold them up well in a glass jar filled with coffee beans.)

If you like, you can also cover other fruit with chocolate. I tried slicing apples and cut the slices with heart-shaped cookie cutters.

Give your hearts a special touch by decorating them with ribbons. You can also decorate the dark chocolate by drizzling white chocolate over top or by dipping the hearts into other toppings while the chocolate is still melted. I kept mine plain and simple, but you can experiment and make them your own! Enjoy!
Notes
The amount of chocolate used will depend on how thickly you are covering the strawberries, which will also affect the nutritional information, of course.
You'll need to melt more chocolate than you'll actually use to be able to easily dip the strawberries in the chocolate.
Overheating the chocolate when melting it can untemper it. This may make the chocolate look dull when it cools again. While it only really affects the appearance, you can add some shine back by either re-tempering the chocolate or adding a bit of butter to the melted chocolate. Another easy option is to use candy melts or melting chocolate instead.
These strawberries are best served immediately or soon after making them. They are best served and eaten at room temperature.
Storing them in the refrigerator can cause them to "sweat" when they are removed from the cold. To help avoid that, store them in a container over several sheets of an absorbent paper like paper towels. Dessicant packages can also help abosrb excess humidity.
If you need to store them for more than a couple of days, you can freeze them, but frozen chocolate-covered strawberries should be served and eaten frozen. Thawing frozen strawberries will result in soft berries.
Serving:
1
strawberry
|
Calories:
67
kcal
|
Carbohydrates:
8
g
|
Fat:
4
g
|
Saturated Fat:
2
g
|
Sodium:
2
mg
|
Potassium:
54
mg
|
Sugar:
7
g
|
Vitamin C:
7.1
mg
|
Calcium:
5
mg
|
Iron:
0.4
mg
This post was originally published on January 31, 2015. It was rewritten and republished in January 2020 with the addition of new photos, storage information, and more tips for getting the chocolate to stick to the strawberries.