This paleo pizza crust recipe is quick and easy and absolutely delicious. Even my picky husband and toddler love it when I make pizza with it.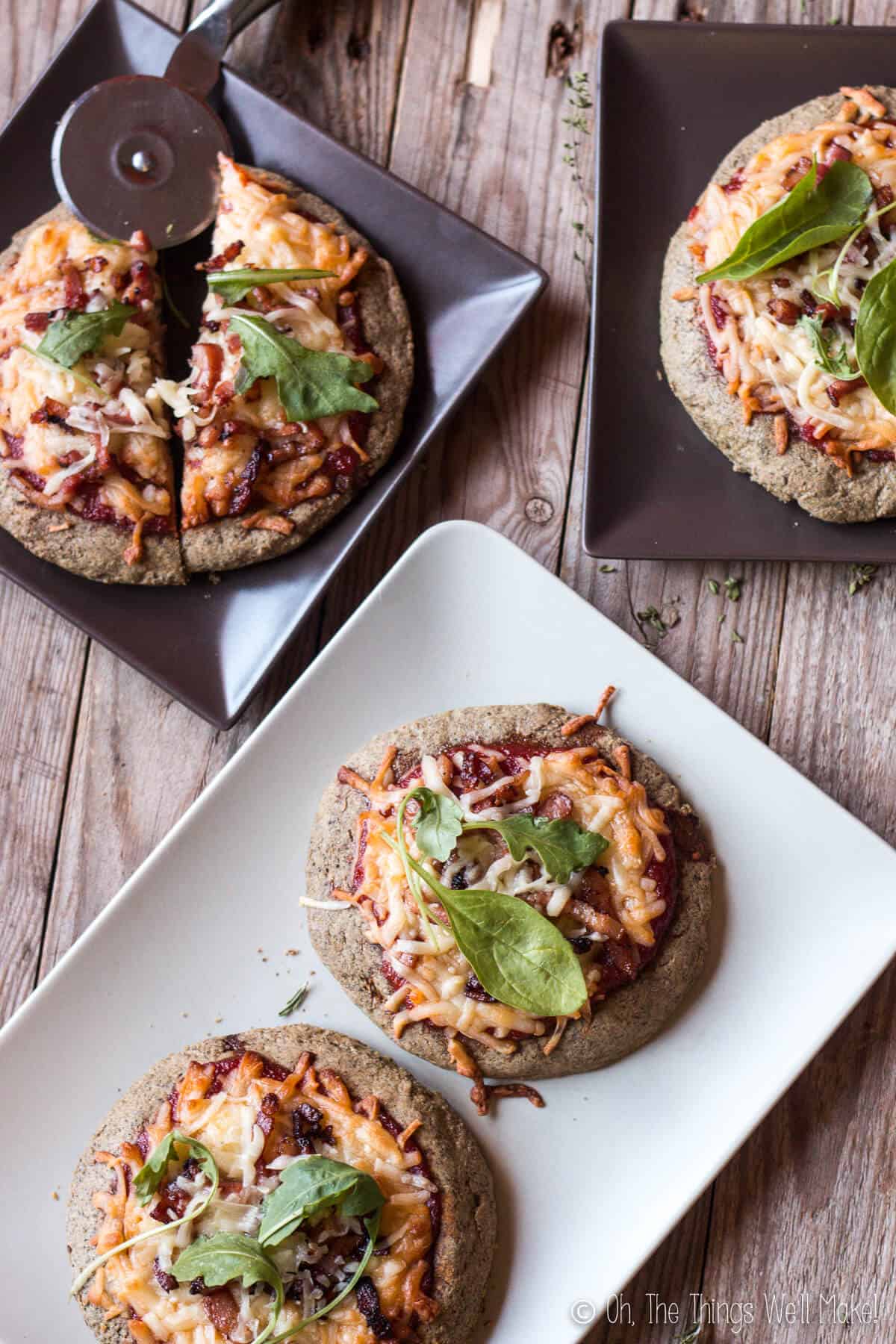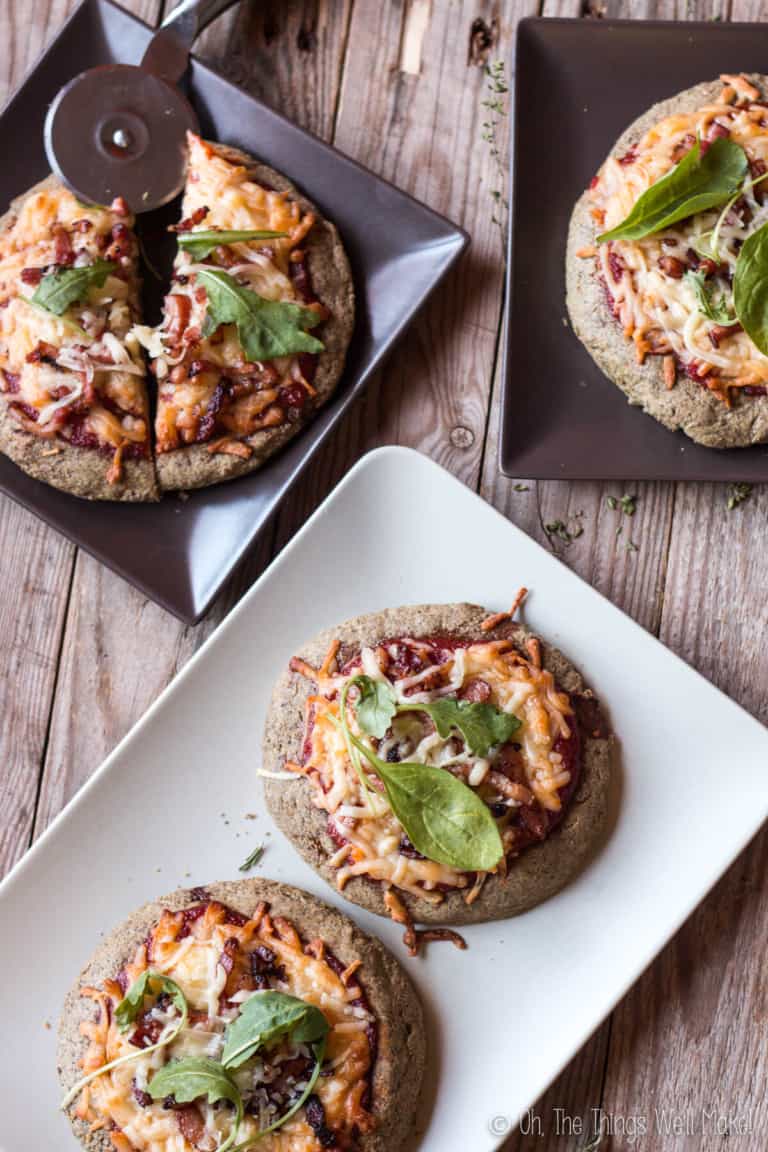 A while algo I showed you how I made my quick and easy pizza dough. I used to make that recipe all of the time and loved it.
Since experimenting with removing grains from my diet, though, I hadn't really found a great substitute for that…
until now!
I had been experimenting with various combinations of tapioca flour with other flours hoping to come up with something that was quick, easy to make, and that tasted wonderful. While my experiments were quick and easy, the tapioca flour left the pizza with a strange taste that made my son turned up his nose at it. My husband thought it was "OK," but my little guy refused to eat it at all.
Don't get me wrong, tapioca flour can be really great in some recipes. I still need to share with you a cheese bread recipe that uses it and tastes amazing. You'd think it was made with wheat! Back to my story, though…
Whenever they wanted pizza, I was basically stuck with making two different pizza doughs, my original quick and easy pizza dough with wheat in it for them, and my weird tapioca flour paleo pizza crust for me.
Of course even I wasn't happy with that recipe and rarely made pizza anymore. That recipe definitely wasn't going to make it's way to the blog any time soon!
In comes my friend Megan Stevens from the Eat Beautiful blog. Like me she has been experimenting with her diet and makes mostly grain free recipes. Thinking that we probably share some of the same types of readers, she asked me if I was interested in reviewing her new cookbook, also titled Eat Beautiful, with the tagline of "Grain free, sugar free and loving it."
That got my attention since that is the way that I like to eat myself!
Of course I said yes, and was excited to see the types of recipes that were included.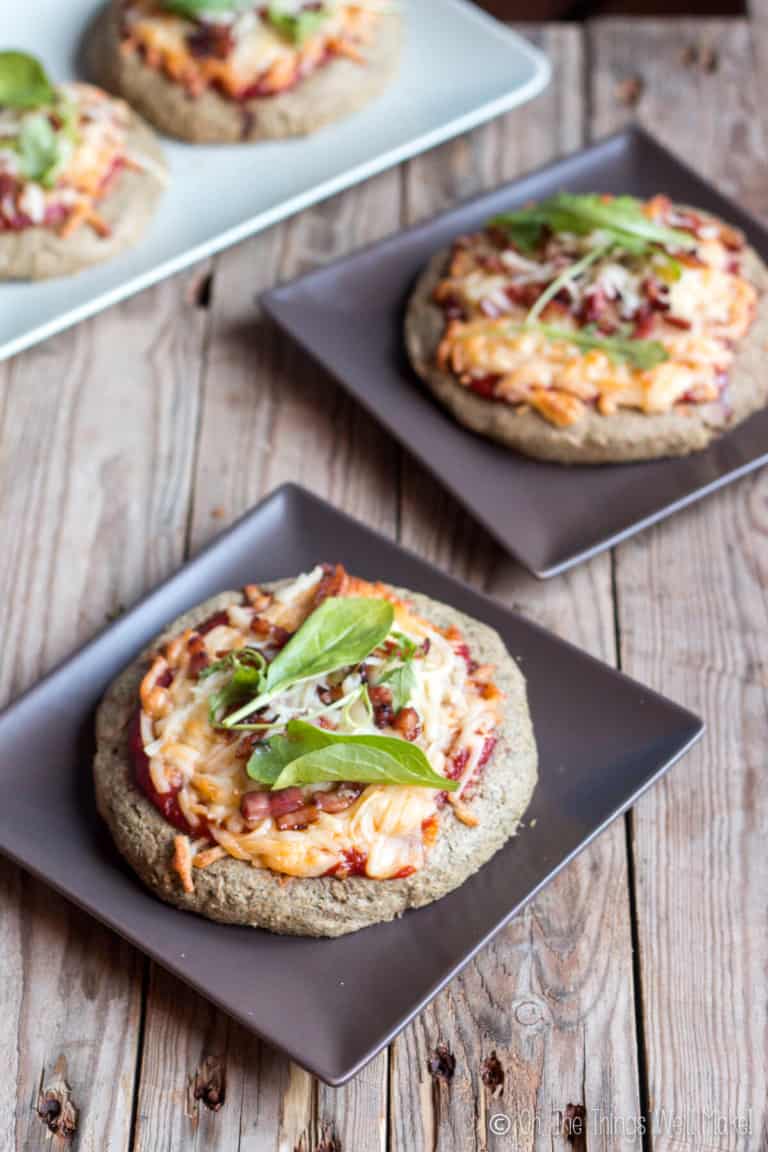 In the book you can find everything from grain free waffles, cakes, muffins and cookies to the more savory breads like panini and this paleo pizza crust recipe that caught my eye.
It isn't only about grain free eating, though. It's about transitioning to making your own foods from scratch, and how to get your kids on board through the process. You can transition without having to feel deprived because you can have the same types of comfort foods sans the gluten, wheat, and other grains.
She also shares recipes for homemade milks, lassi, kvass, and a chia electrolyte beverage. She shares her thought on what sorts of foods you should be eating and which you shouldn't, and gives you a section with methods that share how to soak beans, nuts, make almond and nut butters, etc.
This paleo pizza crust recipe incorporates one of her methods of soaking the nuts for easy use and healthier eating.
It's her new grain free baking technique:
It's popular to use nuts in grain-free baking whether it be in the form of butter, meal or flour. Sometimes the nuts are sprouted to aid in digestion and the assimilation of nutrients, but…
Nut butters, meals and flours quickly go rancid, and are usually not sprouted. So even though we think of them as healthy, they really can be improved upon.
Sprouted nuts (soaked overnight and then dehydrated and ground into flour) are expensive to buy or time-consuming to create at home.
This new method solves both shortcomings.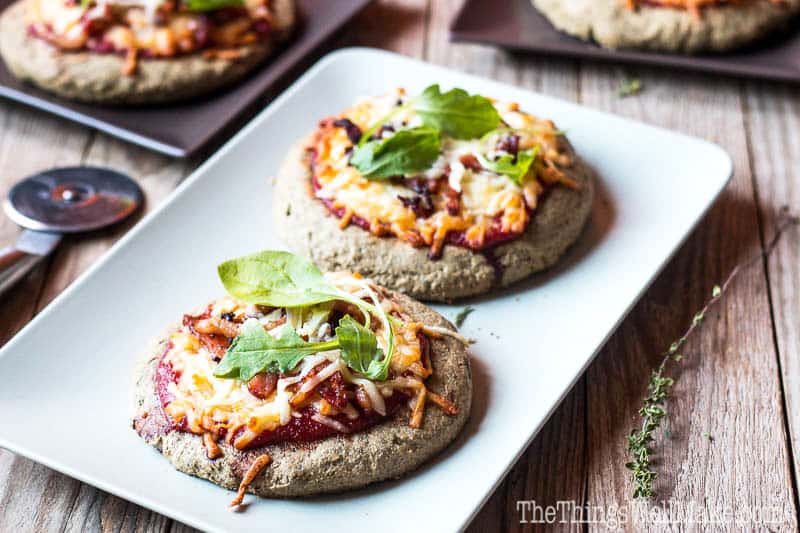 How does it work?
You put raw nuts, salt and water into a bowl in the evening and the next morning you rinse them off in a colander. They are now ready to use! These "soaked and wet" nuts are easy to make and much healthier than store-bought butters or flours.
So, before making this pizza dough, you should soak the raw almonds in water with a little sea salt overnight. For the 1 cup of almonds in this recipe, you should cover the nuts by two inches with room temperature filtered water and about 1/2 tsp. of salt. The next day you'll find that they are soft and you can easily puree them into your pizza dough.
Craving more?
Subscribe to my newsletter for the latest recipes and tutorials!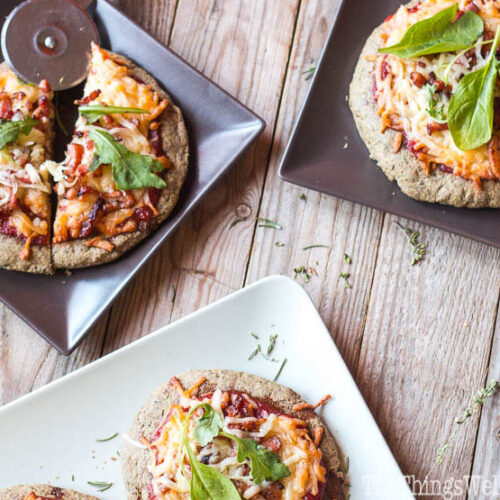 Ingredients
1

cup

soaked almonds

following the soaked nut technique above

1

cup

extra virgin olive oil

4

egg

whole, preferably grass-fed

2

egg white

1

tsp.

basil

or oregano or rosemary

1/2

tsp.

salt

1/16

tsp.

stevia

3/4

cup

chia-seed meal

1/8

cup

coconut flour

1/8

cup

flaxseed meal

1/2

tsp.

baking soda
Instructions
Prepare a round pizza pan by rubbing it with olive oil, coconut oil or animal fat — or spray with coconut oil spray. For a rectangular pizza, prepare a cookie sheet in the same manner, greasing the bottom and sides.

Place these ingredients into a high-powered blender in the following order: eggs, olive oil, almonds (or 1 1/2 cups of other soaked nuts), herbs, sea salt and stevia.

Blend on medium-high speed until the mixture is batter-like and mostly smooth.

Sift together the remaining dry ingredients in a small bowl: chia-seed meal, coconut flour, flaxseed meal and baking soda.

Add these to the blender and quickly puree them on medium speed to completely and evenly incorporate them into the batter, without over-mixing.

Do not let the batter set up and thicken. Immediately pour the batter into an even round circle on the prepared pan, smoothing out the surface and shape with an offset spatula. Alternately, pour the batter into your prepared cookie sheet, spreading out the batter evenly into the rectangular shape.

Bake dough for 15 to 20 minutes, until the edges are drying out and the center is puffed in places.

Remove dough and immediately top it with your favorite toppings: homemade tomato sauce, sautéed sausage or lightly cooked bacon, grated aged cheese, feta, goat cheese or homemade, Herbed Dairy-free Ricotta (recipe follows), sautéed onions, bell peppers, olives, fresh garlic, cubes of cooked winter squash, sprouted walnuts, chanterelle mushrooms, etc.

Bake pizza for 20 additional minutes, until the edges are brown but not too dark, and the ingredients in the center are sizzling and hot, tinged with brown.

Top with optional prosciutto, homegrown tomatoes (in season) and fresh basil; slice and serve.
So, how good is this paleo pizza crust recipe?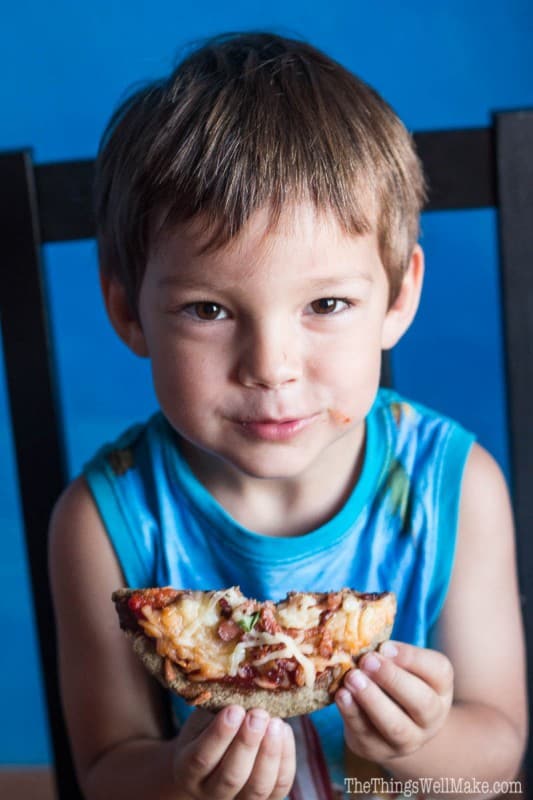 I was amazed at how quickly my son scarfed down mini pizza after mini pizza!
I should have made it a little bit thinner, but I ran out of room on my pan when trying to make mini pizzas. I decided on mini pizzas mostly because I thought they photograph nicer on the blog. (Blogger issues!) 🙂 Next time I'll try making on of the suggested ways using a rectangular pan to make a rectangular pizza.
As for my husband?
What he said surprised me even more. Despite not trying it until hours later when it had been sitting around for awhile, at first he said it was pretty good. After a few bites, he shocked me with the statement that he thought he liked it better than regular pizza crusts!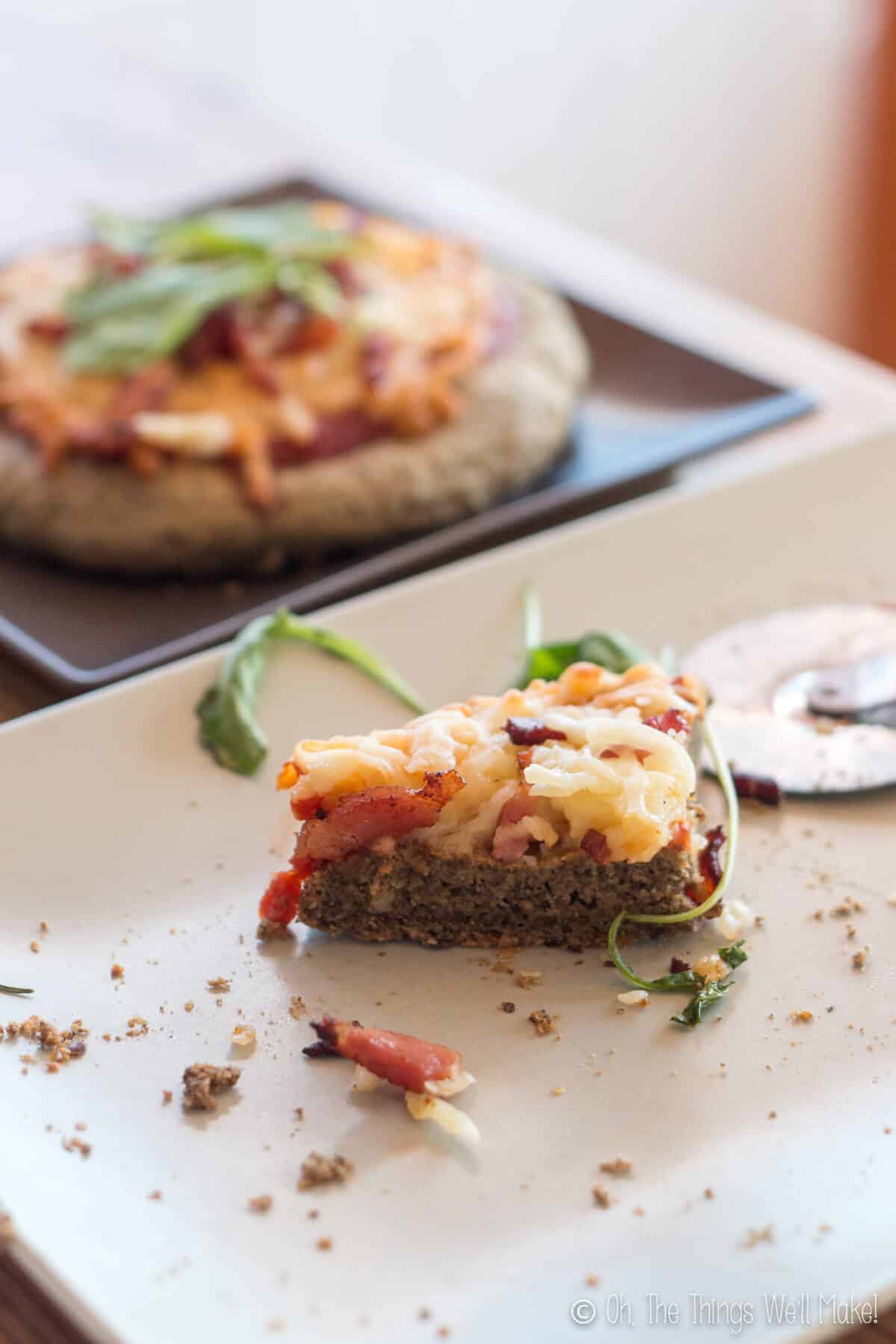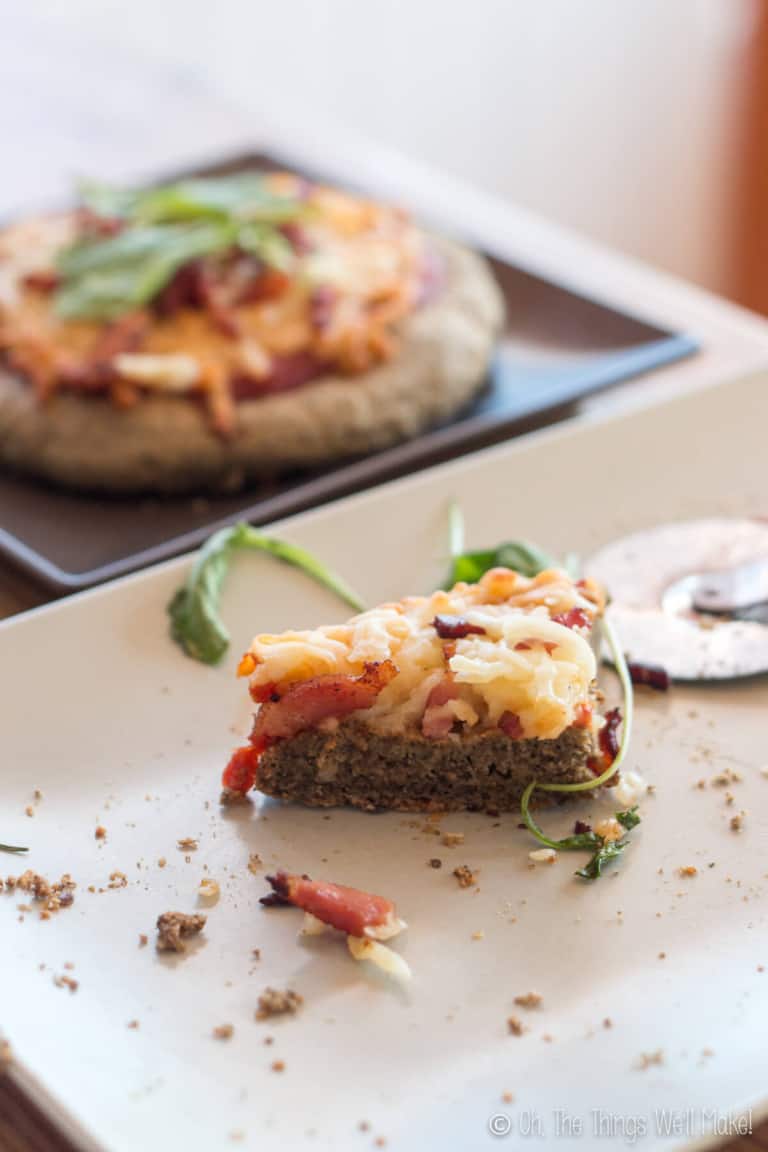 Yay! Finally a grain free pizza crust that I can make for the entire family!!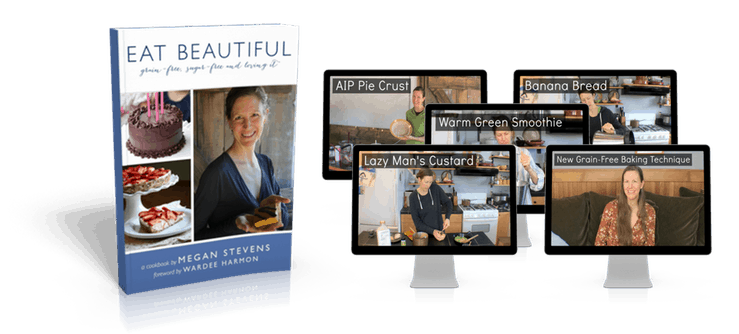 It looks great so far!
I just got back from a cruise which happened to coincide with the release of the book, so for now I have only been able to try out one of the recipes. I'm really looking forward to trying more of them out, though, because there are a lot of really fun recipes that have caught my eye along with lots of great information.