Even if you've never made soap before, you can quickly whip up this easy homemade laundry soap from scratch. It's perfect for beginners!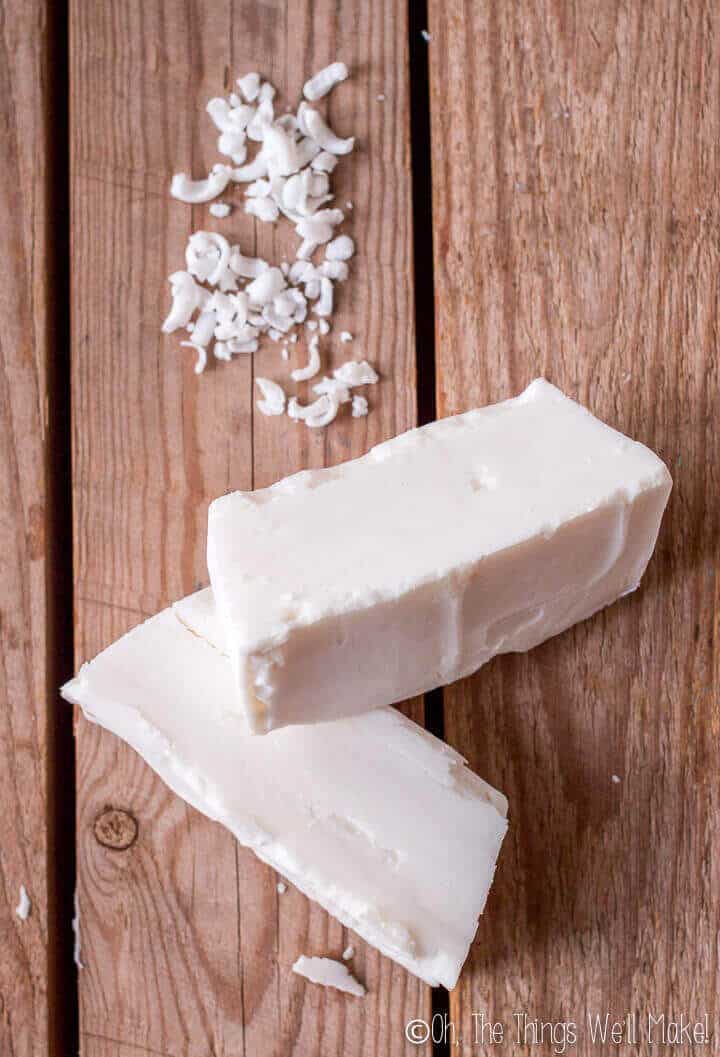 Several years ago I showed you how to make an easy, beginner soap from scratch. It's basically a modified castile soap recipe that uses both olive oil and coconut oil, and it's great for general all purpose use.
When I formulated that recipe, I chose the oils I did because they are simple to find in most areas, and together make a pretty decent soap without needing to combine a lot of different oils. You see, olive oil makes a soap that is nice and conditioning for the skin, but alone it doesn't provide a lot of lather and feels slimy to some people. It's not a highly cleansing soap either.
Watch me make the homemade laundry soap from scratch:
Why use coconut oil in a homemade laundry soap?
Coconut oil, on the other hand, makes a very cleansing soap with a lot of lather. For skin, it can be drying when used alone, but when used in a soap for general cleansing or a homemade laundry soap, it's the ideal oil!
This recipe is easy and will make a solid bar of coconut oil soap, but if you prefer liquid soaps, I also have a recipe for a liquid coconut oil soap. Keep in mind that the liquid soap recipe uses a different type of lye, and it is also a more advanced recipe. While I think that even a beginner should be able to make it, I think it's probably a better idea to get a recipe like this made before you try to conquer liquid soaps. 🙂
With as simple as my beginner soap recipe is, this soap may be even easier to make! That's what makes this soap ideal for beginners too.
My original beginner soap recipe, because of the olive oil in the recipe, takes longer to set, which made it an ideal soap for experimenting and adding fun colorants, scents, and exfoliants. This soap, though, sets up very quickly and can be used for cleaning almost immediately.
This recipe makes a nice hard, white bar of soap that can be used as-is for pre-treating stains, or grated to be used as a "powdered" homemade laundry soap. You can also use it for general cleaning around the house by either rubbing a scrubby sponge over the bars of soap, or by dissolving some soap into a spray bottle. It works great for cleaning kitchens and bathrooms!
This recipe is specifically formulated to be used as a general cleansing soap and as a homemade laundry soap, which is why I only used coconut oil, and why it doesn't use much of an excess of oil.
What is superfatting?
Normally soaps that are meant to be used on the skin will use what is called "superfatting," which means that more oil is used than the amount needed to react with all of the lye to make soap. When superfatting a soap, some oils will be left over to help condition your skin.
In the case of a homemade laundry soap, you don't really want or need any excess oils to be floating around with your laundry. Instead, the recipe is almost exact. I left the superfatting percentage between 0-1%.
Tips and Safety precautions for making soap for the first time:
Before making soap for the first time, you should review the main safety precautions…
You will be working with lye, which is very alkaline and can cause burns just like a strong acid would. To prevent hurting yourself, you should wear gloves and safety glasses while working with the lye and lye solution (lye mixed with water), and you should work in a well ventilated area and avoid inhaling the fumes.
When mixing the lye with water, you want to pour the lye into the water, and do NOT pour the water into the container of lye. This is to avoid having the lye expanding, creating a mini explosion of lye solution!
Mixing lye with water will create heat. Mixing lye with vinegar will create even more heat! So, if you get lye on your skin, rinse it off with water for several minutes. If you immediately rinse with vinegar, the released heat could burn your skin. Vinegar can be used as a final neutralization of the lye, which is especially great for cleanup in any areas where you may have spilled a lye solution. Just be careful when using it (wipe up any excess solution first) as the reaction between vinegar and lye can be a violent one!
Lye can react with many metals. It is best to mix the lye solution and make soap in a sturdy glass or plastic bowl rather than metal. Any utensils that are used should also be either plastic or stainless steel. The same goes for soap molds. I usually use silicone molds or plastic containers, but you can repurpose a lot of different materials for using as soap molds.
Soap recipes are measured by weight. That is because they need to be pretty exact to avoid having too many oils or leftover, unreacted lye. In a recipe like this one, meant for laundry soap, having a little leftover lye wouldn't be too serious. In fact a lot of homemade laundry "detergent" recipes use baking soda or laundry soda to raise the pH to more effectively clean stains. When used on skin, though, the leftover lye could be very irritating to the skin, and could even burn you. You can weigh the oils and lye on an inexpensive kitchen scale.
Soap mold ideas:
If you're new to making soap, you probably won't have soap molds sitting around the house. You'll be happy to know that you can repurpose a lot of materials that you likely already have to use as soap molds. My favorite mold for making bars of soap is a silicone loaf pan, but I've used everything from plastic Tupperware type containers to PVC pipes (You can see how I used the PVC pipe in my peppermint "candy" soap post). Silicone muffin tins made the perfect size "puck" for my homemade shaving soap. Some people even repurpose food containers like milk cartons to use as soap molds!
Easy homemade laundry soap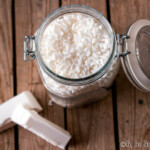 Easy Homemade Laundry Soap From Scratch, For Beginners!
Even if you've never made soap before, you can quickly whip up this easy homemade laundry soap from scratch. It's perfect for beginners!
Print Recipe
Instructions
Measure out the lye and the distilled water using a kitchen

scale

. Wear gloves and eye protection when working with lye and lye solutions. It's best to use glass or plastic bowls for this step. (I prefer glass.)

Carefully add the lye to the water in a well ventilated area. Do NOT add the water to the lye! Adding water to a container of lye can cause it to expand quickly, making a dangerous chemical "explosion".

Stir the lye into the water until it is well dissolved. It will be cloudy at first and will start to get hot. The mixture will later clear up and cool off. Leave it in an area where it cannot be disturbed by other people or animals while you measure out your oil.

Weigh out the coconut oil in a large bowl. If it is solid, you can either chose to melt it, or can blend it with an immersion blender to make it easier to work with before continuing.

Carefully add the lye solution to the coconut oil. The residual heat of the lye solution will help melt the coconut oil if you are using it solid. I first incorporate all of the lye solution into the oil gently with a spoon.

Use an immersion blender to fully mix the oil with the lye solution and help bring the mixture to trace. Trace is the point of the soap making process in which the mixture becomes more opaque and resembles a light sauce or mayonnaise. It is also the point at which the soap has begun to saponify (aka. turn into soap). In this recipe, the mixture will likely be thick from the beginning, especially if your oil was solid to begin with. That is because coconut oil is one of the "solid oils" that can change its consistency when first reacted with the lye, making a thicker mixture that looks like it is at trace, even when it isn't (sometimes called false trace). My tip is, especially if you are new to soap making, to blend for a couple of minutes, even if it looks like it's starting to thicken, just to make sure you are really at trace before pouring your mixture into molds.

If you plan on adding any essential oils for fragrance, now, at trace, is the time to add them. I love using lavender essential oil for laundry and general cleaning.

When making coconut oil soap, the soap will harden and set up very quickly! Have your molds ready, and pour the thickened mixture into the molds. (Silicone molds don't normally need any sort of mold releasing agent. I don't normally use one for plastic either, but it's a good idea to use one when working with wooden molds or molds with delicate details. You can also line wooden molds with wax paper instead.)

Allow the soap to harden, undisturbed, for several hours. The last time I made mine in the afternoon, it was already hard enough to unmold before bed time! That is unusual for most soap mixes, but because coconut oil makes such a hard bar of soap, it solidifies more quickly than most soap recipes.

Unmold the soap when it is hard enough to hold its shape. This is also the best time to cut into bars. If you wait too long this soap will get very hard and brittle and will be difficult to cut later on. (In fact, you'll see that because I waited until the next afternoon to unmold and cut mine, waiting for good lighting for taking pictures, that my soap was so hard and brittle that some of it broke into pieces when I cut it.)

If you plan on grating it, now is a good time to grate it too. You can also pulverize it in a food processor when it gets harder.

The saponification process with fully complete in the next several days. It's best to leave bars of soap out to dry and complete the process. With most soaps, it's best to wait to use them until several weeks have passed. That not only allows for the saponification process to complete, ensuring that no unreacted lye is left to irritate your skin, but it also allows for the soap to harden. A hard soap will last longer than a soft bar of soap. Since this soap will be used for general cleaning, it isn't as important to wait to use it. This bar of soap gets very hard very quickly, and for laundry use can be used immediately. (You can use gloves to prevent skin irritation if you are concerned about unreacted lye.) That said, all soaps are said to improve a bit with time. 🙂
Using your homemade laundry soap
Once you've made your homemade laundry soap, you are probably wondering how to use it.
This homemade laundry soap can be cut into bars, and used to help get stains out of clothing. It's great for pretreating stains, hand washing, and can also be used for general cleaning all around the house.
If you want to use it to machine wash clothing, I generally find that the easiest way to use it is to grate the soap within the first days after having made it. To make sure it dissolves well when used, it's best to finely grate it. When I first made this soap, and took the pictures, I grated it to resemble the laundry soaps that are normally sold in flakes here in Spain. Lately, though, I grind it into a finer powder to make sure it will dissolve well in the machine. I didn't notice any problems before, but I figured it's best to err on the side of caution.
Once grated, you can use it in your washing machine, in the laundry compartment directly, or dissolve it and use it as you would a liquid laundry detergent.
I rarely measure out how much I use, and probably use around 1 Tbsp. of the soap in my front loading washing machine, but I have found some general guidelines on other commercially sold laundry soaps.
Making liquid laundry soap
Dissolve 40g of soap flakes into 1 liter of water.
Use around 150 ml of dissolved soap in each wash.
Mixing a powdered laundry soap "detergent"
At the beginning of last year, I published a guest post from a small cleaning business owner with her recipe for a homemade laundry detergent. Her recipe used a combination of baking soda, washing soda, borax, and castile soap.
At the time, I tried her recipe because I didn't want to post something on my blog that I hadn't tested out myself, and I was overall happy using her recipe.
Here in Spain, it isn't very easy to find borax, though, and when I had used up my mixture, I decided to try to make my own mix instead. (I love to experiment.) My thought was that using baking soda and washing soda was probably redundant and unnecessary, so I left out the baking soda, and I also decided to leave the borax out.
I ended up mixing together laundry soap flakes in around a 50%/50% mixture with washing soda. I used that mixture for months, once again without problems.
Since then, though, I received a comment on the other recipe about how using too many alkalizing agents could be bad for your laundry…
"…extensive tests were done using reflectometry and stretching showing that this washing dulled fabrics and wore them out faster, so alkali-heavy laundry detergents were considered so cheap and inferior, "borax" came to be a slang term for cheap goods in general. The good detergents were those made mostly of soap, with only a pinch of alkali — and a moderately-alkaline sodium silicate (as used in Rinso and Persil) was better than washing soda or borax."
I found the comment quite interesting, and once again lowered the amount of alkalizing agents that I used when washing with soap. His suggestion was:
"If you want to make your own soap-based laundry detergent, and you don't have access to a better "builder" than borax or washing soda, then if you're going by cups, use NO MORE THAN 1 cup of borax OR washing soda for every 4 cups of grated soap (preferably all-coconut or high-coconut)."
While I hadn't noticed any excessive wear and tear on my clothing, I did take his suggestion to heart, and I now only use around 1 cup of washing soda for every 4 cups of my homemade coconut oil laundry soap. I also add a couple of drops of lavender essential oil to the laundry compartment with the soap when washing. I wouldn't have thought that it would leave the clothes with a nice scent, but the essential oil does leave a mild fragrance behind. I love it!
I haven't really noticed much of a difference either way. If you experiment with the ratios, I'd love to hear your comments! 🙂
NOTE: It has since been drawn to my attention that in areas with hard water, soap scum can build up from using excess amounts of soap. Some people claim that they notice a buildup of soap on their clothes (making them look dingy) and, perhaps, even their machine. I have a water softener installed at home because of the extremely hard water in my area, and haven't had any issues with this myself. (I have even tried "stripping" clothes washed with this soap, and haven't noticed a difference between those and other newer clothes not washed in the soap.) In any case, it may be best to use caution, especially if you have hard water, and use less, or switch to a surfactant based detergent if you start to notice a buildup on clothing or parts of your machine.
SaveSave