Made using only olive oil, pure Castile soap is a mild, conditioning soap that is gentle enough to use on face and body.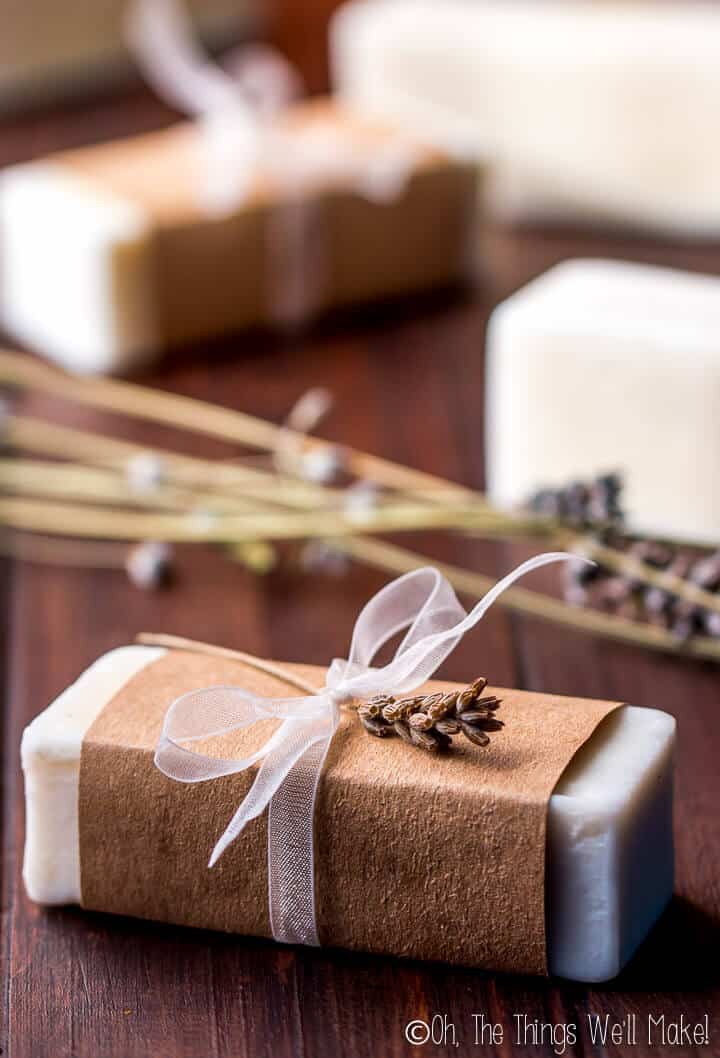 Several years ago, I showed you how to make an easy, beginner soap. It was a recipe for a modified Castile soap. I could have labelled it as either a Marseille soap or Castile soap, but I decided to just call it an easy soap for beginners.
Why do I call that soap a modified Castile soap, while this one is a pure Castile soap?
First you have to understand what Castile soap really is.
The origin of Castile soap
While people have been making soap for thousands of years now, there's a bit of a debate about the beginnings of castile soap.
It is thought that the first castile soaps were actually made with both olive oil and laurel berry oil in the Middle East. Those soaps are now known as Aleppo soaps.
When they began making a similar soap in the region of what is now Spain, they didn't have access to the laurel berry oil, so they made a soap using only olive oil. (This soap completely differed from the soaps made in northern Europe using animal fats).
The term Castile soap comes from the kingdom of Castilla of Spain. At one time to be considered a Castile soap, the soap had to be made with olive oil from Castilla. It was a designation of origin just like "Champagne," "Roquefort," or "Kalamata olives."
Over the years, though, it appears that the "Castile soap" term didn't stick as an official designation of origin. Since then, the terminology has broadened to include soaps made anywhere geographically, and can be made from a combination of vegetable oils which normally, but not always, include olive oil as one of the main ingredients.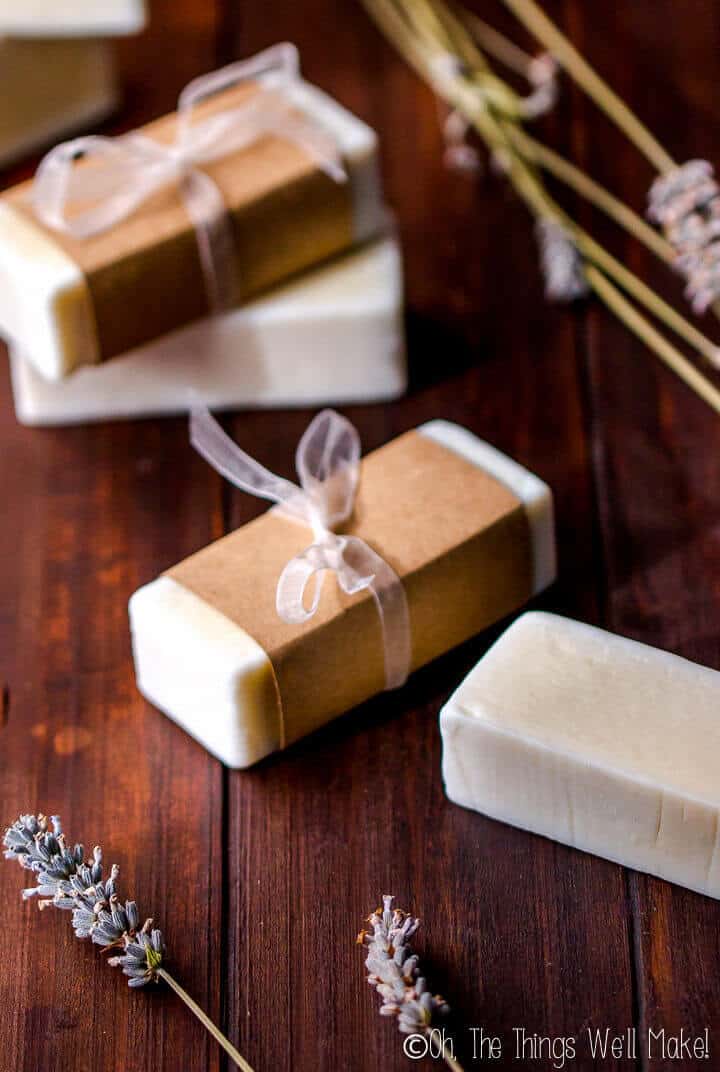 Marseille Soap vs. Castile soap
In France, they began to make a similar soap, Marseille soap. It also began as a soap made with 100% olive oil, but with time also began to included other vegetable oils. They began to add coconut oil to help harden the soap and make it a better cleaner. (Nowadays palm oil is another popular addition.)
Interestingly enough, here in Spain I see Marseille soap, or "jabón de Marsella," for sale more often than "jabón de Castilla," even though by now they are probably one in the same. (By that, I mean that you could formulate a vegetable oil soap with olive oil in it and get away with calling it either Marseille soap or Castile soap.) That's why I say that my beginner soap recipe could be called either a Marseille or Castile soap.
Marseille soap is normally sold here for cleaning. It's used as a bar soap for removing laundry stains, and is added to other household cleaners. It's normally a soap made with olive oil, coconut oil, and sometimes palm oil. Coconut oil in soap makes a great cleaner, but can be drying to skin. That's why I made my laundry soap recipe with 100% coconut oil.
I think that here, most people think of Marseille soap as being a soap made of mainly olive oil and coconut oil which is mostly meant for cleaning. On the other hand, they think of Castile soap as being a milder soap made with only olive oil and meant for face and body.
What is pure Castile soap?
Pure Castile soap, then, is soap made exclusively with olive oil.
Most modern "Castile soaps" for sale aren't really pure Castile soaps. Despite the name, I don't consider Dr. Bronner's "Pure Castile soap," to be a pure Castile soap at all. In fact, all of the Dr. Bronner's soaps I've studied actually use more coconut oil than olive oil in their formulation.
I would like to say that I don't think that using more coconut oil than olive oil makes for an inferior soap. In fact, I make and use more of my coconut oil liquid soap than I make and use my pure liquid castile soap. I think their soaps are great, but don't think they should be labelled as they are.
Watch me make this Pure Castile Soap Recipe
Why make a pure Castile soap?
Olive oil is one of the few oils that can make a great bar of soap when used as 100% of the oils of the recipe.
It makes a very mild soap that won't strip the skin of its natural oils in the same way that soaps with more "cleansing" oils, like coconut oil, can. That's why they usually say that olive oil makes a very conditioning bar of soap, great for face and body.
While soap made with olive oil starts off soft, with time it can harden into a very hard bar of soap. It also improves with time, giving a bit more lather than in the first month or two after having made it. Some people like to cure their pure Castile soap for a full year before using it!
There are disadvantages to making a soap with 100% olive oil.
Pure Castile soap made with 100% olive oil feels "slimy" to some people. It doesn't give that same "squeaky clean" feeling that some people hope for in a soap. (That is, of course, because it is a more conditioning type soap rather than a high cleansing soap.) Other people much prefer using pure Castile soap on their face and body, though, especially those with dry skin or skin conditions such as eczema.
Soaps made exclusively with olive oil don't usually give as much lather, either, as soaps with coconut oil or other more lather producing oils.
Lastly, the curing time for pure Castile soap tends to be longer than for other soaps. It needs more time to fully harden and give a better lather.
The saponification process, the process in which all of the lye is converted into soap, actually finishes within the first few days. So, technically, you can begin to use the finished soap almost immediately, and don't have to worry about residual lye. That said, over time, the soap will benefit from a curing time in which it will harden into a longer lasting soap. Other chemical processes continue within the soap over the next couple of weeks, too, which help improve it with time.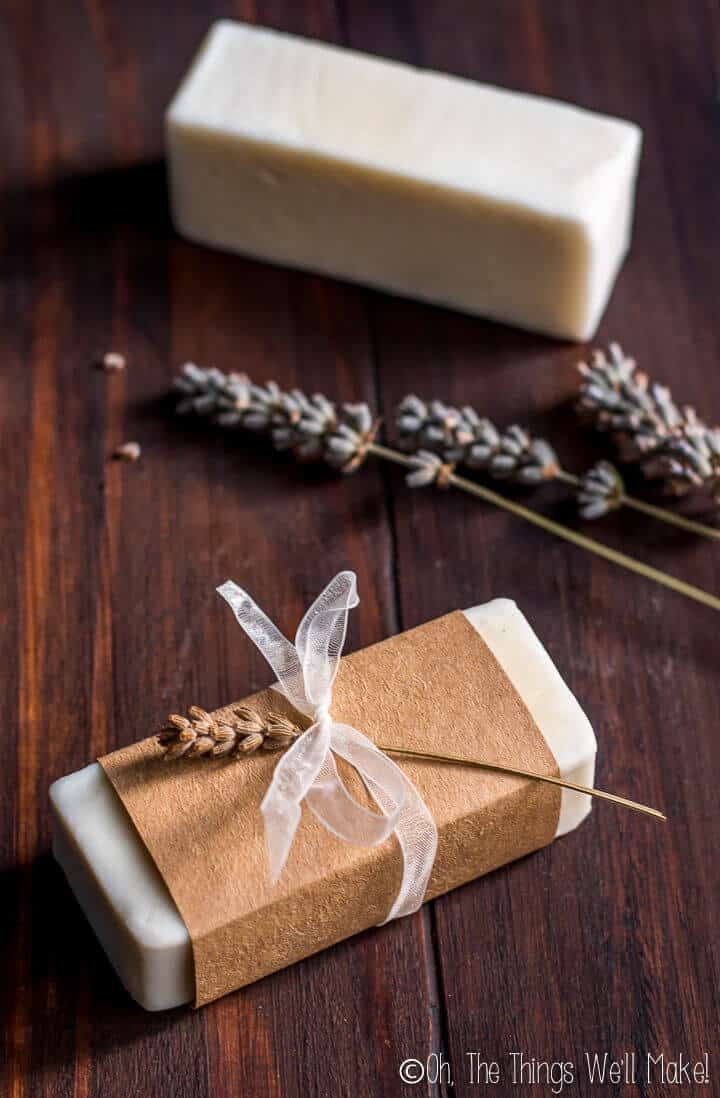 Pure Castile Soap Recipe
Looking to make more?
Subscribe to my newsletter for the latest projects (and recipes)!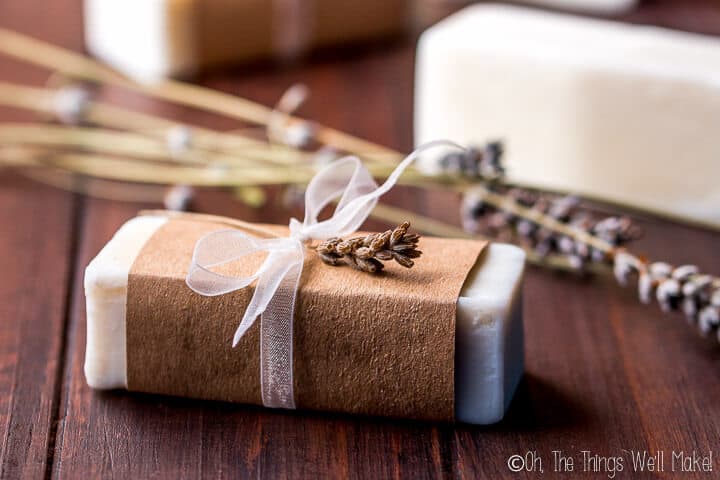 Pure Castile Soap
Made with only olive oil, pure Castile soap is a mild soap gentle enough for face and body.
Print
Rate
Materials
600

g

olive oil

228

g

water

77.2

g

lye

Sodium Hydroxide (NaOH)

18

g

lavender essential oil

Optional, for fragrance. Can use other EO's or fragrance oils.
Instructions
Protect your eyes and skin by wearing protective goggles and gloves.

Weigh out the water in a medium sized bowl.

Weigh the lye in a small bowl.

In a well ventilated area, carefully pour the lye into the bowl of water. Do not do this the other way around, meaning DON'T pour the water into the bowl of lye.

Carefully stir the lye and water until the lye has fully dissolved. It will begin cloudy, and it will get hot, but as you leave it to rest for several minutes, it will begin to clear up and cool down.

Meanwhile, weigh the olive oil in a large bowl.

Carefully pour the lye solution into the bowl with the olive oil.

Mix gently at first to incorporate the lye mixture into the oil.

Once combined, you can begin to blend the mixture with an immersion blender. This process will take several minutes.

As you blend the soap mixture, you will notice that it begins to get thicker and more opaque. It will eventually thicken up into a consistency like a salad dressing. This point is called "trace."
If you've made soap before, you'll notice that it takes a bit longer for this soap to reach trace than soaps with some other oils. It also is a bit thinner than many other soaps when it reaches trace. You can pour it into molds a trace, but it will take a bit longer to thicken up.

Once you have reached trace, you can add in your fragrance oils. My favorite is lavender essential oil. Not only do I love its scent, but it tends to be longer lasting than some of the other essential oils when used in soaps.

Pour the soap mixture into your mold(s). You can use silicone pans or molds, lined wood or cardboard boxes, or even plastic Tupperware type containers as molds if you don't have a mold specifically made for soap.

Set the soap aside and allow it to rest for several days. Pure Castile soap will take longer to harden than most other soaps. I think I unmolded mine (the one in the video) two days after having made it, but it was still very soft, almost like butter. I could have (should have) waited longer, but I wanted the mold for another soap. 🙂 In any case, while soft, you can fix some of the surface imperfections by smoothing it with a knife (like I show in the video).

Wait longer for the soap to harden a little more before cutting the soap into bars (if you've used a large pan type mold). In the video, I think I had waited another 3-4 days. You'll notice that the soap had a lot more solid consistency and was already lighter in color.

Your soap is now finished, but will need to be left to dry out and cure for at least a month. This is a soap that really benefits from a long cure time. Some people even wait a year before using their pure Castile soap!
Notes
When I finished making my pure Castile soap, it looked a lot like butter. In fact, a friend came over and saw it sitting on my kitchen counter the day after I unmolded it and asked, "So you're making butter now?"
With time, it has gotten a lot harder and a lot whiter. I was actually quite surprised as to how white this soap turned out considering that I had made it with a pretty dark colored extra virgin olive oil.
Other Notes:
You can see in the video that I have always used heat resistant glass bowls for mixing the lye solution. It has since been brought to my attention that the heat from the sudden rise in temperature can cause glass to break, so it's recommended by many people that you not use glass bowls for mixing the lye solution. While I have never had any issues, even after years of making soap this way, I'd like to call attention to the possibility to help keep you safe!
That's why I'd like to say that the ideal container for mixing the lye solution is probably stainless steel. While some plastics (#5, for example) are fine for mixing lye, others can't handle the alkalinity (lye solution can eat a hole through #1 plastic). I prefer to avoid plastic, personally. You should also avoid using other metals as many can also react with the lye.