Refresh, cleanse, and heal with this natural, homemade mouthwash that is alcohol-free, inexpensive, and super easy to make yourself!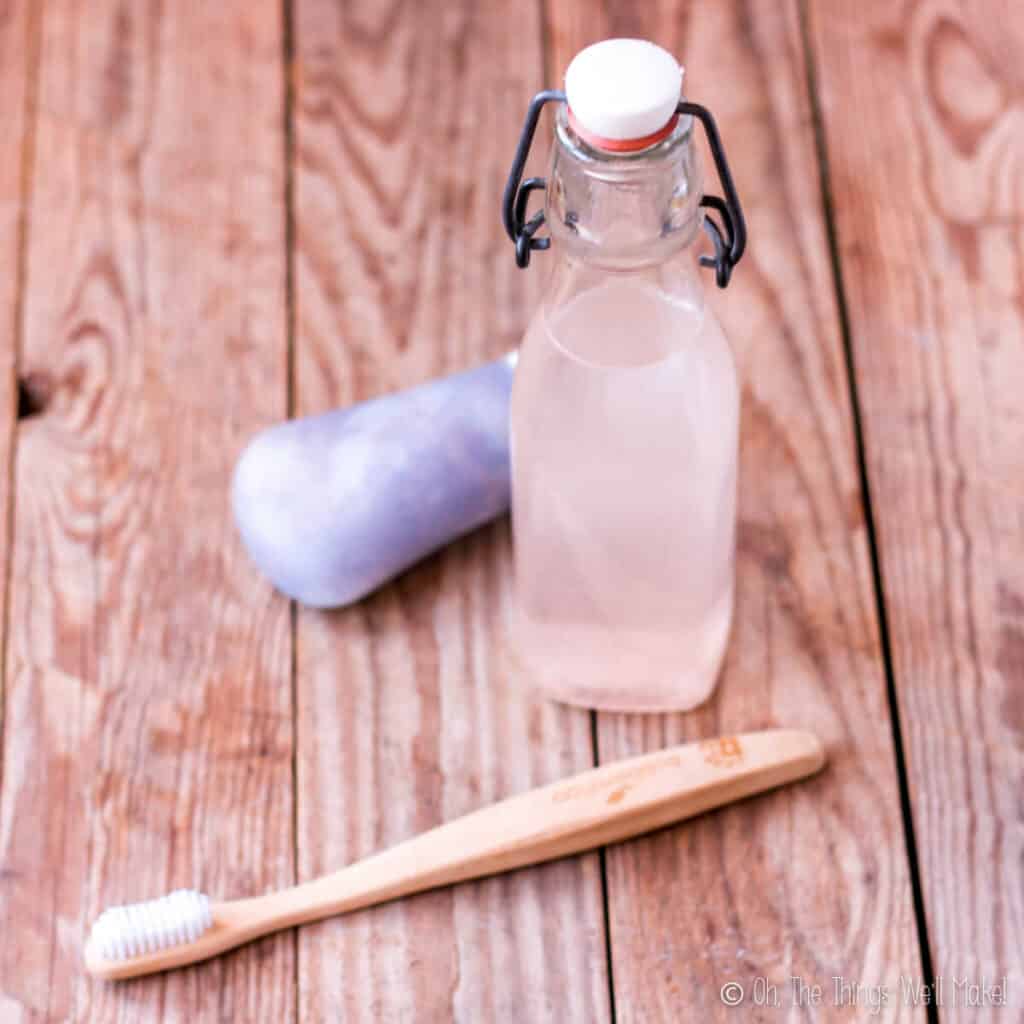 Those who have been following my blog for a while probably already know that my pre-blogging career was dentistry. While my blog doesn't focus on dental health, I figured it wouldn't be fair to you for me to completely ignore a subject that I know a lot about either.
I mean, the whole point of my blog is to share some knowledge with the world. That, and to hopefully empower you to try to make some of the things you'd normally buy so that you can be in control of the ingredients.
In the interest of doing just that, not too long ago I shared a couple of recipes for how to make a homemade toothpaste. (For those who prefer tooth powder, I have a customizable recipe for that too!) In the post with the toothpaste recipe, I also gave you some tips on how and why to brush for good dental hygiene. And, I promised to share with you my favorite recipe for making a homemade mouthwash…
The purpose of mouthwash
Most people use mouthwash either in the hopes of eliminating bad breath or to help their mouths feel fresh and clean. That said, there are numerous mouthwashes available said to serve a variety of different purposes. Some claim to help fight cavities, others to help remove plaque, tartar, or gingivitis. Still, others claim to help whiten teeth.
Is it effective?
Whether or not a mouthwash is effective depends on what that particular mouthwash is meant to do. Some mouthwashes are considered cosmetic, and others are considered therapeutic.
Cosmetic mouthwashes are meant to give a temporary feeling of freshness and may temporarily help with bad breath. Other than that, they don't really do much. For some (most?) people, that may be enough.
Therapeutic mouthwashes have active ingredients meant to serve some sort of long term purpose. They may have added fluoride to try to help prevent cavities. Peroxide may be added in the hopes of whitening teeth. Others add ingredients like chlorhexidine, an antimicrobial agent, meant to help fight gingivitis and periodontitis.
Many of these therapeutic mouthwashes can help in certain situations, but may have other side effects that may not make them the best choice for everyday use.
Some studies do show that using mouthwash can help reduce plaque and gingivitis. (In this study, they conclude that mouthwashes with essential oils did help reduce plaque and gingivitis.)
Should you avoid mouthwash with alcohol?
In dental school, one of my favorite instructors told us that mouthwash wasn't necessary for most healthy people; those who effectively brush and floss their teeth. He pointed out that most of the popular mouthwashes have alcohol in them, and the use of alcohol in a mouthwash could be drying to the mucosa.
Alcohol-based mouthwashes feel cleansing. They have a cooling effect that feels refreshing. With continued use, though, they could potentially lead to a dry mouth.
Dry mouth
Having a dry mouth makes you more susceptible to getting cavities. So, it goes to reason that if preventing cavities is your main reason for swishing, you may be doing yourself more harm than good to use an alcohol-based mouthwash.
Sure, you could choose a fluoride-based rinse instead, but that takes us back to the debate about if you should be using fluoride or not. (I touched on that in my homemade toothpaste post.)
Effect on plastic fillings
I found one study that looked at the solubility of composite resins (tooth-colored fillings) in different solutions, including an alcohol-based mouthwash. They concluded that it may be best for people with a lot of composite restorations to avoid using alcohol-based mouthwash.
Does it cause cancer?
Some people believe that mouthwash with alcohol may give you an increased chance of developing oral cancer. The studies don't really show a connection. The ADA has taken the stance that mouthwashes with alcohol in them are safe.
Again, that's not my reason for avoiding alcohol in mouthwash.
I'll leave you to be the judge of whether you want to use an alcohol-based mouthwash or not. (You could always add a bit of food-safe alcohol to this recipe if you prefer an alcohol-based mouthwash.)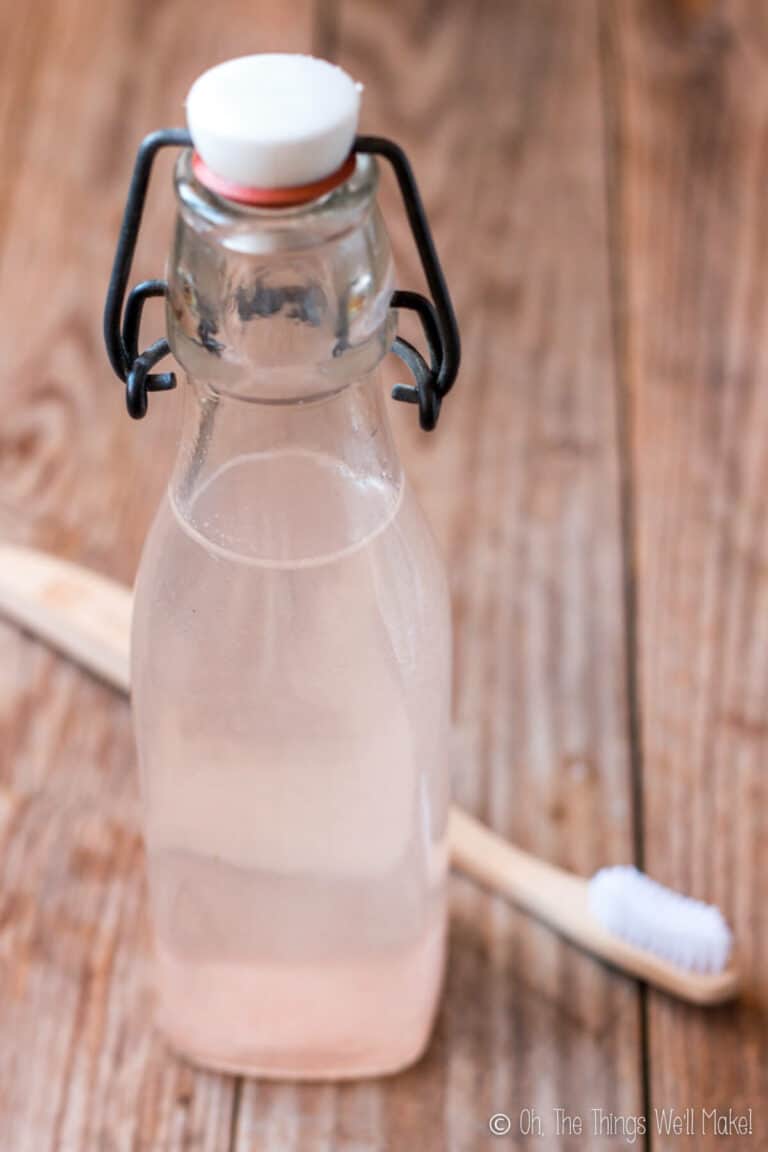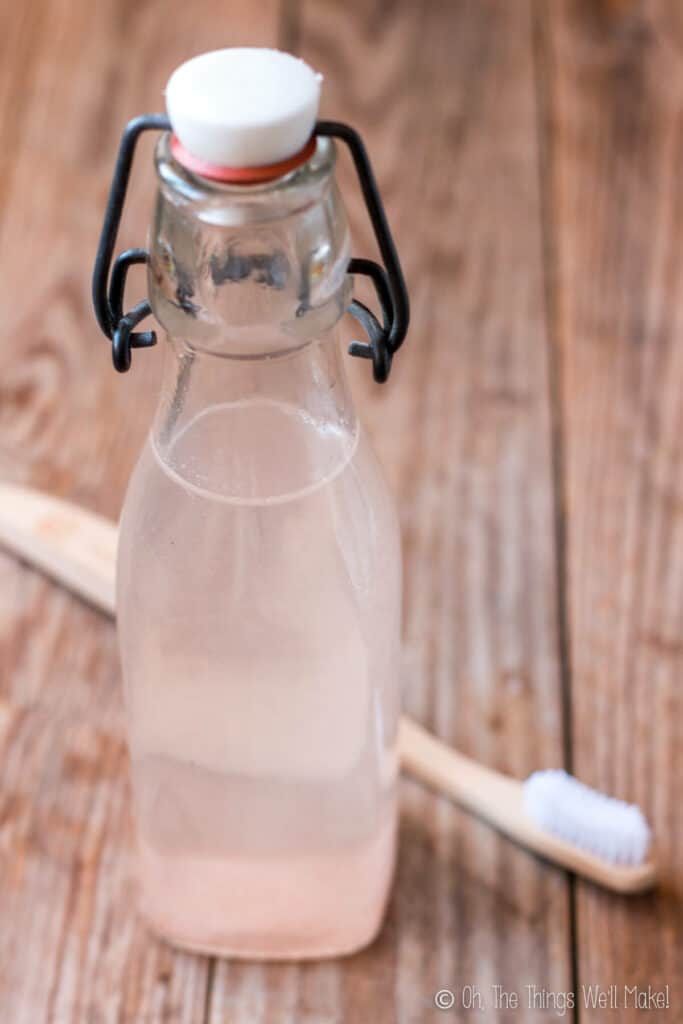 Why make it yourself?
By making your own homemade mouthwash, you control the ingredients.
You can choose whether or not you want to add alcohol to your recipe. You can choose whether or not to add essential oils.
Not only that, but you can save yourself money. This is a very inexpensive, super quick-and-easy DIY!
When to use it
Perhaps you want to freshen your breath before a date.
You may have dental pain, and want a way to soothe your mouth until your dentist is able to see you.
Maybe you have a sore throat and want to gargle with something that will help lessen the pain.
Or maybe you're just looking for a way to clean out your mouth and raise the pH of your mouth after eating when you can't get a brushing in?
All of these reasons are valid reasons for wanting to use a mouthwash, so why not make it yourself…
What ingredients should you use?
Salt
Salt is a healing ingredient that has been used in medicine by many cultures since ancient times. It is, perhaps, the most important ingredient to use in a homemade mouthwash because of its healing properties. Saltwater rinses are often prescribed after dental surgeries because they can help soothe and promote healing by reducing inflammation and contracting the tissues.
Saltwater rinses may also help alkalize the mouth by helping to destroy the acid-forming bacteria that cause cavities and gingivitis. Using a natural salt, like Himalayan salt, could be helpful in providing essential trace minerals that may help in the remineralization of your teeth.
The addition of salt also helps preserve your homemade mouthwash.
Baking soda
Baking soda has a pH of around 9. Adding it to your homemade mouthwash can help alkalize the mouth, making it a less hospitable place for bacteria that cause cavities and gingivitis. It can also help balance your oral pH after having ingested acidic foods that can be damaging to your teeth.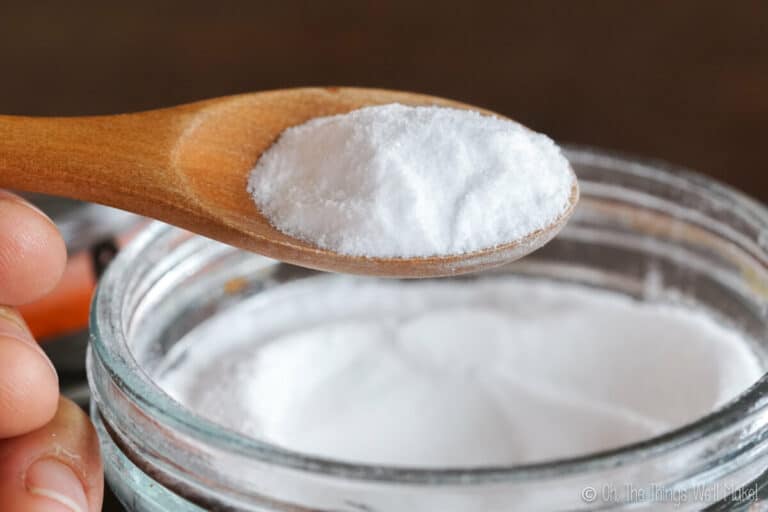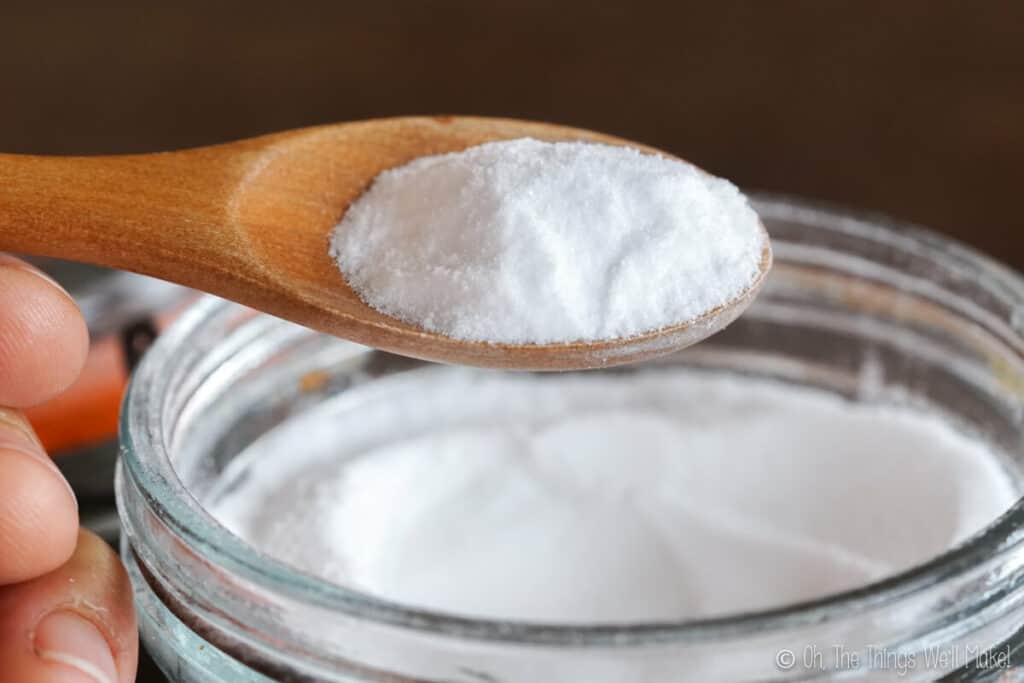 Using salt and baking soda together in a rinse isn't new. The National Cancer Institute recommends using a rinse of water, baking soda and salt as a way to help reduce mouth pain and some of the oral side effects of chemotherapy. It's a natural, gentle, healing combination that is great for a variety of issues.
Xylitol
Xylitol is a sweetener that won't damage your teeth and may actually help keep cavities away. I'm primarily adding it to help make the mouthwash more appealing. It's a totally optional ingredient, though, so if you are opposed to using it, don't add it!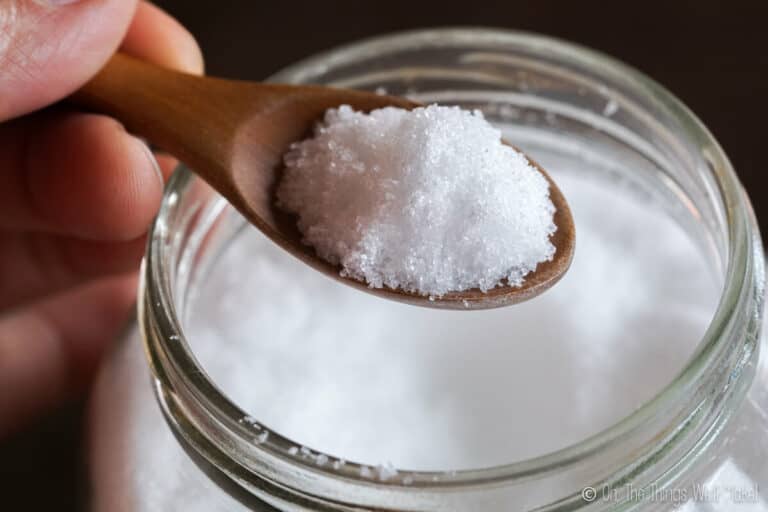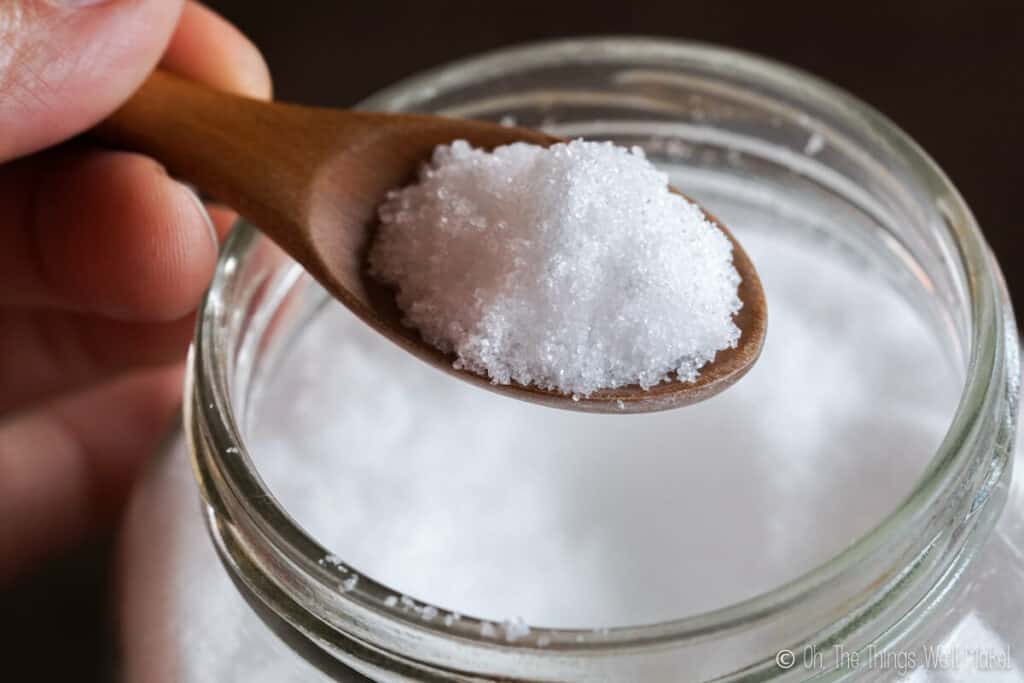 Xylitol Warning
While xylitol is the perfect choice for sweetening homemade toothpaste and tooth powder for humans, it is toxic to dogs and cats. (And, perhaps, some other animals.)
Do not use it on your pets and keep it out of their reach!
Mineral drops
Adding mineral drops, like Concentrace Trace Mineral Drops or Purium's Ionic Elements, is also optional. I add them to help surround the teeth with beneficial minerals. I figure they may help in remineralizing any areas that may have been demineralized by the acid-forming bacteria in dental plaque.
These same mineral drops make a great addition to your homemade toothpaste, tooth powder, or even your drinking water. So, they're great to have on hand for other purposes.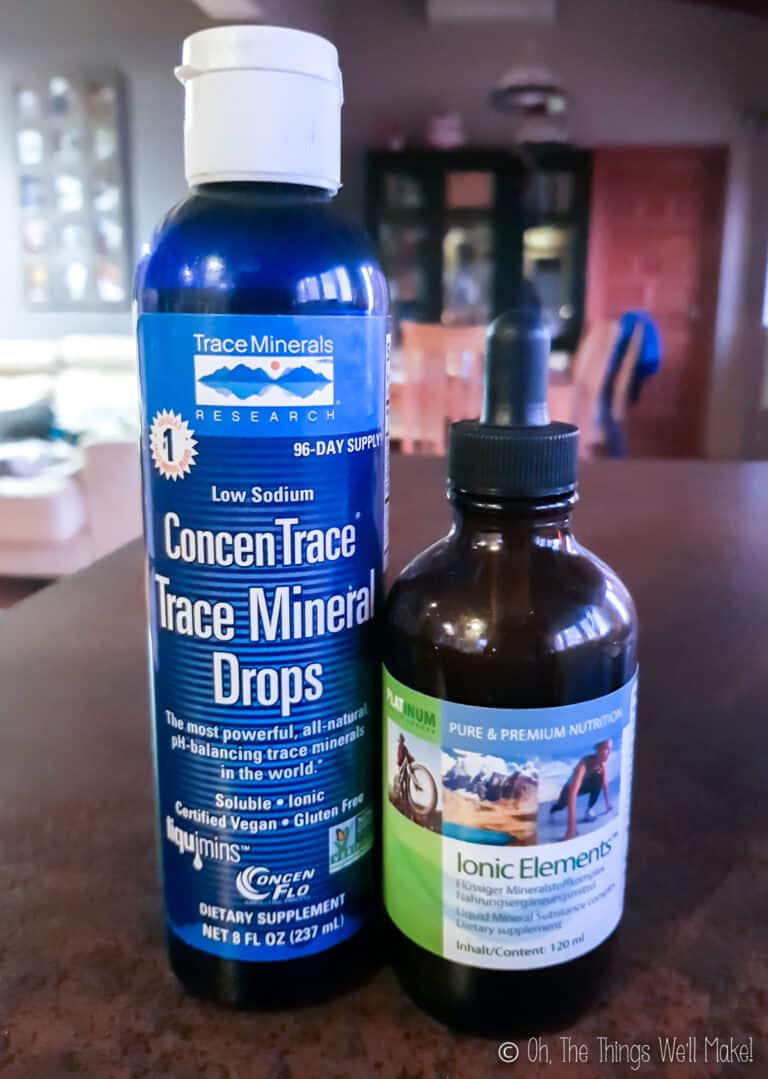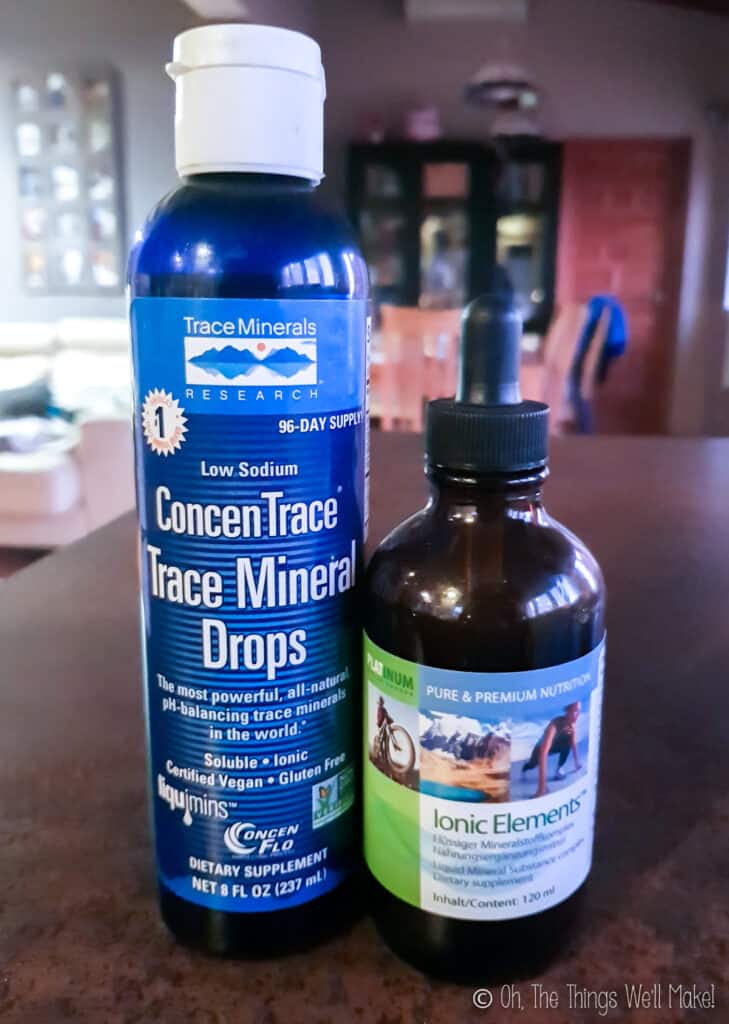 Discount Code
If you want to get $50 off Ionic Elements or any other Purium products order of $75 or more, click on the link to their website and use the code: keephealthywithtracy
(I recommend copying and pasting the code to avoid any issues.) This code will get you either $50 off or 25% off- whichever is more!
If you decide you love it and stick with using their products, you will automatically be considered a "loyal customer" after your first order and will continue to be able to buy at a discounted rate. As long as you order every month, you will save 25% on your purchases. You'll also start to earn Rewards Points. If you forget to order one month, you'll receive a 15% discount instead. To get back to receiving a discount of 25% off, make sure you order within 30 days of your last purchase.

Watch how easy it is to make
Best essential oils for mouthwash
Many commercial brands of mouthwash use combinations of several essential oils to give their product good flavor and to leave your mouth feeling fresh. Listerine uses a combination of thymol (found in thyme oil), menthol (found in peppermint oil), eucalyptol (found in salvia and eucalyptus), and methyl salicylate (wintergreen).
The goal is to have the oils disrupt the bacterial cell wall of the bacteria in your plaque. If you kill the bacteria, it won't form acid, which thereby helps avoid cavities, gingivitis, and periodontal disease.
You can use one of several popular essential oils, depending upon your flavor preference, or use a combination of different oils. Some great choices are clove, tea tree, spearmint, peppermint, and wintergreen.
<strong>Safety note for essential oils</strong>
Certain oils such as peppermint and wintergreen should be avoided with young children. Wintergreen can lead to the development of Reye's syndrome when used by children under the age of 10. Peppermint is generally safe for children over the age of 6, but can sometimes (very rarely) lead to respiratory issues in younger children, so it's best to err on the side of caution and avoid using it with younger children. Clove oil is generally safe to use with children over age 2.
If you feel that your child is likely to ingest the mouthwash, rather than spit it out, it's probably best to leave the oils out altogether or not use mouthwash at all.
The ADA doesn't recommend the use of mouthwash in children under 6 anyway as swallowing reflexes may not be well developed yet in young children. Their main concern is the alcohol and other active ingredients in most commercial mouthwashes, but it's something to consider.
If you plan on having children use this mouthwash, you can add peppermint extract instead to flavor your mouthwash. (It won't be completely alcohol-free, then, but the amount of alcohol added is almost negligible.)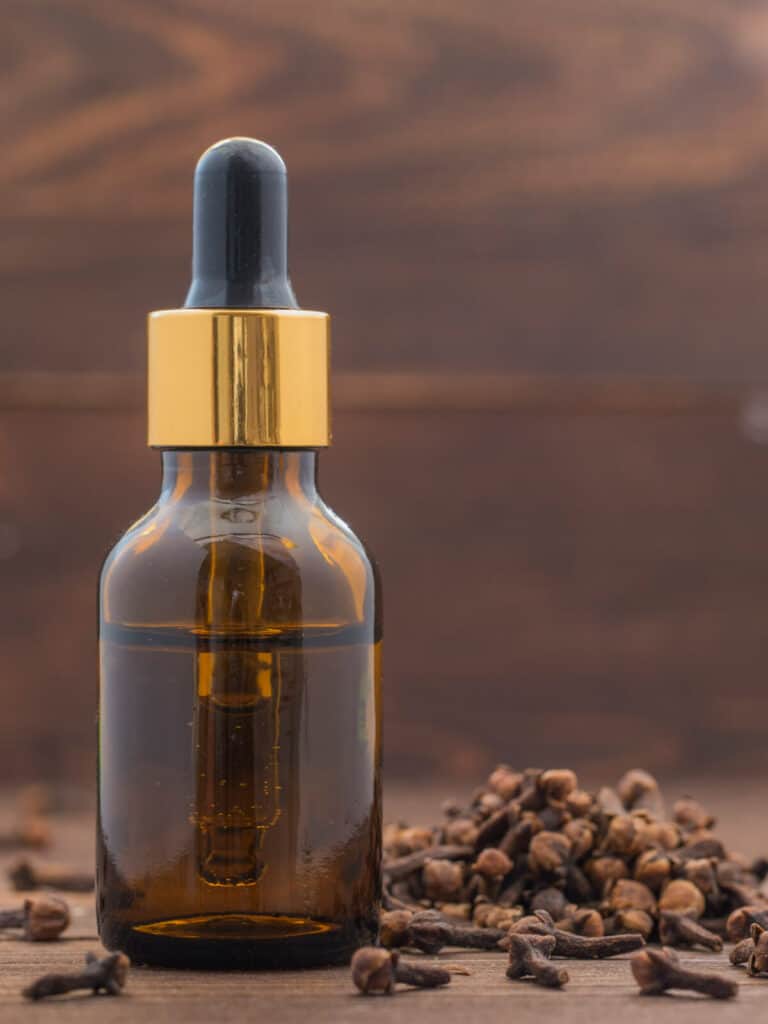 Clove oil
Clove oil is a great oil to use in homemade mouthwash because of its anti-inflammatory and analgesic properties. Gargling with a mouthwash made with clove oil may help soothe a sore throat, and it may also help relieve other pain from toothaches or ulcers in the mouth.
The eugenol component of clove oil is no stranger to dentistry. Zinc oxide-eugenol cement is commonly used as a temporary filling material.
Clove oil is generally safe to use with children over age 2, but I don't suggest using a mouthwash with any oil on a child that young.
Tea tree oil
Tea tree oil isn't the most pleasant tasting of the oils, but some people choose it for its antimicrobial properties. It may help in cases of oral candidiasis and may also help with gingivitis.
As this oil isn't generally taken orally, you want to be especially sure to spit this one out. I don't suggest using it with children.
Wintergreen oil
Wintergreen oil tastes great and can help with the inflammation and pain from infections. It's thought to help naturally reduce bad breath. As it can be toxic in high concentrations, such as those found in essential oils, this is another one you want to make sure to spit out.
Wintergreen can lead to the development of Reye's syndrome when used by children under the age of 10.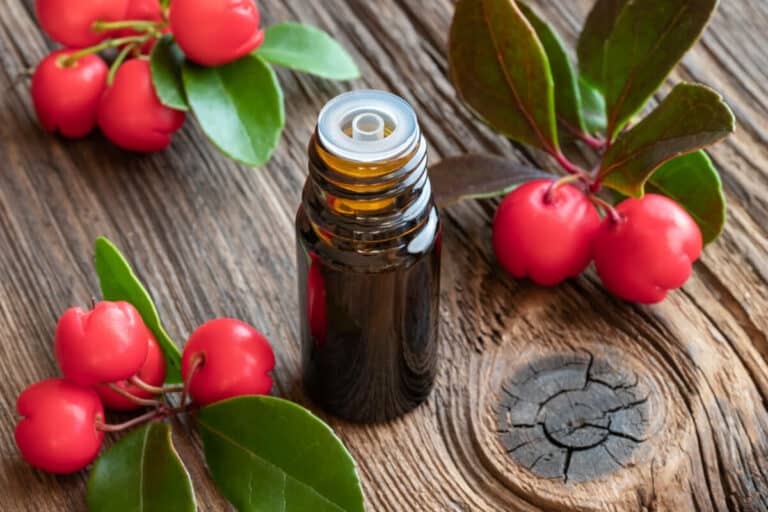 Peppermint oil
My favorite oil for a homemade natural mouthwash is peppermint. It's easy to find, great for a number of other uses, and it gives your mouth a fresh, clean feeling. There's no need to use alcohol in your mouthwash when you can get that same fresh kick from a few drops of peppermint oil.
Peppermint is generally safe for children over the age of 6, but can sometimes (very rarely) lead to respiratory issues in younger children.
Do essential oils disrupt the healthy bacterial balance in your mouth?
I've seen it said that one should avoid using essential oils in homemade mouthwash and toothpaste because of their antimicrobial properties. The reasoning is that just as an antibiotic kills off both good and bad bacteria in your gut, that essential oils may do the same and throw off the delicate balance of the bacteria in your mouth.
While essential oils do have antimicrobial properties, I personally don't think that they are such that they would be potent enough to disrupt the balance in your mouth.
Anybody who has made homemade natural products like homemade lotion or a homemade hair conditioner knows that essential oils can NOT be used as preservatives. Despite including them in your formulations, if you do not add some other sort of preservative, your creations will grow both bacteria and mold (and normally pretty quickly).
For more information about effective preservatives and why essential oils are not true preservatives, see my guide to natural preservatives.
Are essential oils effective at combating gingivitis and plaque?
There is a study that helps support the idea of using a mouthwash with essential oils to help reduce plaque and gingivitis. The patients with gingivitis that used an essential oil containing mouthwash along with their brushing and flossing had significantly lower amounts of gingivitis and plaque than those that either didn't use a mouth rinse or those that used one without essential oils.
If you are still concerned, you can leave the essential oils out. Or, just save them for moments when you are dealing with dental pain, gingivitis, or inflammation of any other type.
Recipe
Looking to make more?
Subscribe to my newsletter for the latest projects (and recipes)!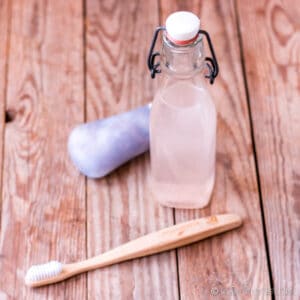 Homemade Natural Mouthwash
Refresh, cleanse, and heal with this natural, homemade mouthwash that is alcohol free, inexpensive, and easy to make yourself!
Print
Rate
Instructions
Add all of the ingredients to a storage bottle and mix thoroughly.

Shake before each use to help disperse the oils and any baking soda or traces of salt that may have settled to the bottom of the bottle.
Notes
Use this mouthwash after brushing your teeth or between brushings to leave your mouth feeling refreshed. It can also be used as a gargle for a sore throat.
Take care when using essential oils with children. If they will likely swallow the mouthwash, rather than spit it out, it's probably best to leave out the essential oils or have them avoid using a mouthwash altogether.
While the salt and the alkalinity of the baking soda help preserve the mouthwash, it's best to make small batches more frequently rather than keeping a large batch for a longer period of time.
The American Dental Association does not recommend using a mouthwash in children under 6 because they have not fully developed their swallowing reflex yet and may swallow large amounts. While their main concern was the alcohol content of many types of mouthwash, it's something to consider.
To use, pour a small amount into a glass. (15ml or 0.5 ounces is a good estimate of how much to use.) Swish the mouthwash in your mouth for around half a minute. Finish by gargling the mouthwash to help clean the back of the tongue and throat.
Mouthwash can be used before or after brushing your teeth. It can also be used between brushings, when you can't conveniently brush your teeth throughout the day.
How to use
Mouthwash can be used before or after brushing your teeth. It can also be used between brushings, when you aren't able to conveniently brush your teeth during the day.
It's especially helpful to rinse your teeth with mouthwash after flossing, to help remove any debris that you may have pulled out from between your teeth.
Pour a small amount of mouthwash from the bottle into a small cup. About half an ounce (15ml) is enough.
Swish the mouthwash around in your mouth for around half a minute.
Finish by gargling some of the mouthwash to help clean the back of the tongue and throat area. This is especially helpful if you are dealing with a sore throat.
Make smaller batches rather than try to keep larger batches for longer periods of time. While the mouthwash should safely keep for longer, it may degrade with time. Ideally, mix up what you think you'll use in a week. (Remember- this is quick and easy to make!)
Update Information
This post was originally published on Jan. 2, 2018. It was updated and republished in February of 2020 with new photos, tips, and warnings.
Other oral hygiene related posts