Disappointed with the consistency of the homemade toothpaste recipes you've tried making at home? This recipe, formulated by a dentist, tastes and feels like the toothpaste you buy at the store.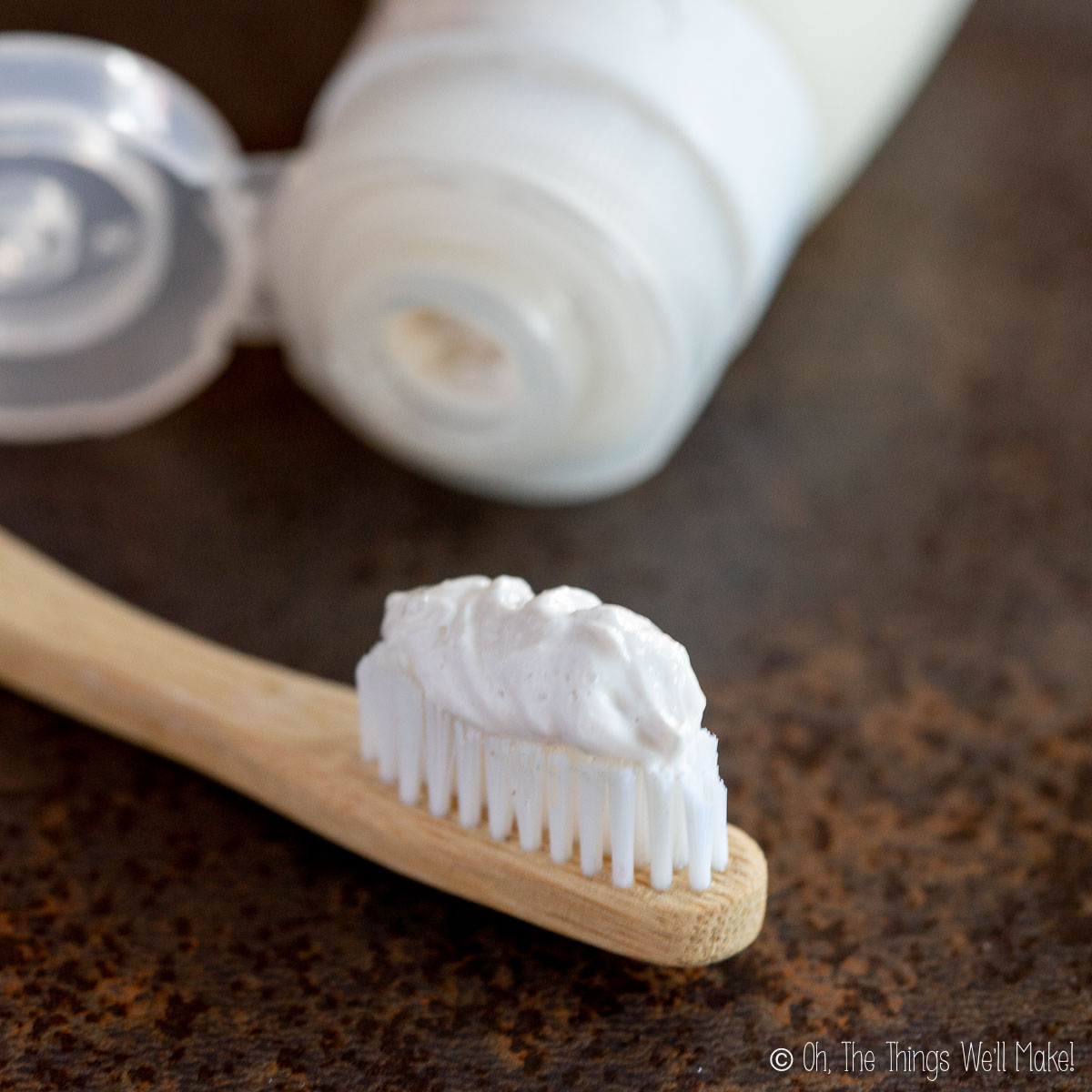 Why waste your money on chemical-laden store-bought toothpaste when you can make a simple, all-natural alternative? If you've been struggling to create toothpaste with the perfect texture, don't give up. After some experimentation, I believe I've found the best homemade toothpaste yet!
Why is this the best homemade toothpaste recipe?
After years of making a variety of homemade toothpaste recipes, I have to say that this is my absolute favorite! In the past, I shared a bentonite clay-based DIY toothpaste that was all-natural but had a few downsides:
The earthy texture of clay-based toothpaste isn't ideal. Plus, clays can be contaminated with heavy metals and other toxins. While they are generally considered safe to use, there is enough controversy to make me want to consider using something else.
Oil-based toothpaste also gives a strange mouthfeel. While it's perfectly safe to use oil in your toothpaste, it doesn't leave your mouth feeling as "squeaky clean".
Making a water-based toothpaste is challenging because, without laboratory testing, it's impossible to know the true shelf-life of your finished product. You have to rely on using a high pH to prevent unwanted bacterial growth and hope that the final product will be safe for as long as you plan to use it. Although a preservative can be added, it is challenging to find preservatives for home formulaters that are labeled as safe for oral care products.
This toothpaste is glycerin-based, giving it a longer shelf-life and great consistency. It looks like toothpaste and has a great texture that leaves your mouth feeling clean! (If you don't want to use glycerin, there are alternatives…)
Why make it?
Making your own toothpaste isn't only a great way to save money, but it's also environmentally friendly. By using reusable food-grade silicone tubes to dispense your homemade toothpaste, you're reducing plastic waste.
When you make your own natural toothpaste, you can choose exactly what goes into it. That means you can avoid toxic ingredients like triclosan (a pesticide) and other unwanted ingredients like artificial coloring or SLS.
Best of all, though, is that you can tweak the recipe to suit your taste. Want to add a bit of sea salt? No problem! Bored with mint and looking for a certain flavor like citrus orange, cinnamon, or anise? Go for it!
Ingredients
This toothpaste recipe uses calcium carbonate as the main ingredient. It's mildly abrasive, but gentle on teeth and helps get rid of plaque and stains. Plus, it has a nice texture and taste. Calcium carbonate also has minerals that may help with remineralization.
I also added baking soda to the recipe because it's a natural polisher that neutralizes acids and fights bad breath.
To bind the dry ingredients together, I used glycerin and distilled water. (You can use filtered water if you like.) Glycerin is a humectant that gives this toothpaste a great texture. Even better, though, is that by using it in a higher percentage than water, we ensure a long-lasting toothpaste without the need for preservatives. (More on that below!)
While you could bind the toothpaste with only glycerin, I chose to use some water to lighten it up and keep it from being "sticky".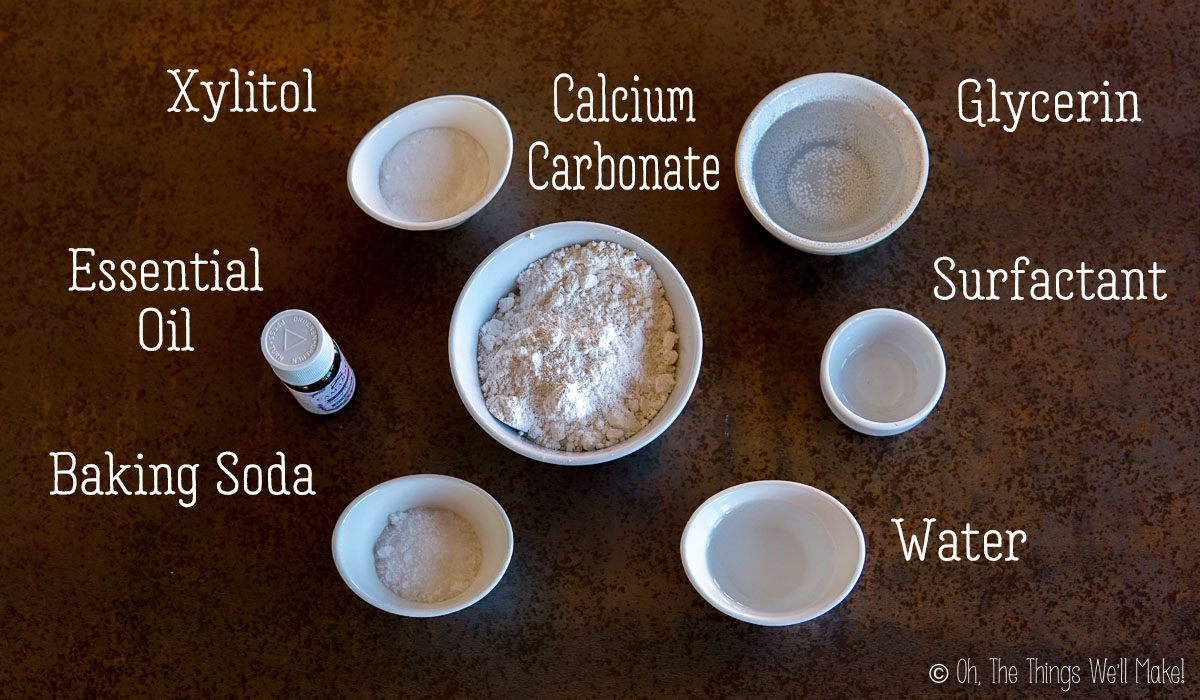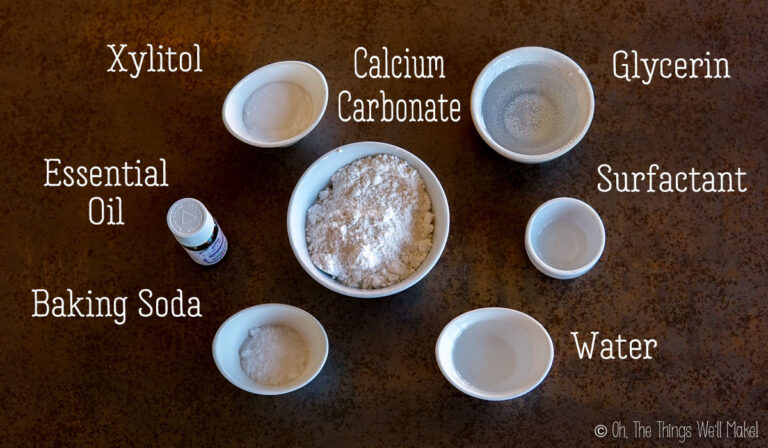 Optional additions:
To make the toothpaste more professional quality, I included a natural surfactant called sodium cocoyl glutamate. It mildly cleanses and adds foaming, but if you don't want to use it, that's totally fine! I chose sodium cocoyl glutamate because I saw it included in many commercially sold toothpastes, but you can try another natural surfactant you already have or even some liquid Castile soap!
To make the toothpaste sweet and increase its cavity-fighting properties, I used xylitol, a natural sweetener that prevents cavities.
For a refreshing flavor, I added a few drops of essential oil. Peppermint, anise, and clove oil are popular choices. I generally use food-grade peppermint oil because it leaves your mouth feeling clean and refreshed!
While xylitol is safe for humans to consume, it can be toxic to animals, especially dogs. So, don't make oral care products for your animals with xylitol, and make sure you keep it out of their reach.
What I don't use:
Many toothpaste brands use sodium lauryl sulfate as the foaming, cleansing surfactant. While I don't mind using SLS in my homemade laundry detergent, it's a harsher surfactant that I never use in my homemade cosmetics. In toothpaste, it can irritate the gums and other mucosa, which can lead to the formation of aphthous ulcers (aka. canker sores).
I'm no longer using clays in my toothpaste because I don't like the mouthfeel of clay-based toothpaste and have some concerns about the heavy metals in clays.
Instructions
Making this toothpaste couldn't be simpler!
Weigh out and mix together all the dry ingredients in a small bowl. Add a few drops of an essential oil, if you're using it, and your surfactant (powder or liquid). Stir until they are well incorporated into the powder.
If you would like to make your own tooth powder instead, you could stop at this point. Use the mixture as you would any tooth powder!
To make the paste, add the glycerin and stir it into the dry ingredients. When combined, slowly add in the water, stirring between additions. Stop when you are happy with the consistency.
For a longer shelf life, make sure to use more glycerin than water.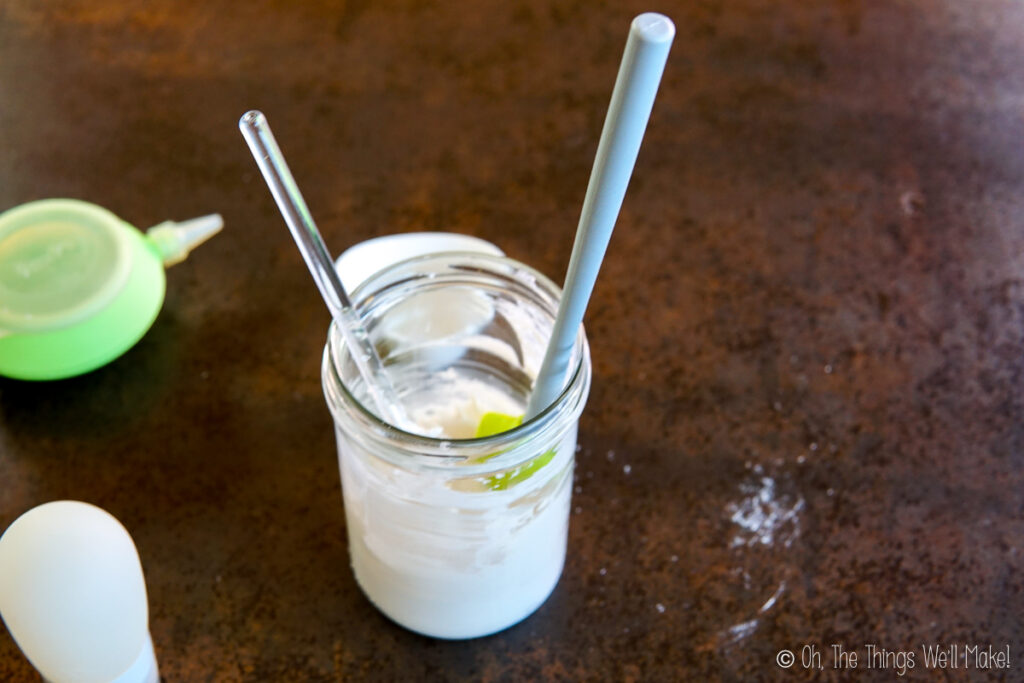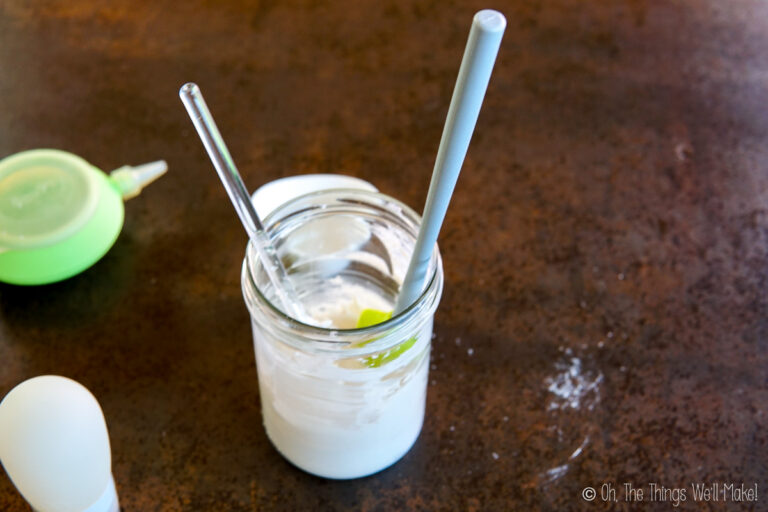 Is glycerin bad to use in toothpaste?
For many years, a myth about the harms of glycerin in toothpaste has circulated in the natural and healthy living communities. The idea is that glycerin coats your teeth and prevents them from absorbing the minerals they need to stay strong. Is it true?
How did the claim begin?
The idea seems to have originated from Dr. Gerard Judd's book "Good Teeth, Birth to Death." You can read some of Dr. Judd's other interesting ideas here. (He also believes that sugar doesn't have any bad effects on tooth enamel!) This idea was further perpetuated in the book "Cure Tooth Decay" by Ramiel Nagel.
After years of blogging, I've noticed numerous instances where someone proposes an idea and everyone else simply echoes it without investigating themselves. Some go as far as copying recipes without even trying them out! It's very frustrating. More bothersome, is that some make money off the claim. They use fearmongering about glycerin to convince people to choose products they sell over toothpaste with glycerin.
Does it even make sense?
Even if glycerin were to coat the teeth, the effects would probably be very short-lived. Glycerin is water-soluble, so it does not create a permanent barrier that prevents mineral absorption by enamel. Any glycerin coating on teeth will be cleared away by saliva or water, allowing minerals to support remineralization.
Consider the fact that glycerin is a main ingredient in most types of artificial saliva given to people with xerostomia or dry mouth. The artificial saliva helps them prevent tooth decay that's otherwise often common in people with dry mouths.
What about the carbamide peroxide/glycerin study?
Although my initial searches did not find anything, I recently stumbled upon a study that potentially supports the glycerin barrier idea in a post about the glycerin myth on the Whole New Mom blog.
The study wasn't designed to test if glycerin in toothpaste would prevent remineralization of teeth under normal use. In fact, it didn't involve real people or natural saliva. Instead, they used extracted teeth and artificial saliva, which, incidentally, as mentioned above, generally uses glycerin as a main ingredient. (They didn't include an ingredient list for their saliva, but did specify that they didn't use Carbopol.)
The study in question was mainly focused on the effects of tooth whiteners on tooth enamel. Using tooth whiteners containing carbamide peroxide frequently leads to tooth sensitivity. They often contain glycerin, not only as a preservative but also as a means to penetrate deep into the teeth for a more effective whitening process. (It's not meant to act as a barrier.)
While they do briefly speculate that glycerin could form a barrier on teeth, the study wasn't about that. It wasn't designed to show us what we (in this case) really want to know.
The teeth underwent a treatment where they were covered solely in glycerin (or other tooth whitener ingredients) for 8 hours a day. After cleaning each ingredient off, the teeth sat in small, stationary vials containing artificial saliva. After 42 days of that treatment, they were placed in those vials for two more weeks, switching out the artificial saliva every two days.
Nothing in that study mimics the natural processes in our mouths. We don't coat our teeth in toothpaste for 8 hours each day. (On the other hand, teeth whitening products are often worn overnight.) Our saliva is constantly renewing itself. Our mouths are in constant movement. In our mouths, any film that could form would be cleaned away by the movement and renewal of (real) saliva.
You can read Adrienne's take on the study in her post. I'll agree with her conclusion that this study isn't really enough to make me want to avoid using glycerin in toothpaste.
Glycerin toothpaste anecdote
My son has been using the very same glycerin-based "baby" toothpaste since he started brushing years ago. (Ingredients: Glycerin, Water (Aqua), Silica, Algin, Calendula Officinalis Flower Extract, Prunus Amygdalus Dulcis (Sweet Almond) Oil, Esculin, Flavor (Aroma)*, Limonene*.)
I've attempted to find an alternative toothpaste for him, not because I have any objection to the one he's using, but because I think it's outrageously overpriced for what it is. Plus, I'd like him to have something with a bit more abrasiveness to help with plaque removal. He, however, is very resistant to change.
So, for over 12 years now, he's used the same toothpaste with glycerin as its main ingredient. He has never had any cavities or other dental issues. While I try to keep his sugar intake low, he, as a kid, eats more problematic foods than I do. Yet, it is clear that his teeth have no trouble with remineralization. And, no, he doesn't brush his teeth several times daily. (Nor do I. Sorry ADA.) I just make sure he gets in one good 2-minute brushing session at night before bed. (More on that some other day!)
Glycerin alternative
If you still aren't convinced, you can skip the glycerin and just use the dry ingredients as a tooth powder. You could also mix the powder with oil for an oil-based toothpaste.
You could also just use water and skip the glycerin with one caveat. While the higher pH of this toothpaste helps keep it from spoiling quickly, it's still advisable to create smaller batches regularly, when using only water, to ensure it stays fresh and safe to use.
Does this need a preservative?
This toothpaste is self-preserving and should keep for a reasonable amount of time.
The self-preserving nature of this DIY toothpaste relies on two factors. First, when glycerin is used at a high enough concentration, it acts as a preservative of sorts. Harmful microbes will only grow if the water content is high enough. By using glycerin as the main binder, rather than water, we can not only give the paste a great texture but also keep it safe longer.
The high pH of this toothpaste also contributes to its longer shelf life. While there are some microbes that can grow at extreme pH levels, most of the problematic microbes grow at a more neutral pH, between 4 and 9. I tested this toothpaste and found it to be above that range, in the 9-10 range. This alkalinity not only makes it ideal for neutralizing acids in the mouth, but it keeps the toothpaste free of unwanted microbes.
Storage & use tips
All of that said, there are a few things to keep in mind. To make your homemade toothpaste last longer, avoid putting your toothbrush directly into the paste. Instead, squeeze the toothpaste onto your brush before brushing your teeth. This will keep the toothpaste clean and prevent bacteria from growing, ensuring that your toothpaste stays safe for longer. I recommend using food-safe silicone tubes for storage rather than glass jars.
If you prefer to use a jar, scoop out the toothpaste you need for each use with a fresh utensil each time.
I also recommend not making large batches that can't be used in a reasonable amount of time.
Video tutorial
Looking to make more?
Subscribe to my newsletter for the latest projects (and recipes)!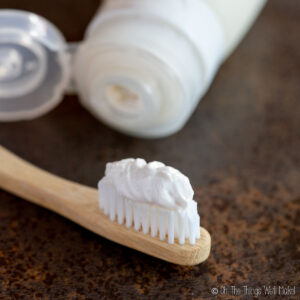 Best Homemade Toothpaste
Disappointed with the consistency of the homemade toothpaste recipes you've tried making at home? This recipe, formulated by a dentist, tastes and feels like the toothpaste you buy at the store.
Print
Pin
Rate
Materials
50

g

calcium carbonate

20

g

baking soda

10

g

xylitol

3

g

surfactant

I used sodium cocoyl glutamate.

5

drops

essential oil

options: peppermint, anise, clove, etc.

50

g

glycerin

20

g

water

estimate
Instructions
Weigh out all of the dry ingredients and mix them together.

Add the essential oil and surfactant and stir until well incorporated.

Stir in the glycerin. Then, little by little, add in filtered or distilled water until you achieve a paste in the desired consistency.

Fill a silicone travel tube with your toothpaste. Use as you would use any toothpaste.
Notes
Keep xylitol out of the reach of animals. Do not use it in a toothpaste for your pets!
Toothpaste FAQs
Can I substitute the xylitol with another sweetener like stevia?
I purposely chose xylitol because it inhibits the cavity-causing bacteria that lead to tooth decay. Other sweeteners may not have those same beneficial properties and some may even feed the bacteria and help cause cavities.
Stevia itself is a natural product that doesn't lead to tooth decay. That said, there are a variety of different products on the market like stevia drops and powders. These products have other ingredients that may cause issues.
Can I add other ingredients like activated charcoal or cocoa powder?
Both activated charcoal and cocoa powder are generally safe to use in homemade toothpaste. Theobromine, found in cocoa powder, has actually been found to help with the remineralization of tooth enamel. Activated charcoal may help absorb toxins and impurities that can cause discoloration on teeth. That said, both are a dark color and may make a mess of your sink. While they may make your teeth look whiter at first, they may both eventually lead to a darkening of your teeth.
Can I add diatomaceous earth to my homemade toothpaste?
While I've seen it included in several online toothpaste recipes, please don't add it! Diatomaceous earth has a Mohs scale hardness rating of 6 which is higher than that of hydroxyapatite, the main mineral component of tooth enamel (rating of 5). Before using any ingredient, make sure the hardness rating is lower than 5, or you risk abrading away tooth enamel. Also, make sure it won't lower the pH of your mouth or contribute to the formation of plaque in some way.
Is it safe to use essential oils in toothpaste?
I've received messages from some concerned readers about using essential oils for fear of disrupting the natural bacteria balance in the mouth. They worry that since essential oils have antibacterial properties, they may harm the good bacteria. I understand the fear, but essential oils, while they do have antibacterial properties, they aren't as strong as you might think. Consider what happens when you make a homemade cosmetic with an essential oil. Unless you were using an extremely high dose, the essential oil won't affect the shelf life of the product much. Microbes will quickly grow; that's why you need a preservative. In the case of homemade toothpaste, only a few drops of essential oil are used to add flavor and freshness to the mouth. This isn't enough to make any real impact.
Xylitol and baking soda also have antibacterial properties and yet are generally recommended as ideal for oral hygiene.
While xylitol is safe for humans to consume, it can be toxic to animals, especially dogs. So, don't make toothpaste products for your animals with xylitol, and make sure you keep it out of their reach.