Are you a meat lover looking for a new way to enjoy your favorite protein? Look no further than homemade meat chips! These delicious and savory snacks are a great alternative to traditional potato chips and are perfect for satisfying your carnivorous cravings.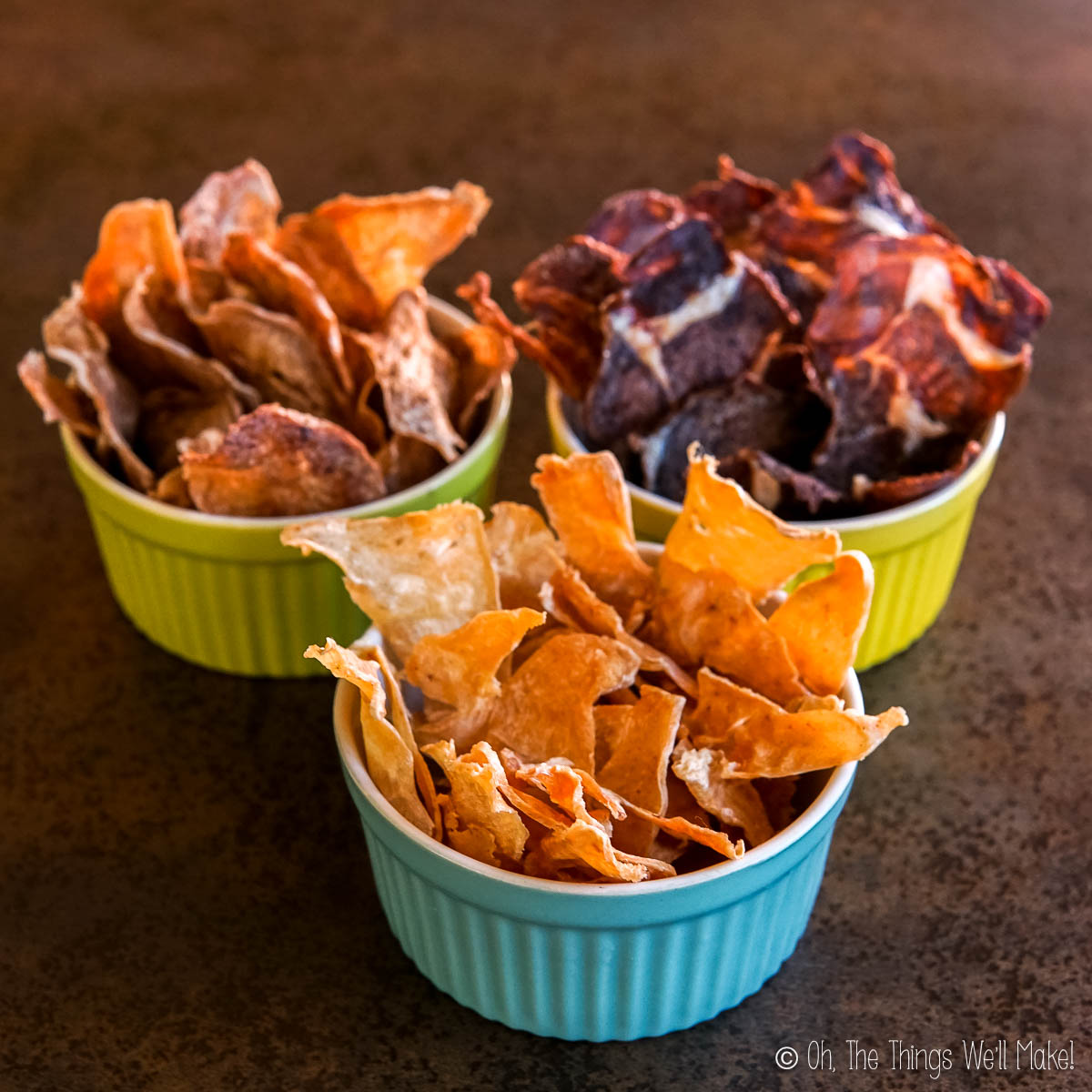 One of the hardest things when beginning the carnivore diet is finding satisfying, crunchy foods to snack on. Many people have become addicted to snacking on high-carb, highly inflammatory snacks like potato chips or nacho chips. Even I, who had avoided most chips for many years, snacked on things like homemade flaxseed chips, nuts, or nut bars. Even my "healthy" celery dipped in homemade almond butter wasn't as healthy as I thought. I didn't realize how inflammatory those supposedly "healthy", high-oxalate foods are.
Luckily, there are delicious alternatives. Pork rinds are popular as a snack for carnivores, but they can become monotonous. Plus, some people, while healing, need to stick to ruminant meat. That's where carnivore meat chips come to the rescue!
Not only do they satisfy your craving for meat, but they also provide a crunchy texture that is sure to satisfy your snacking needs. Whether you're looking for a quick snack to munch on during your lunch break or a new addition to your party platter, Carnivore Chips are a great option that you won't want to miss.
Carnivore Crisps vs. homemade meat chips
Carnivore Crisps are a relatively new product that has been gaining popularity, especially in the carnivore community. They're a convenient carnivore-safe snack, but they aren't available everywhere.
As I wasn't able to buy them, I told my mother back in the United States about them and had her give them a try. While she liked the idea, she found them overly salty for her taste. Another issue she had was that one of her bags (of chicken skin crisps) arrived rancid, but their customer service was great and they promptly refunded her for the problematic bag.
In the end, Carnivore Crisps are a great option and can save you time. Making your own meat chips, on the other hand, requires a few tools and a bit of time. I think the rewards are well worth it, especially if you can't buy Carnivore Crisps in your area. Not only can you save money, but you also have the flexibility to adjust the salt content to your liking.
I, sadly, have not been able to try Carnivore Crisps to be able to compare, but I know these are delicious. If I were in the US, I'd definitely give them a try and probably use both options! (They have great variety, and you never know when you'll be short on time and want a convenient travel food!)
If you'd like to give Carnivore Crisps a try, you can use the code TRACY to get 10% off your order!
Ingredients
True to the simplicity of the carnivore diet, meat chips only use a few ingredients. In fact, all you really need is one: some sort of meat. So far, I've made these with turkey, beef, and pork.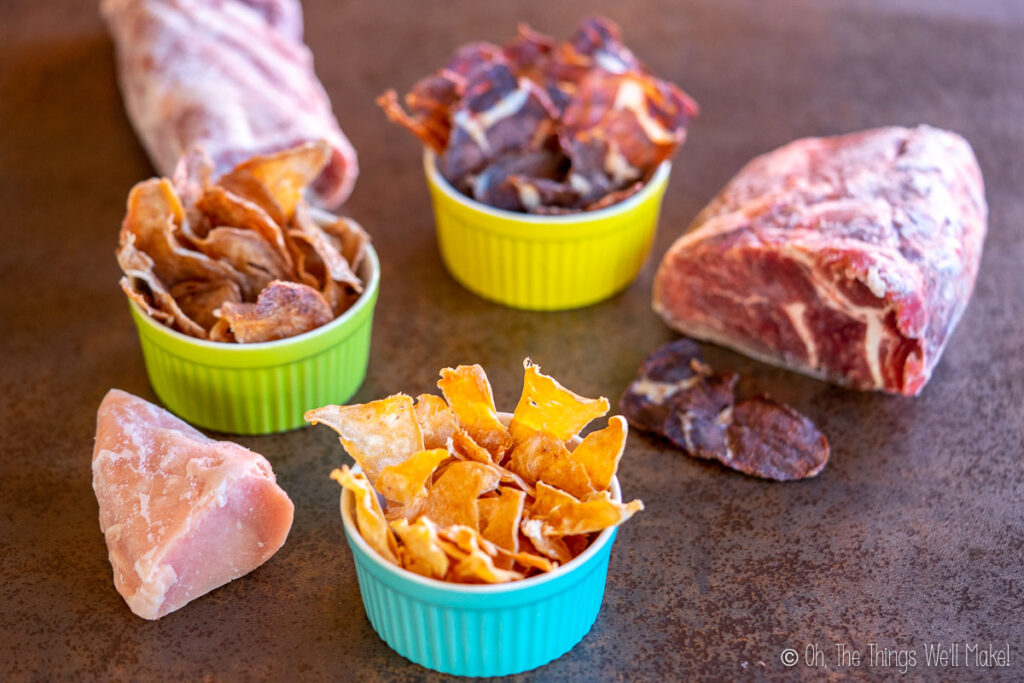 If you're not strictly adhering to a carnivore diet, consider adding a flavorful twist to your chips by seasoning them with herbs and spices. You can also enhance the taste of the meat by pre-marinating it before drying, similar to the process used in making beef jerky. Prepare a marinade using ingredients like soy sauce, Worcestershire sauce, garlic powder, onion powder, and your favorite spices. Put the meat in a bag or dish. Pour the marinade over the meat and let it marinate in the refrigerator for a few hours. Then, remove the meat, pat it dry, and freeze it for cutting.
Personally, I just add a light sprinkle of hickory smoked salt. It gives the chips a delicious touch of BBQ flavor without any artificial ingredients.
Equipment
To make carnivore chips, it's possible to do so without specialized equipment. However, for the best and easiest results, I suggest using a frozen meat slicer and a dehydrator. These meat chips are so popular at my house that each batch only lasts a couple of days. So, it was definitely worth the investment for me.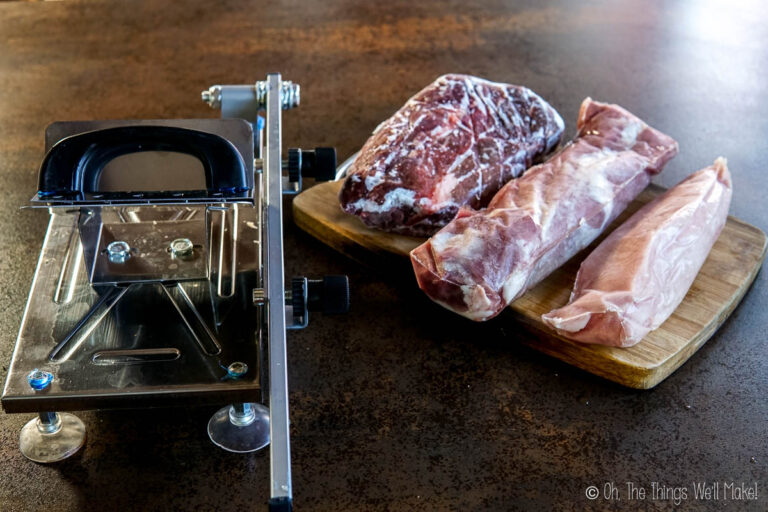 The frozen meat slicer helps you easily slice the meat thinly and evenly, which is crucial for producing the tastiest, crispiest chips. The slicer looks like a paper cutter, but it's designed to slice frozen meat. Freezing the meat ensures that it remains firm and retains its shape. This allows you to get a thin, straight, even cut. I was afraid that it would be very difficult to use, but it surprisingly cuts very thin slices with ease.
The dehydrator is used to remove the moisture from the sliced meat. The dehydrator dries the meat slowly at a low temperature, giving it a crispy texture. While you could dry the meat slices in an oven at its lowest temperature, the results will vary depending on your oven. Using a dehydrator ensures consistent, delicious results.
Making the meat chips
Making your meat chips is super simple. So, let's get to it!
Choose Your Meat
The first step in making meat chips is selecting the type of meat you want to use. While beef or pork are the most common choices, you can also experiment with other meats like turkey.
You'll want to find longer, whole cuts of meat that aren't too wide for your meat slicer to handle. Pork loins are an ideal size for these chips. For the crispiest chips, you'll want to slice against the grain, so plan your cut accordingly.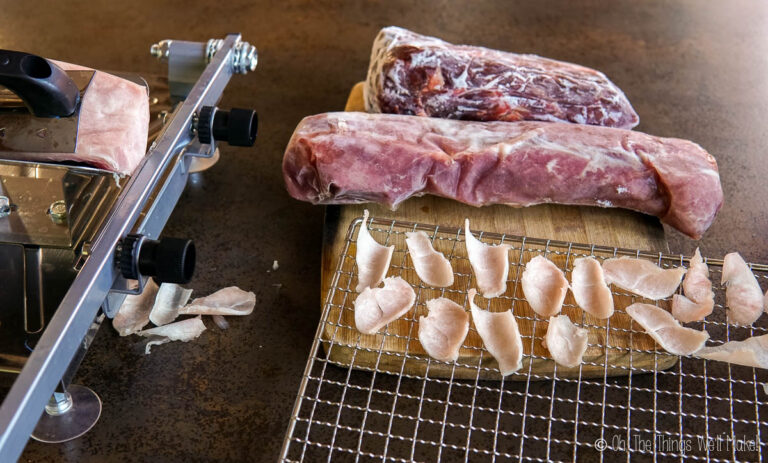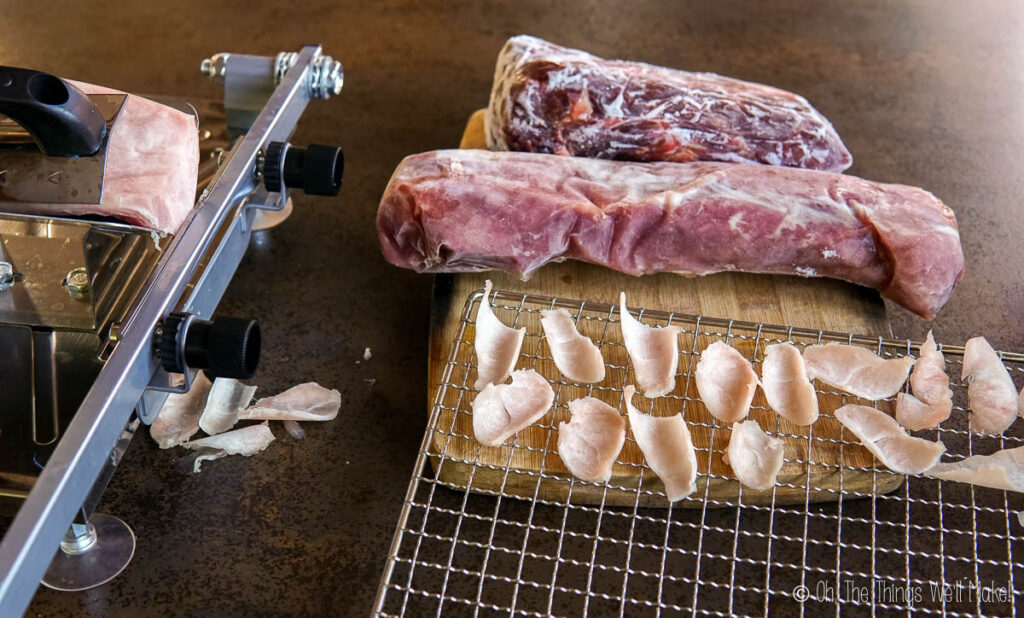 At first, I chose leaner cuts with minimal fat. Doing so ensures a chip that will keep longer. I soon found, though, that we used them up immediately and that I enjoyed the chips with a bit of fat in them. Meats with fat areas can sometimes be trickier to cut, and they generally leave an oily residue in your dehydrator. If that doesn't bother you too much, though, give them a try and see which cuts you like best.
At first, my son and I liked the pork and turkey sirloin chips the best while my husband preferred the beef chips. Later, I got tired of the turkey chips and found that my favorites were beef and pork sirloin or shoulder. While I love the beef chips, the easiest meat for me to find in an ideal size is pork sirloin, so I make the pork chips the most often.
Slice the Meat Thinly
To create the crispy texture of meat chips, you'll need to slice the meat as thinly as possible. To do so, freeze the meat first. Then, use a frozen meat cutter to slice the meat thinly, placing it on the dehydrator trays while you slice the meat. If it thaws completely before you place it on the tray, it's much more difficult to place it without it sticking to itself or breaking.
Arrange the slices in a single layer on the dehydrator trays, making sure they don't overlap. This will allow them to cook evenly and become crispy without sticking together.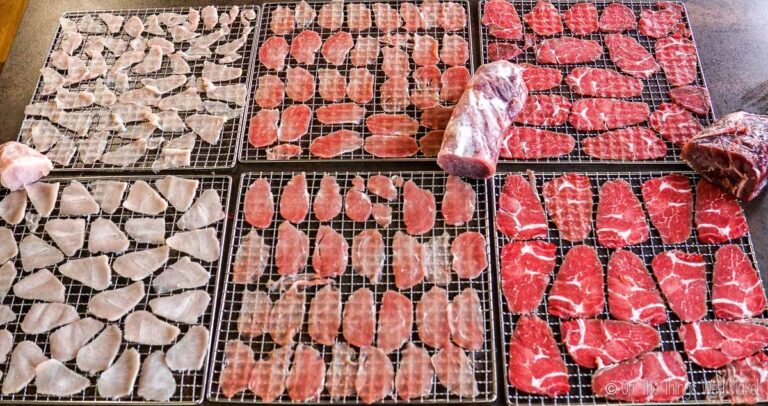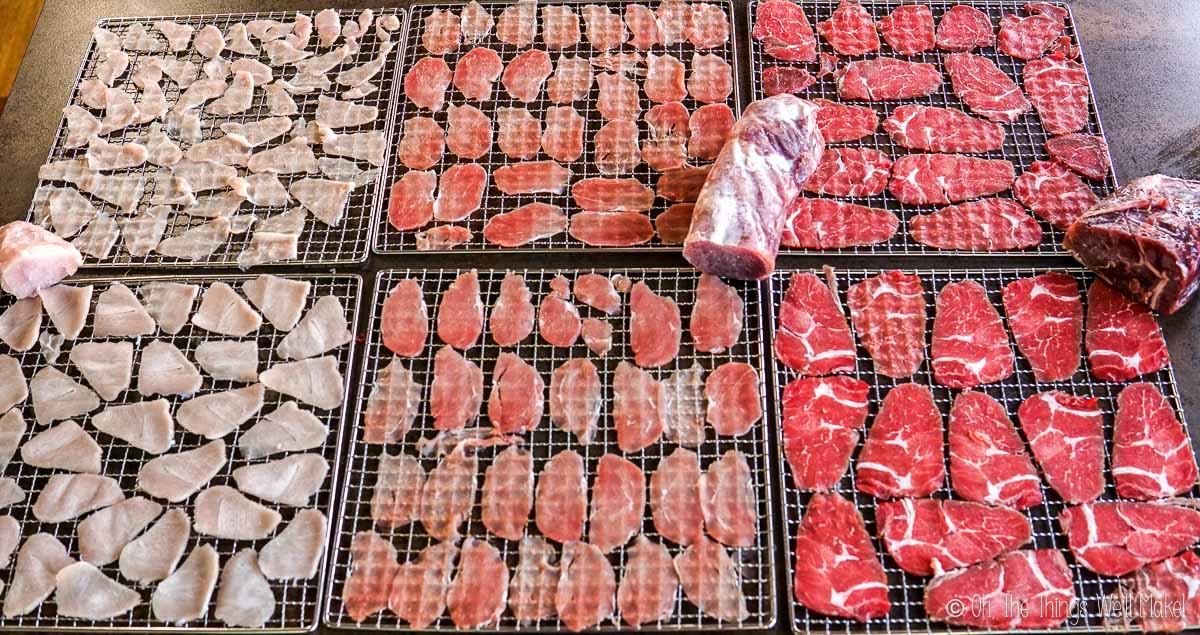 If you want to give these a try before investing in a meat slicer, try making them with thinly sliced cuts of meat like beef carpaccio. You may also be able to fine very thinly sliced meats at some Asian markets.
Experiment with the thickness of meat to find the perfect thickness for your preference.
Season the meat
Thinly sliced meat thaws quite quickly on the trays. I've found that the best time to season the chips is when they have recently thawed. The humidity on the surface of the meat allows the smoked salt to stick to the meat.
Dry the meat until crispy
Place the tray in your dehydrator and set it to 70-75ºC (160-165ºF). Check on the meat chips after around 3 hours for crispiness. To achieve the crispiest chips, I usually extend the drying time a couple of hours longer. However, this will vary based on the thickness of the meat, its fat content, and the specifications of your dehydrator. (I dry it until it's no longer flexible and snaps when bending.)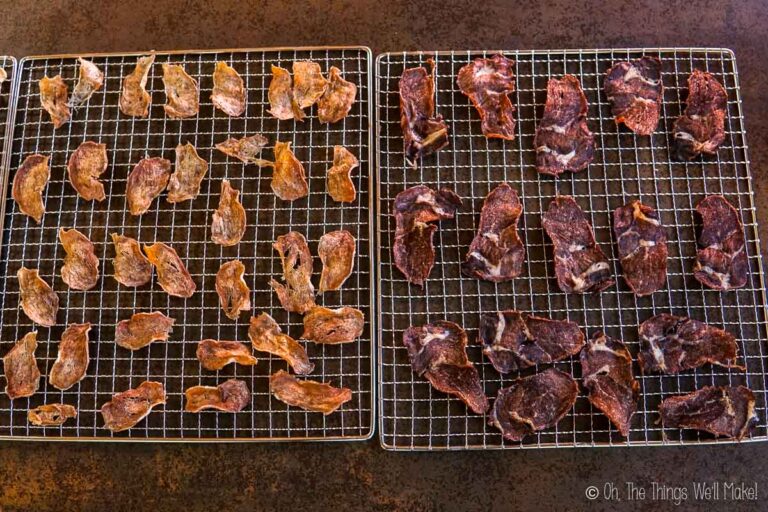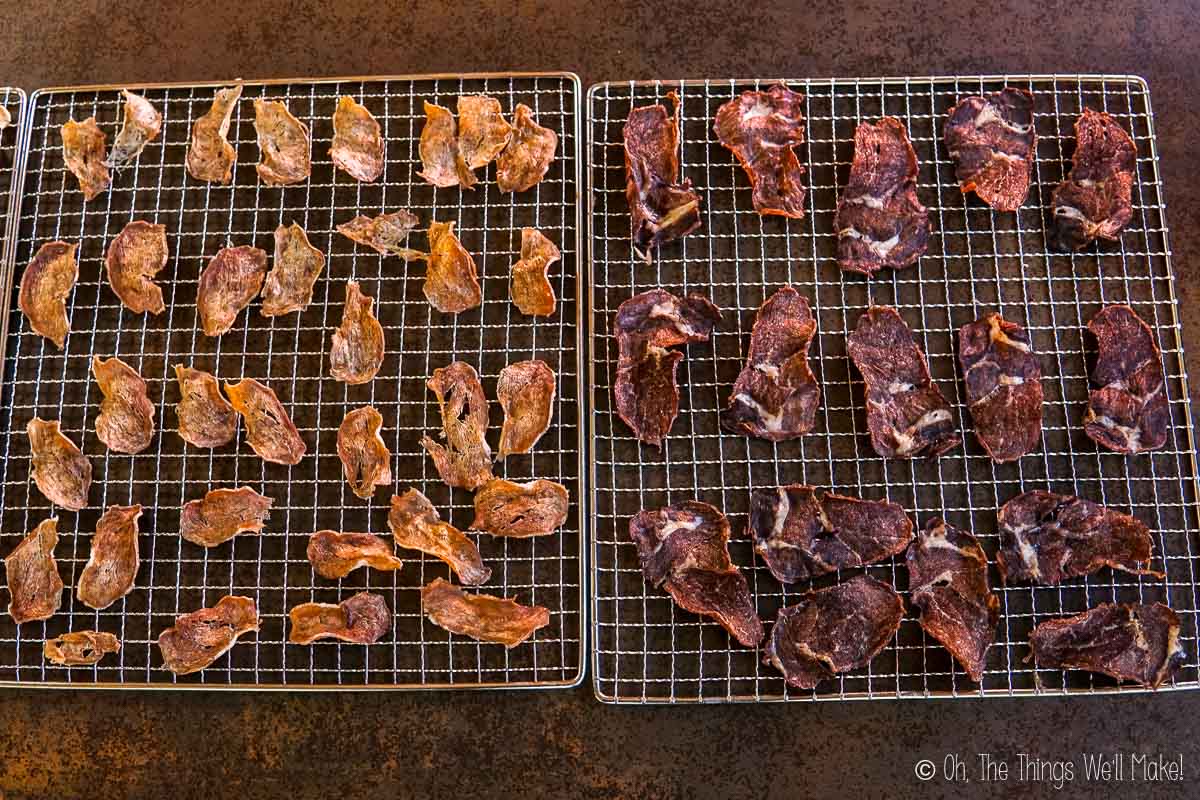 Yield
I wanted to calculate the yield for you, so during my last batch, I weighed all of the meat used before and after drying it. When using an 800g pork loin, it dried, after around 6 hours of drying at 70ºC, to 230g of meat chips. (Just under 30% of the initial weight)
I weighed out 5 large meat chips and they weighed 15g.
Storage
Once the meat chips are dry and crispy, remove them from the dehydrator and let them cool completely on the trays. As they cool, they will become even crispier. Once cooled, transfer them to an airtight container or enjoy them right away.
Alternate meat chips
Some people are curious about using already-cooked meat for meat chips. While I'm not a big fan of most deli meats because they generally have unwanted ingredients like preservatives, you can make a different version of meat chips using deli meat slices.
As an experiment, I tried to make my own turkey deli meat using ground turkey breast and smoked salt in a deli meat press. While I was somewhat happy with the results, I liked the carnivore chips made from raw meat better than the chips made from my homemade deli meat.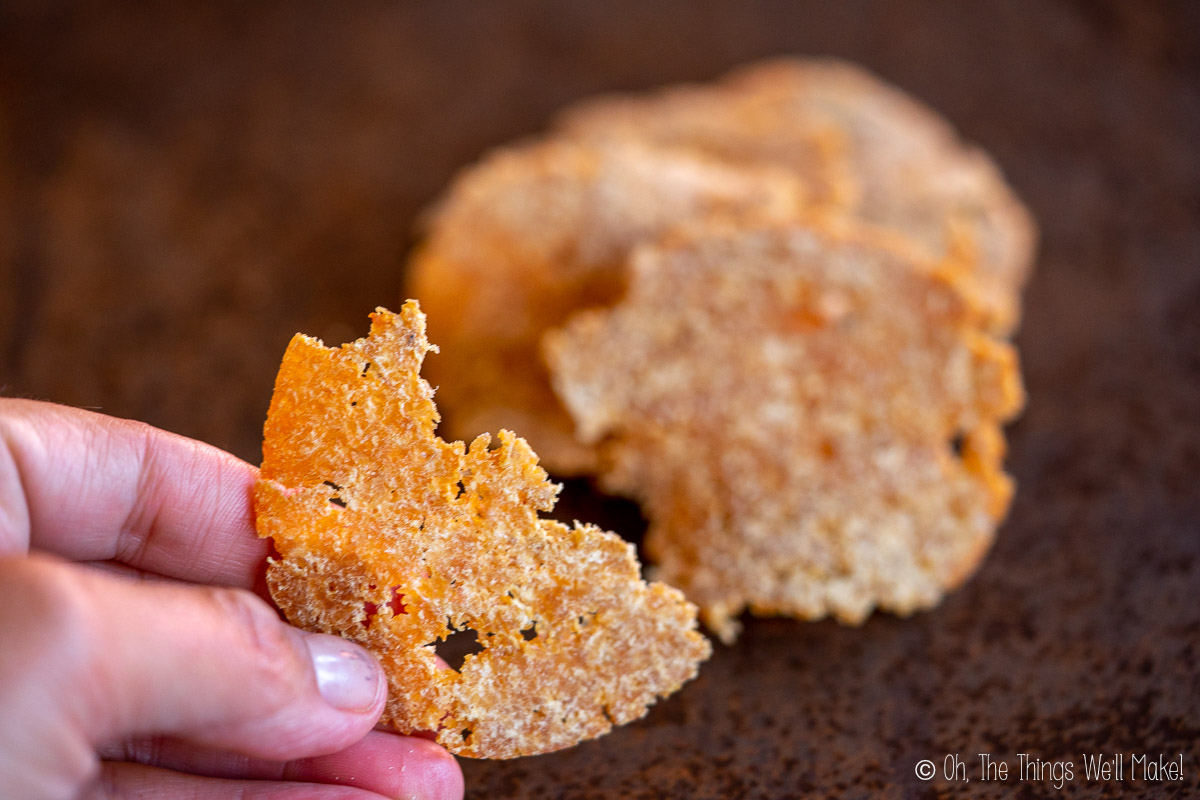 That said, my homemade deli turkey was on the dry side and wasn't as smooth as the deli meats that you would buy at a store. So, perhaps, giving a fattier cut a try might give great results! If you try it out, I'd love to hear how it goes!
Video
Craving more?
Subscribe to my newsletter for the latest recipes and tutorials!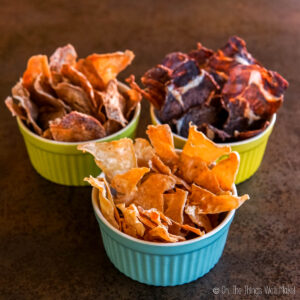 Meat Chips (Carnivore Crisps Copycat)
Craving potato chips? Try this savory and protein-packed snack instead! Make your own meat chips at home with this simple recipe; perfect for satisfying your cravings in a healthier way.
Print
Pin
Rate
Servings:
15
15g servings (5 large chips)
Ingredients
1.8

pounds

pork loin

(or beef roast or turkey sirloin)

smoked salt
Instructions
Choose whole cuts of meat that aren't too wide for your meat slicer to handle. Pork loins are an ideal size for these chips.

Freeze the meat overnight or until frozen solid.

Slice the meat thinly with a frozen meat slicer.

Arrange the slices in a single layer on the dehydrator trays, making sure they don't overlap.

Sprinkle the meat slices with smoked salt.

Place the trays in a dehydrator set at 70-75ºC (160-165ºF) and dry the meat, checking it after around 3 hours. Continue drying as needed.

Once the meat chips are dry (not flexible) and crispy, turn off the dehydrator and allow the chips to cool.

Once cool, serve immediately or store in an airtight container.
Notes
If, after a few days, the chips are no longer crispy to your liking, they can be re-cripsed in either the dehydrator or the oven.
Cut across the grain of the meat for the crispiest chips.
Nutritional information calculated for 5 large pork loin chips that weighed 15g.
Serving:
15
g
|
Calories:
72
kcal
|
Protein:
12
g
|
Fat:
2
g
|
Saturated Fat:
1
g
|
Polyunsaturated Fat:
0.2
g
|
Monounsaturated Fat:
1
g
|
Cholesterol:
34
mg
|
Sodium:
27
mg
|
Potassium:
204
mg
|
Calcium:
3
mg
|
Iron:
0.3
mg