Planning a Cars party can be fun and easy once you know what you want to do. Here are some Cars party ideas from my son's 3rd birthday party.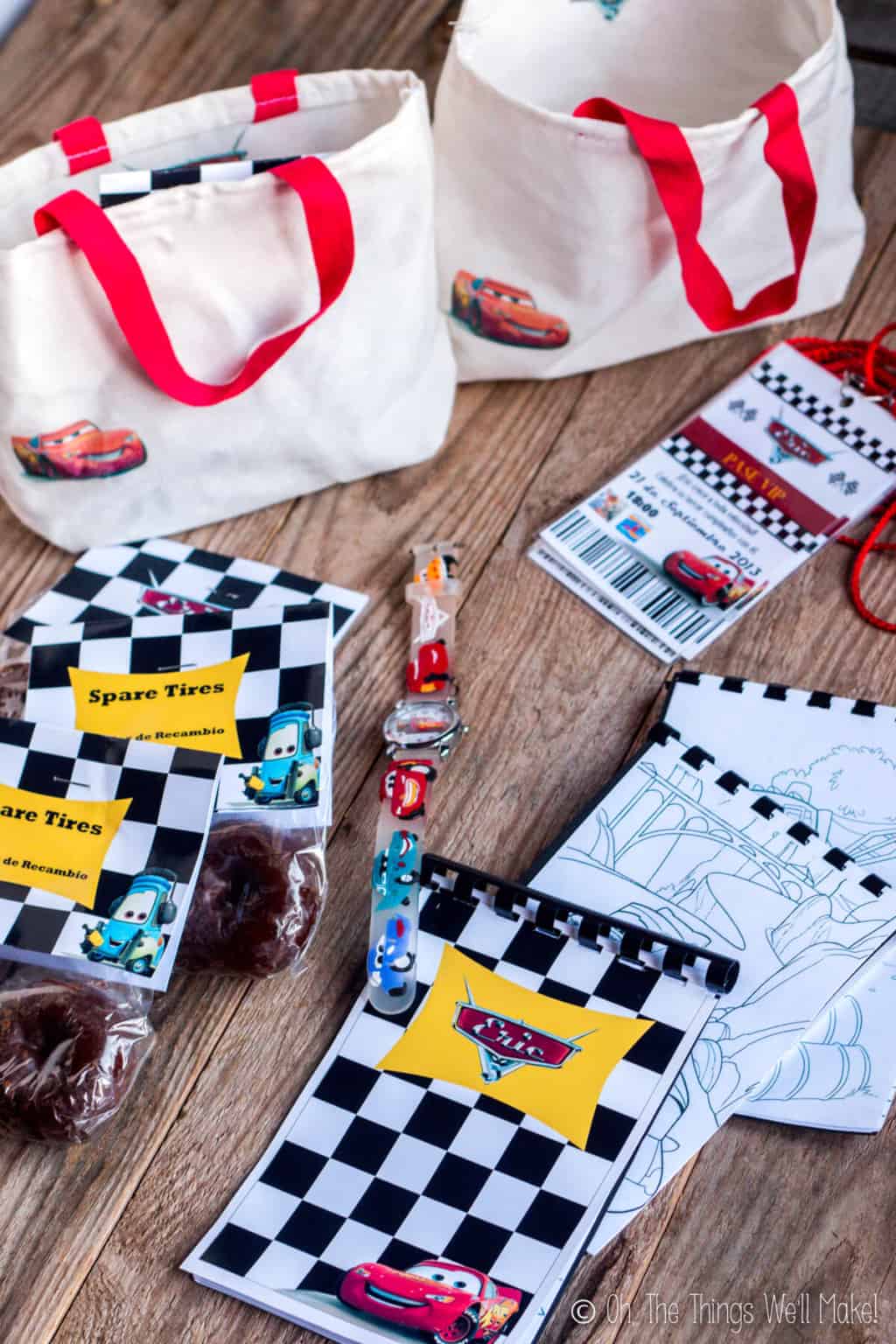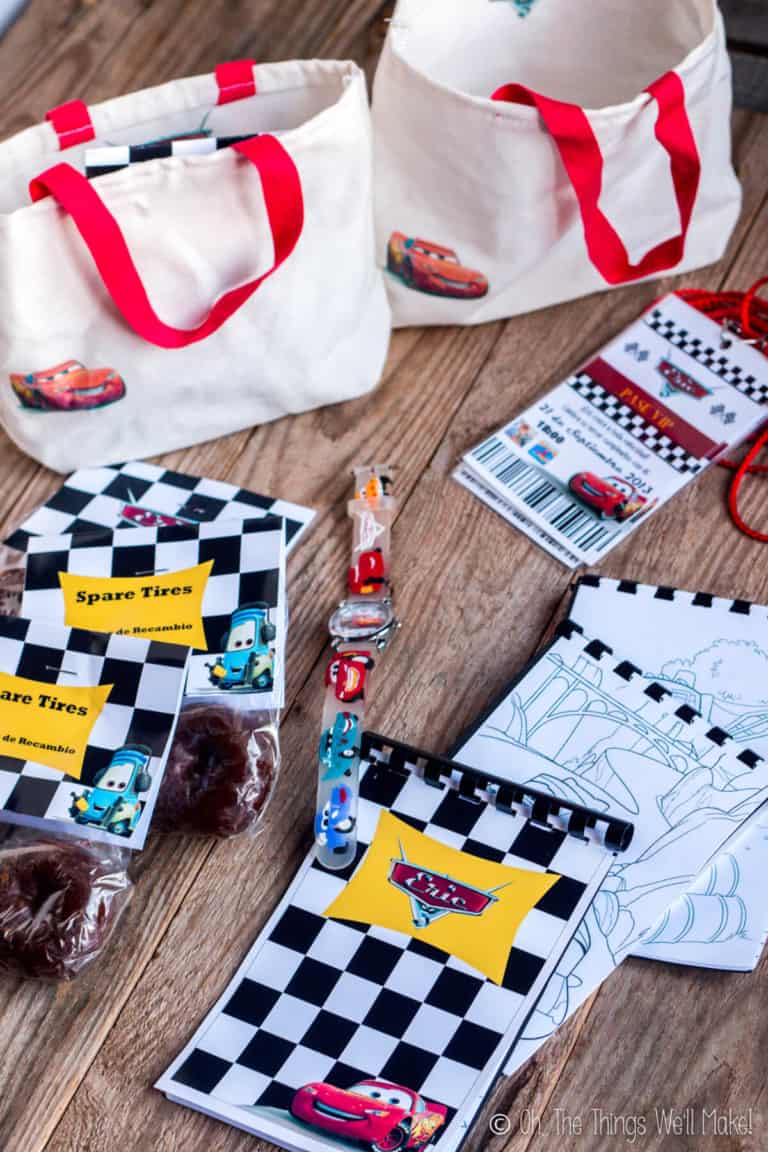 After all of the hard work and anticipation, my son's Cars-themed third birthday party was (mostly) a success. Don't get me wrong, it wasn't perfect. These things never are, of course. Overall it was fun, though, and everybody seemed to enjoy themselves; almost everybody, at least… The star of the party wasn't feeling very well, and retreated inside to watch Mickey Mouse Clubhouse episodes throughout a large portion of the party. Sigh.
You think that you are planning all of this for the birthday boy, and then the big day arrives, and the birthday boy shows no interest in his party. Then you start to wonder, "Have I been planning all of this, then, for me?!?!?!"
Luckily, the other kids seemed impressed and really enjoyed themselves.
Despite all of the work that goes into these sorts of parties, I love planning them. In fact, I often get told that I should do it as a career 🙂 ; but as much as I love doing it, I think it would drive me crazy if I were to do it full time.
So, where do I begin?
Here are some of the Cars party ideas I used…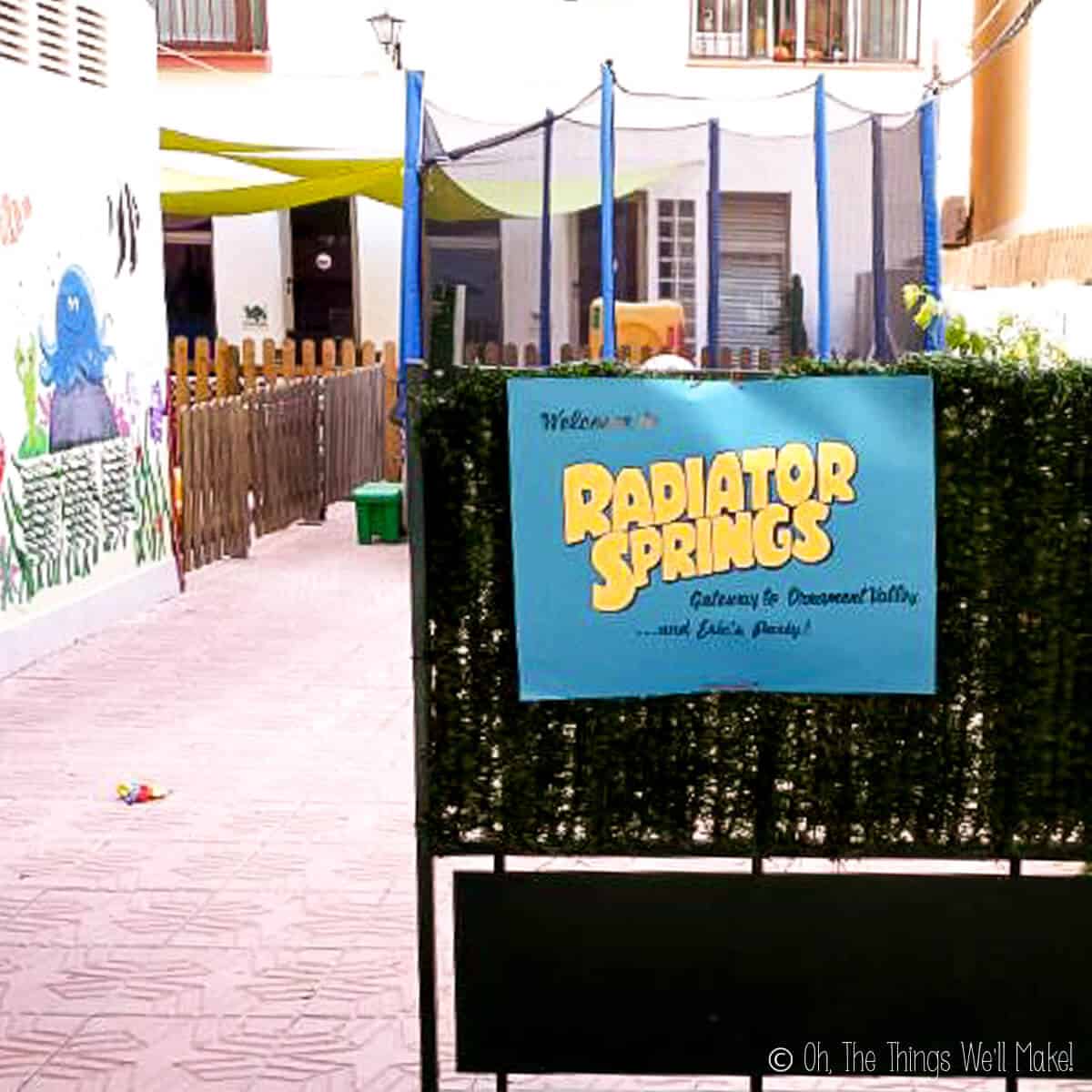 The guests were greeted by our edited version of the iconic Radiator Springs billboard (link came from here). I made mine with a sheet of blue card stock, and cut the yellow letters out of more cardstock with my Silhouette Cameo Machine. The black letters were also cut from black contact paper using my Silhouette Cameo.
For those who would like to use my files you can download any (or all) of the files that I used for the party here.
I was lucky enough to find a local store that carried black and white checkered tablecloth, and used that for decorating both the kid's table, and the buffet food table. You can see that the centerpiece for the kid's table was an inflatable tire that I filled with (Sally's cozy) cones filled with popcorn. The cones were just quickly thrown together by making cones of orange colored paper that were taped to hold their shape.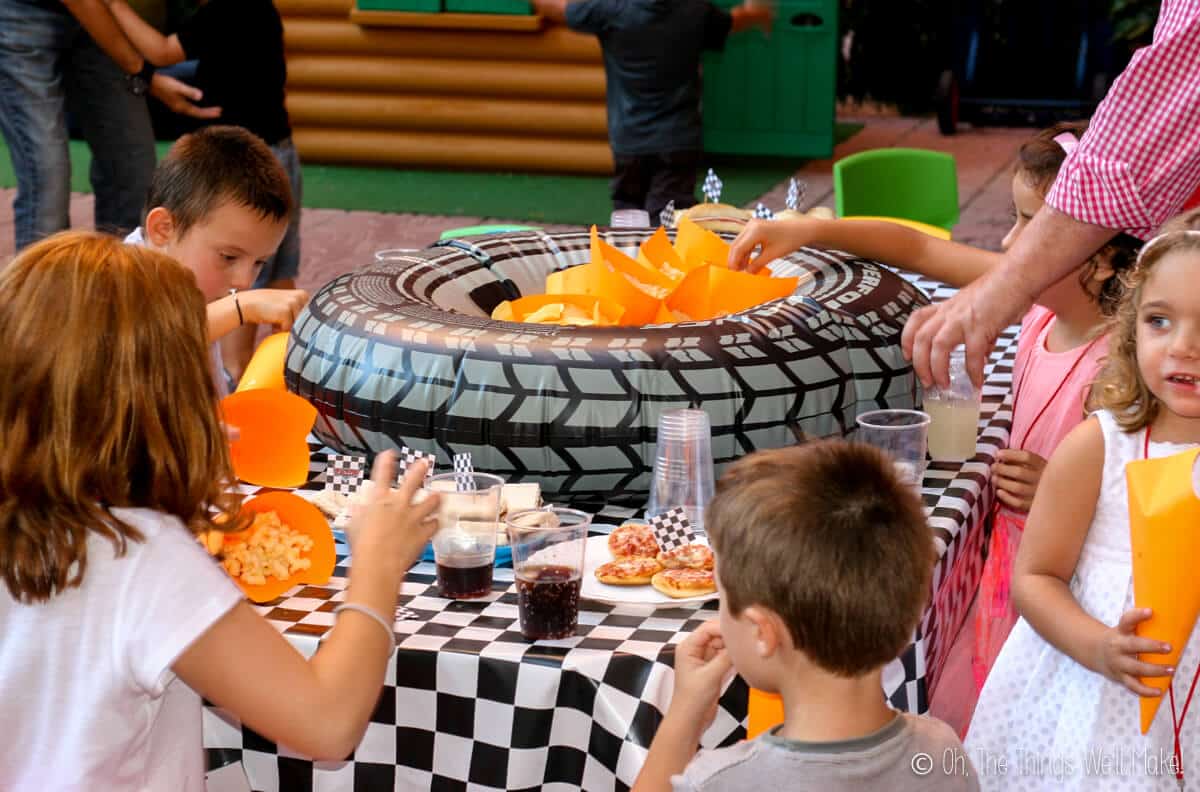 The food tables were also decorated with signs that I made and printed out ahead of time.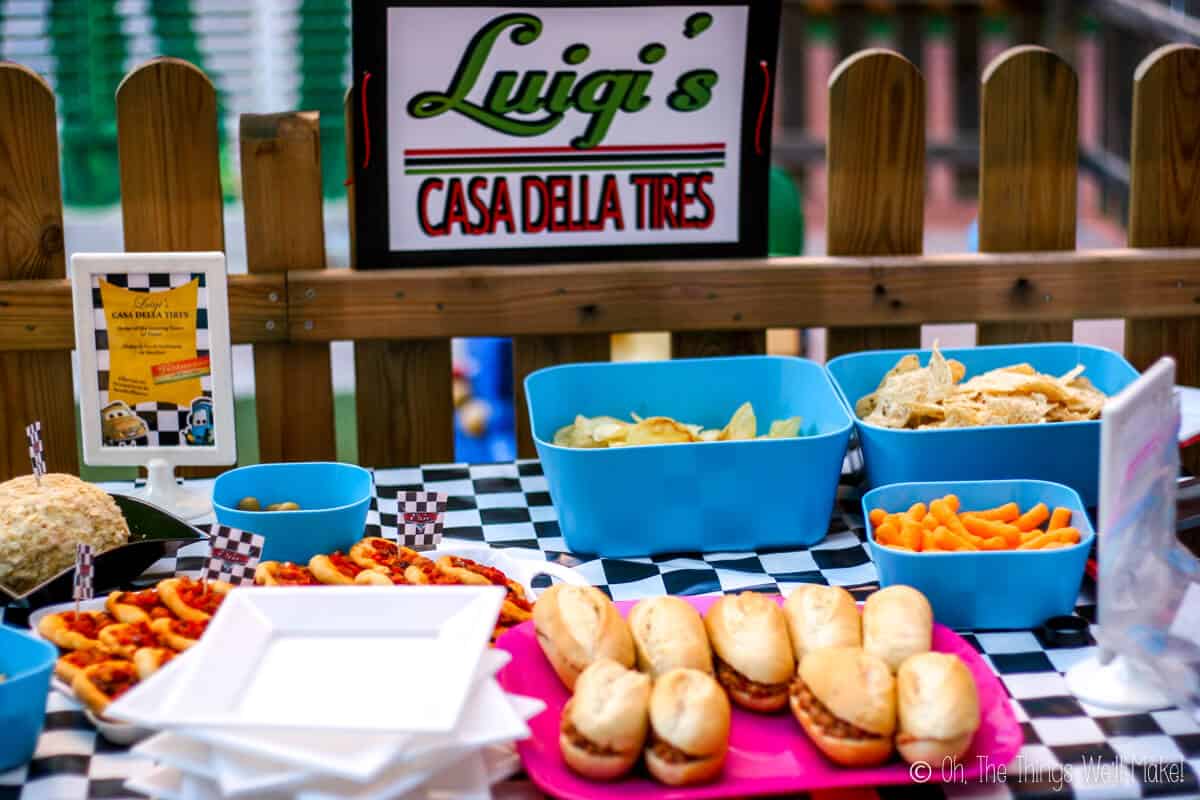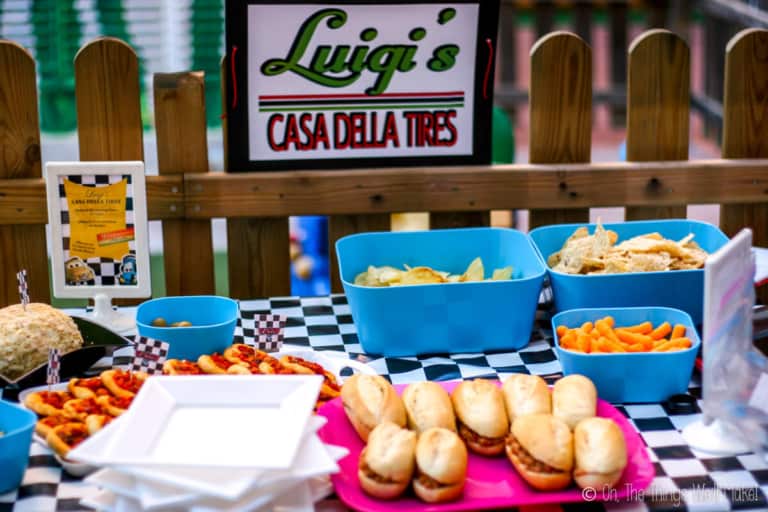 I had the obvious idea of having the food and drink be served at Fillmore's Taste-In and Flo's V-8 Café, but after some internet researching, I found these printable signs at So Wonderful, So Marvelous, and they made my life a little simpler. I ended up using her signs for Flo's, Luigi's and Fillmore's, but I made my own signs for Ramone's and Tow Mater.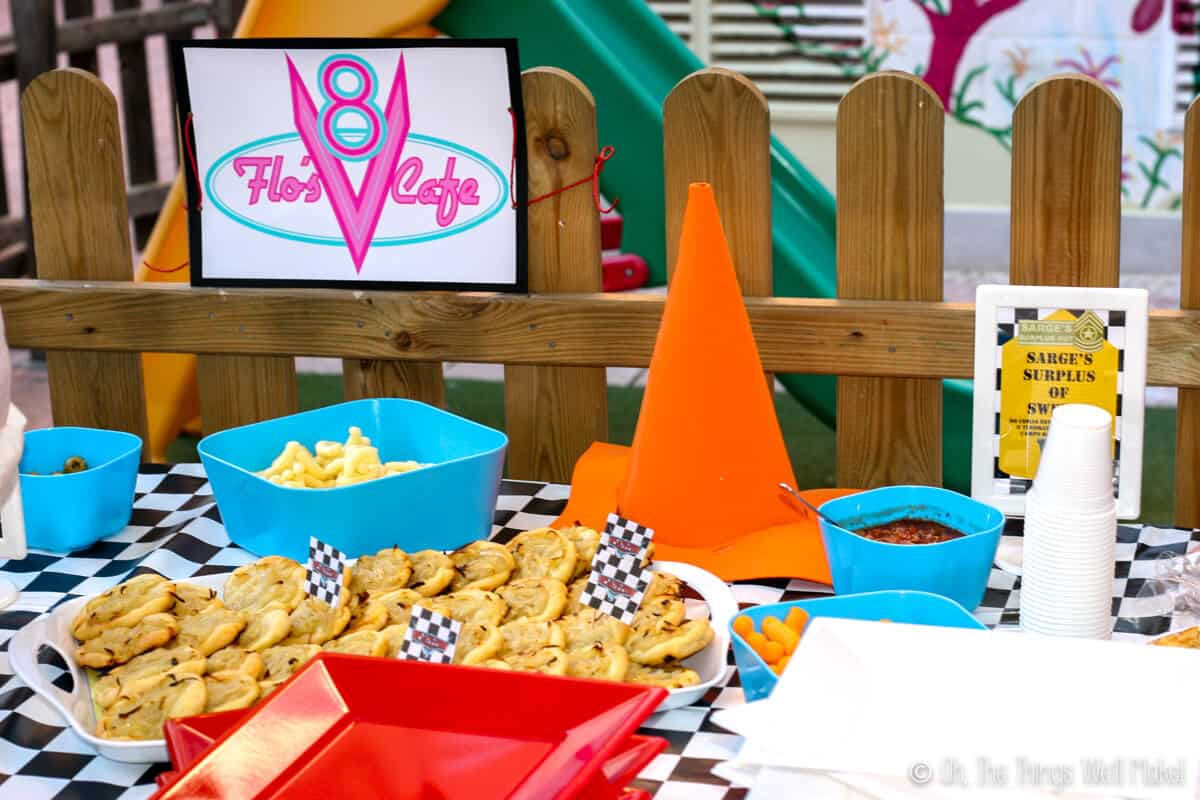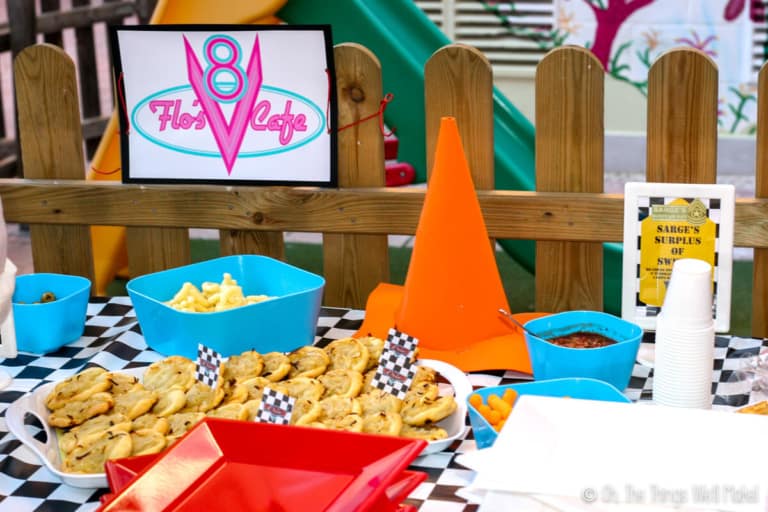 Apart from the larger signs, you can also see that I made some smaller signs that were showcased in IKEA Tolsby frames. That was my way of matching up the corresponding cars to their shops, but also a way for me to try to translate some of the ideas into Spanish for my guests. I downloaded the free Cars clipart from here. They claim that they are public domain images, but either way I don't think you should have a problem using them at your own personal party.
You can see that I also quickly made some orange cones out of craft foam. I was going to buy some that he could later play with outside when learning to ride a bike, but they were a bit too expensive, so… 😉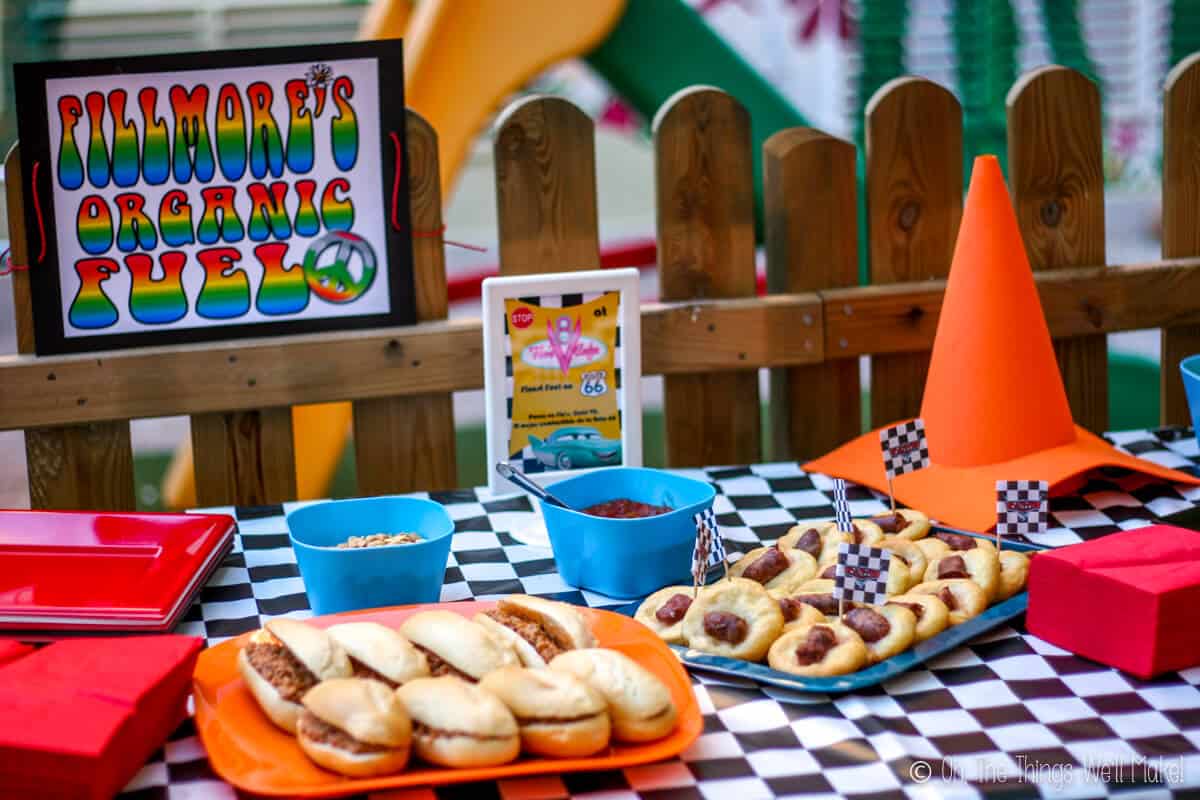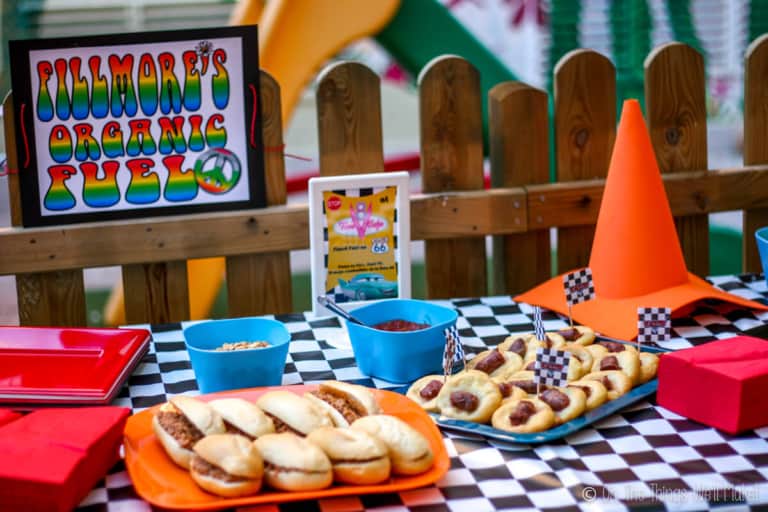 Here's where I placed my signs:
I used the Lizzy's Curios sign for the gift bag table. The gift bags were, of course, the souvenirs of the party.
The idea of Sarge's "Surplus of Sweets" was used at many of the Cars parties online. I just made my own sign to fit in with my decor.
For Sally's Cozy Cones, I had bought ice cream cones that I, of course, forgot to bring out and use. Luckily I had also made cones out of orange paper for the snack foods, and stood them up on the kids' table inside an inflatable tire. (see slide 1)
I had some small donuts and donut-shaped cookies for the leaning tower of tires at Luigi's Casa Della Tires. I also handed out some "spare tires," aka mini donuts, in each child's party favor bag.
The others are pretty self-explanatory.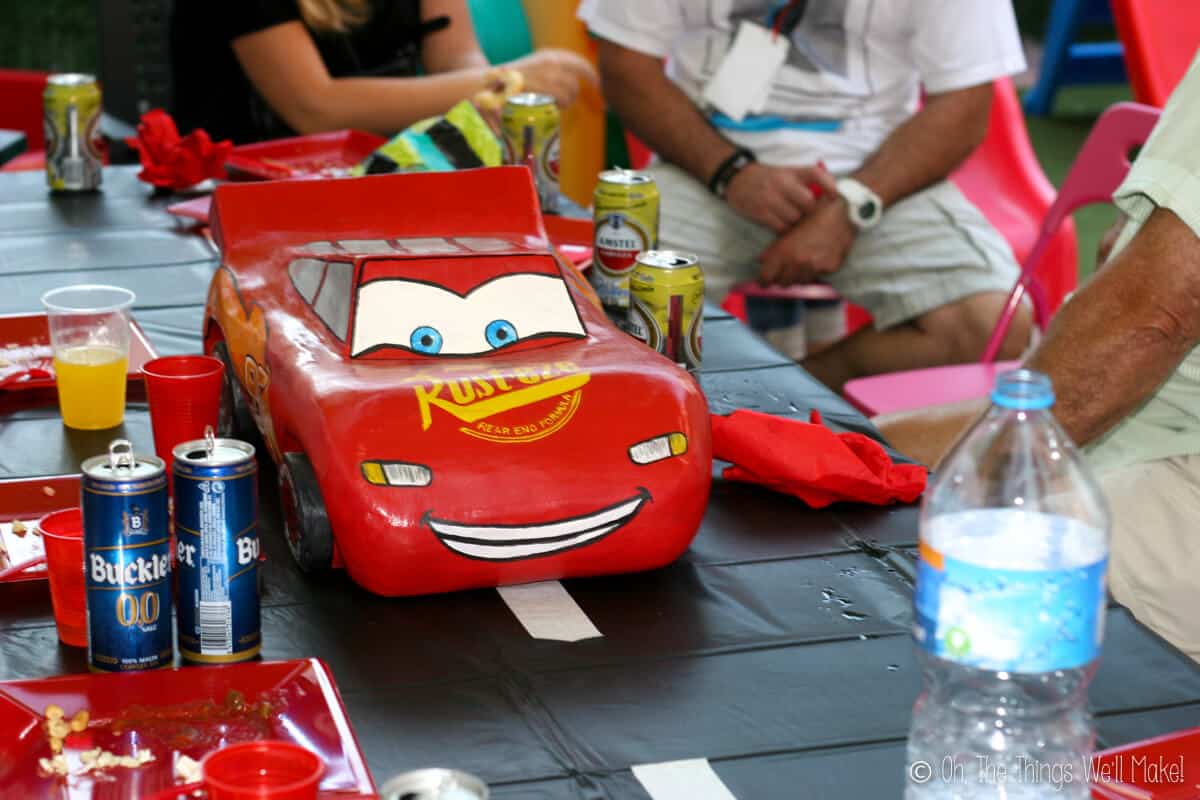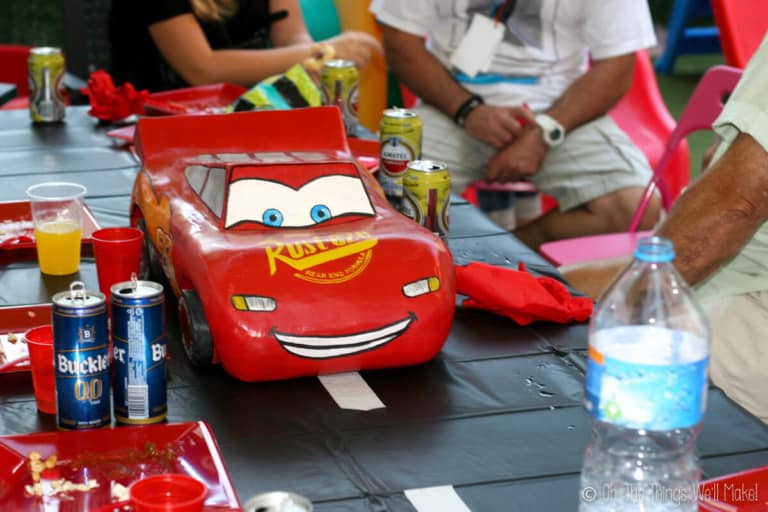 For the adult's table, I bought a black plastic tablecloth that I made look like a road by sticking small pieces of masking tape down the center (as I had seen at numerous other Cars Parties online).
For the centerpiece of the table, I showcased my paper mache Lightning McQueen driving down the road table. I had made him earlier this year for the local Fallas festival.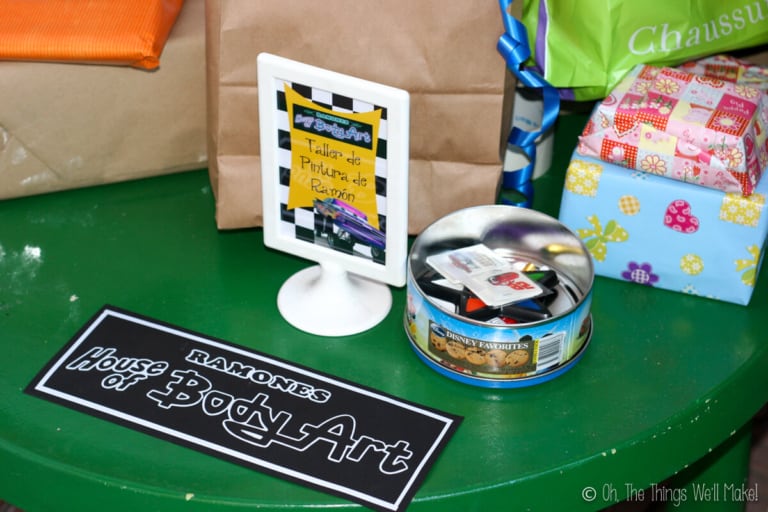 Another popular Cars party idea is to have a station with either temporary tattoos or face painting at Ramone's House of Body Art. I ended up having both. Kids (and adults!) had fun with that. 🙂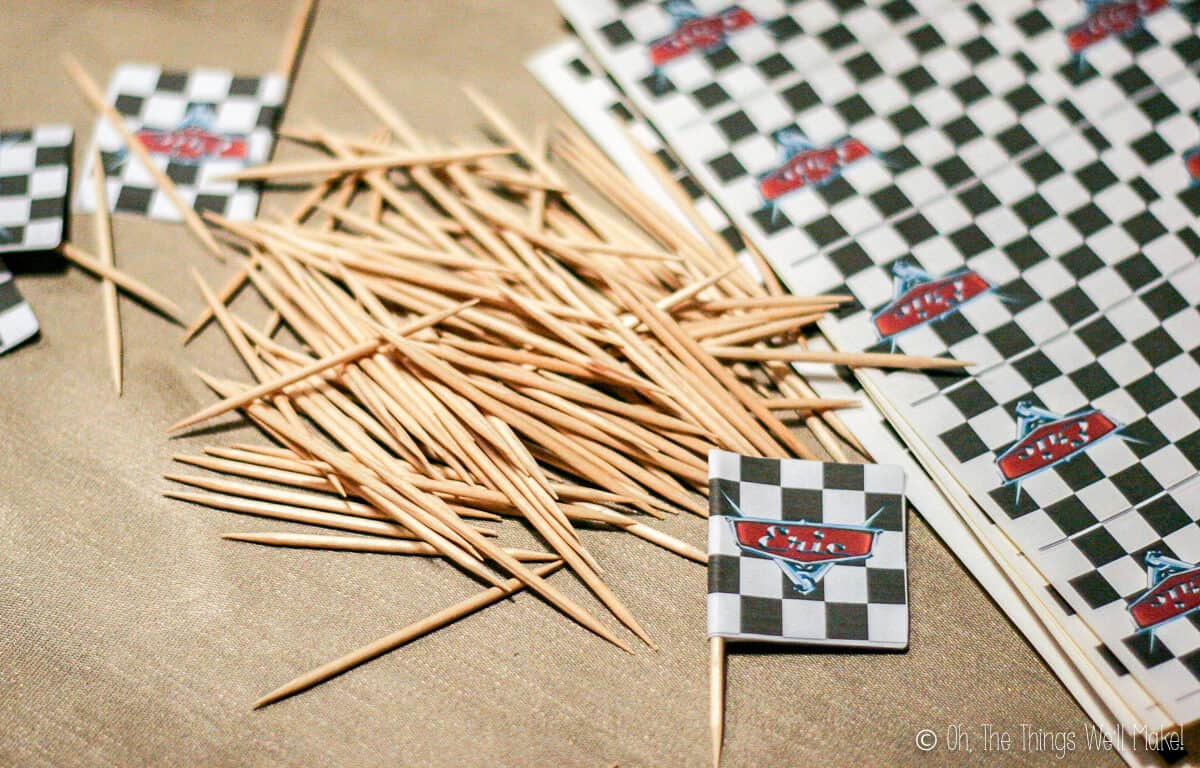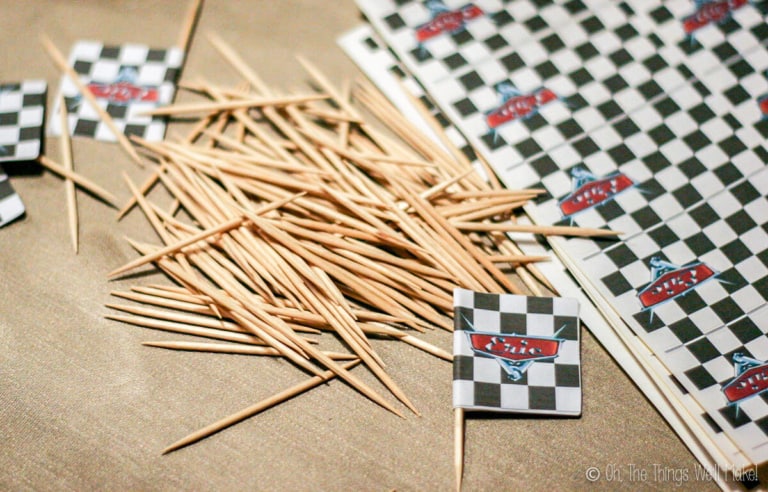 To fit in with the black and white checkered flag theme, I also made little toothpick flags for the food using the same Cars logo with my son's name that I had used on the invitations.
To make easy flags, I just used some rectangular label stickers. I designed them to have the logo with my son's name on it on one side of the label. Then, I folded the label down the center over a toothpick, forming a toothpick flag. The adhesive from the label conveniently holds it together.
Quick and easy!!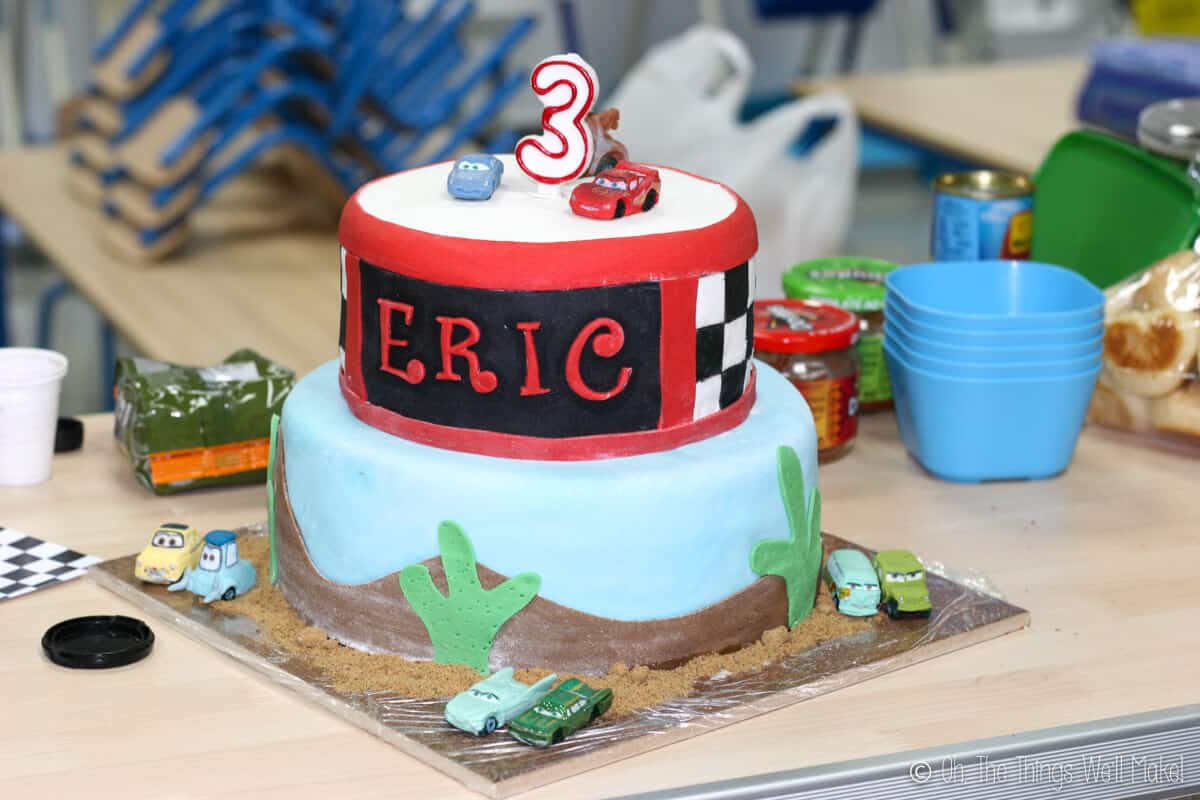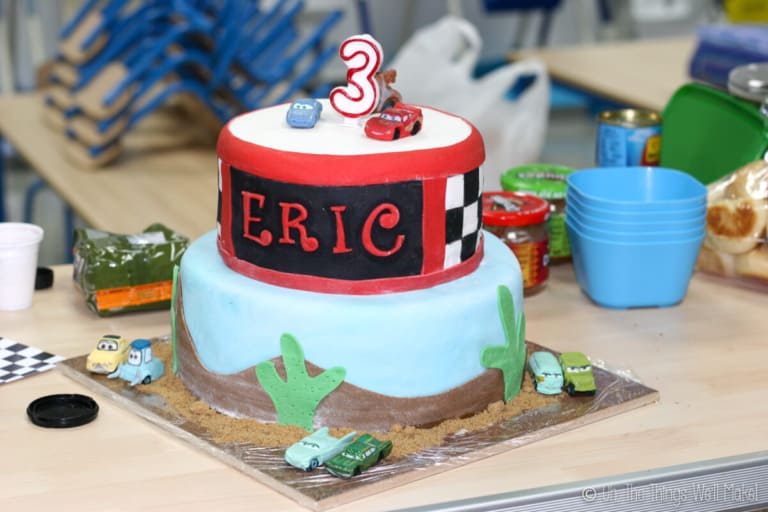 Despite being a pretty strict real food foodie, I do make the one exception each year of making my son a fondant birthday cake, and so far haven't been as concerned about only using natural colorings because they are only on the outside of the cake. In the case of this cake, everything was edible- yes, even the cars on the cake! (But, no, we didn't eat them!!)
Figuring out how to make fondant cars was a bit tricky at first, but once I got my method figured out, it was actually pretty easy. You can see my tutorial for making fondant cars here.
The inside of the cake followed the checkerboard theme, of course.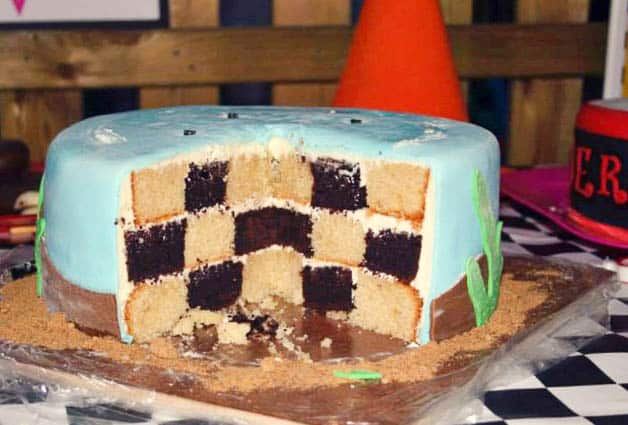 Everyone wore my homemade VIP pit pass invitations to be able to get in the party.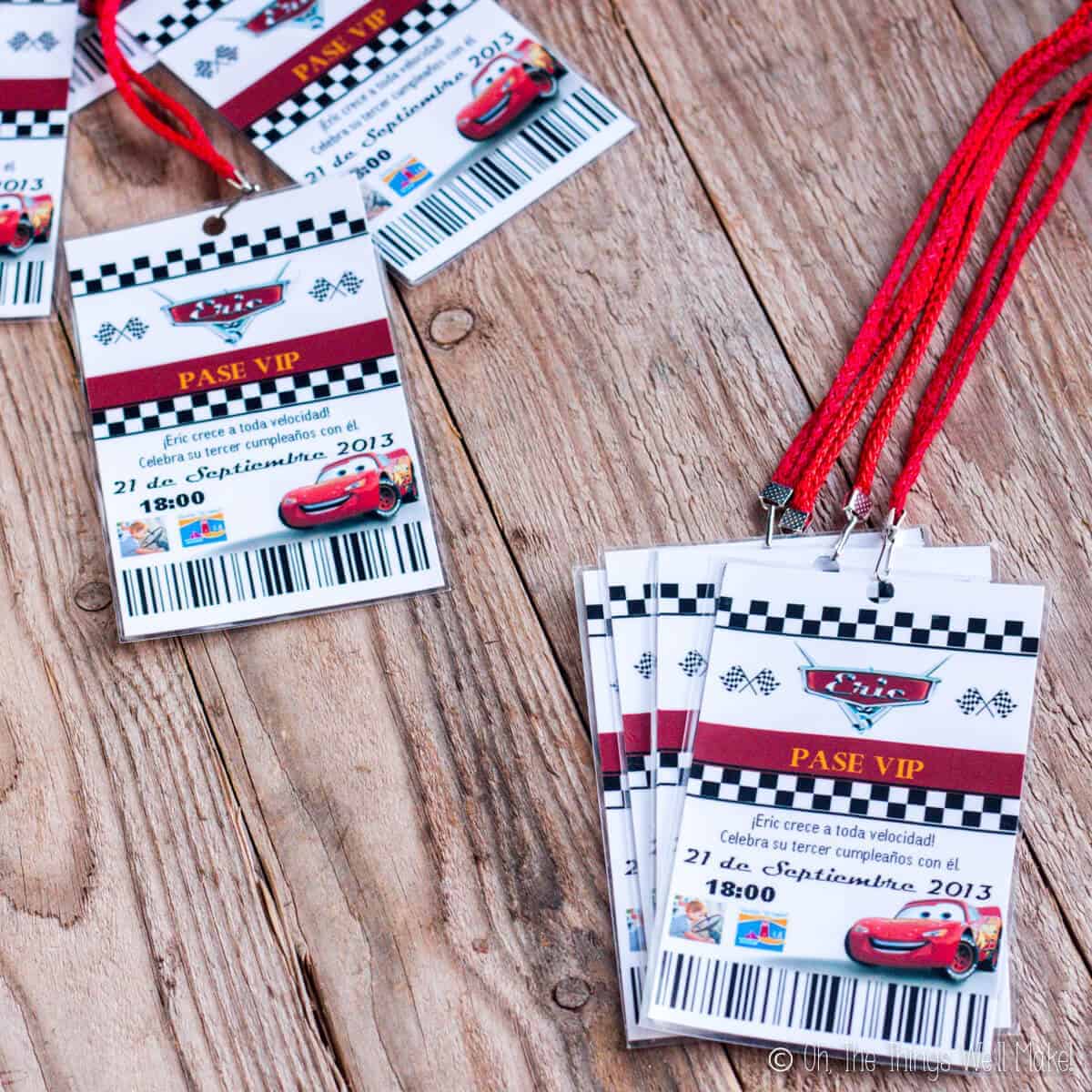 I quickly sewed up my own loot bags to look like little tote bags, and filled them with cars themed goodies.
You can see that I made little Cars themed coloring books, and found some inexpensive watches for the kids. I also gave them a set of "spare tires" to take home with them in case they got a flat on the way home. 😉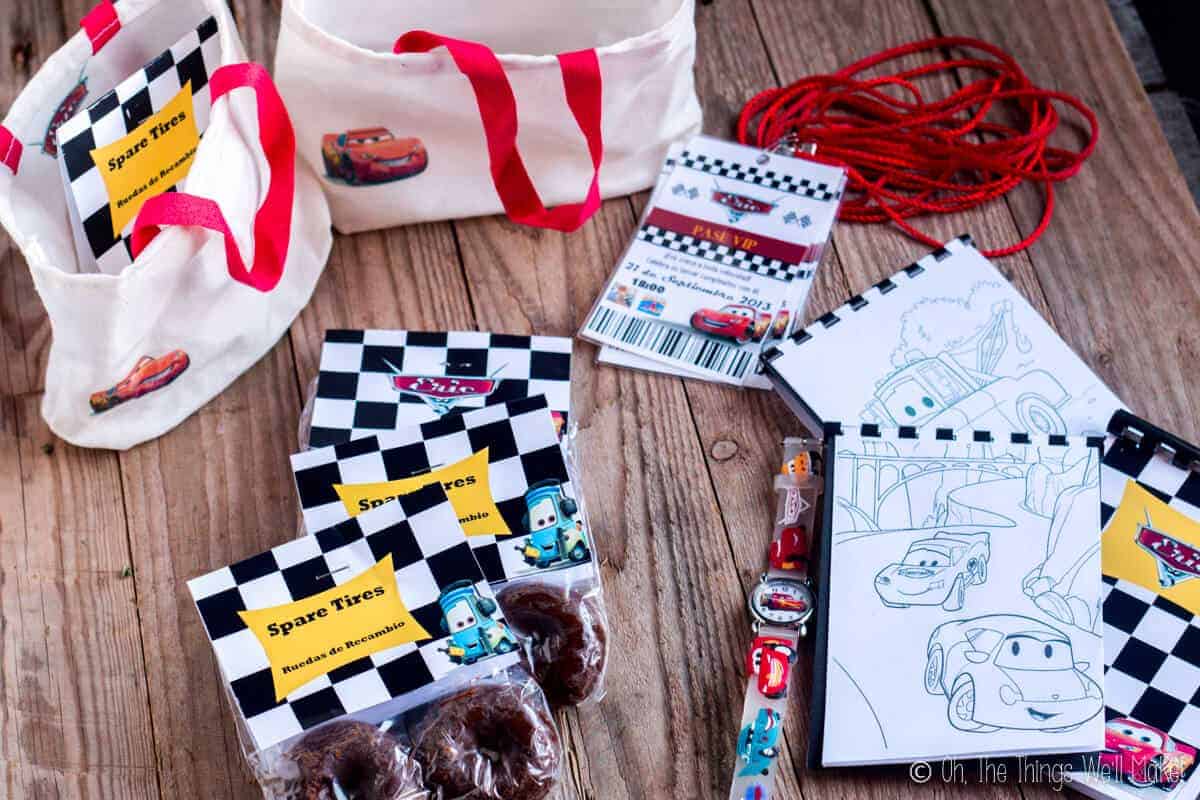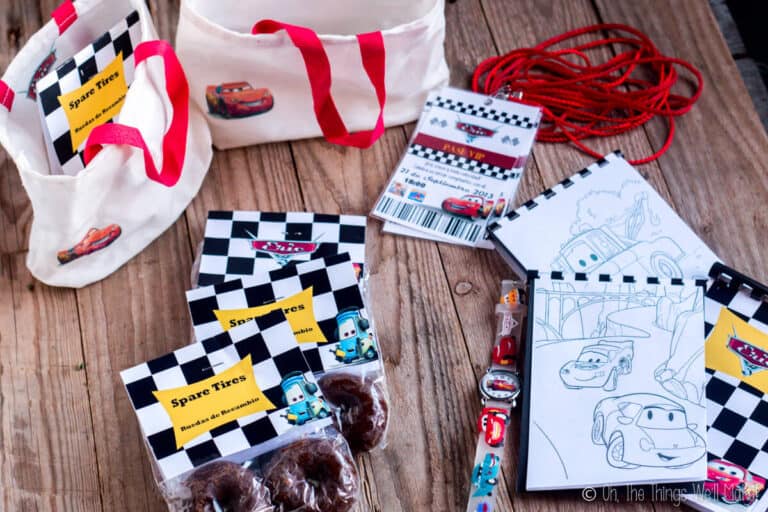 I guess that's it!
If you're looking for other Cars party ideas, why not check out some of my other posts about our party:
Homemade Cars Pit Pass Invitations
Quick and easy tote bag party favors