Perfect for your Cars birthday party, these super cute pit pass invitations will make each kid feel like an extra special VIP. Get the free printout and tutorial to easily make your own.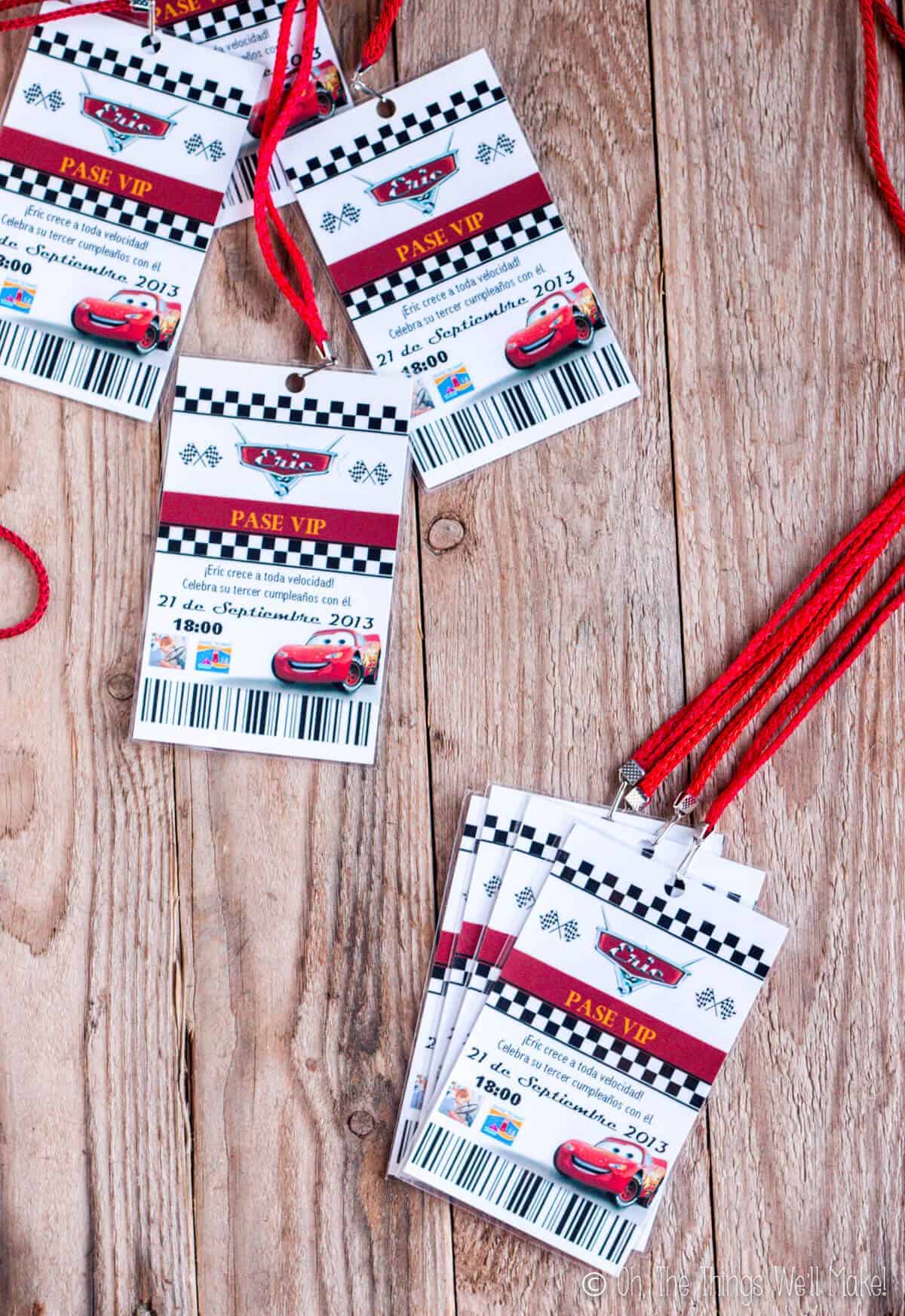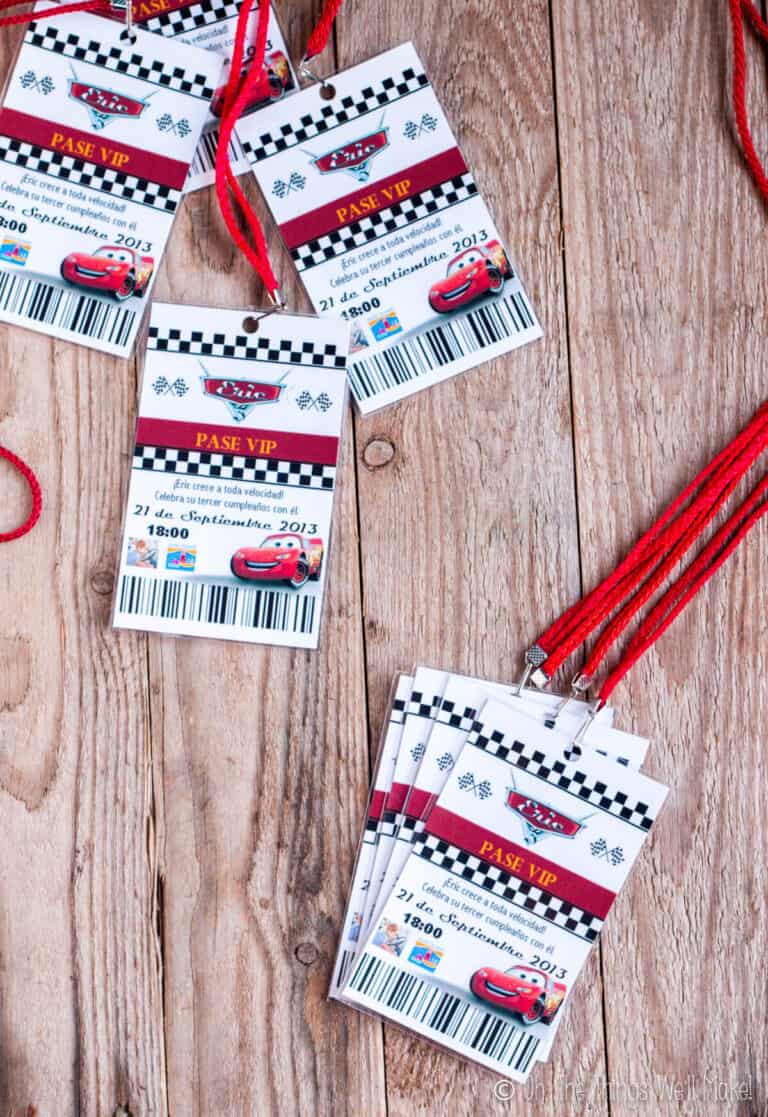 Despite not knowing where the party would even be held (we are doing some construction at home), I had already begun to make the invitations for our Cars birthday party weeks ago.
I had thought about making race ticket invitations, but when I looked up what a race ticket actually looked like, I also saw VIP passes of sorts, and thought a Cars pit pass invitation would be cuter.
Just as almost everything that one can think of, somebody has pretty much always already done it. While searching the internet for ideas, I found people who had already done similar pit passes for their kids' parties.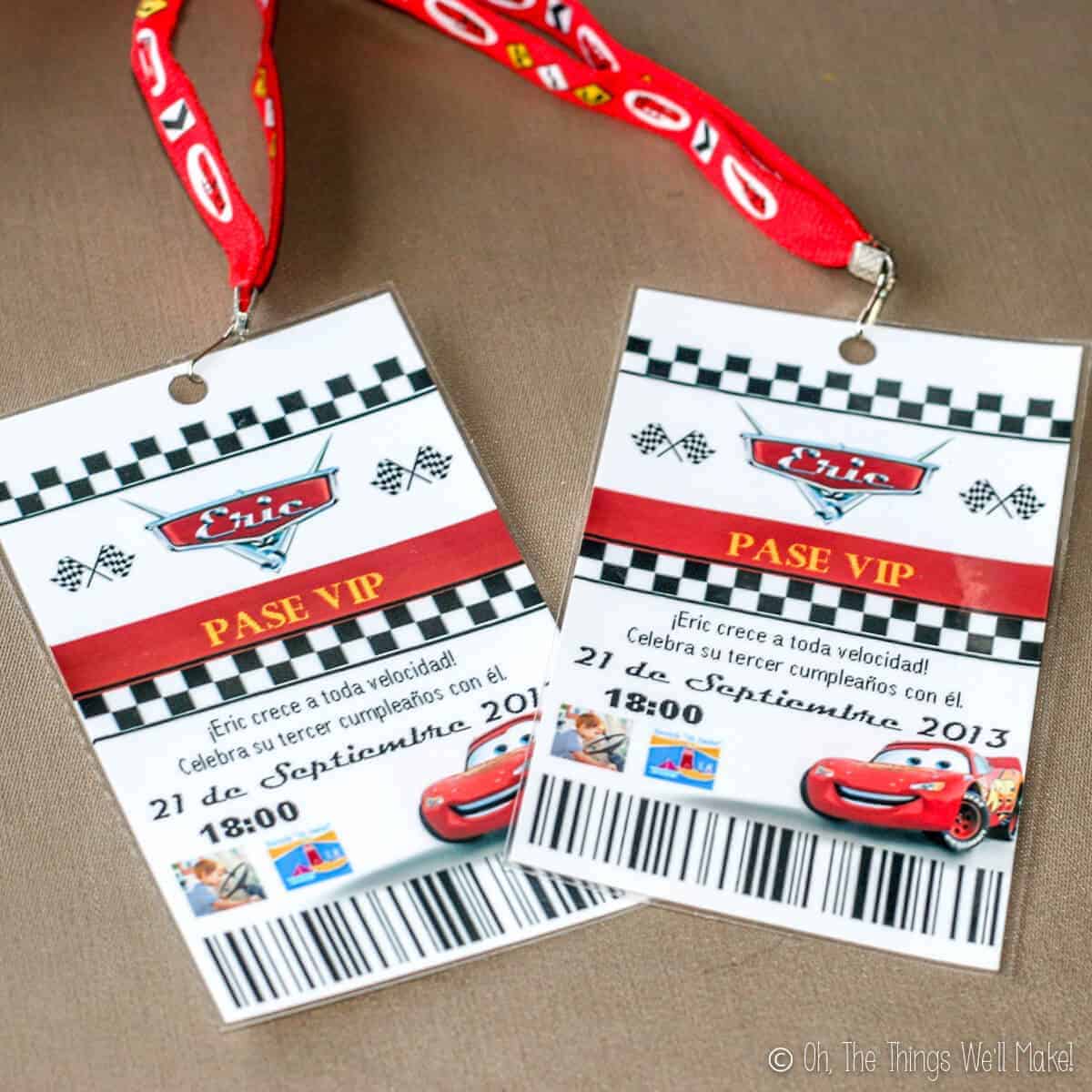 I also found some templates that could be quickly and easily used for instant invitations, but, even though they were cute, I wanted to make things complicated and make my own. I searched for public domain Cars clipart, and these images are floating around on numerous sites that claim they are public domain images. Hopefully they are, but I don't think you should have a problem using them for a personal project like a kids' birthday party. (I would't suggest selling products using them, though). 😉

To begin making the top part of the invitation with my son's name written in the Cars logo, I started by downloading the blank logo here.
Then, in Photoshop, I wrote his name in Magneto Bold font (free download).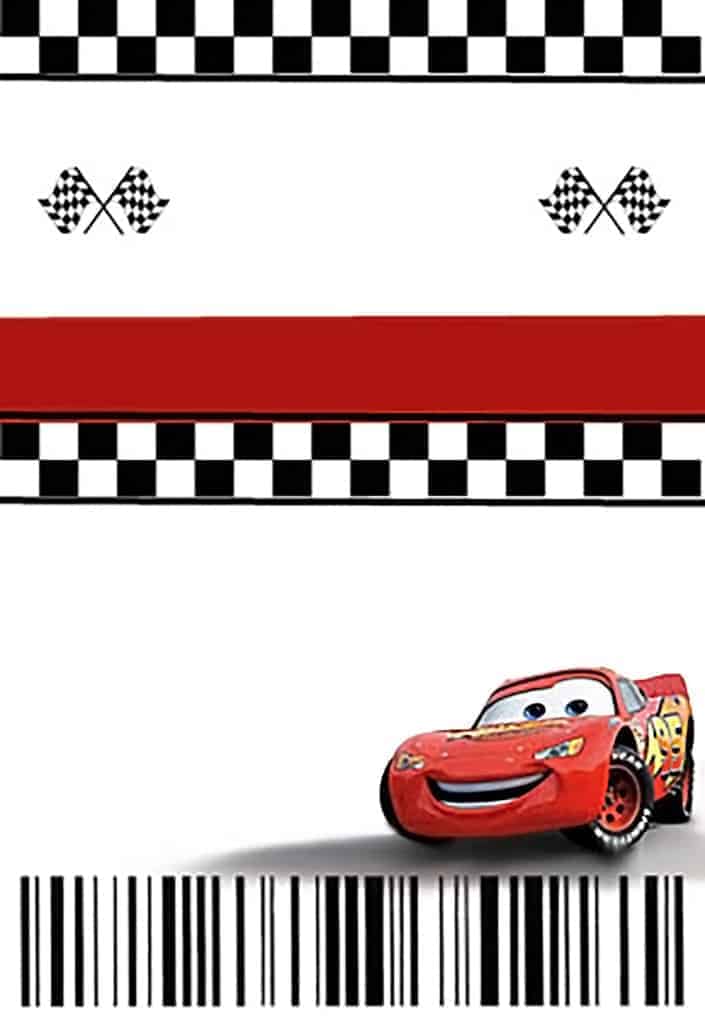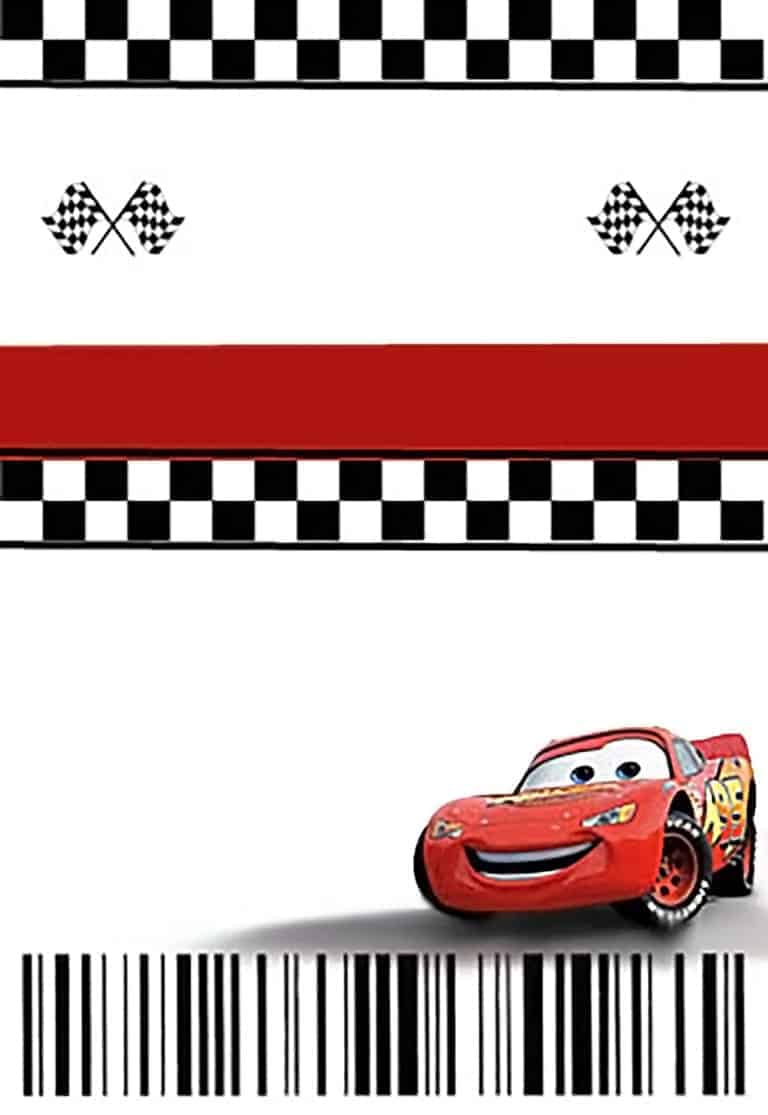 I used the second half of this tutorial, and a bit of experimentation, to get the chrome look that I wanted.

I played around with photoshop for awhile, and I came up with the above template. Feel free to download mine (Or here with writing that you can change) and use it yourself for your party!
(If you don't have photoshop, here is a jpg template (but it won't be as easy to customize.))
I then added my customized logo and the information about the party with options for both Spanish and English, of course.
Here is my customized logo with my son's name in photoshop format, so you can easily change it to the name you want without having to adjust all of the settings.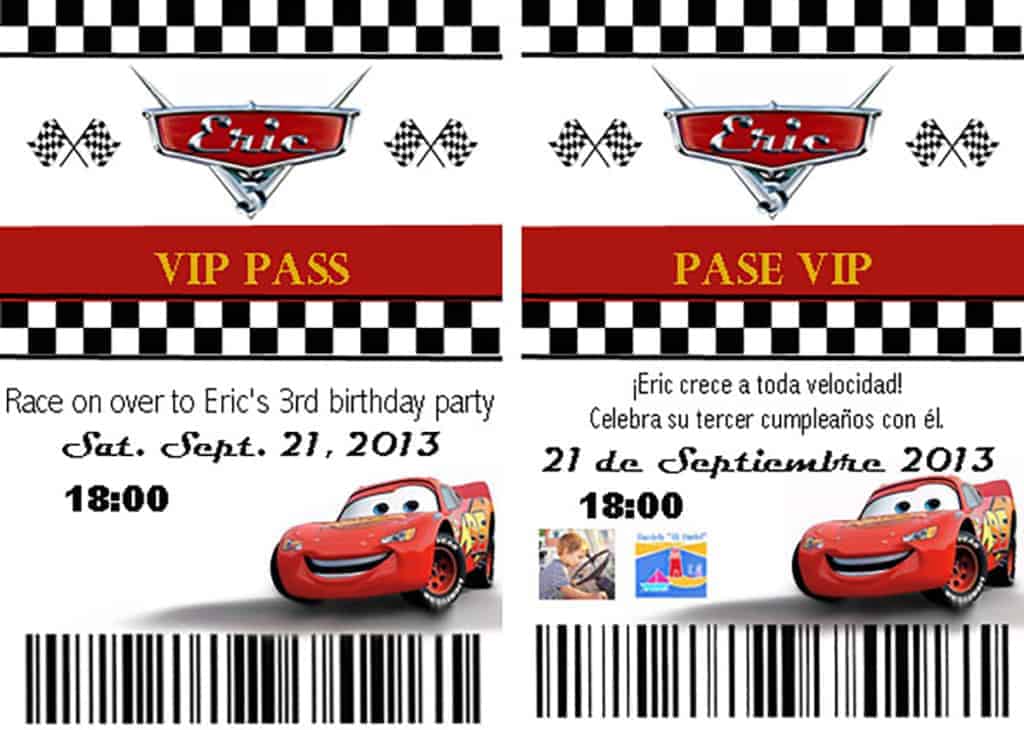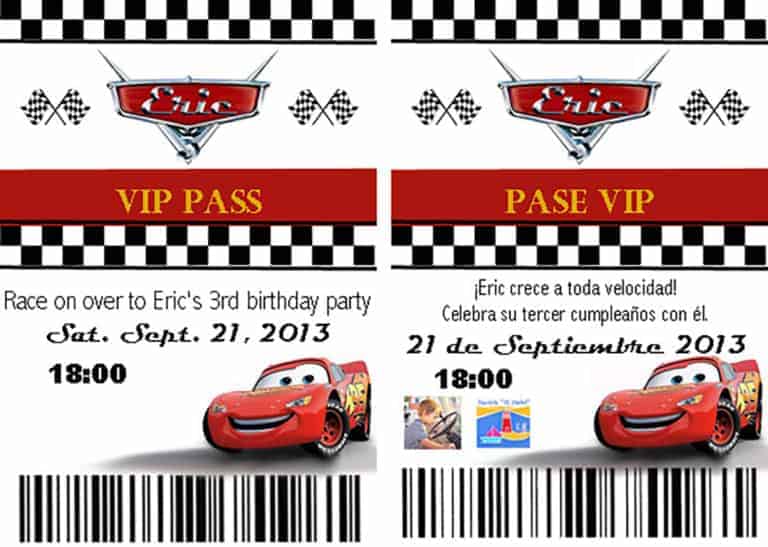 I added a picture of my son, along with the logo of my friend's preschool where we will be holding the party, on the Spanish pit pass invitation.
Once I had the pit pass invitation all planned out, I wanted to make them look authentic, so I printed them out on a thick photo paper and laminated each pit pass. I then punched a hole in the top for my homemade lanyards.
I would have bought the lanyards, but surprisingly lanyards, at least the ones available for shipping to Spain, are pretty expensive! Even when buying in bulk, I couldn't find any for much less than a euro a piece. I wasn't about to spend that much, especially since we had an idea to give one to everybody who comes to the party. That would add up pretty quickly!
So, instead, I bought red cord wherever I could find any. Even something as simple as that can prove to be difficult here.
One day, though, I found the perfect find: Cars shoelaces. They weren't as cheap as the red cord, and there were only a few left, but I snatched up all of the remaining shoelaces.
Once I had my cord ready, I still wasn't sure how I was going attach it to the pit passes. I decided I'd need some sort of lanyard clip, but couldn't find any anywhere either, so I ordered some tiny ones over the internet.
I still wasn't sure how to attach the the lanyard clips to the cord.
Just when I was about to give up, I found some crimp end findings at a local store. They're great because they hold the two ends of the cord together and have a loop for hooking in the lanyard clips.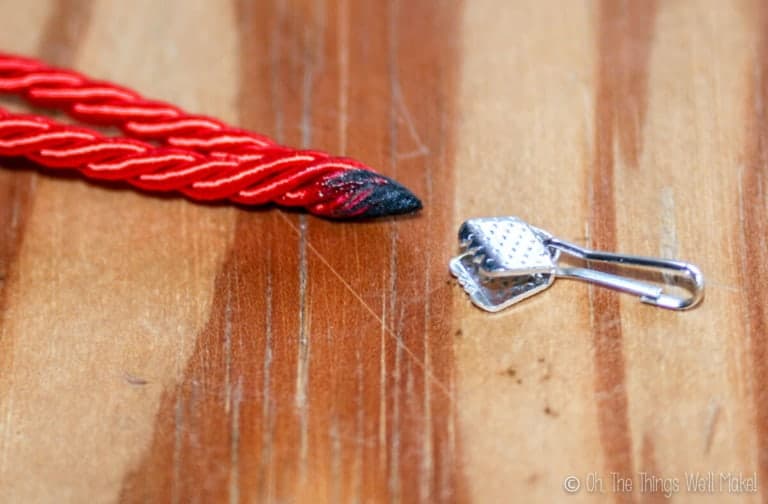 To help fit the cord ends in the crimp end findings more easily, and to ensure they wouldn't unravel, I first burnt the ends of the cord, and pinched the two ends of the cord together. The melted cord united both ends, keeping them together even without the findings. I then crimped the findings over the burnt ends.
I finally was able to hook the lanyard clips though both the loop on the findings and through my hole in the pit pass invitations, and that was it!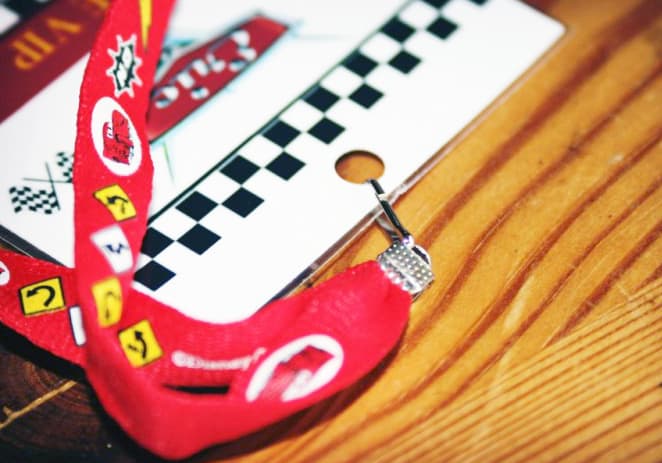 Quick, easy, and cute!
At the party, everybody wore their passes. I had originally planned on only giving them out to the kids, but they ended up being so quick, easy and cheap to make, that I made some for everybody.