This paleo pho recipe will help you transform ordinary beef bone broth and zucchini noodles into the most exotic and spectacular Vietnamese soup.
My first year of college, I had a Vietnamese roommate who was constantly introducing me to new foods. She would bring back to our dorm room all sorts of interesting things I had never seen before like sweet and savory rice patties of sorts, pickled veggies, and plenty of soups with rice noodles which she was always eating with chopsticks. Must I admit that I was excited when another friend of mine brought me back some beautiful chopsticks after a trip to Japan?
While we did get to sample a lot of the different foods, and she also brought us to a local authentic Vietnamese restaurant for a great meal, I never got a chance to try the soup that she brought to our room that smelled so good. Years later, I don't know if that Vietnamese soup was pho or some other soup, but when I started hearing about pho, and how it was a Vietnamese soup, it made me think of my dorm room days and to want to give it a try myself!
I'm so glad I did because there is really nothing like it. It's sort of like chai meets beef broth, and those who love the exotic flavors and spices in chai will more than likely become a fan of this flavorful Vietnamese soup.
While it isn't difficult to make, it does take a little bit of time, especially if you aren't used to making your own beef broth. I have been making beef broth and chicken and turkey broth quite regularly for years, and I usually have some ready in the fridge, so making this soup isn't that big of a step for me. In any case, I encourage you to make your own beef bone broth for this soup, rather than using a store bought broth, because not only does it taste a lot better, but also for its health benefits.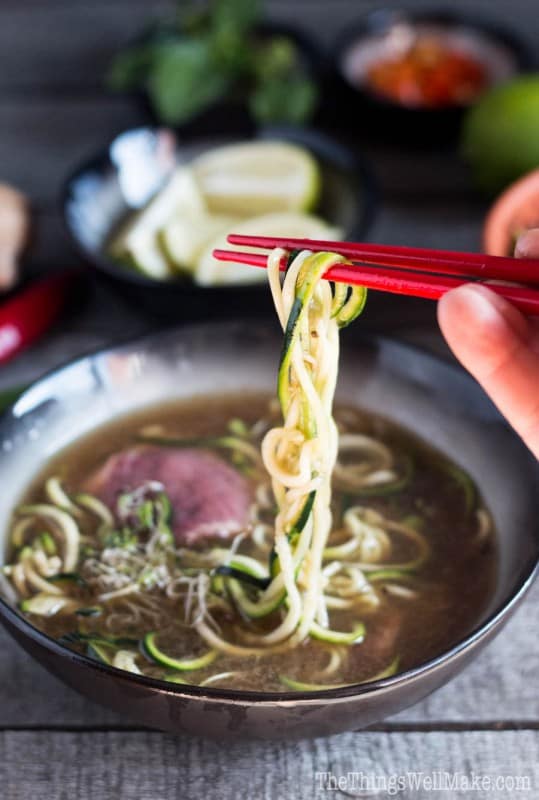 Making your own beef bone broth isn't difficult, and there are several ways you can go about it.
I have made bone broth in both my pressure cooker and in my slow cooker, but if you don't have either, you can still make the broth on the stovetop. For pho, I have often read that you should bake the bones before making your broth because it adds a roasted flavor. I've been meaning to try it, but haven't gotten around to it, so I can't tell you whether or not it is worth the little added effort.
Other people also pre-boil the bones for a couple of minutes and then change the water before making their broth. The idea is that you are clearing out the impurities and you will end up with a clearer, cleaner broth. I personally haven't gotten into the habit of doing that, but I don't think it's a bad idea. Instead, I usually just skim off the impurities from the top of the broth when I simmer it with my spices.
I used to always make my bone broth in my slow cooker, leaving it simmering for over 24 hours to help get as many nutrients from the bones as possible. I found that my slow cooker was heating the food at too high of a temperature, though, and that after so many hours, the broth was taking almost on a burnt flavor. So lately, especially for these sorts of recipes, I've been going the quick route in my pressure cooker, and in about an hour I have made a pretty decent broth. I have an electric pressure cooker like this one.
I start out with some beef bones; beef knuckle bones work especially well for a good bone broth. I place them in the pressure cooker with any veggies that I may have available in the fridge like carrots, celery, and onions. If I don't have any veggies on hand, it's not big deal and I don't add them; the soup will get a lot of added flavor later on. I cover everything with water and then set my pressure cooker to the longest cooking setting. (Sometimes I even run it through two cycles to make sure I get more out of the bones, and I often freeze the bones and add them to my next batch of bone broth to get as much as I can from them.)
Once your broth is ready, you can strain it and store it, or get it ready for making your pho. If you are making the bone broth with the sole purpose of making pho, you can add your spices to the slow cooker and flavor your broth from the beginning. My husband isn't a fan of most spices, though, so I'm usually just making a small batch of pho for me, separating out part of the broth.
A trick I've been using to make for easier straining later on, is to add my spices to one of my homemade teabags and adding that to the simmering soup.
So, are you ready for the paleo pho recipe?
Craving more?
Subscribe to my newsletter for the latest recipes and tutorials!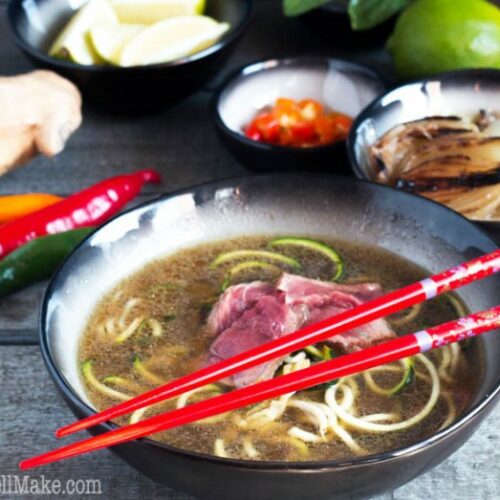 Ingredients
1

quart

beef bone broth

(see above notes)

1

piece

ginger root

1

onion

2

small

zucchini

cut with a spiralizer

1

beef steak

thickly cut

2

whole

star anise

1

tsp.

fennel

1

tsp.

coriander

2

whole

clove

1

stick

cinnamon

1

cardamom pod

2

Tbsp.

fish sauce

I used the liquid that comes off from my homemade anchovies.

garnishes

spicy peppers, lime slices, sprouts, basil leaves, etc.
Instructions
Begin by making your beef bone broth as explained above. You can either add in your spices during that process or separate out some broth and continue with the recipe as follows.

Simmer your broth in a pot on the stove with your spice blend added in. I usually put my spices into a cotton bag to make for easier straining later on. As you simmer the broth, skim off any foam that comes to the top.

Meanwhile, wash both your ginger root and your (peeled) onion, slice them in half, and place them on a baking sheet in your oven.

Broil them until they get dark on top.

Once your ginger and onion are ready, add them to your simmering broth to give it more flavor.

Keep simmering for around half an hour, or until the soup has absorbed the flavors of the spices to your liking. At this point, I like to add in the fish sauce to taste. I start by adding one tablespoon and then taste it and then add more, a little bit at a time, if I think it needs it.

Remove your broth from the stove and remove the ginger and onion. I like reserving the onion for adding back to the soup later on. Strain the broth if necessary to get out any of the remaining spices, and put the broth back into the pot.

Add your zucchini noodles and once again simmer it, this time with the noodles, until they have reached the desired level of being cooked. I usually only cook it for about a minute or two.

Meanwhile, I like to sear the outside of the beef that I will be adding to the pho. Many people like to thinly slice it raw and add it to the soup that way. I prefer to sear the edges first, leaving it very rare inside.

When you are ready to serve the soup, add the broth and some zucchini noodles to each bowl. Thinly slice the seared beef and place the thin slices on top of the soup. The heat of the soup will help lightly cook the thin slices.

Serve with garnishes that each person can add to their bowl of soup as desired.
Pho can be served with a lot of different garnishes that each person can add to their bowl. I like to serve it with the reserved onion, lime slices, cut up hot peppers, basil, and seed and bean sprouts. Recently, I bought a seed germinator and have been experimenting with sprouting different types of seeds and legumes. I love adding them to my soups and salads, and this recipe is perfect for accompanying with nutricious sprouts.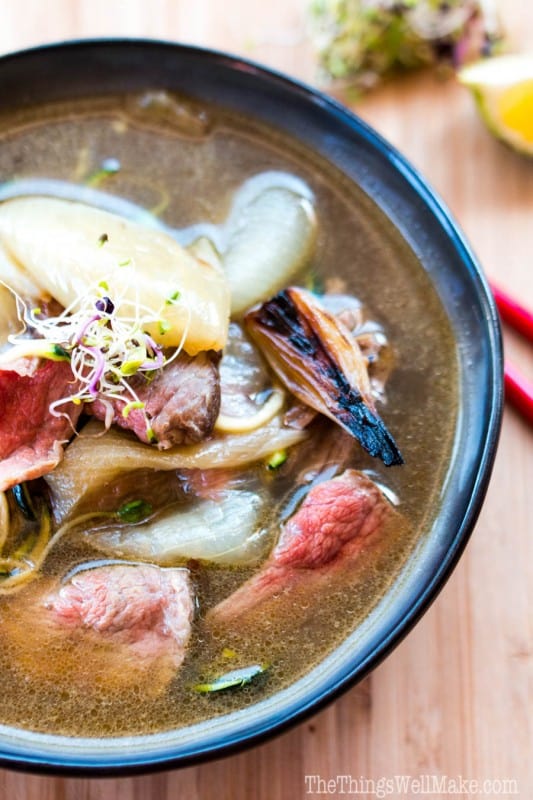 You may have noticed that the traditional Vietnamese soup is served with rice noodles. I haven't completely cut rice out of my diet, and occasionally enjoy this soup with rice noodles too. You are free to try it both ways, of course. If you choose to use rice noodles, I would first soak the noodles and cook them separately for a couple of minutes in water. That way you won't cloud up your soup.
I decided to try making this a paleo pho recipe, though, using zucchini noodles because I love them too. I'm always looking for fun new ways to incorporate them into my diet.
When I first started making zucchini noodles, I thought I would never get sick of them. One of my favorite ways to eat them was in my quick and easy Asian fried zucchini noodles recipe. Of course, with time, I needed a bit more variety, and this is probably my new favorite way of eating them.
I hope you enjoy this recipe as much as I did. I was amazed at how flavorful this soup is, and since I love ginger and the other spices, I find this soup about as good as it gets.