This post was created as part of the SckoonCup Review Campaign in which I am a financially compensated blogger. The opinions are my own and based on my own experience.
Just over a year ago, I wrote about my very first experience using a menstrual cup. I gave my reasons for trying out a menstrual cup and explained why it's a great non-toxic and environmentally friendly alternative to pads and tampons.
What is a menstrual cup?
For those who don't know what a menstrual cup is, it's a small cup, usually made of silicone or latex, that is used in place of a tampon to collect menstrual fluids.
If you don't know anything about them, I'd suggest you read that other post. When I wrote it, I had only tried one during one cycle, so not only does it give a lot of information about what menstrual cups are and why they are great, but it also provides an honest experience from a first time user. At the time, my conclusion was that while I didn't yet love it, I was pleasantly surprised by it.
You see, I have never been able to get used to wearing tampons. In fact, I quite hate them. Tampons work by absorbing fluids which, in theory, is great. The problem is that they end up drying and becoming uncomfortable for many, like me, who use them.
I was using disposable pads, but apart from not being environmentally friendly, I find them gross. The moment menstrual fluids leave your body, they react with the air and begin to smell bad. I could go into more details about why I hate them, but I'd prefer to focus on why I now love the menstrual cup.
The menstrual cup is different.
It's bigger, so you'd assume it to be more uncomfortable, but because it isn't drying, I barely notice it.
When I wrote my first post, I was able to notice the menstrual cup more than I do now. That could be because I was getting used to it and was constantly thinking about if it was bothering me or not.
Since then, though, I haven't gone back!
I have only used the menstrual cup, and I am now so used to it that I have to really tense the muscles and specifically try to feel it to notice that it is there.
I have also since switched to a different menstrual cup.
Which menstrual cup am I using now?
Actually, as I'm writing this post, I am wearing a Sckoon menstrual cup.
It looks a bit smaller than the first menstrual cup I used, but it really holds about the same amount of fluid. (Yes, I did try it out with water to see!) 😉
 The two menstrual cups look pretty similar, but they are quite different in a number of ways.
The Sckoon Menstrual cup seems thicker and sturdier.
Note: I have the bigger size, which they also say is a bit thicker than their smaller cup.You might think that a thinner, softer cup would be more comfortable, but it can actually make for much more difficult insertion of the cup.

To get the cup in place, you fold the cup, position it, and basically let it pop open on it own. The problem is, my old cup didn't really pop up on its own; I had to maneuver it around a little and make sure it was open. One of the first times I used it, I hadn't really checked it and it had stayed in a folded position and began to leak!
I haven't had that problem with the Sckoon cup, though, and I love how easy it is to quickly place.

The Sckoon cup has more holes and they are angled diagonally

They say that the holes are necessary to hold the cup in place, and the Sckoon cup was designed with diagonally angled holes to help prevent leakage when the cup fills.
The Sckoon cup is formed in one piece, so it doesn't have any seams that can potentially irritate you.


You can probably tell from the pictures that my generic cup has seams.
The Sckoon Cup has a slimmer, softer stem.While it was meant to be a great design feature, I have to admit that this is the one point where I actually like my generic cup more, and a LOT more at that!

You see, while a lot of women are bothered by the stem, and actually want to cut part or even all of it off, the way my anatomy is, I would never even dream of it.

After a bit of investigation, it seems that the position of the cup, when placed, depends a lot upon the position of your cervix. If you have a high cervix, which it appears I do, the cup positions itself a lot higher than it does in women with a lower cervix.

I need every little bit of the stem to be able to reach the cup, and no matter how high I reach, I need to pull on the stem a little to get it to a position low enough to be able to pinch it and pull it out, as they suggest you do. They say, "Never pull on the stem to remove because it may hurt and also make a mess," something I found out the hard way when the tiny little stem snapped back at me like a rubber band!


They tell you instead, "To remove your SckoonCup, gently squeeze the bottom of the cup itself to release the suction," which is probably why they have designed their cup with bumps around the bottom of the cup for easier gripping there. Unfortunately for me, the cup sits too high for me to be able to reach it with two fingers for pinching without first pulling a little on the stem, something that is easier said than done.

I was used to pulling my other cup out by the thicker stem designed for getting an easy, sturdy grip. If the Sckoon cup had that type of stem available for women like me that prefer that feature, that would make it the all around perfect menstrual cup for me.
For now, I'm still getting used to getting this cup out, and have found that the easiest way is to make a point of relaxing the muscles, and taking my time.
For women with a lower cervix, though, I can see why the thinner stem would be an advantage, and would make the cup more comfortable for them.

It is made with non-toxic ingredients.Not only is it made from medical and food grade silicone which is colored without using heavy metals or phatalats, but it also comes in a cute organic cotton pouch. (Yes, I like attention to detail.)
I really don't know anything about my generic cup. They didn't really provide any information, so I only know it's made of silicone and it came in a shiny satin pouch with plastic beads that made it look like it came from a Chinese restaurant. 😉
Despite not being convinced by the thin stem of the Sckoon cup, I have chosen to continue to use it over my older, generic cup.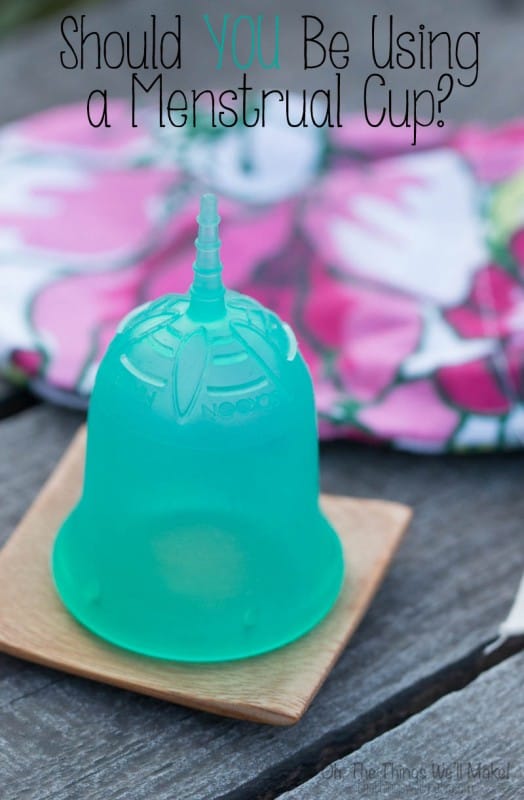 So, finally, I come to the answer to my question…
Should YOU be using a menstrual cup?
My short answer is YES!
I think every menstruating woman should at least try one.
I didn't completely love mine at first, but I liked it so much better than the other available options that I stuck with it. Now, over a year later, I can honestly say that I do love the menstrual cup, and would NEVER, EVER go back to what I was using! No way!
Use whichever menstrual cup you prefer. While I'd love for you to buy a Sckoon cup using my affiliate code, it's more important to me that you choose the cup you feel most comfortable trying.
Just try one!
If you want to try the Sckoon cup, you can find it on their website. AD
By using my referral code, T7TG1H, at the time of purchasing, you'll receive 10% off, and will help me earn a small commission too. Win-Win!
If you love the menstrual cup like I do, get the word out!
The menstrual cup still seems to be new to so many women, and I think it's important for women to know that more comfortable, sustainable, and cheaper (when compared to having to buy disposable products over and over again) options exist.
If you have any questions about it, feel free to comment or send me a private message, and I'll try to help out however I can.
While I wrote this as part of the SckoonCup Review Campaign in which I am a financially compensated blogger, I was about to update my experience with the menstrual cup anyway to tell you how much I love them. So, the opportunity came at the perfect time, I guess. 🙂