Last Updated on
Easily make a drawstring bag in less than 10 minutes by upcycling old t-shirts and taking advantage of the hem. You can also make a pouch from the sleeves.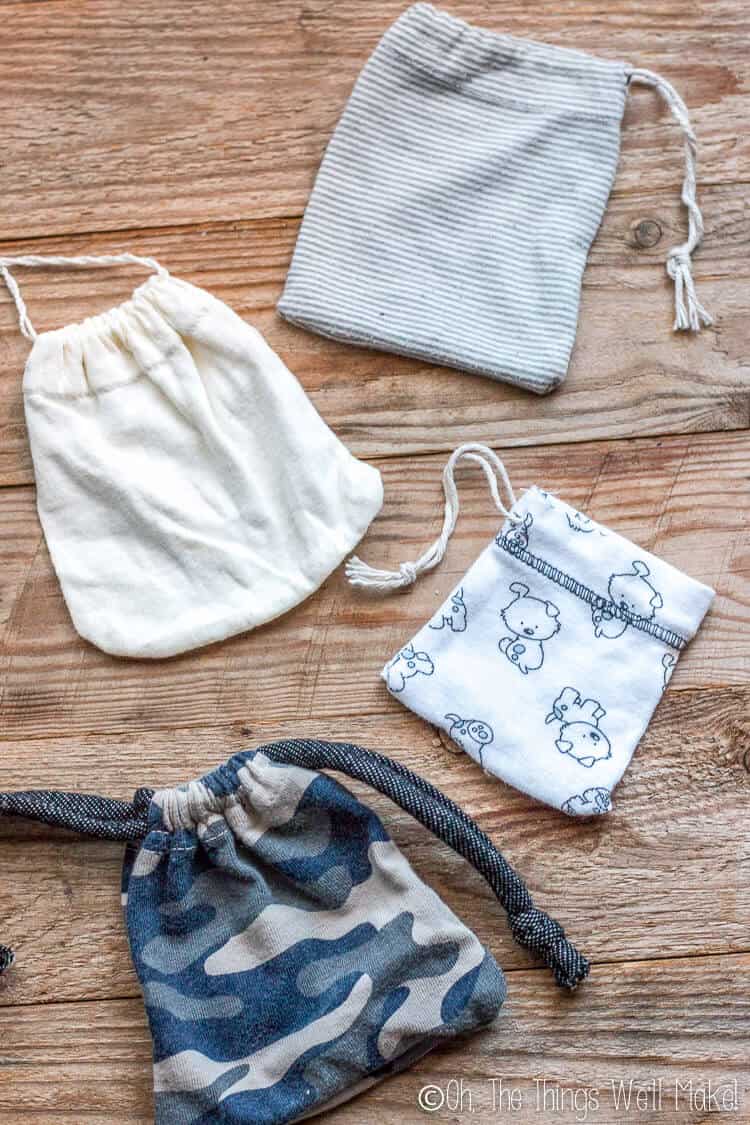 The easy drawstring bag/sleeve to pouch concept isn't a new one to my blog, but it is a basic trick that I use quite often. If you haven't wanted to make a snowflake drawstring gift pouch, though, or a trick-or-treat bag, you may have missed the concept.
That would be tragic!
Upcycling t-shirts into bags, and sleeves into smaller pouches, is something so easy to do, and it can be so useful in so many ways. It's super simple, and anybody can do it. Don't have a sewing machine? It's only one sleeve, so you could easily hand sew them in a pinch.
Seeing as I have a couple of projects on the blog already that use the idea, I figured that it was silly to have to keep writing up the same instructions over and over again. This merits a post of its own!
Why upcycle a t-shirt?
As you may have noticed before, I love to repurpose lots of different things, but old t-shirts are probably my favorite material to work with. The edges are hemmed in a way that forms a handy tube which is perfect for easily making drawstring closures. In literally less than a minute, once your sewing machine is out, you can have the sewing part finished for converting both sleeves of a t-shirt into 2 drawstring pouches.
If you use the right size sleeve for the project you're making, and the sleeve is straight enough, there is only one small seam at the bottom to be sewn. I usually end up sewing 2 seams, though: one to straighten up the side seam, and the other to close up the bottom. (Sometimes I dew 3 seams, one on each side, and another on the bottom.)
How to make a drawstring bag in less than 10 minutes!
1. Turn your sleeve inside out, and cut it into shape, just slightly bigger than you want your pouch to be. If you are making a larger bag from the bottom hem of a t-shirt, either cut the top part off (if you want the bag the width of the t-shirt) or cut two pieces just slightly larger than you want your bag. This is to account for the seam.
2. Sew down the side(s) of the sleeve, if you have cut it. If the sleeve is square enough, you can leave the sides as is.
3. Sew the bottom seam closed. If you have a serger, use that to have tidy seams. If not, I like to use a zigzag stitch and cut off excess fabric neatly and carefully.
4. Turn the sleeve/pouch right side out again. You have finished sewing!
5. To finish up the drawstring closure, you will need to make two small holes in the top layer of fabric (only) in the tube seam at the top of the bag, on either side of the seam. You'll have to make 4 slits, 2 on each side. (See Photo below of one side.)
6. Using a safety pin to help pull it through, take the cording or ribbon that you want to use for your drawstring, and pass it through the hem enclosure. You'll start on one side and pull the string out the hole on the other side. You'll then need to pull the cording through on the other side back to where you started.
7. If you are making a double drawstring, you'll have to repeat the process with another cord using the holes on the opposite side.
8. Tie the ends of the cord(s) together, and you have finished making your drawstring pouch!
See? I told you it was easy!
Watch how to make a drawstring pouch from a sleeve
If you find it difficult to figure out how to make a drawstring bag from the pictures and my instructions, here's a video that should help clarify… I must apologize that this is an embarrassingly old and "rustic" video. It may have been the first I ever tried making for the blog! My plan is to make a better one eventually, but this will have to suffice for now. Don't laugh too hard at me. 😉
(And, yes, I was making everything with one hand because I was holding my camera in the other hand!)
Uses for your homemade drawstring bag or pouch
Homemade drawstring pouches are super handy to have on hand. I like to use them to organize all sorts of things all over the house.
I made lots of pouches out of my son's old clothes and used the ones with fun, bright colors to organize a lot of his smaller toys. You know what I'm talking about, the tiny bouncy balls and little party favors that just seem to accumulate all over the house.
I have pouches to hold decks of cards together so none of the cards get lost!
I love gifting homemade soaps in pretty pouches. (If you've never made soap before, I have an easy beginner soap recipe on the blog!)

If your pouches are plain, you can decorate them with fabric paint. These snowflake gift pouches can be easily made using freezer paper and fabric paint.

Using the main part of the shirt, rather than the sleeve, you can make larger bags for organizing bigger things like holding together pairs of shoes or rollerskates.
My son helped me make this cute trick-or-treat bag