Homemade with toasted almonds and honey, this turrón de Jijona recipe will allow you to enjoy the sweet, smooth, popular Spanish Christmas treat anytime of the year, even if you aren't in Spain.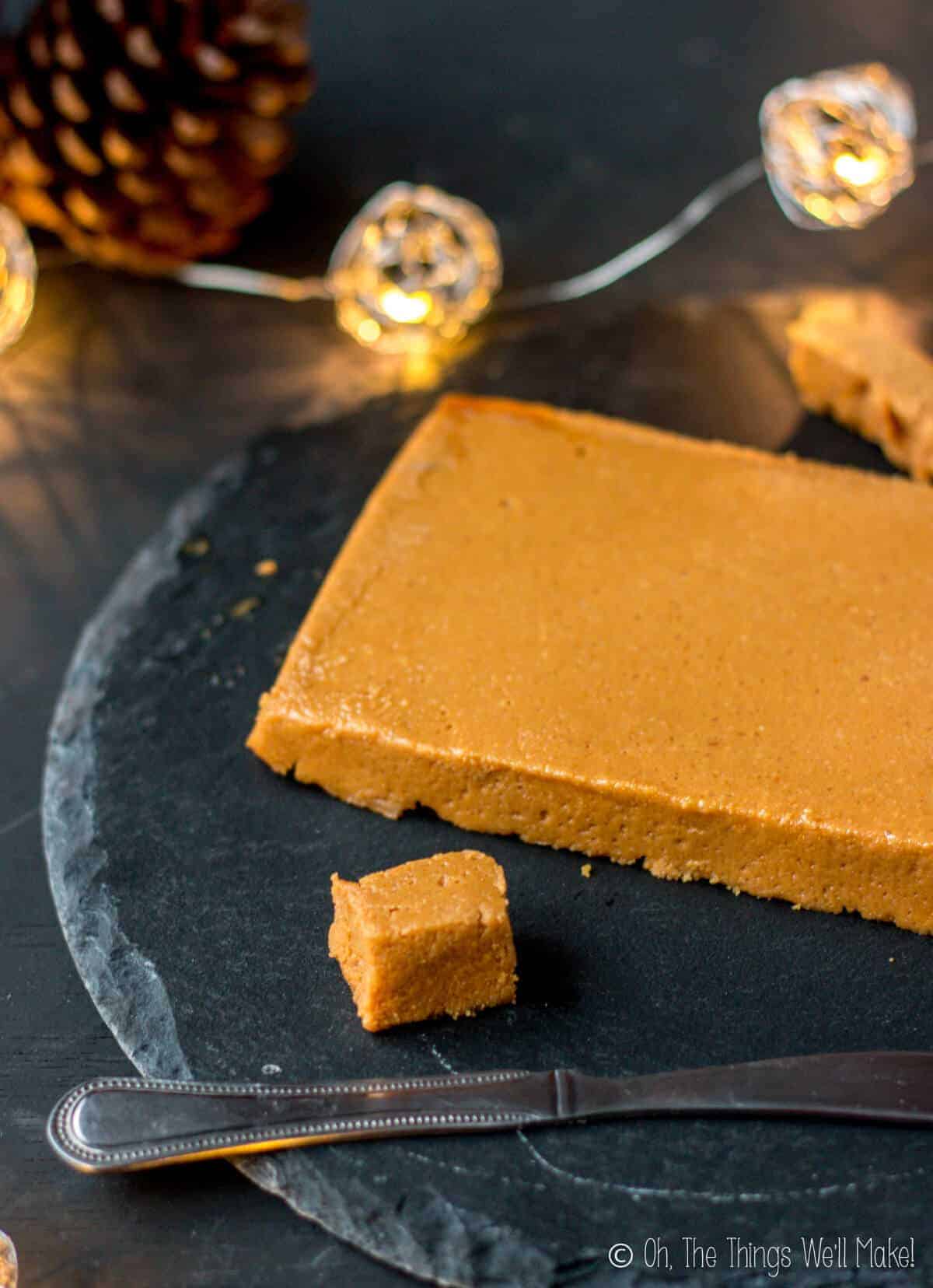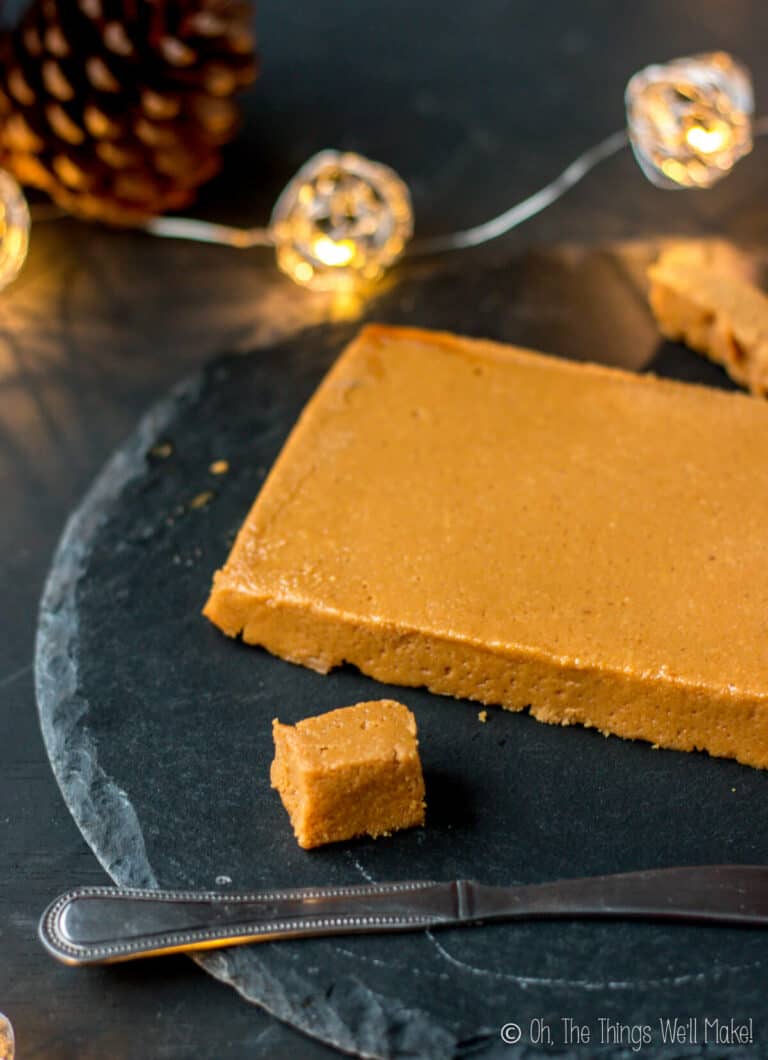 Last time I shared with you how to make turrón de Alicante, a Spanish hard almond nougat that is very popular at Christmas time. Today, I'm going to share with you a recipe for the other most popular turrón recipe served at Christmas time, turrón de Jijona.
Watch me make Turrón de Jijona:
For some reason, I thought that turrón de Jijona would be much simpler to make than turrón de Alicante. It's hard to describe the texture, but it's a solid, thick almond paste that is cut into small, bite sized pieces and almost melts in your mouth.
Interestingly enough, there are a lot of turrón de Jijona recipes out there, at least in Spain in Spanish, but after trying many of them over the years, I never found one that made me happy. It was very frustrating because the most popular turrón de Jijona recipe was being copied from blog to blog. All used the same ingredients and similar instructions, and all ended up with similar, unanswered comments from readers. "My turrón is rock solid and not soft like turrón de Jijona," or "My turrón tastes OK, but it's gummy and chewy, nothing like the texture of turrón de Jijona."
Despite those comments, the same recipe showed up again and again, often accompanied by a stock picture of turrón, a picture of a gummy, sticky strange looking turrón, or in some cases no picture whatsoever. I ended up wasting a lot of almonds on recipes that just didn't work at all, and almost broke a tooth on what was supposed to be a soft almond nougat.
One of the problems with most of those recipes that should have clued me into the fact that there was actually a problem was that they all came with the instructions to grind the toasted almonds, but not enough to let them release their oils! Anybody who has tried turrón de Jijona should be well aware that the almonds have been ground past that stage and that oil tends to separate from the fully set tablet of turrón.
Another popular recipe floating around uses white chocolate to bind the almonds rather than egg whites, sugar, and honey. It actually looks more promising, but white chocolate isn't exactly a traditional turrón de Jijona ingredient.
It wasn't until I came across a video on YouTube about how turrón was made, that I decided to look at the process of making turrón de Jijona in a new light.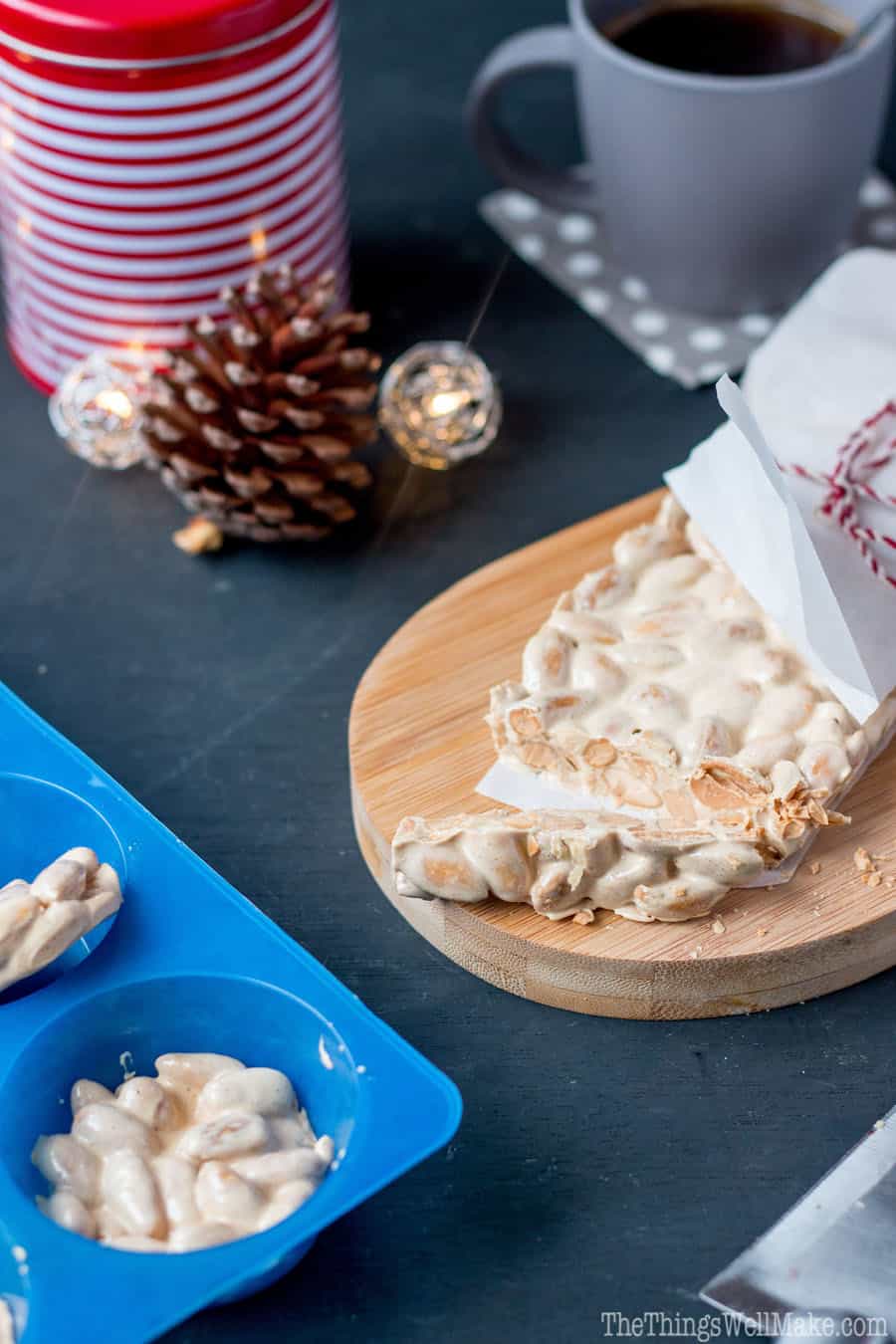 The factory being featured made both turrón de Alicante (the hard almond nougat) and turrón de Jijón (The soft variety). What I found interesting was that they first made the turrón de Alicante, and then saved some of it to grind up with extra almonds and honey to make turrón de Jijona! They, of course, used big machines that finely pulverized the almonds, and continued to grind them down into a liquidy paste. In the process, the almonds released a lot of their oils. The mixture was pressed into molds and a lot of the oils were allowed to drain out over the next day.
As the oils were released, the turrón solidified into the soft nougat paste more commonly known as turrón de Jijona.
Out of curiosity and a bit of desperation, I decided to give grinding the almonds into a sort of fine almond butter with honey a try to see what would happen. It isn't exactly the same process being used by the turrón factories, but I was hoping that I'd be able to make something similar. I was tempted to add some of my homemade turrón de Alicante into the mixture to make it come closer to what was actually done in the factory of the video I had watched, but I figured most people weren't going to want to sacrifice one of their homemade turrónes in the interest of trying to make another one. Instead, I simplified, and ground the almonds up with only honey and powdered sugar.
After making my honey almond mixture, I wasn't so sure that anything positive was going to come out of it. I ended up with sort of a soupy, sweet almond mixture that didn't look like it was going to turn into anything solid anytime soon. I covered it with cardboard and weighed it down with a bottle of olive oil. Then, after a few days, I covered it with a cotton cloth and left it alone for several more days with my fingers crossed. I figured that even if it didn't work out well, the mixture could be worked into other recipes like turrón flavored ice cream or something like that.
Much to my (pleasant) surprise, though, after a few days with the cloth covering, and some paper toweling placed on top of the cloth to soak up some of the oils, I ended up with a solid, yet soft tablet of sweet almond nougat that tastes just like the real deal, and with a similar texture!
So, after years of struggling with this recipe, I'm happy to finally be able to share with you a successful recipe that I think will please even picky turrón lovers.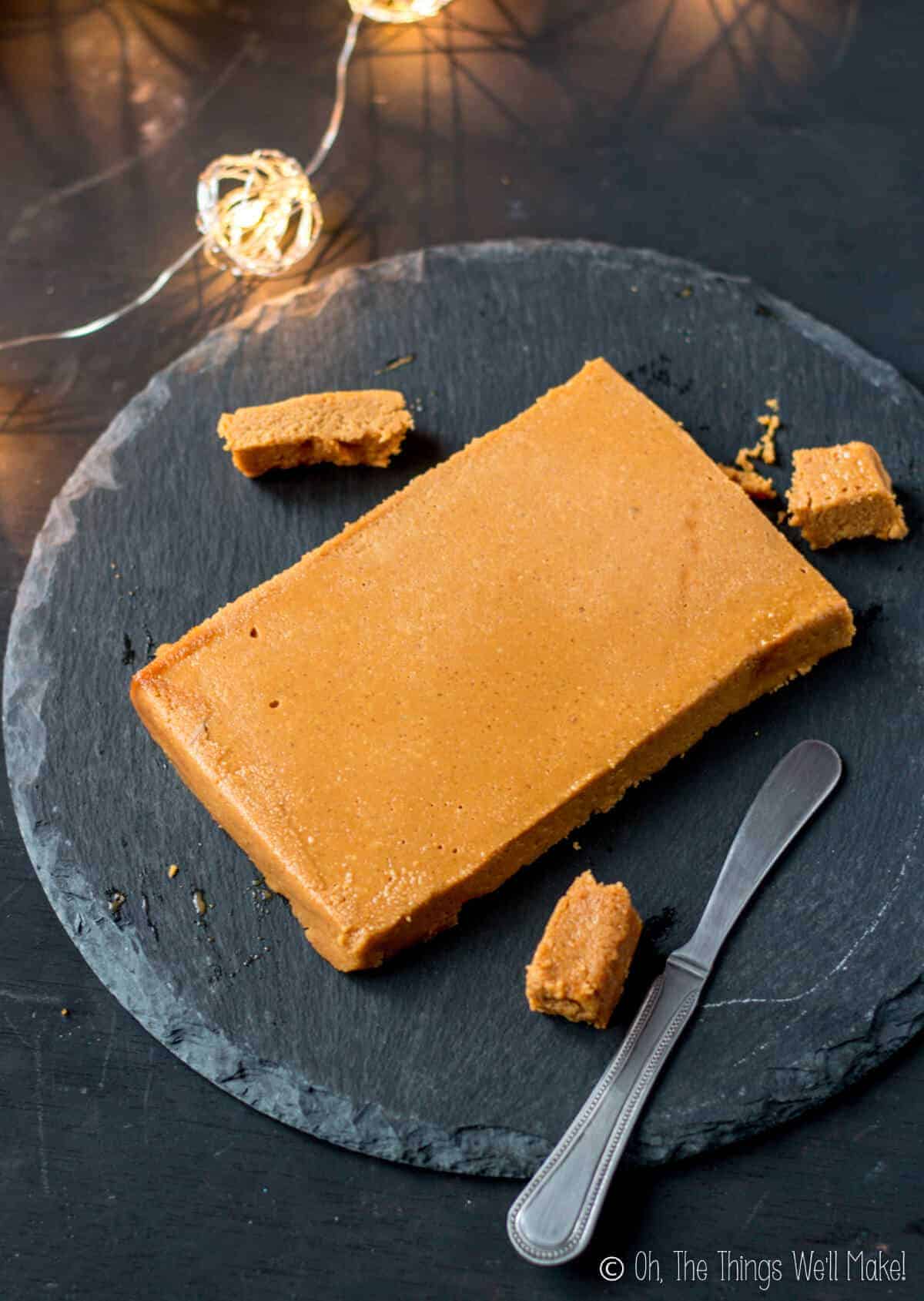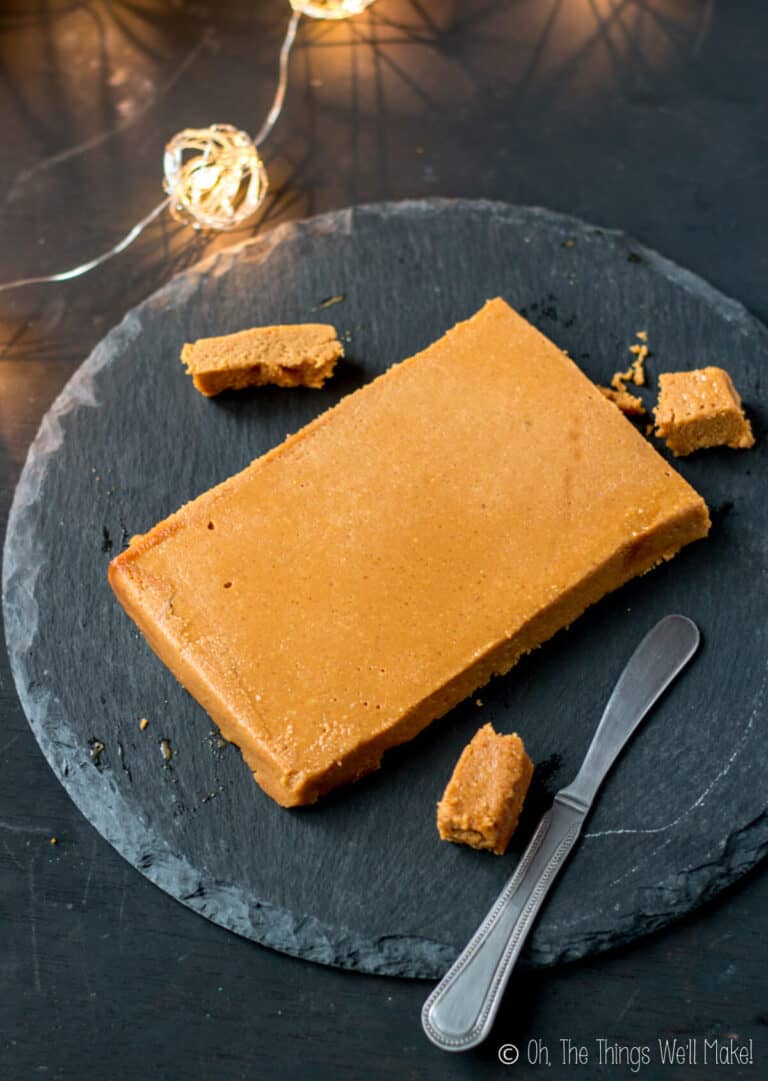 Turrón de Jijona Recipe (Spanish Soft Almond Nougat)
Craving more?
Subscribe to my newsletter for the latest recipes and tutorials!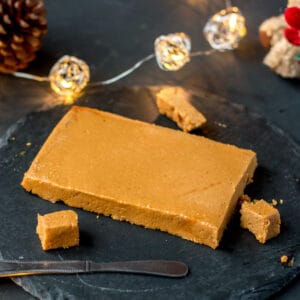 Turrón de Jijona Recipe (Soft Spanish Almond Nougat)
Homemade with toasted almonds and honey, this turrón de Jijona recipe will allow you to enjoy the sweet, smooth, popular Spanish Christmas treat anytime of the year, even if you aren't in Spain. (Makes 2 tablets.)
Print
Rate
Servings:
25
27g servings
Instructions
Toast the almonds in the oven until they reach a light golden brown. Remove them from the oven.

As you allow the almonds to cool, grind the sugar into a powdered sugar consistency in a blender or coffee grinder. (Or use store bought powdered sugar.) I like to grind my own because I can use the type of sugar that I prefer. (unrefined, organic)

Grind the cooled almonds in a food processor. If you have a high powered food processor, this process should be relatively simple and shouldn't take too long. If your food processor isn't as potent, this recipe may be a lot of work for it and could end up breaking it. I'm not telling you this to scare you from proceeding, but do want to warn you. If you are making nut butters already with your food processor without issues, you should be fine!

As the almonds turn into more of an almond butter, add in the powdered sugar and honey. Continue to process the mixture until you reach a pretty thin paste consistency. You want the almonds to release their oils! (Yes, this totally contradicts most of the recipes out there, but is more inline with what I saw the turrón factories doing.)

Line a loaf pan with parchment or wax paper for easier removal later on. You can see in the video that I originally covered mine with another layer of paper, added a piece of cardboard over top of it, and weighted it down with a bottle of olive oil. I then let it rest for 24-48 hours.

After 24-48 hours, I checked on the turrón, and noticed that with my setup, the turrón probably couldn't release any excess oils very easily. The cardboard had absorbed some of the oils, but I decided to remove the top layer of paper and cardboard, and cover it with a cotton cloth instead. I then covered the cloth with some absorbent paper towels and let the turrón rest another couple of days. If you have more time to let the turrón rest, I don't think you need to switch to the cloth/paper towel method. It should firm up over the next week or two as the mixture releases its oils and as the liquid component evaporates. If you are in a hurry, or impatient like I was, though, the cloth method does speed up the process.

Remove the cloth and check on the consistency of the turrón. It should get progressively more solid as it rests and releases more of its oils. When it is firm enough to hold its shape, you can remove the turrón from the pan with the cloth or cardboard, and move it to an airtight container for storage, or serve immediately. (Mine started to get a bit drier on the top where the cloth was, and a very thin layer began to stick to the cloth. I flipped the turrón over for serving and storage, and that gave it a much nicer appearance and allowed the turrón to mellow out and have the right consistency throughout.

Enjoy!
Calories:
142
kcal
|
Carbohydrates:
10
g
|
Protein:
4
g
|
Fat:
10
g
|
Sodium:
3
mg
|
Potassium:
133
mg
|
Fiber:
1
g
|
Sugar:
7
g
|
Calcium:
47
mg
|
Iron:
0.7
mg