Beat the delivery guy with this quick and easy pizza dough recipe allows you to make a delicious homemade pizza from scratch in about 30 minutes.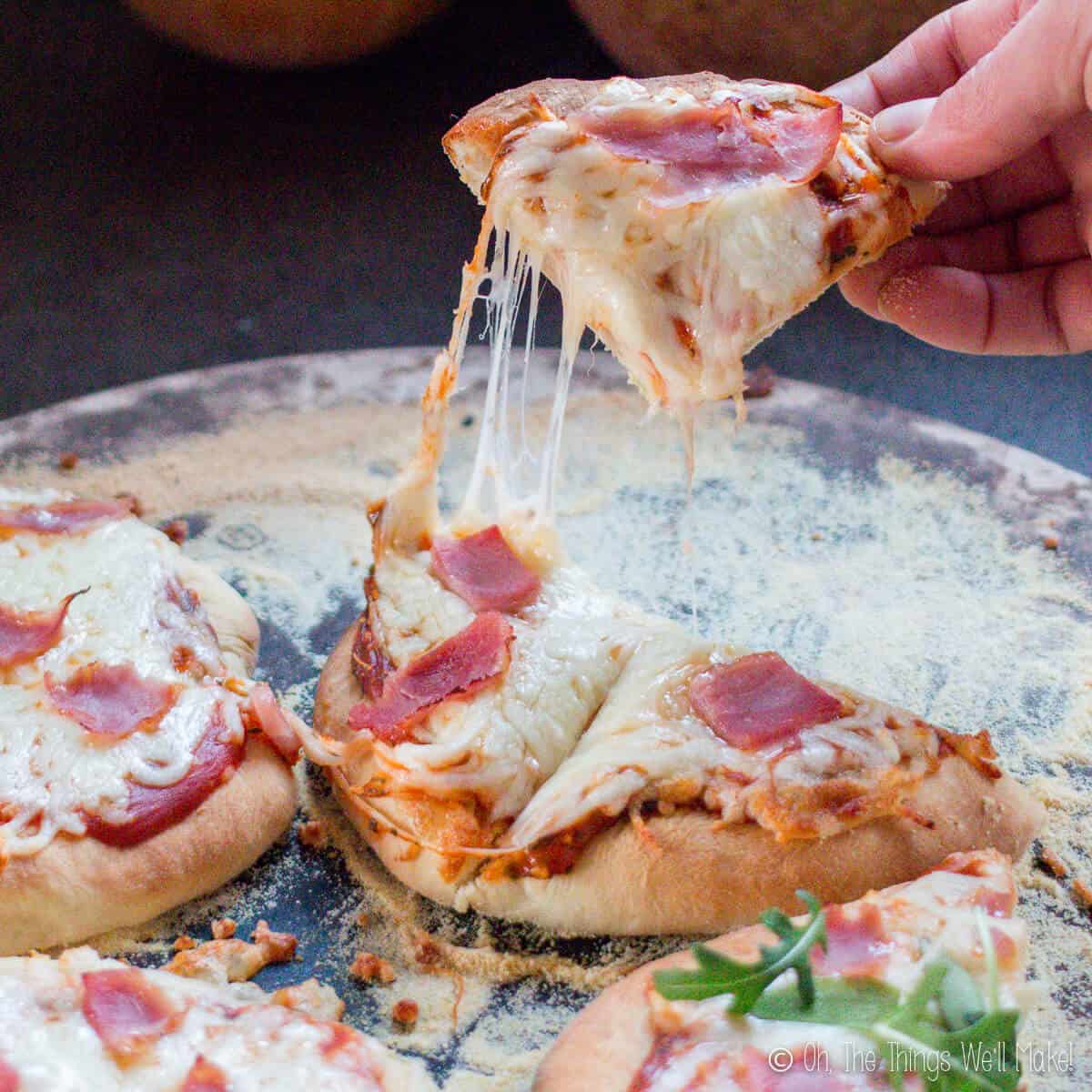 Note: This is one of the few of my older posts with gluten in them. For a gluten free (and grain free) alternative, see this recipe for a paleo pizza crust.
Does the family want a pizza? I bet you can make this and even beat the quick pizza delivery guy at making a pizza with the ingredients and toppings you choose.
Why make your own pizza dough?
While there are many options available for pre-made pizza doughs, I've never been able to find one anywhere near as good as a homemade pizza crust made from scratch. There are frozen doughs available, or even frozen or refrigerated already formed pizza crusts, but none have struck me as great options. Most are either dry or tasteless, and some have some ingredients that I'd rather avoid.
Making your own pizza dough for a homemade pizza crust sounds really intimidating, especially if you aren't a bread maker or a baker, but I assure you that not only is it an easy recipe, but it's also a quick one. You don't have to sit and wait for the dough to rise multiple times, so you can actually make it from scratch quicker than you could go to the store for a pre-made pizza crust.
My son loves to help me make pizza, and we like being able to make individual sized mini pizzas. This also allows each person to choose their toppings, and if they want a thinner or thicker crust.
Of course, as always, I love making things myself because I love being in control of the ingredients.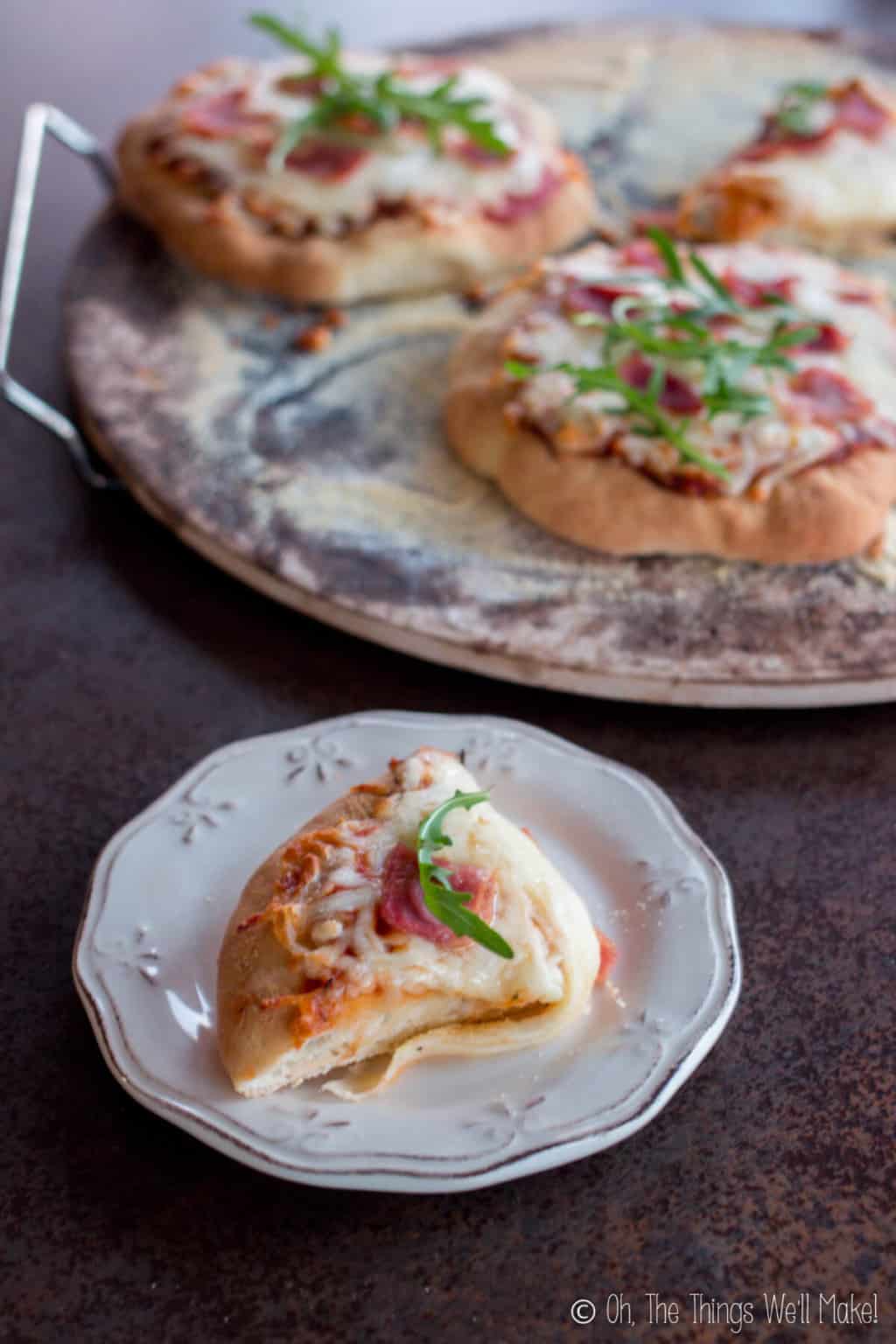 Making a whole wheat pizza dough
The great thing about making your own pizza dough, is that you can choose which flour to use. If you don't have wheat/gluten intolerances, this recipe is perfect for making your own last minute pizza crust, using the wheat flour, or gluten free all purpose flour alternative, of your choice.
I have made this homemade pizza dough with different combinations of whole wheat and whole grain flours, including some of the older wheats like spelt. For now they have all turned out well. While I think it would work well with most gluten free all purpose flours, you can't just substitute any flour here. I haven't tried making this as a grain free pizza dough using tapioca starch with almond flour, for example. If you are looking for a grain free pizza dough recipe, I'd suggest trying this paleo pizza dough recipe.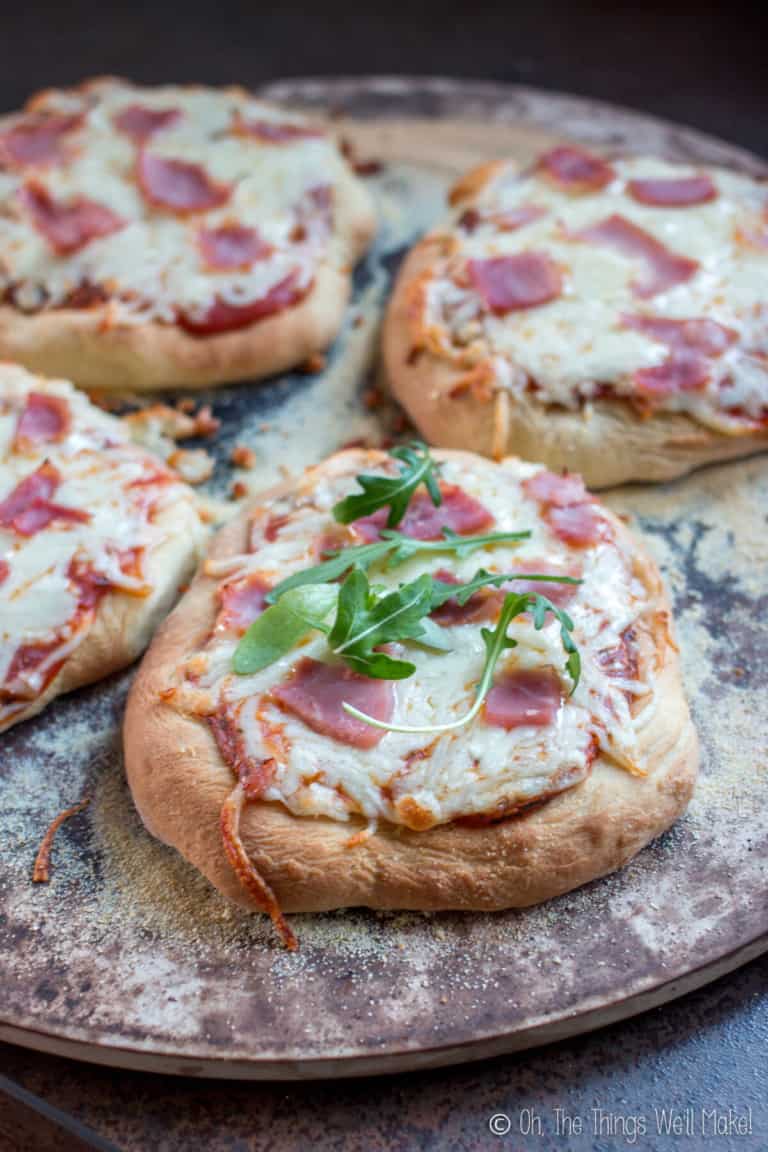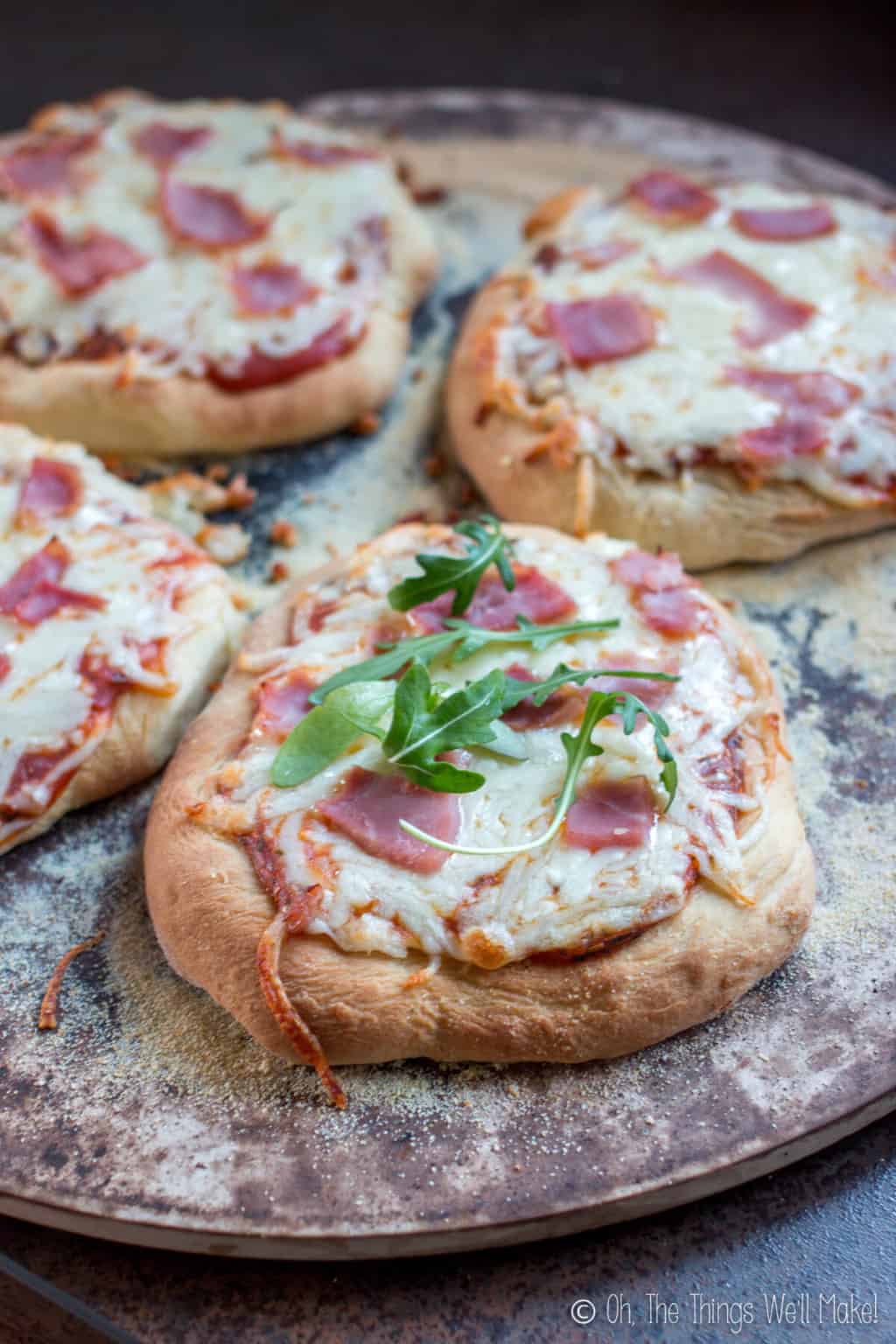 Making a thin or thick crust pizza
Another nice thing about making your own crust, is that you can choose how, exactly, to make your pizza. Perhaps you love thick crusts, but your partner loves thin crust pizzas. There is no need to fight when making your own.
While this recipe works perfectly for making one large 16 inch pizza with a medium thickness crust, we like making individual sized pizzas at our house. I find that this recipe normally yields around 5 6-inch individual pizzas with medium thickness crusts. If making thinner pizzas, you can probably get another pizza or two out of this recipe. Just roll the dough out very thinly to get a crust the way you like it.
Making a crispy pizza crust
Perhaps because I'm a mom who doesn't like having to help her son eat, whenever it can be avoided, and who doesn't like unnecessary messes, I like having pizza crusts that are somewhat crispy and hold their shape. I don't like soggy pizza crusts that need to be eaten with a fork.
To ensure a crispy pizza crust, this recipe uses a process where the crust is baked for a few minutes before you place the toppings on the crust and finish baking the pizzas. If you are making thinner crusts, you can try adjusting the time, baking the crust for slightly less time, so that the crust doesn't get too cripsy and dry. You can also reduce the first baking time, or eliminate it completely, if you prefer a softer, more chewy pizza crust.
Another thing that helps ensure getting a crispy crust is to use a pizza stone. Pizza stones should be preheated along with your oven. Placing a cold pizza stone into a hot oven could cause it to crack. I like to use a pizza stone in the bottom of my oven, and set my oven to the bottom heat setting. Heating from the bottom is one more way to assure that you don't end up with a soggy crust.
Watch my son and I make pizza with this pizza dough recipe
Quick and Easy Pizza Dough Recipe
Craving more?
Subscribe to my newsletter for the latest recipes and tutorials!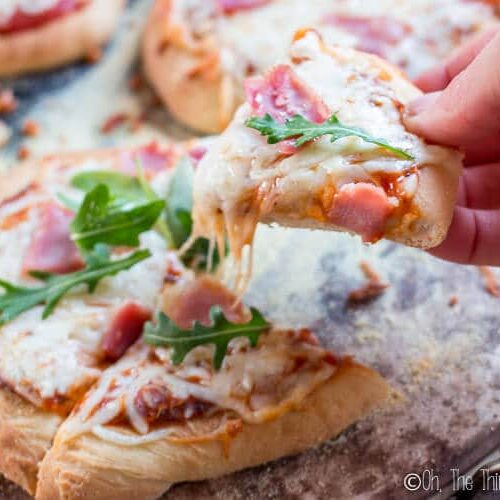 Quick and Easy Pizza Dough
Beat the delivery guy with this quick and easy pizza dough recipe allows you to make a delicious homemade pizza from scratch in just over 30 minutes.
Print
Rate
Servings:
5
6-inch pizzas
Ingredients
2 1/4

tsp.

dry yeast

(1 package or 1/2 cube fresh yeast.)

1

cup

water

Warm

2

Tbsp.

extra virgin olive oil

1

Tbsp.

honey

2 1/2

cups

flour

I have used whole grain flours and spelt

1

tsp.

salt
Instructions
Pre-heat your oven to 220ºC/430ºF. If you have a pizza stone, let it preheat in your oven.

Mix together the warm water and yeast. I mix it right in the bowl of my stand mixer.

Add in your other ingredients, and mix them together with the dough hook attachment, if you have one, for several minutes. If you aren't using a stand mixer, knead with your hands for several minutes.

Form a ball with the dough, and leave it alone for 8-10 minutes.

Roll the dough out into the desired shape(s). I used to always make one round pizza that fits on my pizza stone, but now prefer making several individual pizzas. You could also make one large, rectangular one, depending upon the baking tray or pizza stone you are using. Leave the edges a bit thicker than the center, forming your crust. To keep the pizza from sticking, I sprinkle the pan with corn meal, and place the dough round over it.

Brush your dough round with olive oil.

Bake your dough in the oven for around 8-10 minutes.

Remove the partially baked pizza dough, and add your sauce, cheese, and toppings.

Bake for another 10-12 minutes, or until your pizza crust is a beautiful golden brown color.
Serving:
1
6 inch pizza crust
|
Calories:
295
kcal
|
Carbohydrates:
51
g
|
Protein:
7
g
|
Fat:
6
g
|
Sodium:
387
mg
|
Potassium:
88
mg
|
Fiber:
2
g
|
Sugar:
2
g
|
Calcium:
9
mg
|
Iron:
3
mg