Beat the delivery guy with this quick and easy pizza dough recipe allows you to make a delicious homemade pizza from scratch in about 30 minutes.
Note: This is one of the few of my older posts with gluten in them. For a gluten free (and grain free) alternative, see this recipe for a paleo pizza crust.
Writing this post is a little bit bittersweet for me. You see, this has always been my favorite quick and easy pizza dough recipe for whipping up a quick pizza at the last minute.
Does the family want a pizza? I bet you can make this and even beat the quick pizza delivery guy at making a pizza with the ingredients and toppings you choose.
Did I mention it's delicious?
A lot has been happening in my household over the last few weeks, though. You probably already know that I have been following the candida diet for over 6 weeks now, but I'm not the only one in my family dealing with a change in diet. My son has been dealing with a bad case of atopic dermatitis.
For those who aren't familiar with atopic dermatitis, it is a chronic and severe type of eczema often associated with allergies, asthma, and food intolerances. I had brought him to see his doctor, but she basically told us there was nothing we could do for him! I couldn't settle for that because his skin just kept getting worse and the red patches kept covering more of his body! Plus, he kept waking up in the middle of the night scratching and crying!
Upon bringing him to a dermatologist, and talking about his symptoms, I came to the realization that I also have or have had many of the symptoms that are associated with people suffering from atopic dermatitis. Growing up, I dealt with exercise induced asthma; I got sick often, and as I got older, I started to get eczema myself. No lotion or cream has ever helped it go away, but I was finally able to get rid of it after following the candida diet for a couple of weeks. Who'd have thought it!?!?!?
That's why I found it especially interesting when the dermatologist let us know how important diet is for people suffering from atopic dermatitis. This wasn't a natural practitioner by any means, and because of the severity and extent of my son's eczema, we didn't know what else to do other than give him an, albeit small, shock dose of oral corticosteroids to help rid him of the inflammation and infection all over his tiny body. By that point, we had tried everything else, to no avail, so we were desperate and gave in. (Even the doctor explained that he only has cases extreme enough for that a few times per year.)
Still, despite being very conventional, this doctor emphasized the role of diet and food intolerances, explaining how these patients are especially sensitive to the foods they eat.
Most important, we were told that sugar was the biggest aggravator, and that we shouldn't be giving our son soft drinks or candy. While I don't feed him either of those things anyway, it made me realize that I should be even pickier about the amount of sugar that can be found in the foods that I do give him. The doctor also recommended that we exchange cow milk for sheep milk, and that we no longer feed our son egg whites, but that we could continue to give him the yolks which provide useful nutrients like folic acid, vitamins, and essential fatty acids. He suggested we feed him foods that are high in omega 3 oils like the "blue" fish commonly found here (sardines and anchovies, for example).
No mention was made about gluten, though, so, for now, we decided to start with the doctor's recommendations to see how far that gets us. That night my son asked for pizza.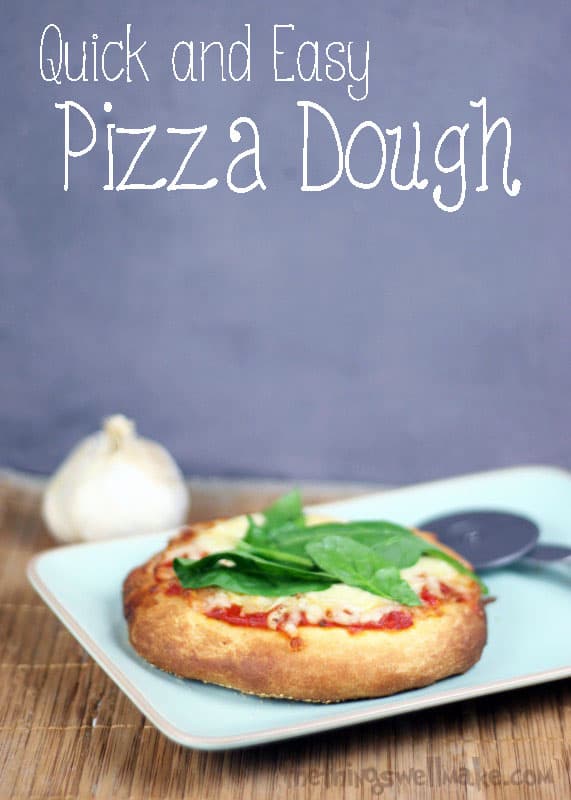 It has been months since I have made my family pizza because I couldn't eat it myself while following the candida diet, so I didn't really feel like making it. I wasn't very hungry myself that night, though. Plus, after having been on the candida diet for around 2 months, I thought it might be fun to start experimenting with adding small amounts of some regular foods back into my diet. I made my usual, quick and easy pizza dough recipe that allows me to whip up some homemade pizza in around half an hour.
I love this recipe! Or at least I always did love it.
If you don't have wheat/gluten intolerances, this recipe is perfect for making your own last minute pizza crust, using the flour and other ingredients of your choice. I have made it with different combinations of whole grain flours, spelt, etc. No matter what you use, though, it is probably much better, and better for you, than what you would buy when ordering delivery.
I only had a very small piece of pizza because, after not having had gluten for over a month and a half, I wasn't sure what to expect. I fell asleep soon afterwards, though, so I didn't really notice anything very strange.
It wasn't until the next morning, after having another small piece, that I started to realize how tired I felt. I even had a bit of a headache and just wanted to go back to bed! I haven't felt like that since the candida die off symptoms that I was dealing with a few weeks ago.
Could I have a gluten intolerance?
Is it the candida?
Whatever the reason, I decided that, for now, it isn't worth it for me to be eating wheat or anything else with gluten in it. I feel so much better without it! For those who have no reason not to eat it, though, I will share my pizza crust recipe because I think it's a great one to have! Making your own is still the better option.
I guess I'll have to start looking into a grain free, or at least gluten free, option for me for our next pizza night, though. Sigh.
UPDATE: if you are looking for a great grain free pizza crust, I have since shared a recipe of a paleo pizza crust here.
Quick and Easy Pizza Dough
Ingredients
2 1/4

tsp.

dry yeast

(1 package or 1/2 cube fresh yeast.)

1

cup

water

Warm

2

Tbsp.

extra virgin olive oil

1

Tbsp.

honey

2 1/2

cups

flour

I have used whole grain flours and spelt

1

tsp.

salt
Instructions
Pre-heat your oven to 220ºC/430ºF. If you have a pizza stone, let it preheat in your oven.

Mix together the warm water and yeast. I mix it right in the bowl of my stand mixer.

Add in your other ingredients, and mix them together with the dough hook attachment, if you have one, for several minutes. If you aren't using a stand mixer, knead with your hands for several minutes.

Form a ball with the dough, and leave it alone for 8-10 minutes.

Roll the dough out into the desired shape(s). I usually make one round pizza that fits on my pizza stone, but you can also make several individual pizzas, or a large, rectangular one, depending upon the trays you are using. Leave the edges a bit thicker than the center, forming your crust. To keep the pizza from sticking, I sprinkle the pan with corn meal, and place the dough round over it.

Brush your dough round with olive oil.

Bake your dough in the oven for around 8-10 minutes.

Remove the partially baked pizza dough, and add your sauce, cheese, and toppings.

Bake for another 10-12 minutes, or until your pizza crust is a beautiful golden brown color.
This post is also available in Español.