While it's spiced pumpkin season back in the US, here it's the season for making several of my favorite recipes, one being homemade salt cured olives. Of course I happen to love them all, so you'll find both types of recipes here on the blog.
I am, after all, half Spanish and half American.
When I was growing up, if you had told me that olives and avocados would end up being amongst my very favorite foods, I would have have thought you are crazy! I was pretty sure that I didn't like either.
When it comes to avocados, I'm not sure if I had ever even tried one, or if I just decided one day that they were gross based on appearances alone.
As for olives, I was a bit of a "racist" and was sure that I only liked the black ones.
That doesn't really surprise me so much, though, because I only remember having seen green olives with "pimiento" inside them. Even to this day, I don't really like those very much.
When I came to Spain for a visit with a friend of mine, almost 20 years ago now…
No way!! Really!?!?!
…I was pretty much forced into trying olives again.
We had been graciously invited as guests to the house of an old friend of my mom's in Madrid, and his mother had made "smashed" green olives from the olives from their backyard olive tree. They proudly offered them to me. How could I be so rude as to not at least try them, despite my hatred for green olives?!?
To my surprise, I LOVED them!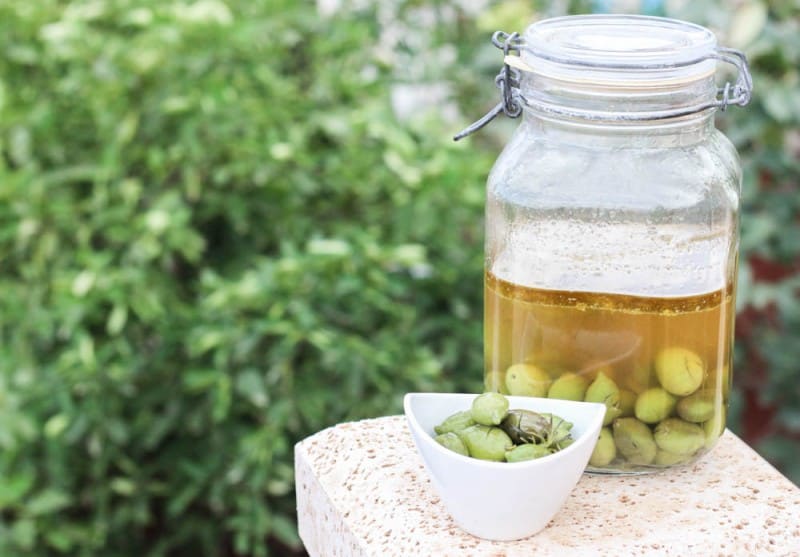 After a few days in Madrid, we headed for the East coast, and I decided that I would give buying olives a chance. So, I bought several varieties, and ended up loving most of them. Still, I couldn't help but think that the homemade "smashed" olives were still my favorites.
What more can I say about olives?
They are one of the most perfect snacks around, made up of healthy fats that are very good for you.
It's hard to find something to eat here if you go out to breakfast and want to avoid white bread. Most people order toast in the morning, and those who don't likely order croissants or ensaimadas, or some other locally made pastry.
So, what have I been doing? I eat from the plate of olives that gets set on the table as a sort of tapa to accompany brunch.
Why do you need to salt cure the olives?
Olives are very bitter and have an astringent like flavor when you first pick them off the tree. Unless they have sun dried for quite awhile, they just aren't palatable at all!
This is my favourite way to prepare mine: