Eating the rainbow and getting in a healthy dose of colorful vegetables is fun and easy with these colorful rainbow spring rolls.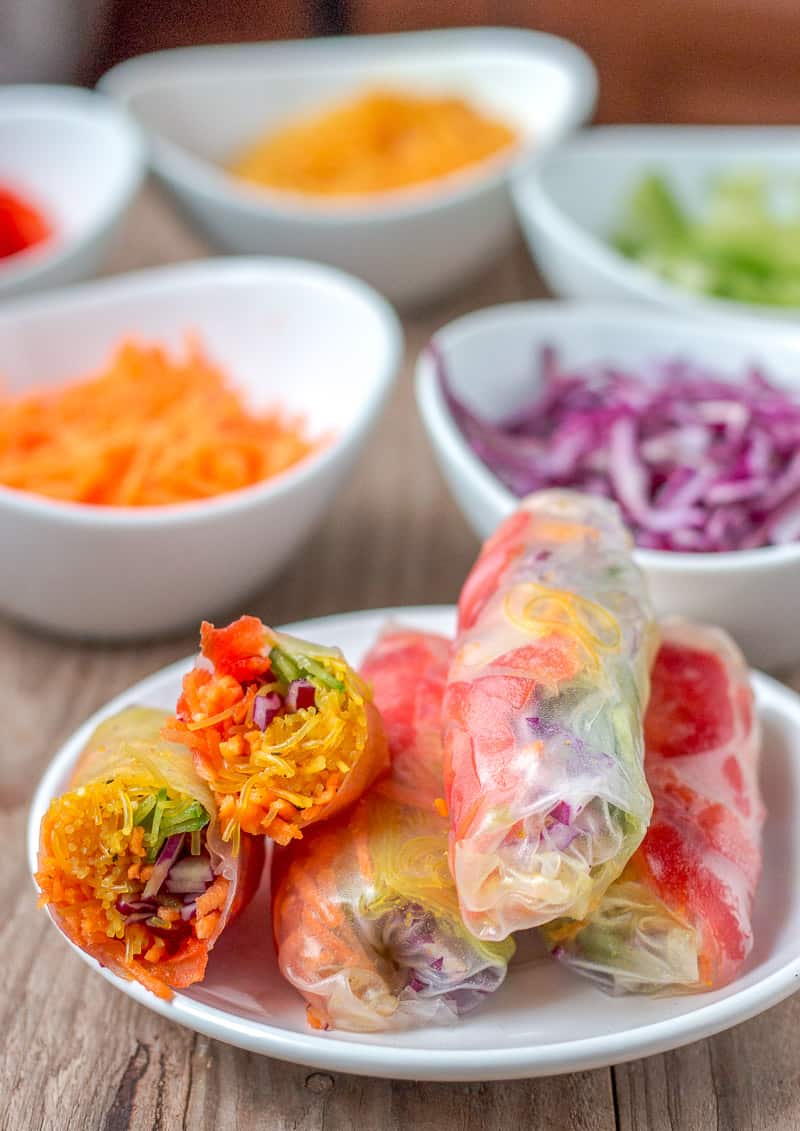 Now that spring has finally arrived, I have started to crave more fruits and veggies and have been looking for fun new ways to incorporate more of them into my diet.
During my recent blog vacation, I spent a lot of my time off deep cleaning the house and clearing it of clutter. It has been therapeutic in a sense, and has led me to want to do the same for my body.
I've been feeling great, partly because I've been out hiking on the mountain and working out in my garden more, but also probably because I've been eating the rainbow, so to speak.
What does it mean to "Eat the Rainbow"?
Eating the rainbow is the idea that we should try to eat a wide variety of colorful fruits and vegetables. Generally speaking, the brighter the food, the more it is highly packed with healthy vitamins and antioxidants. For example, many red foods are high in lycopene, and orange foods often are great sources of alpha carotene. Yellow turmeric is the best source of curcumin, known to be anti-inflammatory and to fight cancer.
When you eat a diet filled with vibrant foods, you are more likely to be getting the nutrients you need than when you are eating a bland looking diet of brown and white foods like bread and potatoes.
Not only is "eating the rainbow" a healthy way of living, but it also makes foods lots of fun and more appealing to kids (and adults like me). 🙂
Eating the bright foods in salads and smoothies is a great way to get in your fruits and veggies, but it can get boring after awhile. Sometimes it's fun to try something new like these eat the rainbow spring rolls.
I'd had some spring roll wrappers sitting in my kitchen cabinet for months now, and when doing my spring cleaning I found them and thought it was the perfect time to make a fun, colorful dish with them. Because they are thin and translucent, you can get a peek at the beautiful colors even before you take you first bite.
I kept these spring rolls vegan, but you can easily add in some fried egg or ground meat if you so prefer.
Once you have the prep work done of cleaning and cutting up the veggies, you can whip up a batch of these in no time. I used my food processor, and that made the process quick and easy.
Let's make some Rainbow Spring Rolls
This post is also available in Español.