Puerto Rican pinchos de pollo, marinated chicken kebabs, are traditional street food in Puerto Rico and can be made from pork or chicken that has been marinated in a tangy sauce and then grilled to perfection.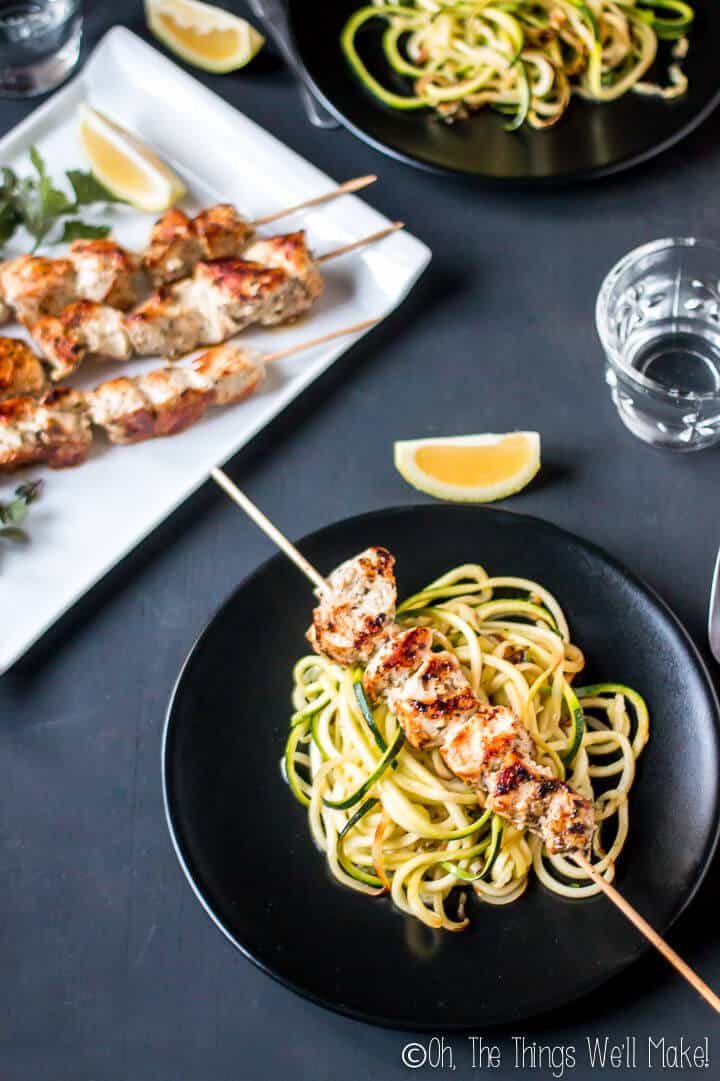 While most of you know that I live in Spain, after having grown up in the US, you may not know that I also have also spent my fair share of time in several Latin American countries.
My mom retired this year from teaching Spanish, but over the years her job brought me on several month-long visits to other countries. When I was around 10, we spent the month of January living with a family in Mexico city, and the following year, we spent the month of January here in Spain. Years later, I went back with her to Mexico, this time staying with a family in Mérida, in the Yucatan peninsula, for yet another month.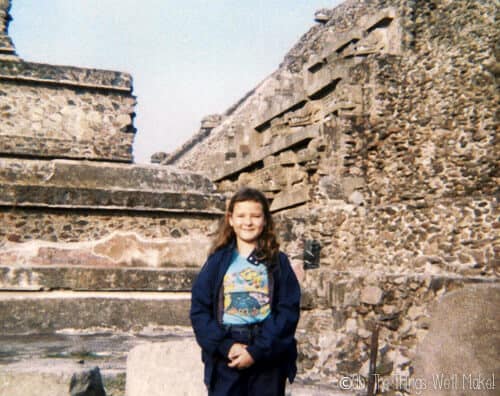 It wasn't just her job that brought me South, though. I also have family ties to both Venezuela and Puerto Rico.
One year, when I was in college, I had fun visiting my aunt and cousins in Venezuela for a couple of weeks during Christmas break.
I also enjoyed a visit to Puerto Rico with my Puerto Rican step mom on a trip to visit her family back there. I loved it so much that I convinced my mom to go back with me the very next year.
Puerto Rican food
Puerto Rico was absolutely gorgeous. From the "El Yunque" rainforest, to the phosphorescent bays, every new site struck me as more beautiful than the last.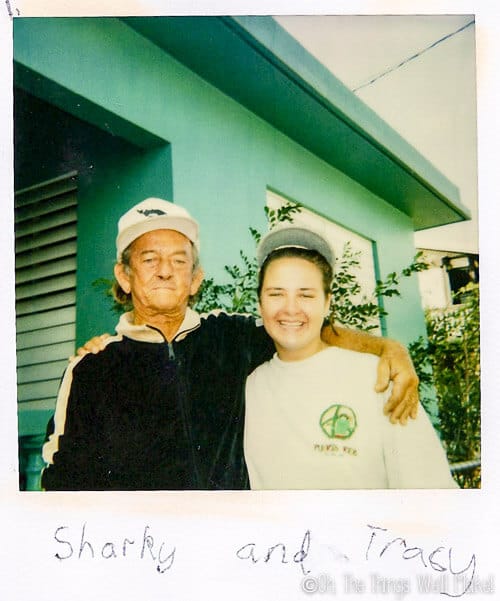 As for the food, I fell in love with lots of different things. I loved drinking coconut water fresh from the young green coconuts, and eating tiny green fruits called quenepas.
I also became obsessed with eating tostones, fried green plantains. So much so, that I craved them and made them often throughout my pregnancy.
Latin American Paleo Cooking book
That's one of the reasons that I was really excited to see that a fellow blogger friend, Amanda Torres, from The Curious Coconut, had just published a new book called Latin American Paleo Cooking.
Way back when, I had bought a Venezuelan cookbook to learn how to make hallacas, empanadas, and bolas de queso, but now that I eat more of a paleo diet myself, I appreciated the effort she made to share family recipes in a paleo friendly way.
Not only has she paleo-tized the recipes, she went the extra mile and made most of them paleo autoimmune protocol friendly! (And has suggestions for adapting some that aren't.)
Her book shares a huge variety of over 80 great recipes, including a recipe for the tostones that I have always loved to make myself. There are main dishes, sides, and desserts I loved while in Puerto Rico like tembleque (almost like a coconut flan), and tarta de tres leches.
I couldn't wait to get to trying out one of the recipes, but I wasn't sure where to start. I could have made one of my old favorites, but instead, I decided that I wanted to try something new.
Because I've been trying to lose a bit of weight this summer, I have eliminated most sugar, and have severely limited my starches. That meant I'd hold out on making tostones again until I reach my goal.
Instead, I chose what could have been a recipe for disaster: the Puerto Rican pinnchos de pollo, aka. Marinated Grilled Chicken kebabs.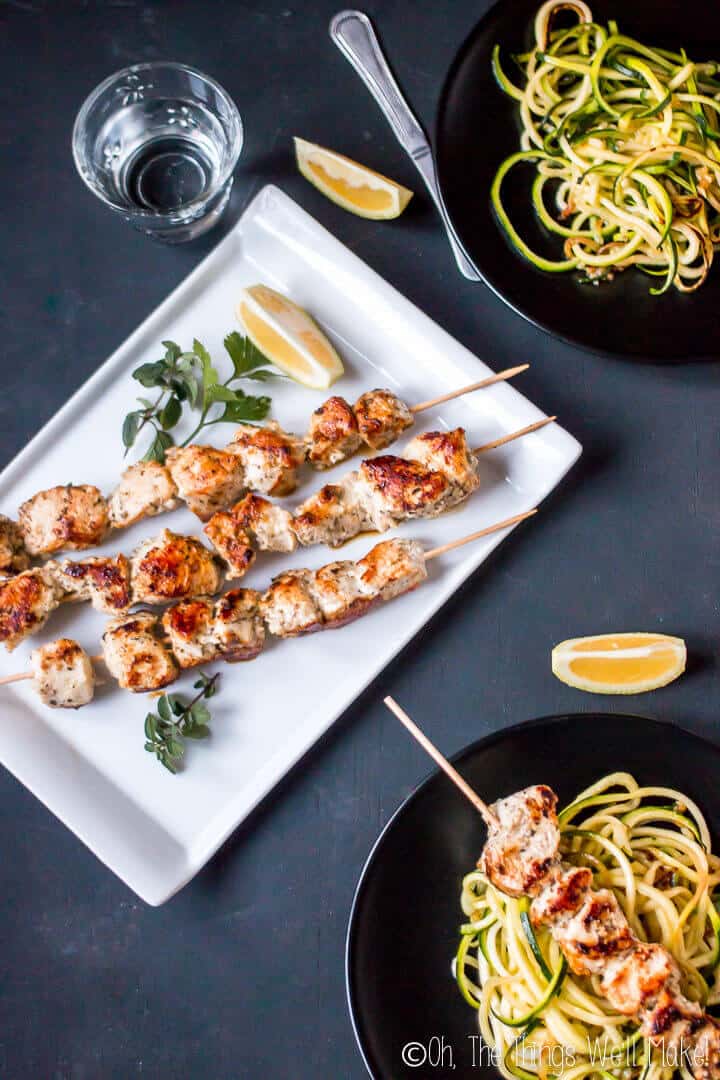 Making the Pinchos de Pollo
So, why do I say that this could have been a recipe for disaster?
I already told you, when I shared my recipe for paleo chicken Marsala, that I'm not a fan of chicken breasts. I went on a strict diet almost 15 years ago, and by then end I could basically only eat green veggies and chicken breasts. I developed an aversion to them that has stuck for almost 15 years!
Surprisingly, though, despite its simplicity, Amanda's recipe for pinchos de pollo was easy and delicious. The marinade is similar to the one I use in my souvlaki marinade recipe, but switches out the fresh thyme for freshly ground black pepper. It's amazing how such a subtle change can change the flavor and feel of the dish, and can even make chicken breasts palatable. 🙂
I made the pinchos de pollo for dinner, so I didn't want to head outside and fire up the grill. I made the chicken in a pan on the stove instead, but it still turned out great. To keep things super healthy, I served it over a bed of zucchini noodles, to which I added some of the same ingredients from the marinade. Overall, I thought it was a great, easy, healthy dinner, and my husband also gave it two thumbs up.
The next time I planned on making this, I had the chicken marinating in the fridge when my husband surprised me with fresh fish for dinner. I decided to freeze the marinating chicken cubes so that I could make the marinated chicken kebabs some other night. When I defrosted them to cook them a couple of nights later, they turned out beautifully. So, yes, you can do the prep work ahead of time, and grill these up at the last minute.
Ready to try them for yourself?
Puerto Rican Pinchos de Pollo: Marinated Chicken Kebabs
Reprinted with permission from Latin American Paleo Cooking by Amanda Torres with Milagros Torres, Page Street Publishing Co. 2017.
Craving more?
Subscribe to my newsletter for the latest recipes and tutorials!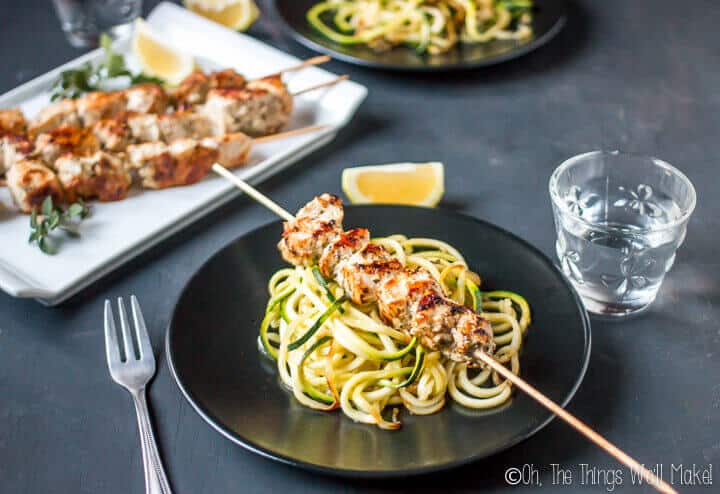 Puerto Rican Pinchos de Pollo
Puerto Rico Pinchos are traditional street food in Puerto Rico and can be made from pork or chicken that has been marinated in a tangy sauce and then grilled to perfection.
Print
Rate
Ingredients
1

tbsp

minced garlic

½

tsp

salt

fine Himalayan

2

tsp

minced fresh oregano

or 1 tsp (2 g) dried

1

tbsp

extra virgin olive oil

1

tbsp

freshly squeezed lime juice

1½

lb

boneless, skinless chicken breasts
Instructions
Have ready 7 to 9 skewers. If using wooden or bamboo skewers, soak them in water for at least 30 minutes before grilling.

In a bowl, combine the garlic, salt, pepper, oregano, oil and lime juice and stir to form a paste.

Cut chicken breasts into 1-inch (2.5-cm) chunks and place in a glass container with a lid. Pour the marinade over the chicken and stir to combine. Cover the chicken and refrigerate for a minimum of 2 hours, up to overnight.

Prepare a grill for direct cooking over medium heat (325 to 375F [170 to 190C]). Depending on the type of grill this may take 15 to 20 minutes. Remove the chicken from the refrigerator and thread it onto the skewers, spreading each piece as flat as possible and leaving a very small space between each piece.

Once the grill is hot, brush the cooking grates clean, if necessary (to prevent sticking). Grill the kebabs over direct medium heat, keeping the lid closed as much as possible, until the chicken is firm to the touch and no longer pink in the center, 8 to 10 minutes total, turning once or twice during cooking. Take care not overcook.

Remove from the grill and serve immediately.
Notes
You can serve these as an appetizer or a light meal. Leftovers are great to put on top of a salad, too!
To make the recipe AIP compliant, omit the black pepper.
Calories:
230
kcal
|
Carbohydrates:
1
g
|
Protein:
36
g
|
Fat:
7
g
|
Saturated Fat:
1
g
|
Cholesterol:
108
mg
|
Sodium:
488
mg
|
Potassium:
629
mg
|
Vitamin A:
50
IU
|
Vitamin C:
3.8
mg
|
Calcium:
20
mg
|
Iron:
0.8
mg