Elegant, yet, kid friendly, this paleo chicken Marsala is easy to make and sure to impress.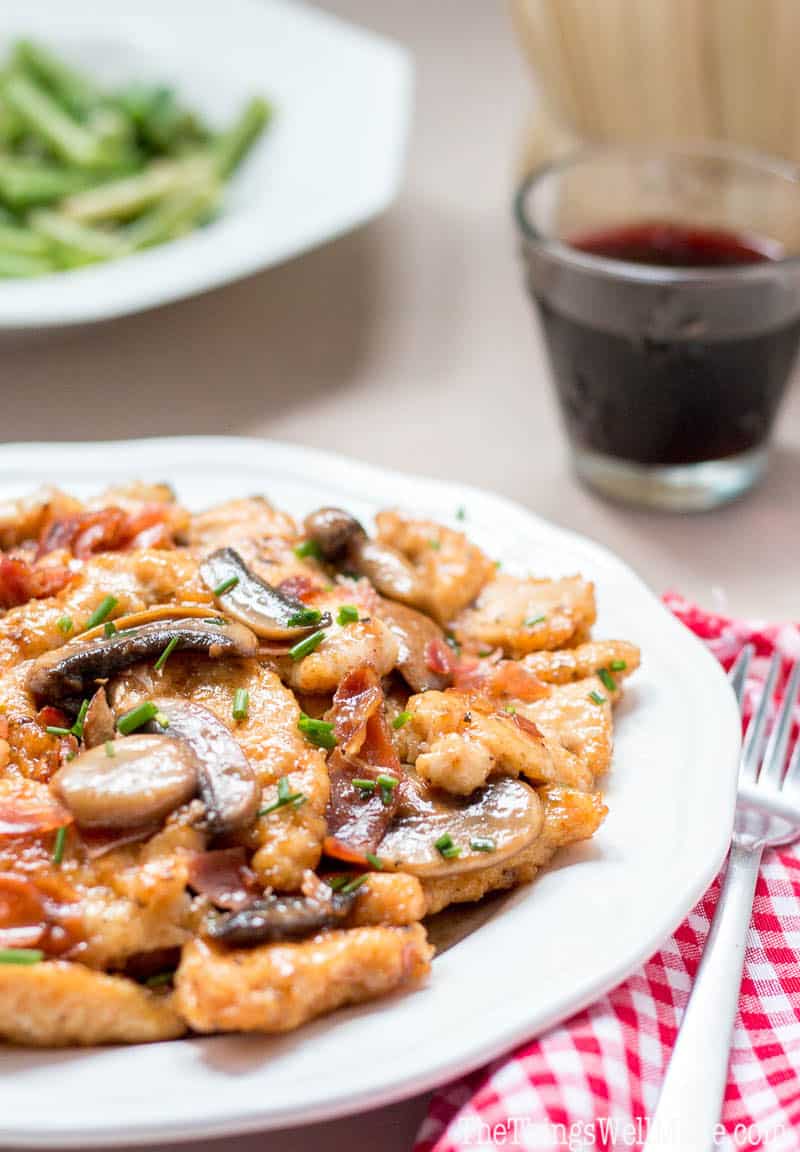 Ah… Chicken Marsala…
This is definitely one of my favorite chicken breast recipes.
Let's be honest. I hate chicken breasts. HATE them!
It all started a little over 10 years ago. I was in dental school at the time, and I looked at a picture of myself and cringed. I had put on a little bit of weight, and I felt fat.
If you were to get to know me well, you'd find that when I decide I'm going to do something- I'm usually pretty determined to get it done and get it done right! The only problem is it normally takes me awhile to decide what it is that I actually want to put my mind to because I can only focus on one or two things at a time.
Can anyone relate?
Anyway, I was in my final years of dental school and our hours upon hours of classes had lightened up in exchange for lots of time in the clinic with patients. The change meant for less homework, which in turn allowed me to have a little bit of free time to start focusing on myself.
Long story short, I went to a place that formulated a sort of diet program for me to get down to my 130 pound goal. At first, my food choices weren't super limited, but as I started to lose weight, they kept removing more and more food options to allow for losing those last stubborn pounds.
I ended up going from 153 pounds down to 130. I felt absolutely amazing when I went clothes shopping, but I got more and more fed up with my eating plan which, by the end, had whittled down to basically eating chicken breasts and lettuce.
Over ten years later and I can barely even look at a chicken breast anymore!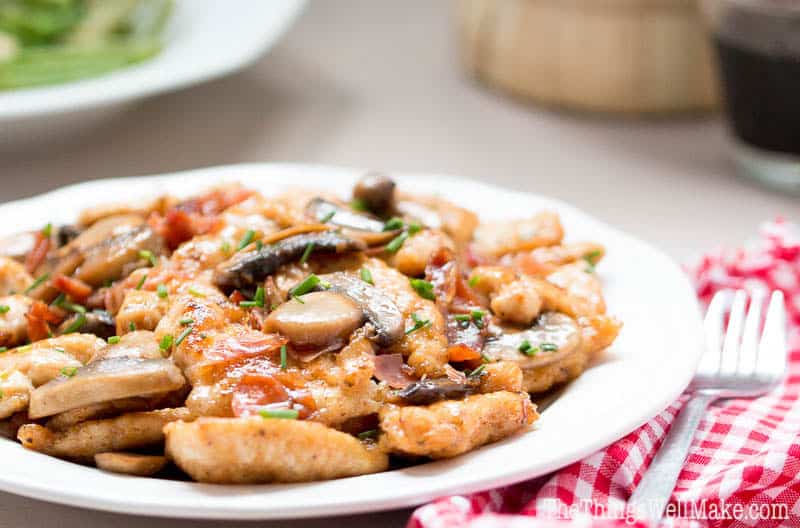 Interestingly enough, though, the plan did allow me to occasionally eat certain dishes at restaurants that were on their list, and my favorite "allowed foods" was a certain chicken marsala from a popular chain restaurant.
Something about frying up some chicken breast pieces, that have been thinly pounded flat, in butter and then combining them with mushrooms and a sweet marsala wine transforms them from insipid to delectable!
My love for chicken marsala is such that when my husband and I headed off to Italy on a European cruise, rather than bring back a fine Italian handbag, I chose to bring back a bottle of Marsala wine to make my own. (OK, so I did also bring back some Murano glass jewelery, of course!)
Ever since, I've been making different versions of my own chicken Marsala, the latest of which is paleo (unless you are so strict that you have cut out all forms of alcohol), completely grain free and just as delicious as any of the other versions.
The great thing about it is that it is one of those meals that you can serve at a more formal gathering, yet my young son absolutely loves it!
So, let's make some Paleo Chicken Marsala, shall we?
Craving more?
Subscribe to my newsletter for the latest recipes and tutorials!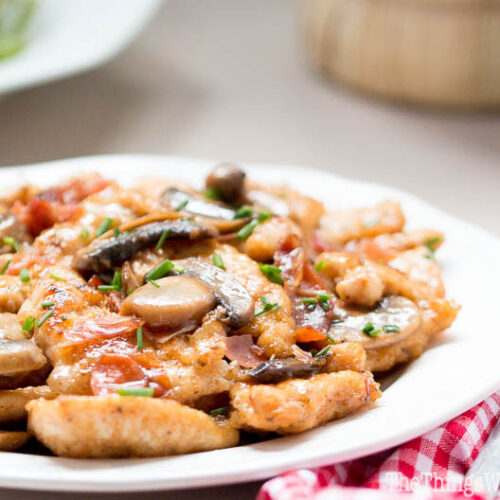 Easy Paleo Chicken Marsala
Elegant, yet, kid friendly, this paleo chicken Marsala is easy to make and sure to impress.
Print
Rate
Instructions
Slice the chicken breasts into around 4 fillets each and then pound them thinly with either a meat mallet or a flat bottomed glass like I do. 😉 You can choose to use the fillets as such or cut them into smaller pieces as I usually do which makes it easier for my son to eat.

In a medium sized bowl, mix together the tapioca flour, salt, paprika, garlic powder, oregano, and add in some freshly ground black pepper. Add in the chicken fillets and combine everything to cover the pieces well with the flour mixture.

Heat up a couple of tablespoons of ghee over medium to high heat and begin to pan fry the coated chicken breast fillets until brown, flipping after a couple of minutes to brown both sides. As you finish browning the fillet pieces, remove them from the pan to another plate, and continue to add more pieces until all are cooked. Add in more ghee if needed to finish with all of the chicken.

Meanwhile, clean and slice the mushrooms and cut the prosciutto into small pieces.

When you have finished browning all of the chicken, remove it from the pan and add another tablespoon of ghee. Add in the mushrooms and prosciutto and sauté them together until the mushrooms have released their liquid and are starting to brown.

Add the marsala wine to the pan with the mushrooms and prosciutto and cook for a couple of minutes to help cook off some of the alcohol.

Add in the chicken broth followed by the browned chicken pieces and cook for several minutes, long enough to make sure the chicken is fully cooked. The sauce will slightly thicken from the tapioca flour on the chicken.

Serve immediately.
Serving:
4
oz
|
Calories:
349
kcal
|
Carbohydrates:
19
g
|
Protein:
26
g
|
Fat:
14
g
|
Saturated Fat:
6
g
|
Cholesterol:
99
mg
|
Sodium:
434
mg
|
Potassium:
587
mg
|
Sugar:
4
g
|
Vitamin A:
275
IU
|
Vitamin C:
1.7
mg
|
Calcium:
16
mg
|
Iron:
1.2
mg