An ideal, hearty comfort food, this paleo egg drop soup can be whipped up in a matter of minutes and is gluten and corn-free. Learn how to make restaurant quality egg drop soup with perfectly silky egg ribbons.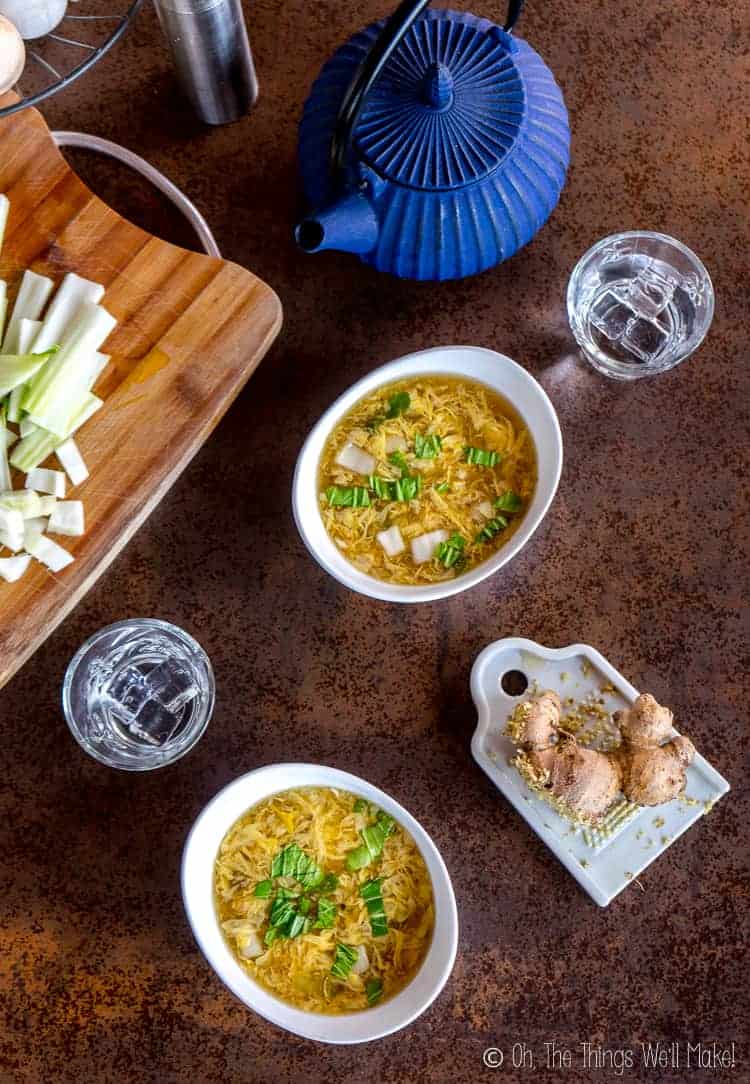 This soup has become one of our family favorites. I tend to have homemade chicken broth on hand that I make with the leftover bones and skin after roasting chicken. So, whenever we are looking for something quick and nutritious to make, this is one of our go-to recipe ideas. It's a great way to use your homemade chicken broth, all while being a quick and easy meal.
It's funny to think that years ago I couldn't convince my husband to eat soup for dinner. Nowadays, though, he begs me to make this soup. Seeing as I quite like it myself, I make it quite often.
How to make silky egg ribbons in egg drop soup
When I first started trying to make a healthy, paleo egg drop soup, I tried to make the egg ribbons right in my homemade chicken broth directly, without trying to thicken it first. I couldn't figure out why my egg always ended up cooking into thick, hard, large lumps of eggs, not the thinner, silky egg ribbons that I was aiming for; the type you find in restaurant quality egg drop soup.
I did a lot of investigation and read about the different tricks that could be used to get thinner egg ribbons. There were recipes that suggested running a trickle of beaten eggs over the tines of a fork as slowly and carefully as possible. I found that method to be very tricky. Worse, though, was the fact that it didn't actually work.
While I did get some egg ribbons in my soup, I also ended up with thick, rubbery egg pieces floating in it, and I gave up on it for a little while.
The secret: thickening the soup!
Years later, I decided to try again. My husband prefers thicker soups to thinner ones, so I decided to thicken my chicken broth before adding the beaten eggs. To my surprise, I found that once the soup had been thickened, making thin, silky ribbons of eggs was as easy as slowly pouring a thin stream of beaten eggs into the boiling soup, all while stirring continuously. While it may sound tricky, it's actually quite easy to do, and is much easier than trying to pour the eggs over the tines of a fork!
Watch how easy it is to make a homemade egg drop soup!
Making a Paleo/ Grain-free Egg Drop Soup
While I found that thickening my soup was the perfect solution to getting thin, silky egg ribbons in my homemade egg drop soup, that brought on another problem. I had been trying to avoid grains and was following a mostly paleo diet. Most restaurants use cornstarch as the thickener in egg drop and similar Asian soups like hot and sour soup.
How to make egg drop soup without cornstarch
Luckily, thickening egg drop soup without cornstarch or gluten isn't as difficult as you may think.
I found that tapioca starch is a perfect thickener for this sort of soup. It gives a lovely texture and doesn't impart any sort of unwanted flavor to the soup. Not only is it gluten and grain free, but it's Paleo diet friendly.
To use tapioca starch, you basically use it in the same way that you would add cornstarch. First, you should dissolve the tapioca starch in cool water. Then, you'll want to add the cool tapioca mixture to the chicken broth. At first, your mixture will look cloudy and thin. As your soup heats up, though, it will begin to thicken and clear.
If you don't have tapioca starch on hand and don't have a problem with cornstarch, you can easily sub out the tapioca starch for cornstarch. (It's probably a good idea to add it slowly so as not to make it too thick.) I prefer this soup made with tapioca, but both are nice.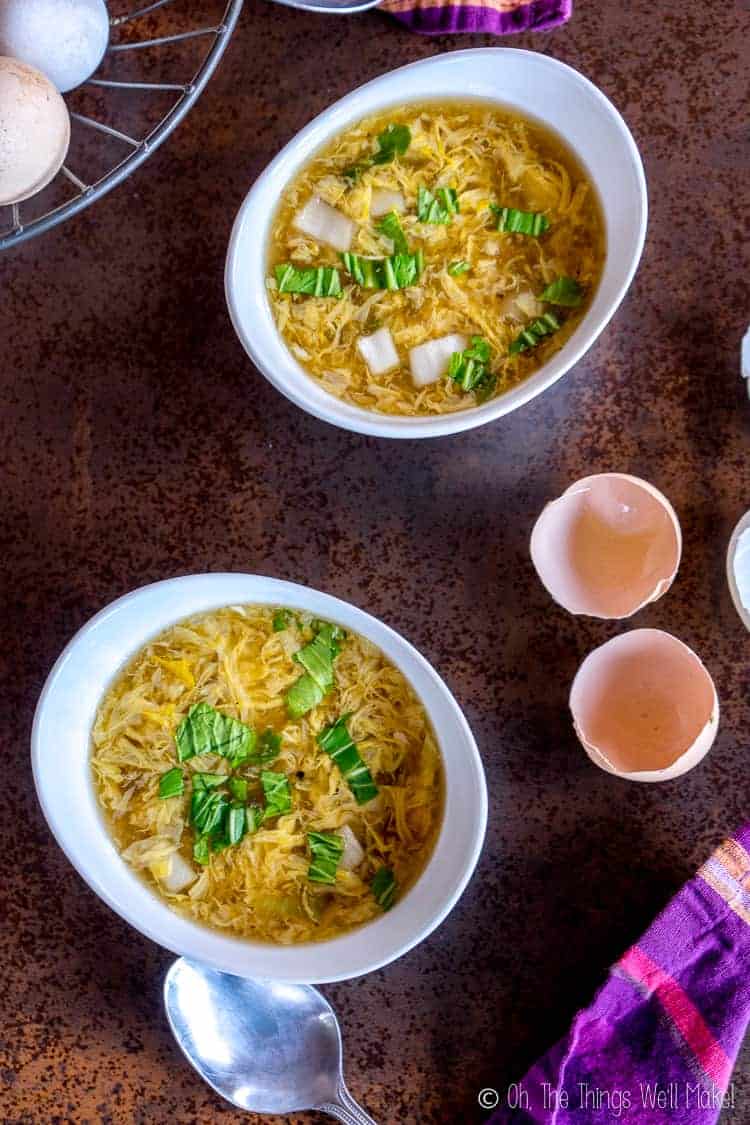 Homemade Egg Drop Soup (Grain Free/Gluten Free)
Craving more?
Subscribe to my newsletter for the latest recipes and tutorials!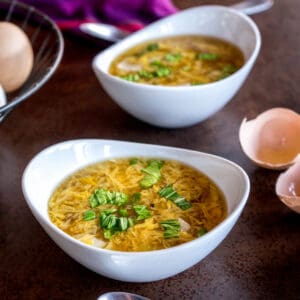 Ingredients
3

c.

chicken broth

3

eggs

2

Tbsp.

tapioca starch

1/2

c.

water

1

in.

ginger root

1/2

tsp.

garlic powder

pepper

spring onions

optional

bok choi

optional
Instructions
Add the chicken broth to a pot on the stove.

Mix together the tapioca starch and water and stir until completely dissolved. Pour the mixture into the chicken broth, and stir to incorporate it completely.

Grate the ginger and cut spring onions and/or bok choi (both are optional) into small pieces. Add both to the chicken broth mixture. Add salt and pepper to taste.

Begin to heat the soup while stirring continuously. Keep heating the soup until you reach the boiling point. You'll notice that the soup will clear and thicken as you cook it.

Meanwhile, prepare your eggs by whisking them in a bowl. You want to thoroughly whisk the egg whites with the yolks together so that you don't end up with thicker areas of only egg whites.

Slowly pour the egg mixture in a thin stream into the boiling or near boiling soup. You should continuously stir the soup as you pour the eggs into it to form thin, silky ribbons of egg in your soup.

Once you've finished adding in the eggs, your soup is ready for serving!
Serving:
1
cup
|
Calories:
83
kcal
|
Carbohydrates:
8
g
|
Protein:
5
g
|
Fat:
4
g
|
Saturated Fat:
1
g
|
Cholesterol:
123
mg
|
Sodium:
698
mg
|
Potassium:
187
mg
|
Sugar:
1
g
|
Vitamin A:
180
IU
|
Vitamin C:
12.5
mg
|
Calcium:
29
mg
|
Iron:
1
mg
Can egg drop soup be reheated?
I like to make larger batches when possible because not only is it likely that my husband will want seconds, but if we do have leftovers, they reheat very nicely. While I still prefer making the soup fresh, right before we eat it, I can't say that I really notice any difference between the freshly made soup and the reheated leftovers. I'm quite happy to have the leftovers for lunch the next day.
Customizing this soup
To make this soup heartier and more of a meal, you can add in some chicken pieces or more vegetables. One of the local Chinese restaurants serves a soup like this with some shredded chicken and some sweet corn pieces in it. While that soup would no longer be considered Paleo-friendly by most, it's still a very tasty soup for those who don't care about that sort of thing.