Don't let your stale bread go to waste! My young son and I will show you how to make homemade croutons from bread. It's so easy that it's a great beginner recipe for kids!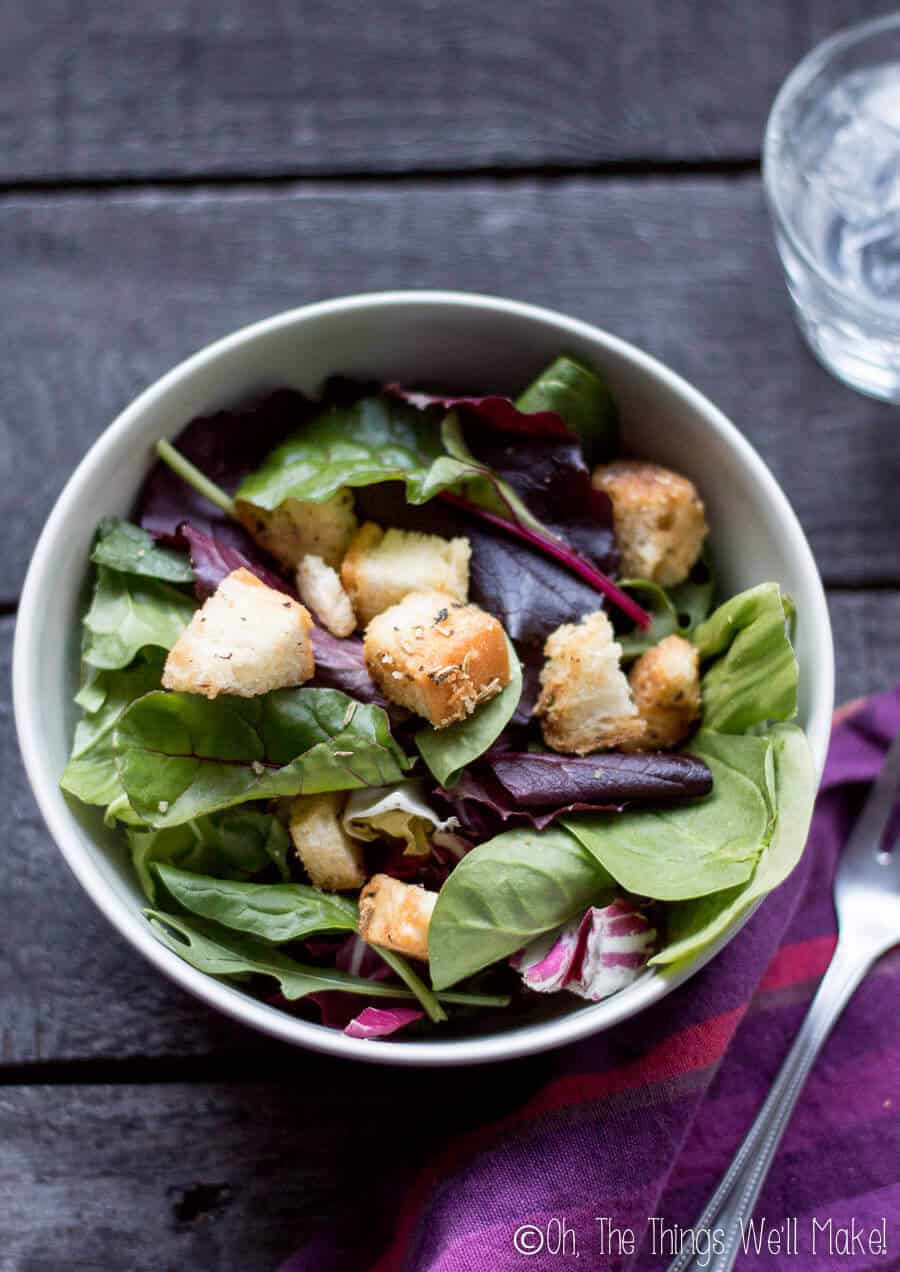 Today I'm going to share with you a simple, easy recipe which just happens to be my son's very favorite recipe. Not only does he love croutons, but he loves getting in the kitchen and helping me make them.
He loves this recipe so much that when it was his turn this week to bring home the class recipe book, he wanted to write up the recipe for how to make homemade croutons from bread! I thought it was a wonderful idea because it's a recipe that is simple enough for a 6 year old who hates writing to write it up on his own. When looking for pictures of him making croutons, I found some from 3 years ago! I guess he's been happily helping me make croutons since he was 3!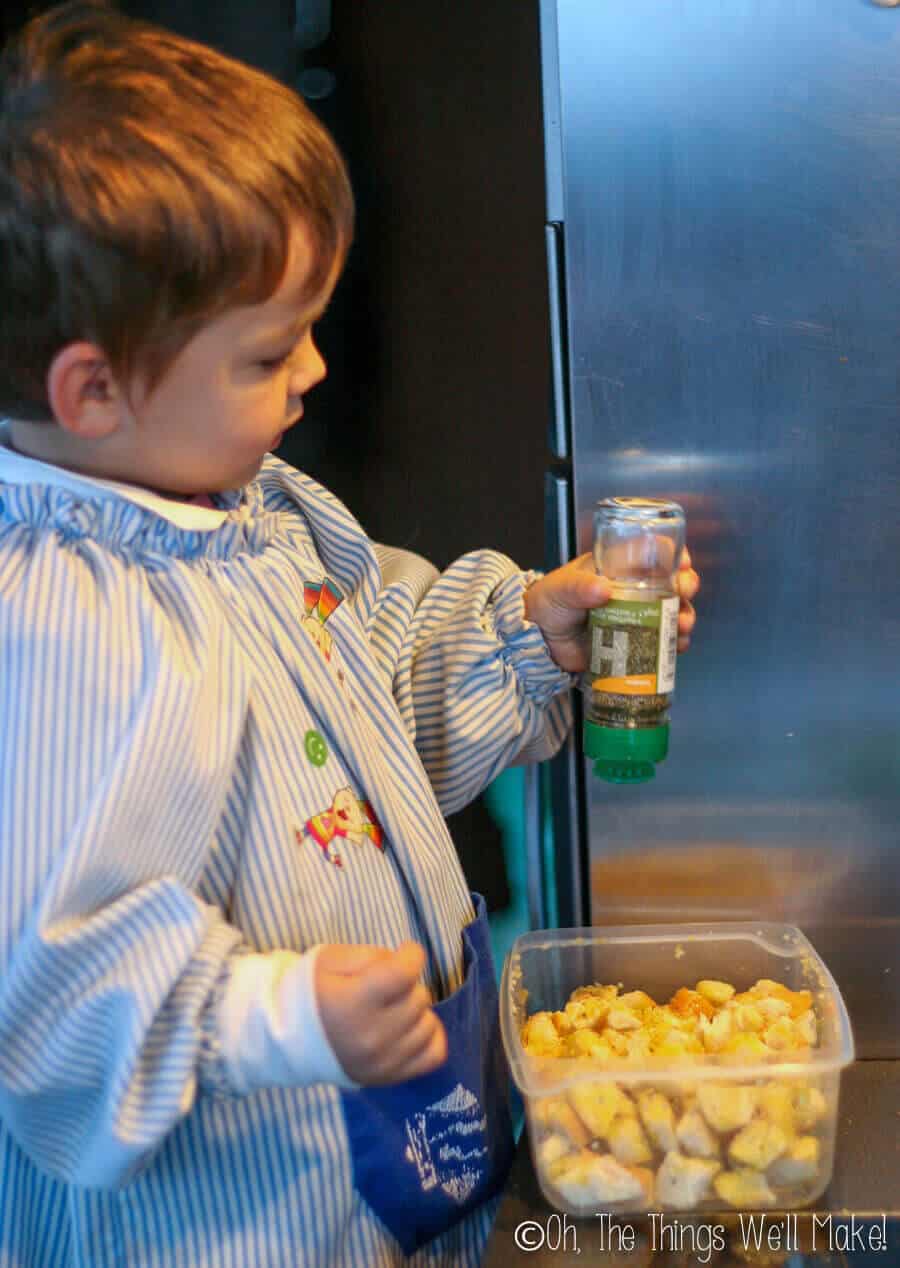 Why Make Homemade Croutons from Bread?
I think you should be making your own homemade croutons for several reasons!
You can save yourself a lot of money.
I don't know how much croutons are where you live, but here in Spain, it gets expensive to buy tiny little packets of crispy bread for your salad!
They taste better!
While the boys in the house will eat the store bought croutons, they absolutely love the homemade ones, and beg me to make more whenever we run out!

YOU control the ingredients!
Store bought croutons often use oils that I personally don't ever use at home like corn oil, or who knows whatever other questionable ingredients. By making them at home, you can choose the oils and spices YOU feel comfortable using, and you can change up the spice blend as you choose fit!
Not only that, but you can also choose whatever bread suits your diet, be it gluten free bread, or even a paleo bread if you can find one!
It's a fun, easy, beginner recipe for kids.
If you're kids want to start helping you in the kitchen, but you're afraid that their "help" is only going to ruin things, homemade croutons is a perfect beginner recipe for them! Of course an adult will need to cut the bread into pieces for younger children like mine, and will also be putting them in the oven and taking them out. Otherwise, though, the recipe is so forgiving that you can let them shake the spices onto the bread themselves.
Can I make gluten free croutons?
Why, of course!
That's one of the reasons I love being able to make them at home, I can choose the bread that is being used for the croutons. Feel free to use gluten free bread or even a paleo type bread. Whatever bread you normally eat can be made into homemade croutons.
It's a wonderful way to recycle stale bread, too, or bread that would otherwise be too hard to use as, well, bread. 😉
How to make croutons from stale bread
Here in Spain the most common bread found is similar to French or Italian bread. They often buy several bars of bread each day for my husband's fishing boat, and he sometimes brings home bread that would be hard as a rock in a day or two. Rather than throw it away, why not make it into croutons?
If you don't have French, Italian or a similar baguette bread, though, don't worry!
You can just as easily make these croutons with any sort of sandwich bread too! If it's starting to get hard, it's the perfect time to make it into croutons!
Just don't use moldy bread. 😉
Customizing the homemade crouton recipe
This is one of those recipes that I sort of feel silly trying to write up into a recipe because we never measure anything out! And it doesn't matter one bit! Here you can see that my son's recipe for his school class was to basically pour some oil on diced bread, sprinkle on some herbs and salt, shake them up until well covered, and bake them until crispy! That's really all there is to it of course- no need for precise measurements here!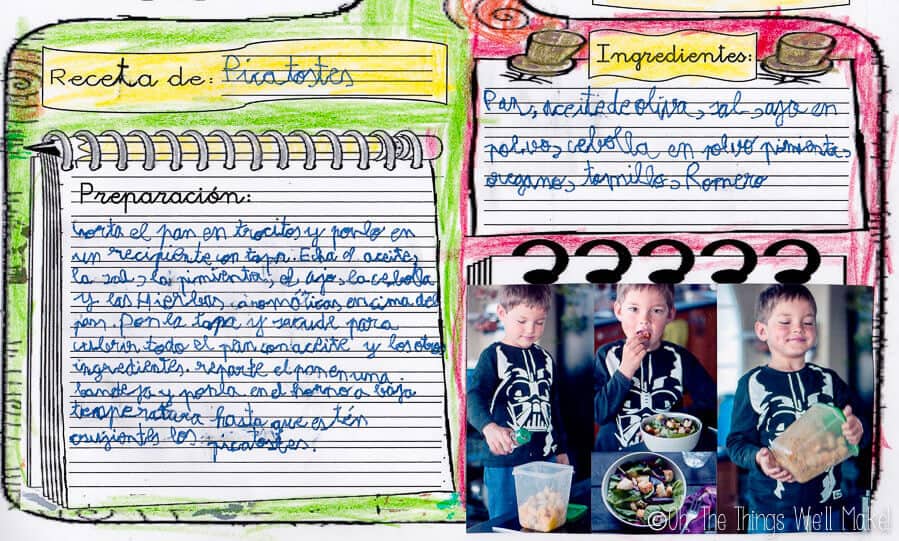 We have a set group of herbs that we tend to use, mainly Italian seasoning herbs like oregano, rosemary, and basil. We also almost always use olive oil, garlic powder and onion powder.
That doesn't mean that you have to make Italian Seasoned croutons, though! Once you have the concept down, you have a world of possibilities!
Want to make homemade croutons with more of a Mexican food vibe?
Try spices normally used in Mexican cuisine like cilantro, cumin, chili peppers, garlic and onion! You could even use a bit of a homemade tomato powder to make more of a Doritos type seasoning.
Want to make homemade croutons with more of an Indian food feel?
Try using turmeric, cumin, garlic, and chili powder, or use a remade curry powder or garam masala blend.
Can you add cheese and fresh herbs to your homemade croutons?
For awhile we loved adding grated parmesan cheese, and I was using fresh garlic and herbs for awhile. I found, though, that there wasn't a lot of benefit to using fresh herbs and garlic. It only made the recipe more complicated, and if they didn't dry out well when baked, that the final croutons didn't keep for very long. Fresh garlic and spices made for moldy croutons in a few days.
When using dried herbs and spices, you can keep your croutons out of the fridge, and in our case they've never "gone bad" before they were finished!
While grated cheese can add a new demesne to the croutons, it also gives one more possible source for mold. For us, it wasn't worth it, and I think I may actually prefer the croutons without better anyway. If you plan on using yours right away, though, by all means give it a try! I'd store any croutons with cheese or fresh herbs in the fridge, though, and would try to use them within a few days.
Let's learn how to make homemade croutons!
My 6 year old son is ready to help show you how! 😉
Craving more?
Subscribe to my newsletter for the latest recipes and tutorials!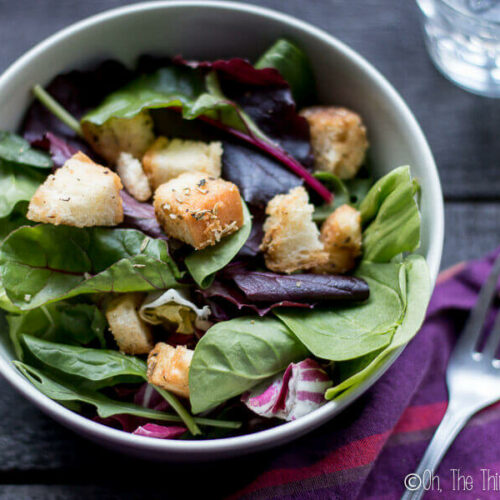 How to Make Homemade Croutons From Bread (Easy Enough for a Kid!)
Don't let your stale bread go to waste! My young son and I will show you how to make homemade croutons from bread. It's so easy that it's a great beginner recipe for kids!
Print
Rate
Instructions
I know it will probably drive some of you crazy that there are no measurements on the ingredients, here, but bear with me! This all depends on the amount of stale or about-to-go-bad bread that you have on hand! Cut the bread into small cubes, just slightly larger than you want your final croutons to be. (They will shrink a little when dried, but not much.)

Place the bread cubes into a sealable container. I like to use glass and stainless steel containers, but I saved a few plastic ones for this sort of project. I didn't want my son dropping a glass recipient on the ground and making a mess! 😉

Begin to pour a little bit of olive oil, or your oil of choice, over the bread cubes. We'll be doing this a little at a time to make sure all of the cubes get well covered in oil.

Place the lid on the container, and shake it, to help cover all of the bread with the oil.

Take the lid off and check on the bread cubes. Add more oil and cover and shake again as many times as needed to cover all bread cubes with a bit of oil. (How much you use will also depend on your preference.)

Begin sprinkling on the herbs and spices that you want to use. Now is also the time to add any garlic and onion powder, salt, pepper, and anything else you'd like to add to your croutons. Like before, we can add these little by little to check for flavor as we go.

Place the lid on the container and shake it to help report the herbs and spices. Give on of the bread cubes a taste for flavor, and add more herbs, salt and pepper as you see fit!

Once you have your bread cubes well covered in oil and herbs, you can turn them into croutons! I find that the best way is to spread them out evenly over a baking sheet, and bake them in the oven on a low heat setting until they dry out and get crispy. If you have a fan/convection setting, this also will help speed the process along! If you set the heat too high in hopes of making them very quickly, you risk burning your croutons.

Once the croutons are crispy, take them out of the oven and allow them to cool. You can serve them immediately over a salad or soup, or just eat them plain as my son likes to do. 😉

Store in a sealed container once cooled.
See! That wasn't so hard, was it?
I'd love to hear how it goes, and what your favorite spice blends are for croutons! (Leave me a comment below and let me know how it goes!)