In Despicable Me, Miss Hattie's Coconutties were Vector's favorite cookies. They're a mix between white chocolate macadamia cookies and coconut macaroons.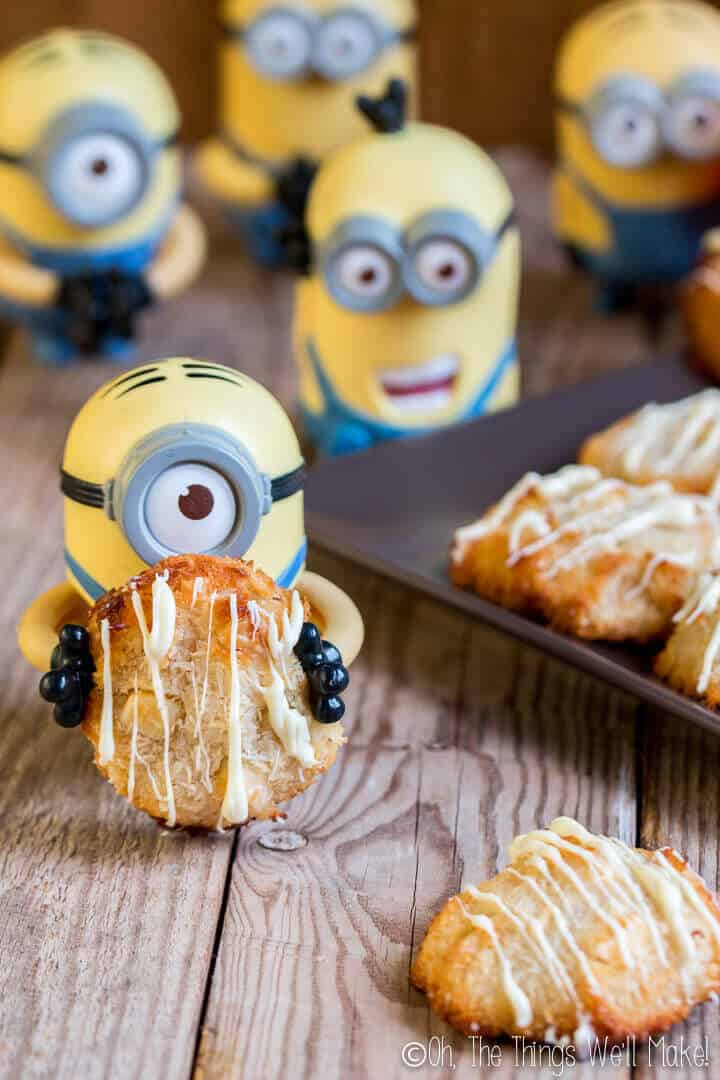 With my son's constant watching of our Despicable Me Blu-ray disc, I started to explore some of the other parts of the Dvd and came across the recipes for Miss Hattie's cookies. Several of them looked pretty good, but being a huge fan of coconut, I decided to give the Coconutties recipe a try. The nice thing about the coconutties recipe is that they use very little flour, so I knew it would be an easy recipe to adapt for a gluten free and even grain free version.
When I first made coconutties, I made them the original way. I hadn't been experimenting with a grain free diet at the time, but I was already cutting down on the amount of flour in my diet. White chocolate macadamia nut cookies had always been one of my favorites, and I loved how coconutties seemed to merge the best of white chocolate macadamia nut cookies and coconut macaroons all into one great cookie, all while using very little flour.
At the time I found it inconvenient to make the cookie recipes from the Dvd, which I have to watch in the living room, so I looked for the recipes online to make things easier. They are all posted in the Despicable Me Forum for those who want to try them.
Growing up I always loved making the recipes that came with some of my favorite books, and I knew that my son would love an activity like this. Fortunately, these cookies are much better than the ones that came with the books I had growing up. I remember always being a bit disappointed with the outcome of made-for-book recipes. I'm glad that the people who put together this recipe to go along with the movie put a bit more effort into it, and I think that anyone who loves coconut macaroons and white chocolate macadamia nut cookies will love these.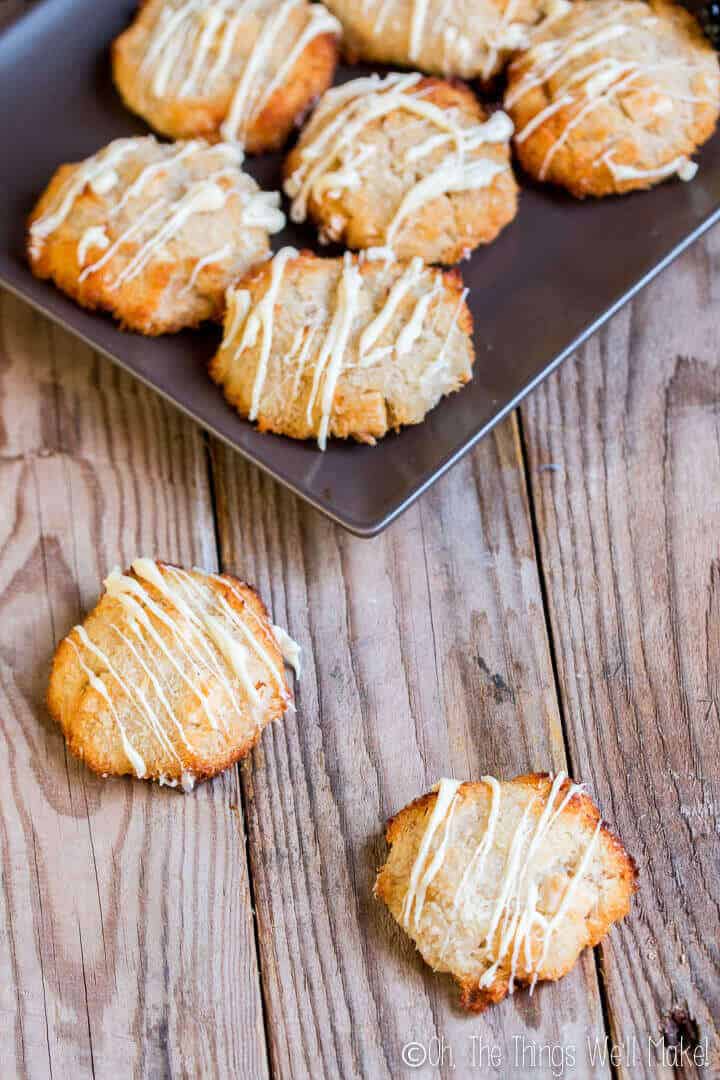 The original recipe calls for sweetened coconut, something that isn't sold locally here in Spain, so I used this recipe to convert my dried coconut into sweetened coconut the first time I made the recipe. While we're not exactly going for healthy with this recipe, at least making your own sweetened coconut is the somewhat healthier alternative to buying it ready made. To be honest, though, the finished cookies were pretty sweet, almost too sweet. So, even if you choose to make the original recipe, I'd suggest just using unsweetened dried coconut flakes instead and then add in something to compensate for the loss in moisture. Since I have swapped the sugar for honey, I don't have an issue with the cookies being dry. I also ended up omitting the step where you cook the ingredients over the stove to "thicken them up" as I didn't find it necessary.
So, with that introduction, here is my adaptation of the Coconutties recipe: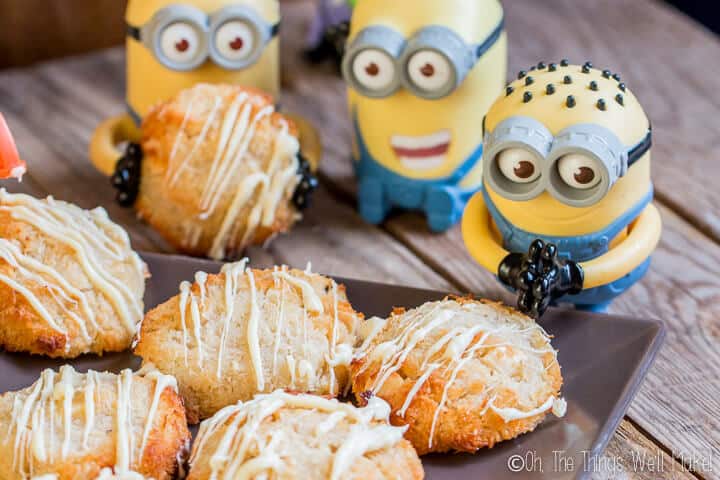 Miss Hattie's Cookies – Despicable Me: Coconutties
In Despicable Me, Miss Hattie's Coconutties were Vector's favorite cookies. They're a mix between white chocolate macadamia cookies and coconut macaroons.
Ingredients
Instructions
Preheat oven to 350 F.

Mix the egg whites, coconut, honey, vanilla extract and flours well in a bowl.

When well mixed, add the chopped macadamia nuts and half of the white chocolate. (You can use white chocolate chips to make things easier. I've never seen white chocolate chips here in Spain, so I cut white chocolate into small chunks instead.) The original recipe called for half of the macadamia nuts to be sprinkled on the white chocolate that ices the cookies, but I found it easier and less messy to just mix them all in.

Drop the mixture by spoonfuls onto parchment paper lined baking sheets and bake for 12-13 minutes until golden brown. Remove them from the oven and leave to cool completely on the baking sheets.

Once cool, melt remaining white chocolate chips in a double boiler or in the microwave and stir well. Drizzle over each cookie and optionally sprinkle with additional chopped macadamia nuts.
Nutrition Facts
Miss Hattie's Cookies – Despicable Me: Coconutties
Amount Per Serving
Calories 141
Calories from Fat 72
% Daily Value*
Total Fat 8g 12%
Cholesterol 1mg 0%
Sodium 43mg 2%
Potassium 75mg 2%
Total Carbohydrates 16g 5%
Protein 1g 2%
* Percent Daily Values are based on a 2000 calorie diet.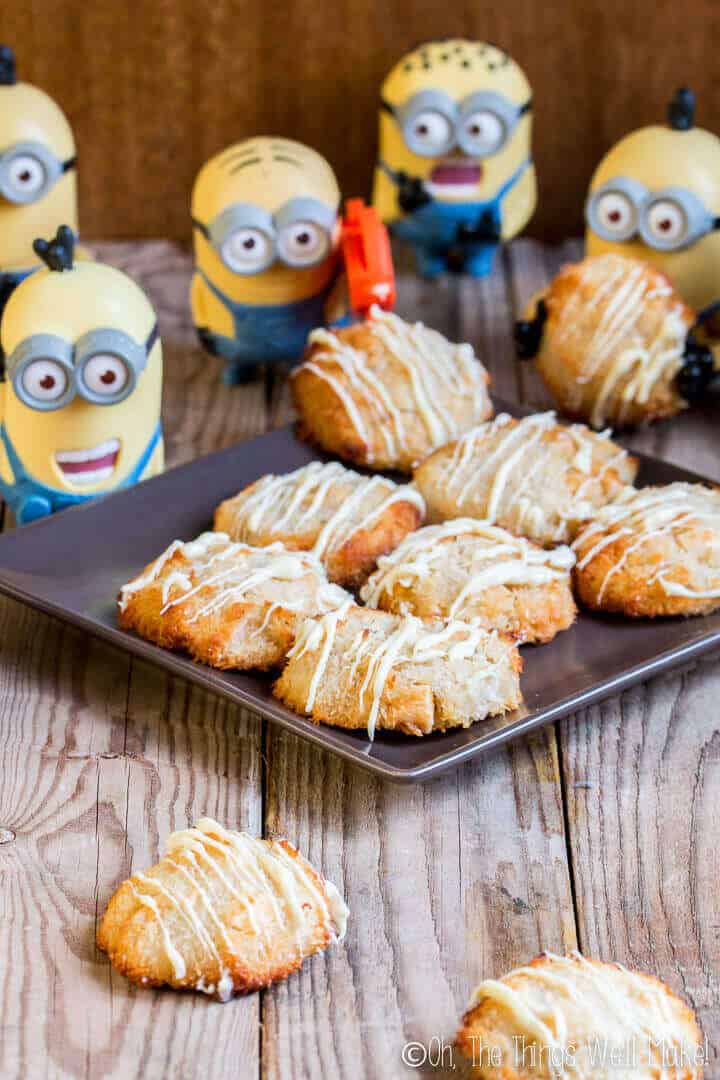 I have updated this recipe to make it grain free in June 2015, especially since the release of the new minions movie has gotten my son to watch the movie again. If you prefer the original recipe, buy the DVD or check out their forum.
Has anyone tried out the other cookies from the movie? I'd love to hear how they were!
This post is also available in Español.