This mantecado and Spanish polvorón recipe will allow even those following a gluten free or grain free diet to enjoy these soft and crumbly Spanish Christmas cookies.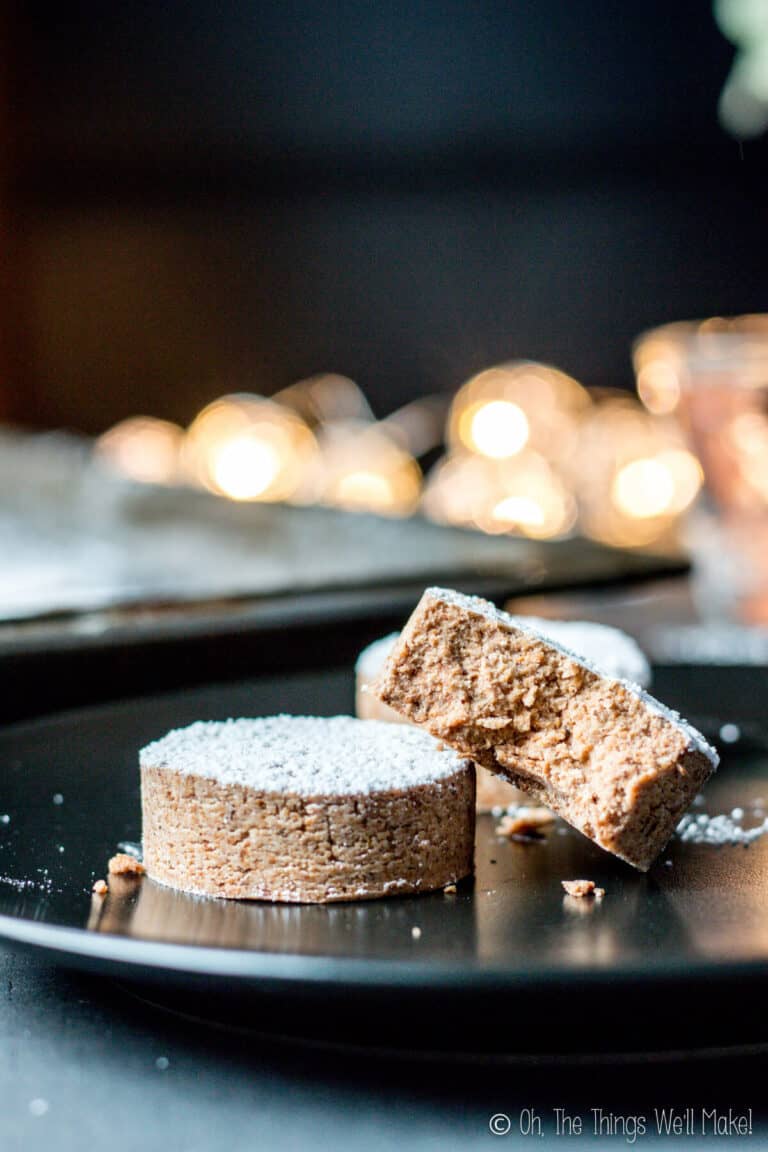 Two years ago, I shared with you my recipe for making these traditional Spanish Christmas cookies, but my original Spanish polvorón recipe was shared at a time before my blog became gluten free. In fact, it's one of the handful of recipes on this blog that does have gluten in it.
Watch me make mantecados and polvorones
Last year, I was considering trying to adapt the recipe and make it grain free, or at the very least gluten free, but I wasn't sure if it would even be possible. These cookies have such a characteristic smooth and velvety texture that I didn't know if I'd be able to replicate that with different types of flour. I found a couple of recipes online in Spanish that used a gluten free premixed flour blend, but I didn't want to use that either. Most, if not all, gluten free flours, at least those found in my area, tend to be corn based, and I've come to the recent realization that corn affects me more negatively than even gluten.
If you want to learn more about mantecados and polvorones, I explained more about them in my original post. This time of year the stores are filled with tables of Spanish Christmas treats: from mantecados and polvorones to all sorts of different types of turrón. I've tried several times to make a natural turrón recipe substituting honey or maple syrup for the sugar, but so far I haven't been happy enough with the results to post them here. If I ever do successfully make it, I will post the recipe on my blog and will try to remember to link to it from here. OK?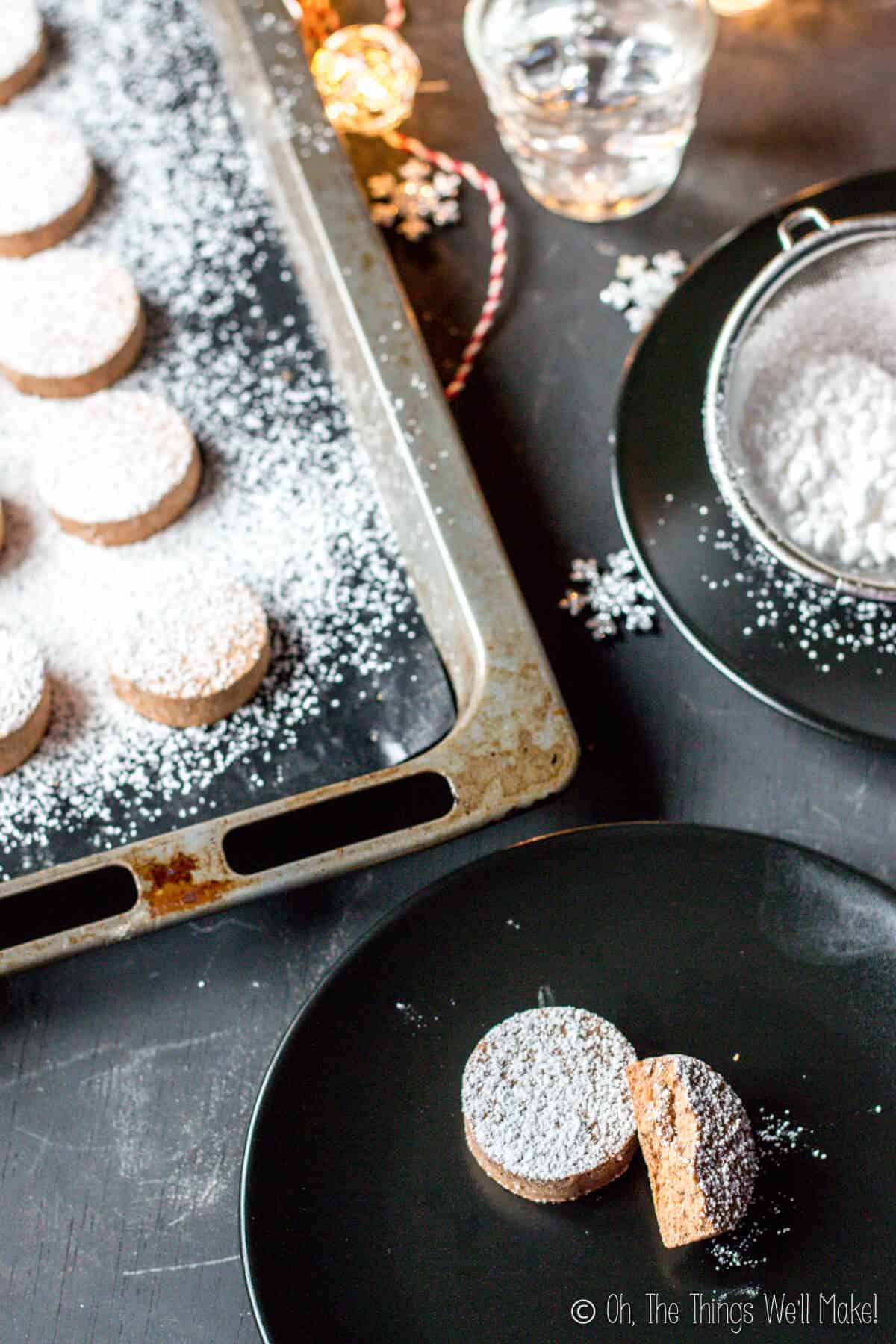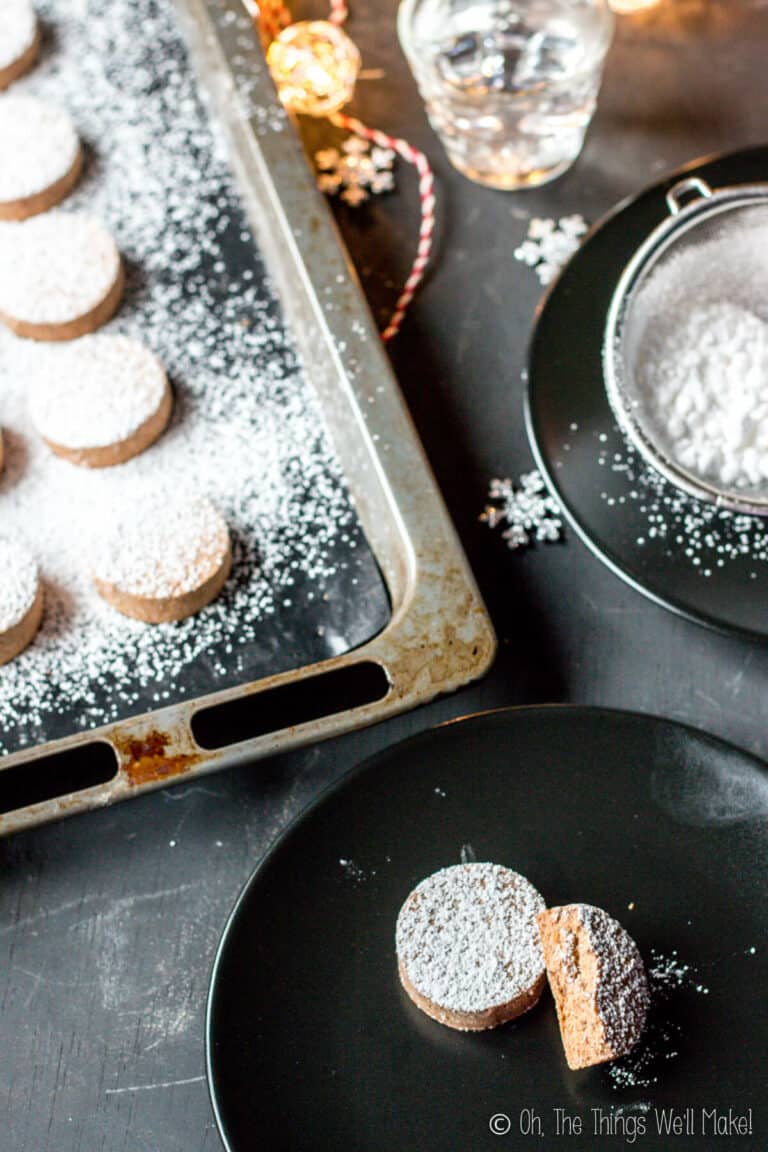 Back to the polvorones recipe: I headed to the kitchen not knowing what to expect, not so optimistically looking to adapt my original recipe. I decided to use a tapioca flour (tapioca starch) to make up for some of the wheat flour, and chose to raise the percentage of ground almonds in the recipe to help keep the tapioca flour from giving any off flavors to the recipe as often happens when used in too high of quantities in recipes.
I was eventually successful with a recipe that I think is pretty much identical in flavor and texture to the original recipe, especially if you can wait at least several hours after making them to eat them. For some reason that seems to help them mellow and the flavors all come together. Through a few mistakes along the way, like eating them while they were still hot, I've learned a few things that I want to share with you to help you be successful in making them too.
First of all, don't bake the tapioca flour to toast it. I tried that method first, and only ended up making big, hard sheets of tapioca cement or something like that. Even when toasting it lightly in a pan on the stove, if you don't constantly move the flour, it has a tendency to either burn or form hard pieces or both. Once you have finished toasting the flour, you should sift it before using it just to make sure you remove any of those hard pieces that may form. I guess you could probably skip toasting the flour altogether, but I haven't tried it that way yet. Part of the characteristic flavor of mantecados and polvorones comes from the flavor of the toasted ingredients, so I kept to the original way of making them and only substituted the ingredients.
The other characteristic flavor of mantecados comes from the use of lard in the recipe. You could just buy lard, but I can pretty much guarantee that it will affect the flavor of your finished cookies. I always make my own lard, not just for making mantecados, but also for pan frying foods. I know it sounds intimidating, but it really is quite simple to make and it makes a huge difference in the final outcome.
When adding in the lard to the recipe, it is tempting to add in more than what is needed to bind the ingredients together. I tried that once and rather than end up with a silky smooth and crumbly cookie, I ended up with a hard, more typically American styled cookie. It was still edible and tasted fine, but it wasn't what I wanted to achieve. Err on the side of crumbliness. It will seem like the dough just wants to fall apart, but once you cut it and bake it, it should hold together just fine.
The last thing that I noticed that was different about these is that they didn't really seem to turn a golden brown color on the edges when baked like the traditional polvorones do. If you make the mistake of baking them longer and longer, hoping to achieve a golden brown, you'll likely end up with a burnt bottom and a hard cookie. So don't overcook them! You just want the outside to crisp up a bit to hold the dough together.
With those tips, you should be able to make these without any problems. I hope I haven't scared you away with all of the instructions. They really are quite quick and simple to make once you know what you are doing!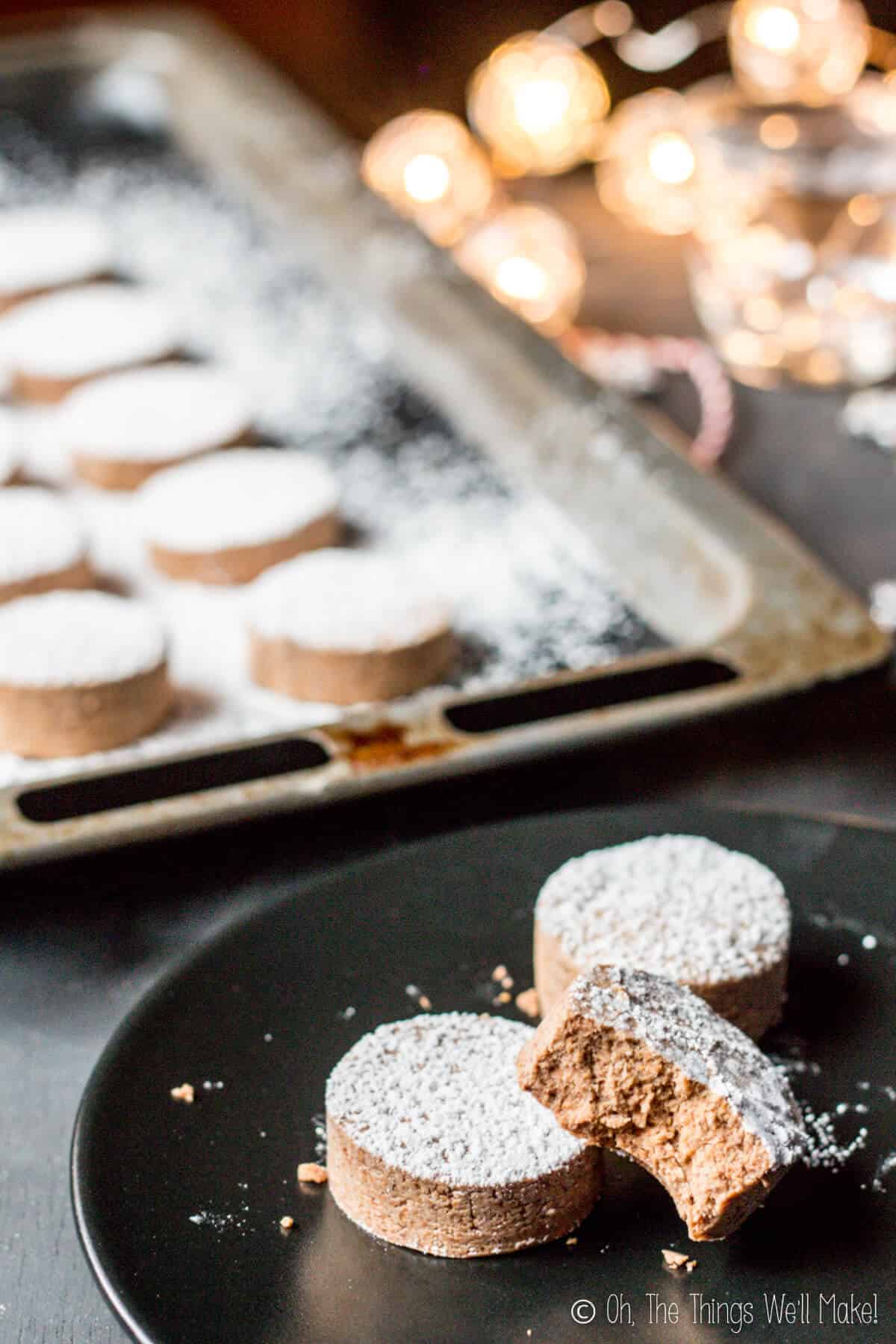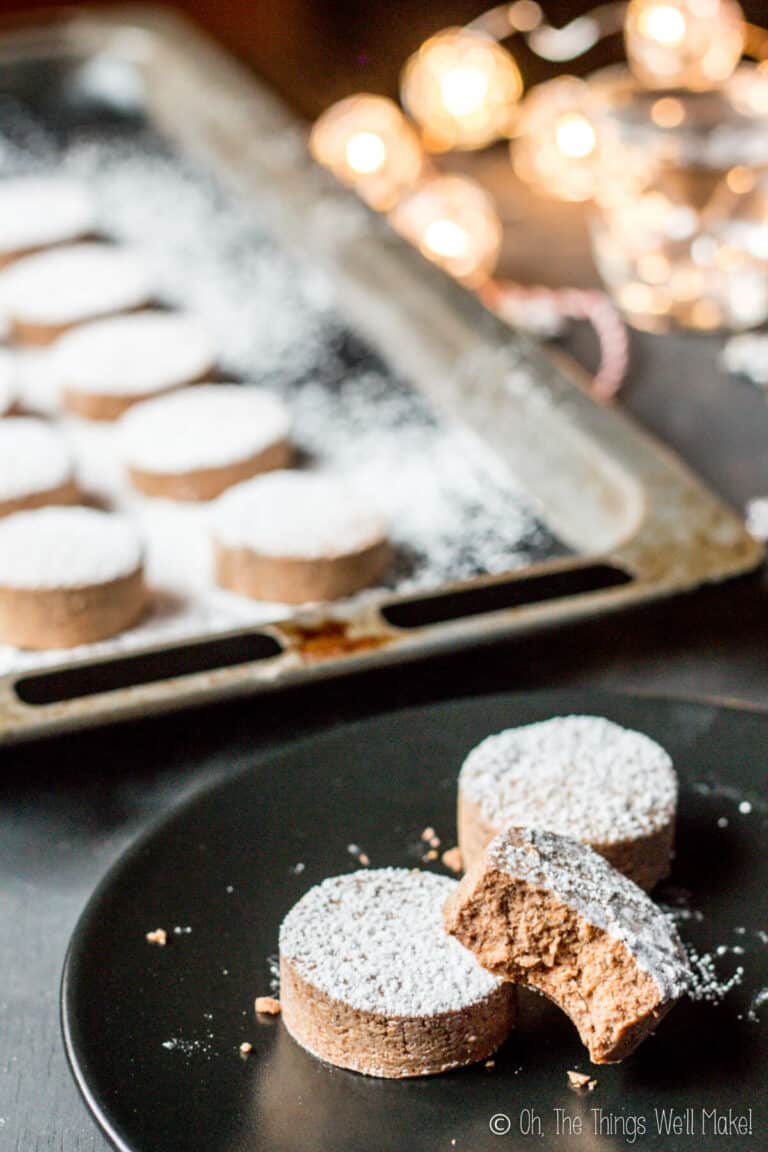 So let's make some Spanish Christmas cookies!
Craving more?
Subscribe to my newsletter for the latest recipes and tutorials!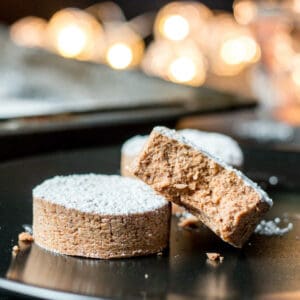 Grain Free Mantecados Recipe: Spanish Christmas Cookies
Smooth and silky like their traditional counterparts, these gluten-free and grain-free mantecados and polvorones are an allergy-friendly Christmas treat.
Print
Rate
Servings:
12
small mantecados
Instructions
Lightly toast the tapioca flour in a pan over medium heat. Tapioca flour is trickier to toast than wheat flour and tends to burn rather than brown, so don't try too hard to achieve a golden brown. Just toast it very lightly and set it aside to cool.

Toast the almond flour in a little bit of the lard until it has reached a medium golden brown color and remove it from the heat to cool.

Sift the tapioca flour and powdered sugar into a bowl and add to the bowl the toasted almond flour, the cinnamon and the lard. By sifting the tapioca flour, you will remove any hard pieces that may have formed when cooking the flour on the stove.

Use your hands to combine well all of the ingredients. You want the mixture to be crumbly, but you also want it to hold together when you try to press it into a ball. You can add a little more lard, but be careful; adding too much may result in a hard, crispy cookie rather than a soft, crumbly one.

Press the mixture into a ball and chill it in the fridge for around 20 minutes.

Preheat the oven to 180ºC/350ºF.

Using a rolling pin, roll sections of the mixture into a flat sheet that is around 1/2 inch wide.

Using simple shaped cookie cutters, preferably round or oval, cut the dough into simple shapes and place them onto a baking sheet lined with parchment paper.

If you want to decorate these with sesame seeds or something similar, sprinkle some on top of the cookies and lightly press them down into place.

Bake for 12-15 minutes. Unlike the traditional counterparts, they don't have a tendency to turn golden brown on the edges. That is OK! Remove them from the oven anyway after 15 minutes.

Allow them to fully cool before serving them. You can sprinkle them with powdered sugar and cal also wrap them in paper for giving to friends.
Serving:
1
large mantecado
|
Calories:
362
kcal
|
Carbohydrates:
53
g
|
Protein:
3
g
|
Fat:
17
g
|
Saturated Fat:
4
g
|
Cholesterol:
9
mg
|
Sodium:
1
mg
|
Potassium:
8
mg
|
Fiber:
2
g
|
Sugar:
15
g
|
Calcium:
35
mg
|
Iron:
1
mg