How to make hard cider with either milk or water kefir grains. This is a very low alcohol drink filled with probiotic goodness.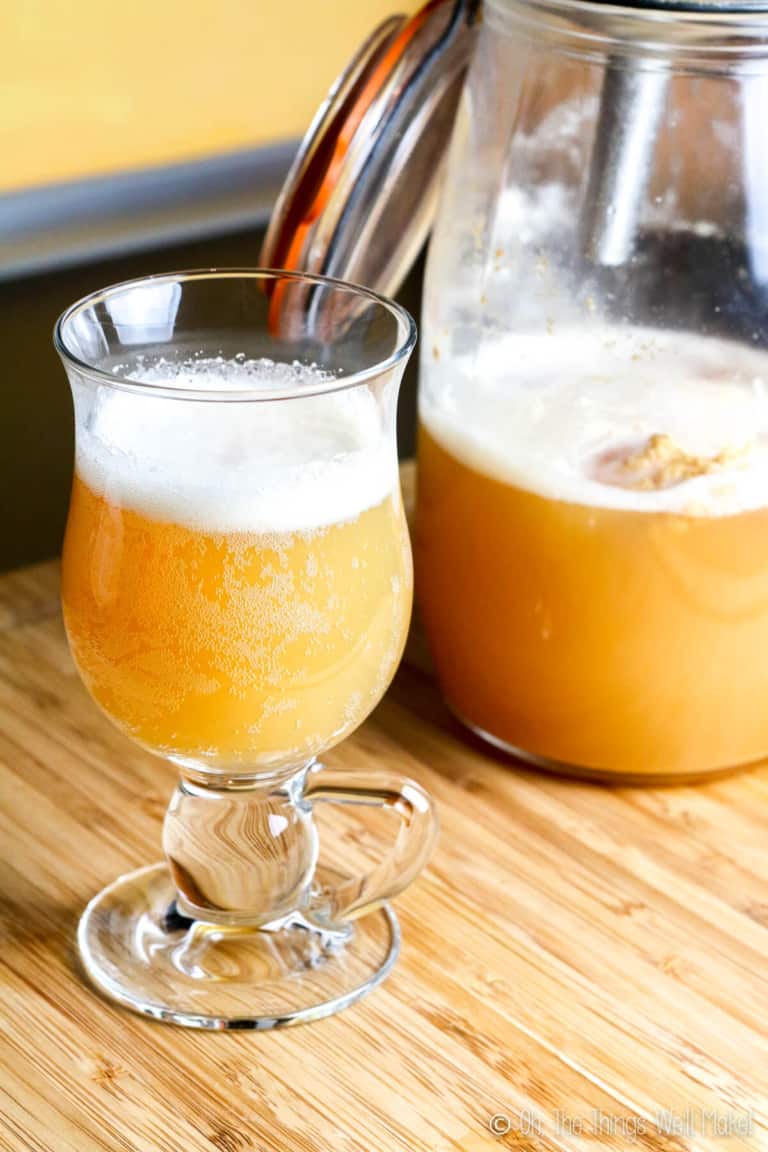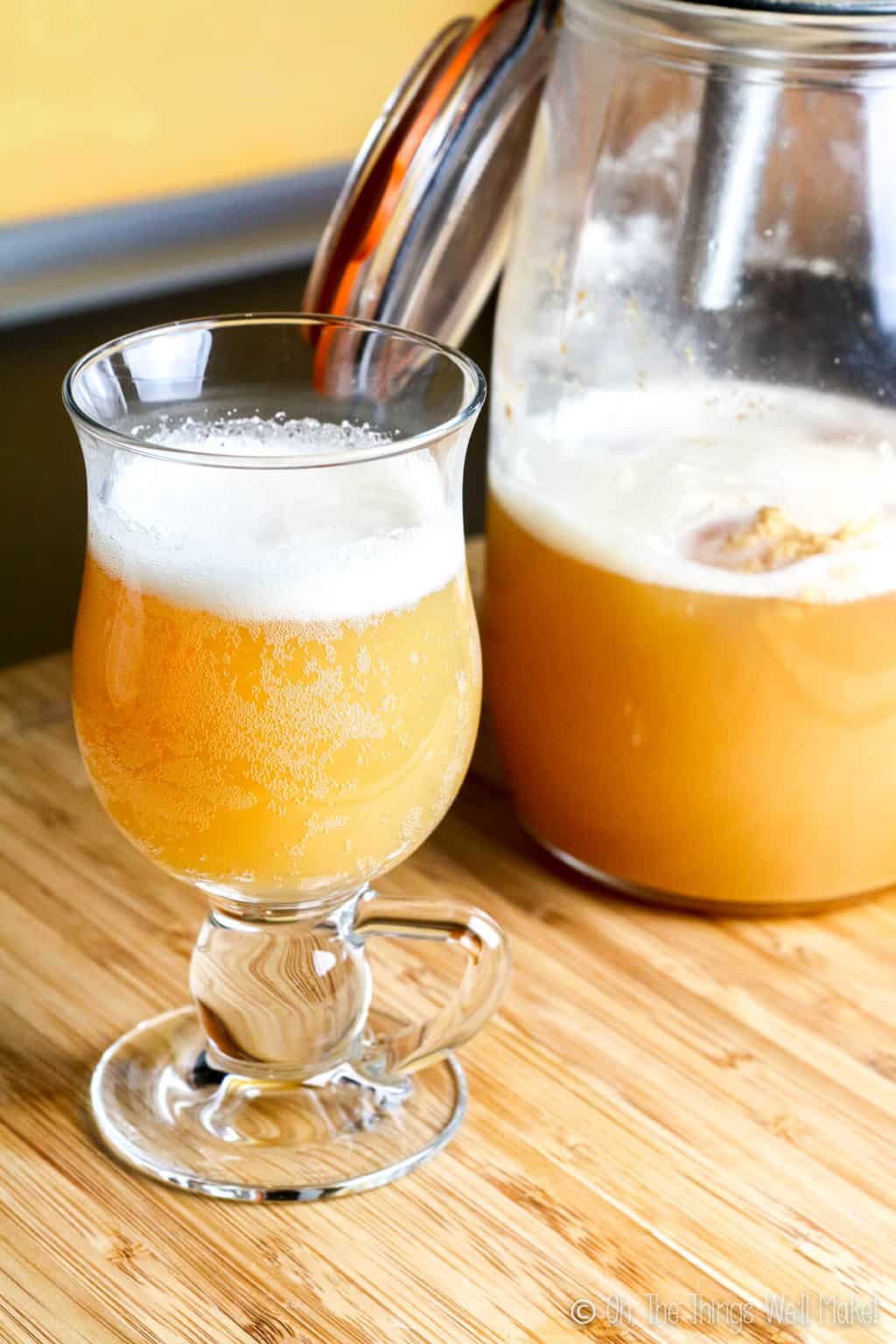 As I hinted in an earlier post, milk kefir grains can be used for more than just making regular milk kefir.
Another tasty, probiotic drink that can be made is a type of kefir "hard" cider. If you don't like alcohol, though, you still might like it because the amount of alcohol that is formed is very low. Many estimate it to be around 1-1.5%.
I like it because I find unfermented apple juice to be a bit too sweet for my taste.
Making this cider is very easy. What's great about it is that you don't have to use water kefir grains. Milk kefir grains can also be used with fruit juices.
Why is that so great?
Well, I got sick of trying to keep so many living organisms alive. For awhile I had kombucha, milk kefir, water kefir, and sourdough starter all going at the same time. Then, of course, I also had to worry about my plants, hens, dogs, and the rest of my family. 🙂
Being able to use milk kefir grains with fruit juice combinations meant that I no longer had to worry about keeping water kefir grains alive. To be honest, I didn't drink water kefir very often, so it was more of a hassle to care for them than what it was worth for me.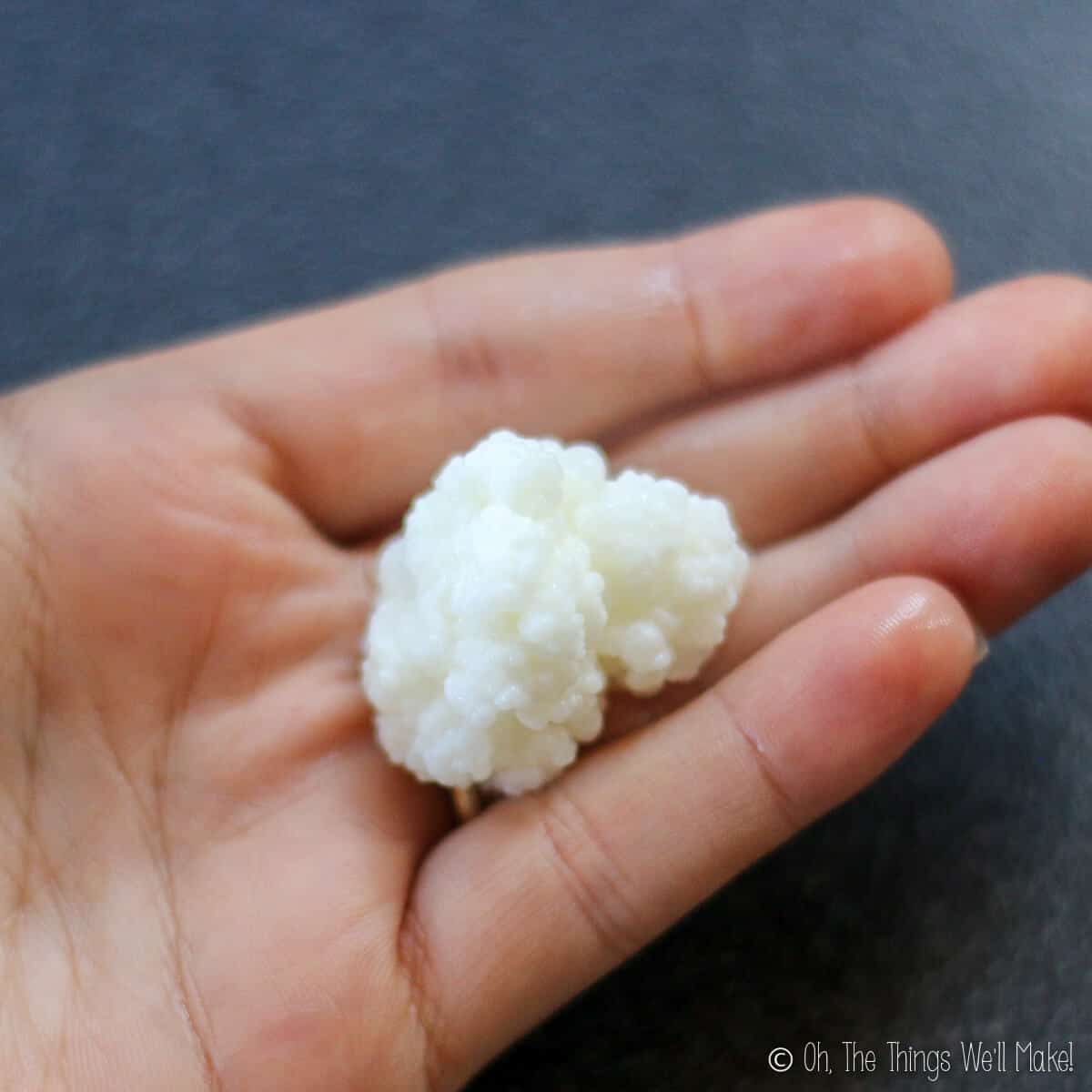 The kefir grains (either milk or water kefir varieties) can be damaged, and may not continue to reproduce, or at least not as quickly, in juice as they do in milk or in sugar water. The acidity of the juice, as well as prolonged fermentation periods, can be harmful to them. Keeping that in mind, you should use some excess grains for these types of experiments, just in case they die off. (Don't use all of your grains!) Milk kefir grains reproduce quite quickly in milk, so you should have plenty to experiment with soon after starting out with them.
The grains will also start to take on the color of whatever juice you are using. In this case, being apple juice, you can see that the grains are turning brown.

Craving more?
Subscribe to my newsletter for the latest recipes and tutorials!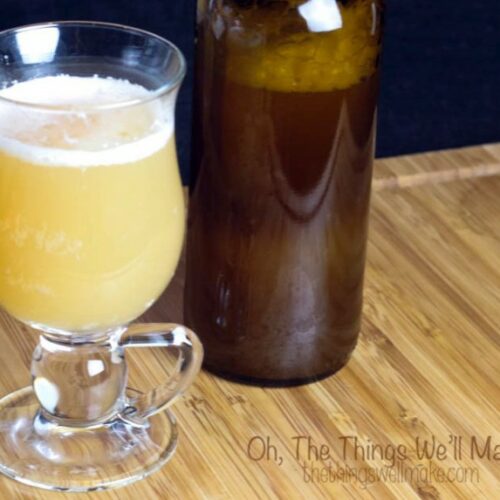 Ingredients
1

large

milk kefir grain

(or about 1 Tbsp. water or milk kefir grains)

2-3

cups

apple juice
Instructions
Add your kefir grains to your apple juice in a glass container.

Let it sit for a day or two (or three). It's a good idea to taste it every day or so to see how it is developing. Your cider will get less and less sweet as the sugar is being consumed by the kefir grains. The time it takes will depend upon the temperature of your house, the amount of juice used, and the amount of kefir grains being used.

As it ferments, you will notice that bubbles start to form, so it's a good idea, if you are letting it sit in an airtight container, to leave a little space at the top, and to check on it and let some air out each day. If you wait too long, the cider will start to taste too yeast-y and gets an unpleasant taste. That's why it's a good idea to try it each day and stop when you get to a point that you like.

When it has fermented to your liking, take the grains out, bottle up the cider, and put it in the fridge. The carbonation will continue to build up a bit more with time.

Now, all that's left to do is to drink it and its probiotic goodness. Enjoy!
Note: If you don't have any larger sized milk kefir grains, you can use between ½-1 tsp. smaller grains.
Cheers! Salud! (To your health!)
Looking for other recipes that you can make with your milk kefir grains?