Slightly tangy, yet creamy and smooth, this homemade kefir ice cream, or frozen kefir, is a delicious frozen treat with the probiotic benefits of kefir.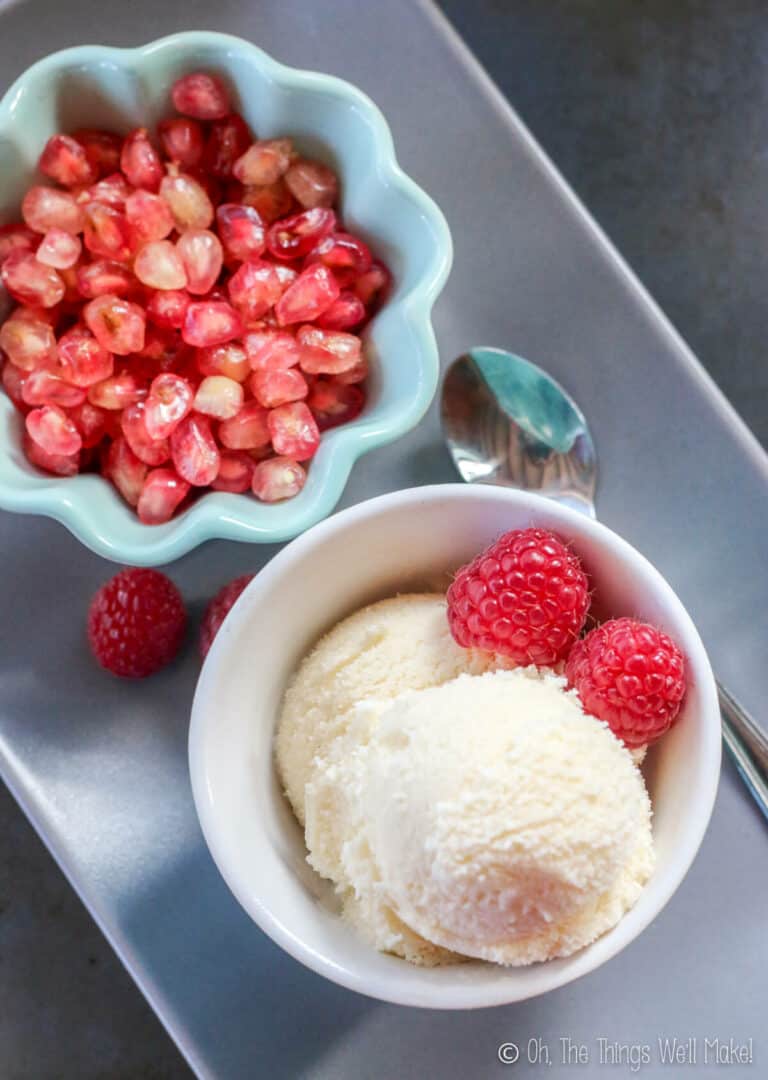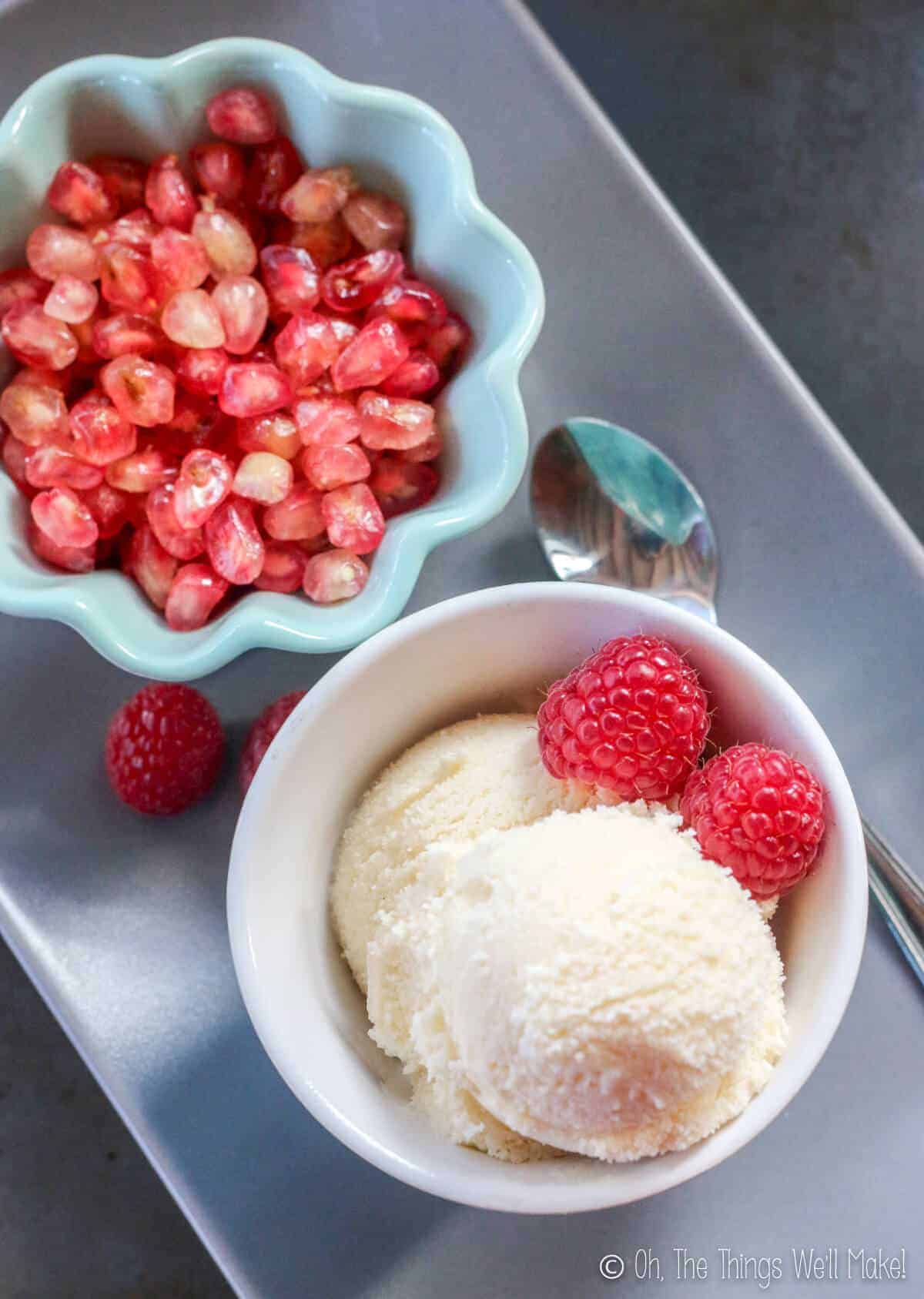 So, the weather is getting hotter, and you're looking for a somewhat healthy treat? Maybe you've been making kefir for a while, and are looking for fun new ways to use it?
This homemade kefir ice cream, or frozen kefir, is perfect for either of those scenarios.
What is kefir?
Kefir is a fermented milk-based drink that is similar to yogurt. It is normally thinner than yogurt, and has more protein and more probiotics.
While both are relatively simple to make at home, kefir is even easier to make than homemade yogurt because it is fermented at room temperature. It doesn't need to be cooked at all.
How to Make Kefir at Home
Learn how easy it is to make probiotic milk kefir. It can be made with a variety of milks (from animals or vegetables) and can be used in a number of ways.

Check out this recipe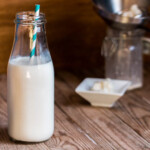 What is frozen kefir?
Frozen kefir is the kefirized equivalent of frozen yogurt. While you could just throw a kefir smoothie of sorts into your ice cream maker, I prefer to add kefir to a more classic ice cream base. To do so, I add kefir to a custard made with eggs and cream, and then freeze the mixture.
The final result is a tangy, creamy ice cream with the probiotic benefits of kefir.
Ingredients
This tasty treat uses 5 main ingredients. The custard is made with an egg and some whipping cream. You can use either a heavy or light whipping cream, but heavy cream generally makes for creamier ice cream. Two yolks can be used instead of the whole egg.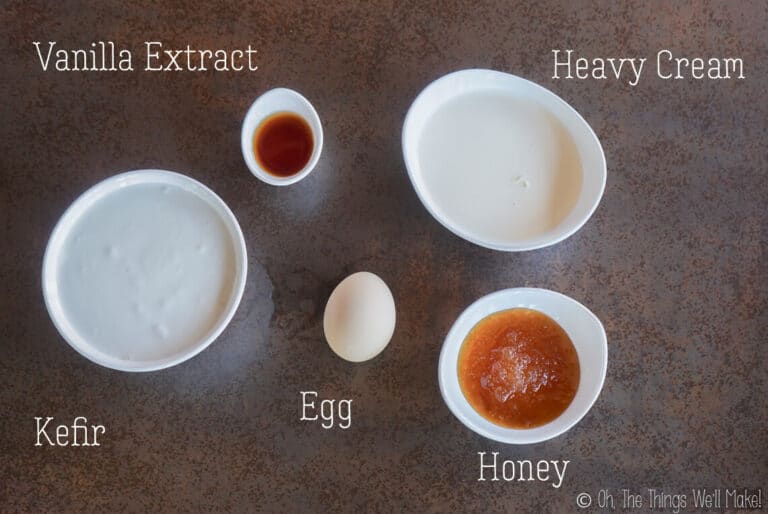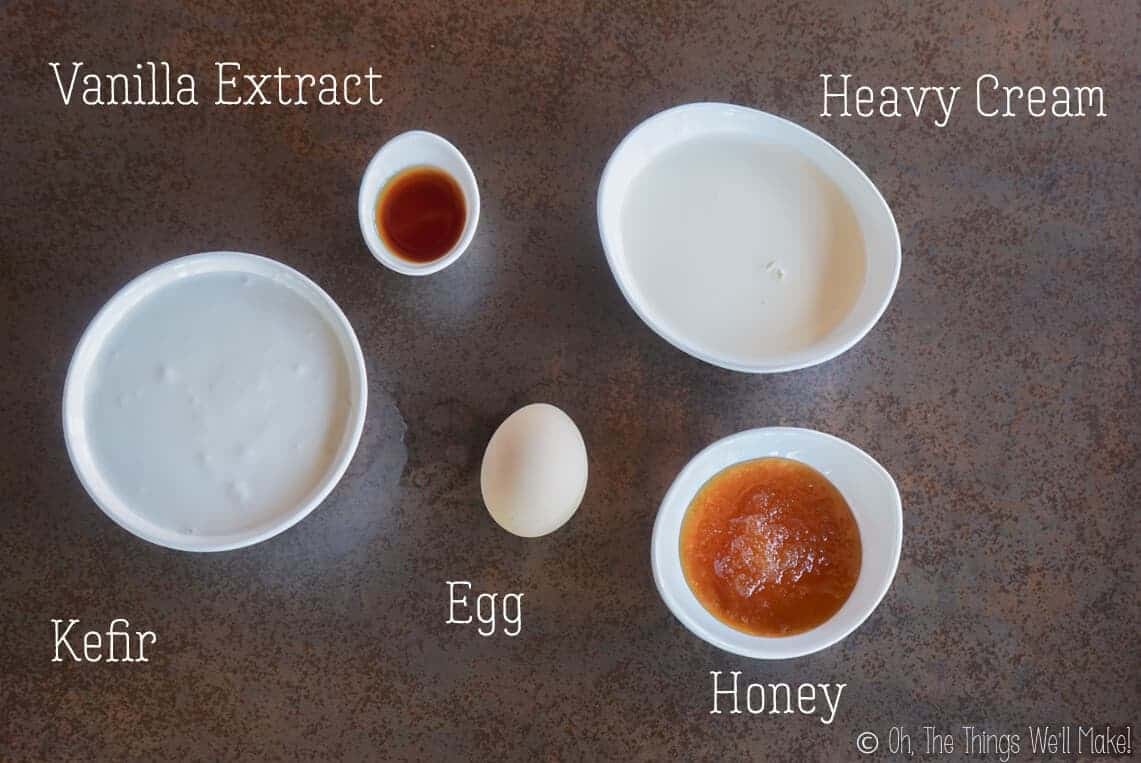 Kefir gives this frozen dessert its tanginess. You can either make the kefir yourself or buy it already made. Another option is to substitute the kefir for yogurt to make frozen yogurt instead.
For sweetness, I like to use honey or maple syrup, but you can use granular sugar instead. If using sugar, add it while cooking the custard mixture so that the heat helps dissolve the sugar. You can also sweeten with a low carb sweetener like stevia or erythritol for a keto dessert.
In order to preserve the beneficial qualities of the honey and kefir, I prefer to add them, along with the vanilla extract (I use homemade), to the finished custard, after it has cooled down.
Homemade Pure Vanilla Extract
Save money and ensure that you have the highest quality ingredients by making your own vanilla extract. It's super easy to make and makes a great gift.
Check out this recipe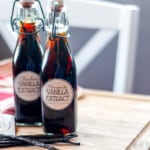 Procedure
Begin by making a custard. To do so, mix together the egg and the cream, and cook the mixture in a pan over low heat. Keeping the heat low, and keeping it from boiling, helps ensure that the custard doesn't burn or curdle. Stir constantly, using a spatula to keep the mixture from sticking.
One the mixture has thickened, remove it from the heat and allow it to cool. If you are using honey that has crystalized, you can add it at the end of the cooking process so that the residual heat liquefies the honey.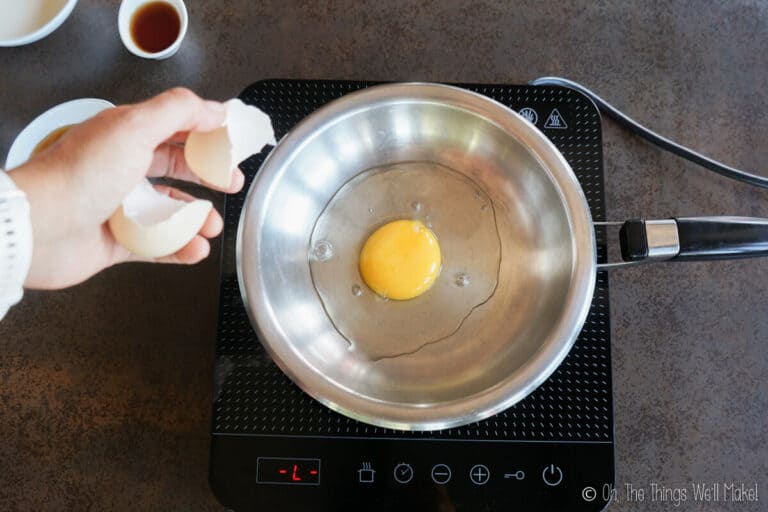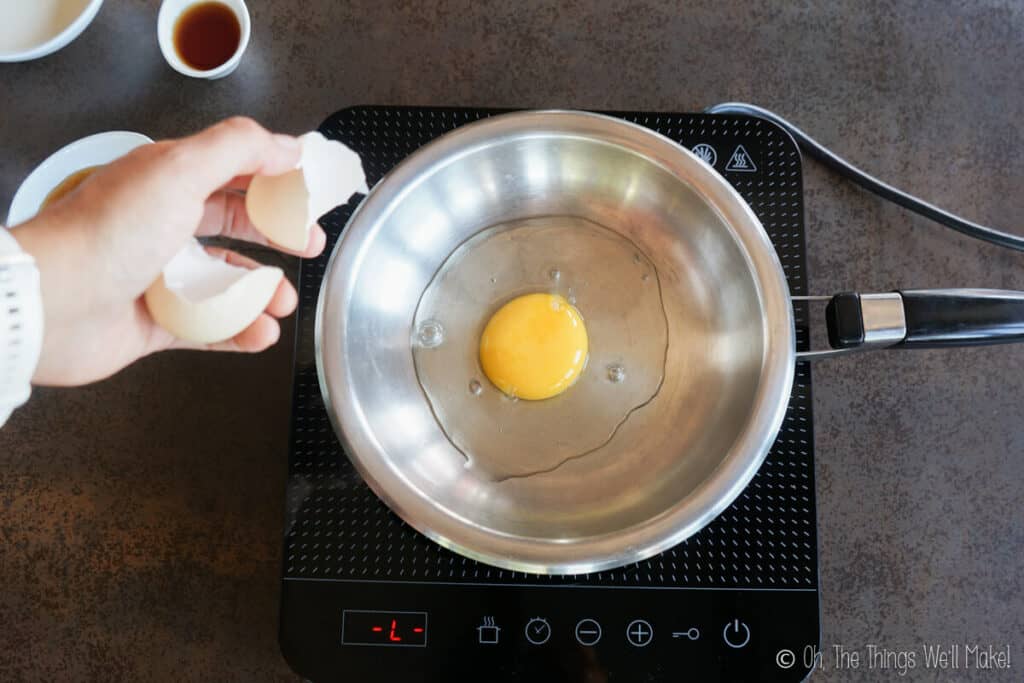 Once the mixture has cooled, add the kefir and the vanilla extract. If you didn't add the honey yet, add it too. Blend all of the ingredients together until completely combined and smooth.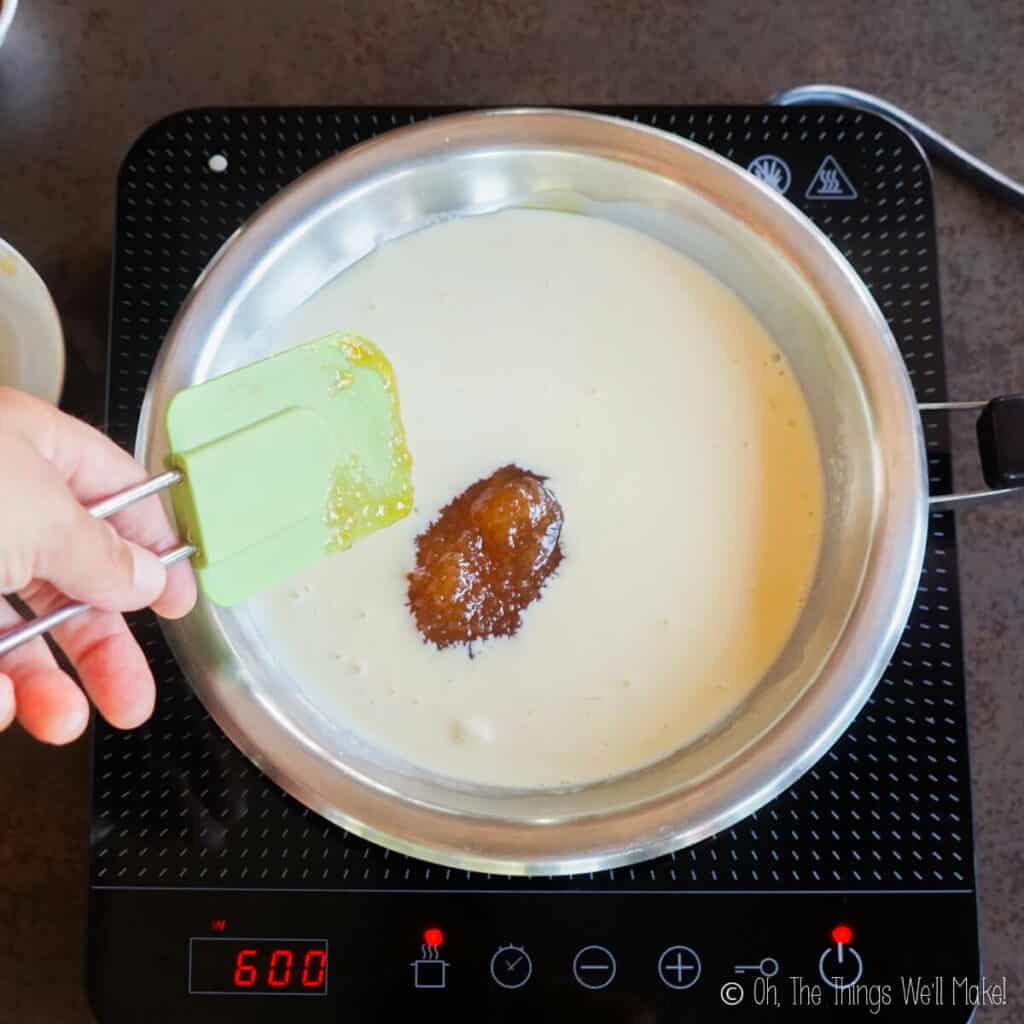 Once all of the ingredients have been mixed together, chill the mixture. Using a chilled mixture helps ensure a creamier ice cream.
Once chilled, add the cold mixture to the frozen bowl of an ice cream maker. Follow the instructions for your particular machine to make the frozen kefir ice cream.
Using an ice cream maker normally makes a soft-serve type ice cream. To make a firmer ice cream, remove the frozen kefir from the bowl and add it to another container.
Place the container in the freezer until it has reached a hard enough consistency.
Customizing the recipe
There are many ways to simplify this recipe or to customize it to suit your taste.
Vegan kefir ice cream
For example, this can be made vegan by using a vegan kefir, usually made with coconut milk instead of a milk-based kefir. (Follow the recipe for how to make kefir, using the grains to ferment coconut milk.) Then, coconut cream can be used instead of dairy cream. While the egg adds creaminess, it can be left out.
To make a light, creamy ice cream without eggs, consider beating the cream or coconut cream until enough air is incorporated to make it the consistency of whipped cream. This adds lightness to the frozen dessert.

No churn kefir ice cream
Don't have an ice cream maker?
Don't worry. You can still make this recipe.
Add the final mixture to a freezer-safe container and freeze it directly in the freezer. To make a creamier ice cream, take the container out of the freezer every 20-30 minutes and stir it. Make sure to incorporate the parts that have frozen around the edges. Once fully stirred, freeze the container again.
This method works especially well if you whip the whipping cream and then incorporate the kefir and other ingredients rather than making a classic custard.
Other tips for creamy ice cream:
For creamy ice cream, keep the fat content relatively high. Using cream rather than just milk helps ensure smoother ice cream that doesn't freeze as rock hard. Too much cream, though, can make the ice cream have a buttery texture. So, don't overdo it. You could use a fermented kefir cream instead of a lower fat kefir, for example, but consider balancing it with milk rather than adding more cream.
The addition of egg yolks or a whole egg, even if you don't cook them into a custard, makes for smoother ice cream. The proteins in the eggs help keep ice crystals from forming. If you aren't using eggs, you'll want to look for another way of adding lightness to the ice cream. This can be done by whipping the cream to incorporate air into the mixture before freezing it.
Chill the mixture thoroughly before putting it into the ice cream maker. Using a cold mixture also ensures a smoother ice cream.
Storage
Store uneaten frozen kefir in the freezer. Depending on the method you used to make it, it may become quite hard after being in the freezer for several hours.
If it is too hard, soften it by removing it from the freezer for a little while before serving. You can move it to the fridge for 30-40 minutes before serving or set it on the counter at room temperature for 10-15 minutes.
Video
Craving more?
Subscribe to my newsletter for the latest recipes and tutorials!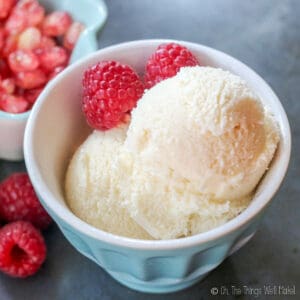 Kefir Ice Cream
Slightly tangy, yet creamy and smooth, this homemade kefir ice cream, or frozen kefir, is a delicious frozen treat with the probiotic benefits of kefir.
Print
Rate
Servings:
5
half cup servings
Instructions
Mix the egg with the heavy cream and cook in a small saucepan over low to medium heat, stirring constantly until you obtain a somewhat thick custard.

Remove from the heat, and allow to cool.

Mix in the milk kefir, vanilla extract, and honey to taste.

Chill the mixture.

Freeze in your ice cream maker, according to the directions for your particular machine.

When finished, transfer to another container and place it in the freezer for a couple of hours to harden it a bit more, giving it the consistency of ice cream.

Serve and enjoy!
Notes
If you are using granulated honey, consider adding the honey to the custard mix at the end of the heating process so that the heat will liquefy it again. If using liquid honey, add it with the kefir and vanilla extract while cool. Adding them to the cool custard helps retain the beneficial qualities of these ingredients.
Honey can be substituted with maple syrup, stevia liquid, or erythritol. The latter 2 will lower the sugar and carb count. Regular sugar can also be used, but it should be added to the cream and egg at the beginning so that the heat will dissolve the sugar crystals.
To make a vegan kefir ice cream, make kefir with coconut milk instead of dairy. Use coconut cream instead of whipping cream, and leave the egg out. Use one of the other sweeteners listed above. To make a fluffier ice cream, whip the coconut cream to incorporate air into it. Fold the other ingredients into the thickened whipped coconut cream.
This can be made without an ice cream maker. To make a no-churn frozen kefir, pour the finished mixture into a freezable container and place in the freezer. Remove from the freezer every 20-30 minutes, and mix the ingredients, scraping off the frozen mixture from the sides of the container and incorporating them into the rest of the mixture. Return it to the freezer, and repeat until you achieve the desired texture.
Once you have a frozen dessert of a "soft-serve" consistency, you can either serve it right away, or let it get a bit harder in the freezer. I have found it is best to move it to a new container before sticking it into the freezer. Not only does that help with not letting more ice crystals form, but it keeps your bowl free for a new flavor!
Store uneaten frozen kefir in the freezer. If it is too hard, soften it by removing it from the freezer for a little while before serving. (Around 30 minutes if stored in the fridge, or 10 minutes at room temperature.)
Serving:
0.5
cups
|
Calories:
227
kcal
|
Carbohydrates:
18
g
|
Protein:
4
g
|
Fat:
16
g
|
Saturated Fat:
10
g
|
Cholesterol:
89
mg
|
Sodium:
58
mg
|
Potassium:
48
mg
|
Sugar:
17
g
|
Vitamin A:
695
IU
|
Vitamin C:
1
mg
|
Calcium:
103
mg
|
Iron:
1
mg
This post was originally published on August 10, 2013. It was rewritten with better instructions, adding new photos and video in June 2020.