Simple to make, yet impressive in appearance, marzipan figures, or "figuras de Mazapán" are one of the most popular Christmas treats here in Spain. Kids will love to help you make and shape them.
Here in Spain at Christmas time, almond recipes and desserts are the most popular holiday treats. I've already shown you how to make some of the most common almond-based Christmas desserts like mantecados and polvorones (or my grain-free version of mantecados), Turrón de Alicante (A hard almond nougat), and Turrón de Jijona (A soft almond nougat). Today, though, I'm going to show you yet another popular Spanish almond dessert, figuras de mazapán, also known as marzipan figures in English.
What is Marzipan or mazapán?
Marzipan is normally a type of almond paste that can be used in a number of ways. Some people use it to cover their cakes as a way to help preserve them and flavor them simultaneously. You can layer marzipan under fondant or use it instead of fondant. Most marzipan meant for covering cakes has other added ingredients or uses a boiled sugar mixture to make the marzipan more pliable, allowing you to easily roll it out and stretch over your cake without cracking or breaking. It usally has a lower concentration of almonds than the type of marzipan that I'll show you today.
In Latin America, another type of marzipan (or mazapán) is famous. The mazapán "de la Rosa" is actually quite different from the other types of marzipan in that it isn't even made with almonds! Mazapán de la Rosa is a peanut-based sweet that is sold in disks.
Today, I'm going to share a very simple almond-based marzipan recipe, one that is perfect for making marzipan figures, known as "figuras de mazapán" in Spanish. There is no need for making a sugar syrup ahead of time, making this recipe perfect for making with kids!
What's the difference between marzipan and almond paste?
While marzipan and almond paste use the same basic ingredients, whether or not they are different will depend on where you buy it. (Here in Spain I have never seen an almond paste referred to as anything other than mazapán.)
Marzipan and almond paste can differ quite a bit in texture, though. Almond paste is normally quite coarse and difficult to roll out or shape. It may also have a higher concentration of almonds than marzipan. Then, of course, different types of marzipan will have differing ratios of almonds to sugar.
Rolled mazapán, the type used for fine decorating or covering cakes, usually also has some sort of sugar syrup added to it. It may also have water added and tends to have less almonds by wieght. The additional sugar and water help make for a more pliable dough that can be formed into smooth shapes and can be easily rolled out and manipulated without cracking.
This marzipan recipe falls somewhere in between an almond paste and a rolled marzipan. The ideal almond to sugar ratio for making this type of marzipan is around 50%:50% by weight. I personally like to increase the percentage of almonds slightly.
Mazapán de Toledo
One Spanish city stands out when it comes to mazapán. Toledo, a small city to the South of Madrid, claims to be the source of this well known almond-based sweet. The people of Sicily, Italy, on the other hand, argue their claim to have invented it too, but Italian "marzapane" is presented in a slightly different way, often sold in fruit shapes that are painted or dyed in vivid colors.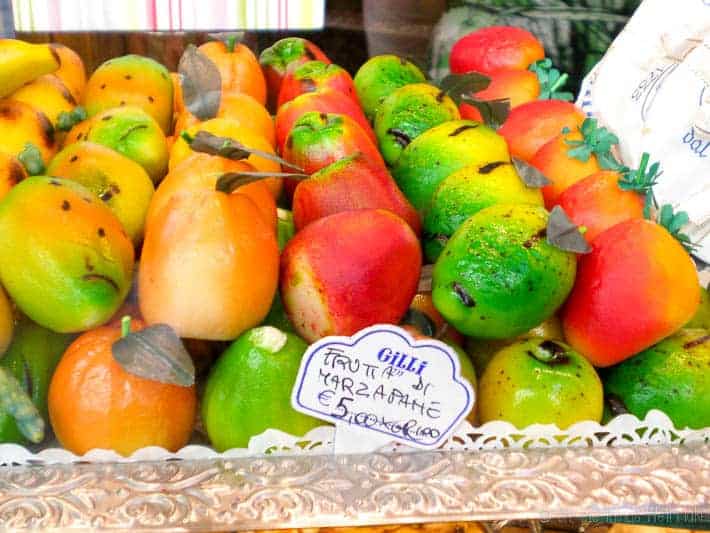 To add to the confusion, other countries, like Greece, will argue that today's marzipan is based upon similar sweets that they had been making years before. That, of course, is also very likely. One of the reasons that this special mix of almonds and sugar was popular in Toledo, was likely due to the interesting history of the city. It is known to have been a multiethnic place where Muslims, Christians, and Jews lived together in peace for many years, each bringing with them their customs and traditions.
It doesn't really matter who invented this special dessert, though. Toledo is still known to be the source of the most well-known mazapanes of Spain. In fact, it is protected by a D.O. (a designation of origin). To be called a "mazapán of Toledo," the marzipan must have been made within the province of Toledo, and must also have a composition of at least 50% almonds.
Unlike the mazapán made industrially all over Spain which is sold wrapped in plastic and that keeps unrefrigerated for a very long time, their product is an artisan one without added preservatives, artificial flavors, or other fillers.
Interestingly enough, I found one type of mazapán de Toledo for sale in the US for those who want to try it.
Mazapán del Obrador de Santo Tomé (& world record)
One place in Toledo stands out for making very special marzipans. In fact, they earned the Guinness Record for the tallest marzipan sculpture in the world. The sculpture, which stood over 3 and a half meters tall, was a sculpture of Spain's famous Don Quijote de la Mancha.
The Obrador de Santo Tomé makes a slightly different variation of the typical 50%:50% almonds: sugar recipe. They are said to use somewhere between 55% and 57% Spanish almonds, along with white sugar and honey. They make a variety of marzipan based sweets, which you can see on their website, some of which are filled with other sweet fillings like "cabello de ángel," a pumpkin based sweet, or "yemas" made from egg yolks and sugar.
They also make a jam-filled variety in fruit shapes, much like the fruit shaped marzapanes I saw in Italy!
Customizing this recipe
As you probably know by now, one of the reasons I like to make things myself is that it keeps me in control of the ingredients.
In the case of marzipan, the ingredients are simple. You can make a marzipan using only almonds and sugar, but most people add a bit of egg white to help bind the mixture together.
Need to avoid eggs?
If you don't want to use egg whites, you could try using something like honey to bind the ingredients instead. That is what they use in some of the famous mazapanes of Toledo. While I haven't tried it (yet), you could also substitute the egg yolk wash with either oil, almond milk, or butter or cream.
Worried about salmonella?
If you don't need to avoid eggs, but you are afraid of getting sick from using raw egg whites, you can use pasteurized egg whites instead! They are often sold in either the dairy or meat refrigerated sections of supermarkets.
Not a huge fan of almonds?
Why not try making marzipan with some other nut? The peanut-based mazapán de la Rosa is very popular in Latin America, and I imagine that other nuts would make similarly delicious sweet pastes.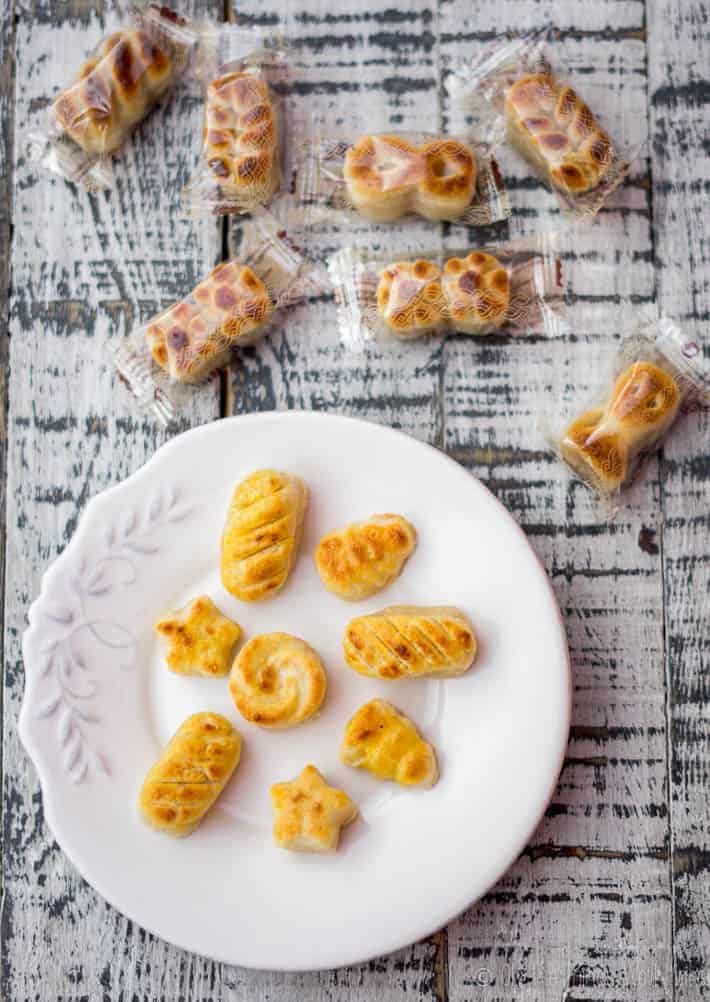 Making it sweeter (or less sweet)
This is one of the main reasons I decided to try making my own marzipan. The Spanish mazapánes sold in supermarkets at Christmas time are much too sweet for me. They also have an artificial type flavor that I don't really like very much. In fact, up until recently, I was sure I didn't like marzipan at all based on my experience with the stuff they sell in stores this time of year.
I made my marzipan with slightly more almonds than sugar, and I have to say that the difference was huge! These homemade marzipan figures were so much better than the stuff I bought at the supermarket as a comparison. While I have a hard time finishing a piece of store-bought marzipan, I have a hard time only eating one of the homemade marzipan figures!
Switching out the sweetener
While you can use a different type of sugar, rather than refined white sugar, it will change both the color and the flavor of your homemade marzipan. I made my first batch with an organic demerara sugar, pulverizing it into powdered sugar in my food processor. While the results were good, I have to admit that in this case, I preferred the white sugar. It is very, very rare for me to use white sugar in anything other than making kombucha, but for this special Christmas treat that won't be eaten often, I made an exception.
Getting that characteristic "almond flavor"
Many recipes online will add a touch of almond extract or almond flavoring to their marzipan. It seems a bit ironic that you would need to add "almond flavoring" to an already almond-based treat.
What most of us know as "almond flavoring," though, is the characteristic flavor of bitter almonds. If your batch of almonds already has a bitter almond or two scattered amongst the rest, you're actually in luck, and it will give your batch just the right touch of bitter almond flavoring.
If you haven't lucked out, though, or you want to enhance the flavor further, you can add a touch of amaretto or almond extract too.
Along those lines, if you want to change the flavor, you could consider adding in a touch of a different extract, like lemon extract, to give your marzipan its own personal touch.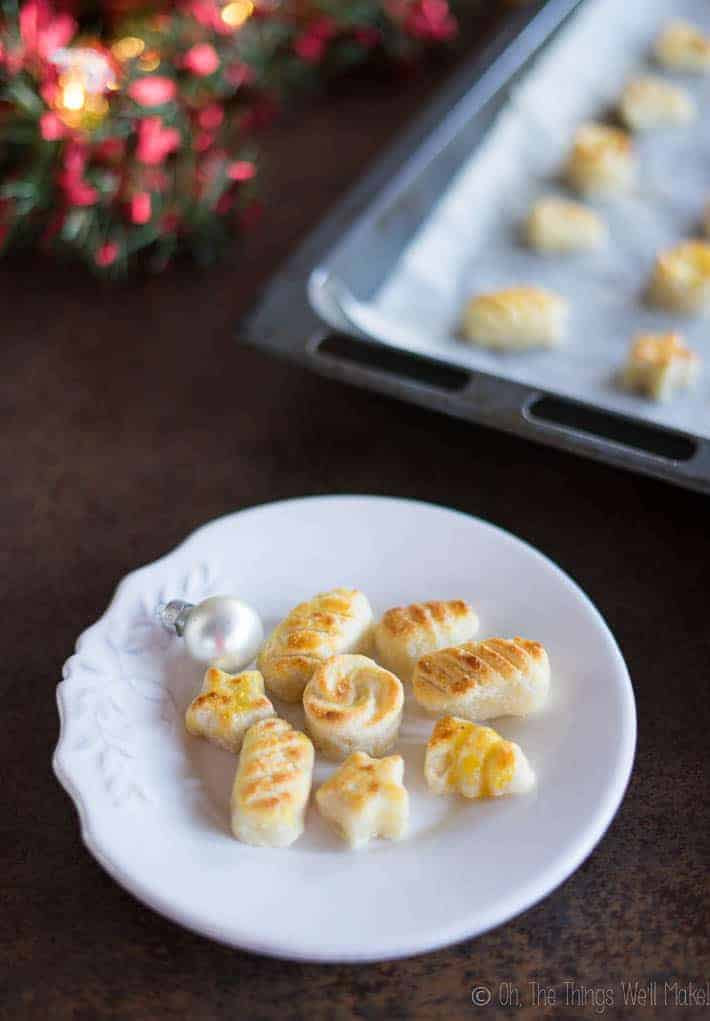 Marzipan Figures (Figuras de Mazapán)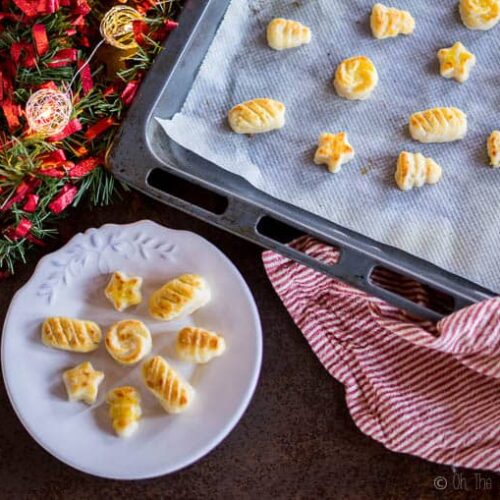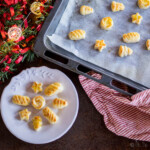 Ingredients
250

g

almonds

210

g

powdered sugar

(I pulverized regular sugar in my food processor.)

1

egg
Instructions
Grind the almonds finely in a food processor. You want a fine enough grind to allow for a smooth marzipan, but don't want to do so far that the oils are released and you start to form almond butter.

Grind the sugar into powdered sugar (or use store bought powdered sugar).

I have used weight measurements here because the traditional marzipan recipes use somewhere between 200g and 250g for each egg. They use a similar weight for the sugar in the recipe. If you plan on using volume instead, note that the amount you are actually using can vary by quite a bit depending on how tightly you pack in your ingredients and how finely they are ground. 210g sugar corresponds to around 1 cup regular sugar or around 2 cups powdered sugar. (See, it varies a lot!)
I have provided a volume measurement, for those who prefer it, but if you're using volume, you may want to play with the amounts to get them just right for you. Luckily this recipe is forgiving and can be adjusted to suit your taste.
I do recommend buying a nice kitchen scale, like the scale pictured here, if you plan on making more delicate recipes like soaps, cosmetics, and delicate pastries.

Combine the powdered sugar and ground almonds in a medium-sized bowl.

Separate the egg white from the yolk. If you are worried about using raw eggs, you can use a pasteurized egg white instead.

Add the egg white to the almond and sugar mixture and stir until well combined. It's easiest to use your hands to mash everything together into a workable dough.

You can either form the dough into shapes immediately or wrap it in parchment paper and refrigerate it for later. At this point, it also freezes well if you want to make it ahead of time before Christmas.

Form the dough either by pressing it into candy molds or by shaping it yourself into whatever shapes you prefer. A simple idea is to form it into small log shapes and decorate it by forming lines across the top with your knife. (See how it's done in the video.)

Placed your marzipan figures on a baking sheet and paint them with the beaten egg yolk.

Place under the broiler for a couple of minutes, until they start to brown on top. This is done to slightly harden the outside while keeping the center soft.

Under the hot broiler, they will burn very easily! (Don't ask me how I know that!)
Keep a close eye on them, and don't leave the room for a few minutes (or go outside to quickly let your hens in for the night).
You only want them to lightly brown on top. Cooking them for too long will harden them all the way through.

Once cooled, you can serve them immediately or store them in an airtight container in the fridge for several days, up to a week. (They are at their best during the first couple of days after having made them.)
Notes
You can use other types of sugar like organic demerara sugar or coconut sugar, but the marzipan figures will be darker in color and their flavor will change.
You can also optionally add in either almond extract or some other extract to add flavor.
Nutritional Information
Serving:
1
marzipan figure
|
Calories:
57
kcal
|
Carbohydrates:
6
g
|
Protein:
1
g
|
Fat:
3
g
|
Cholesterol:
4
mg
|
Sodium:
1
mg
|
Potassium:
45
mg
|
Sugar:
5
g
|
Vitamin A:
5
IU
|
Calcium:
17
mg
|
Iron:
0.3
mg