Easy to brew, sweeter, yet more intense, cold brew coffee can be made ahead and stored for several days. Learn how to make cold brew coffee and save time in your morning routine.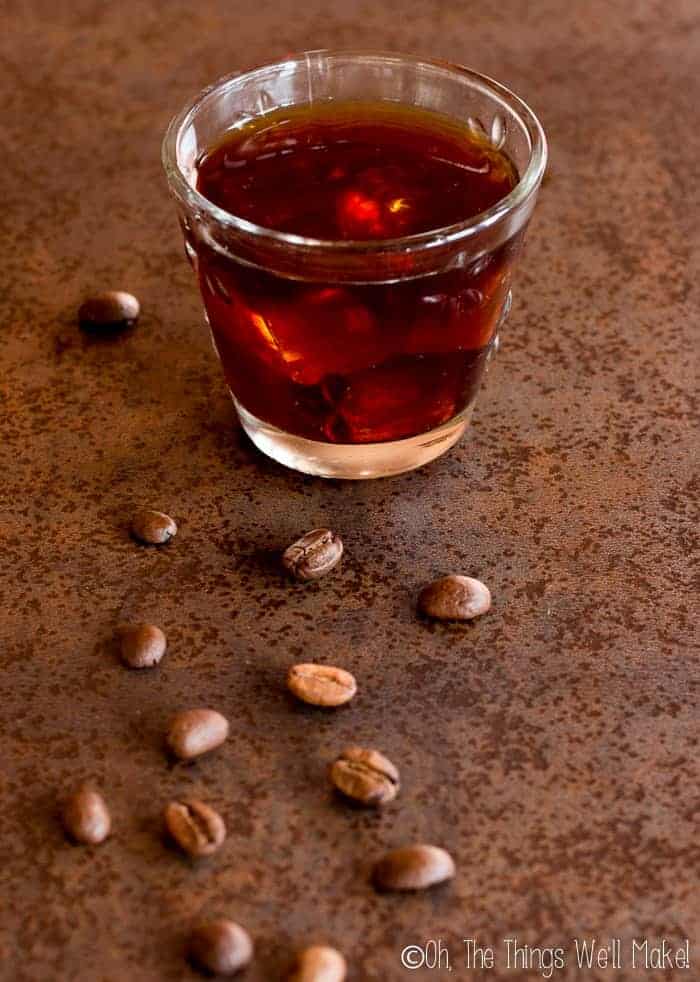 While many kids have already gone back to school, it's still officially summer and quite hot here. Iced coffee is still more appealing to me than hot.
While cold brew coffee can be served either hot or cold, it's an effortless way to make a cold coffee for your favorite iced coffee recipes.
Why cold brew coffee?
There are many great reasons to choose to make cold brew coffee over your normal hot brew.
It's easy to make without any special equipment
First, cold brew coffee is very easy to make and doesn't require any special equipment. You don't need a coffee maker. You don't need coffee filters. While you will want something to strain the coffee grounds from your coffee, it doesn't need to be anything special. You can use any type of strainer or can even use a clean cotton cloth in a pinch.
This is great for those who travel. If you're at a hotel with a fridge, you can make your own cold brew coffee without needing anything else (except coffee, water, and something to hold them, of course).
Cold brew coffee has superior flavor (in many people's opinion)
Many people prefer the flavor of cold brew coffee too. It makes for an intense coffee that most people describe as being sweeter and less bitter than hot brew types.
Cold brew coffee tends to be less bitter because some of the bitter components in coffee that are only extracted with heat don't make their way into the coffee. Without that bitterness, cold brew coffee tastes sweeter to most people.
It can save you time in the morning
Another advantage of cold brew coffee is convenience. Unlike regular coffee that should be used up within a day or two at most, cold brew coffee stores very well in the fridge for a longer period of time. That means you can make a larger batch and then store it in the fridge for several days, simplifying your morning routine.
When you're ready to start your day, you can pour your coffee into a glass and drink it full strength or dilute it to suit your preference. You can also mix it with flavored creams or other flavorings to make homemade specialty coffees. (Hey, Starbucks has gotten expensive. And you actually have to leave your house to get it.)
Great for making iced coffee
Once your cold brew coffee is ready, you can serve it immediately over ice without the ice melting and diluting your coffee. This is an advantage for those who love their coffee strong! While it is perfect for making iced coffee, you can also heat it up and serve it warm if you prefer.
A great way to use not-so-fresh coffee beans
While any coffee will be best with fresh coffee beans that have been recently ground, it's said that the difference is less noticeable in cold brew coffee. That's probably due to the long brewing process and the fact that only certain parts of the coffee bean are extracted into the coffee with a cold extraction process. So, if you have some not-so-fresh ground coffee or slightly older beans, don't throw them out just yet. First, try making cold brew coffee with them. You may be surprised by how good it tastes.
Best Grind for Cold Brew Coffee
While cold brew coffee tastes more intense, you don't need to finely grind the coffee beans when making it. The best grind for cold brew coffee is a medium to coarse grind. (I really recommend buying a coffee grinder with a removable cup for easy cleaning. This coffee grinder has high ratings on Amazon.)
Its intense flavor comes from its long brewing time rather than the grind itself. If you were to finely grind coffee beans as you would for espresso when making cold brew coffee, you may end up over-extracting and end up with a more bitter brew.
Cold brew coffee to water ratio
If you were working at a coffee shop, you'd most likely be using large amounts like 1 pound of ground coffee to a gallon of water. For the average family, though, that's way too much for a week's worth of coffee.
A more conservative ratio is to use 1 ounce (around 30g) of coffee to 1 cup (around 250ml) of water. You can double or triple that amount as needed.
If you don't have a scale, you'll be happy to know that I found 1 ounce of coffee beans to equal around 30g. There wasn't a noticeable difference in volume between the ground beans and the whole beans. I started with 1/3 cup of whole beans and ground them to a medium grind. I measured again and found I had around 1/3 of a cup of ground coffee.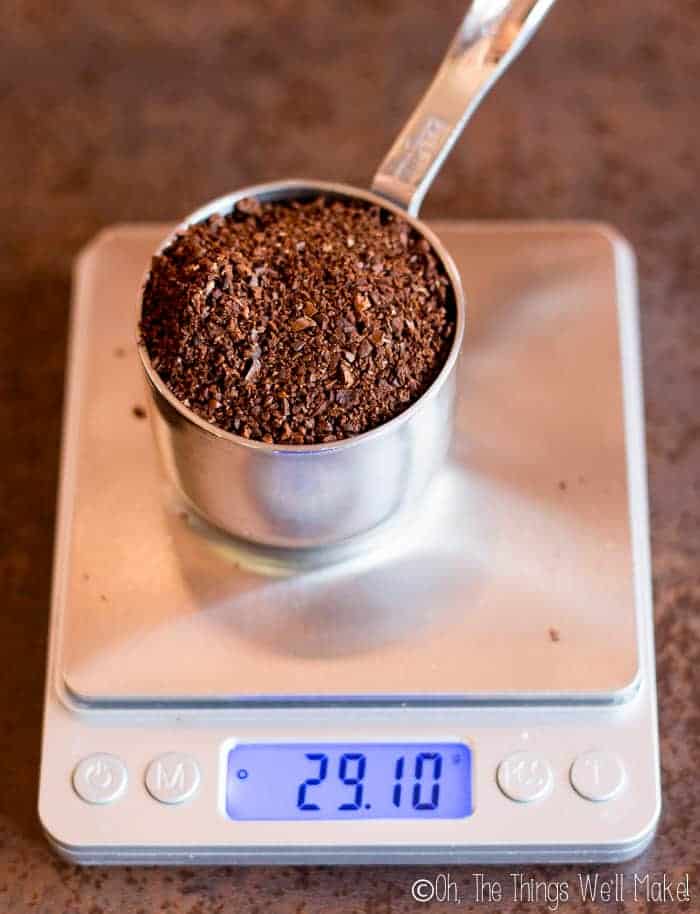 To simplify things, then, you can use 1/3 of a cup of ground coffee to every cup of water (or three times as much water for the amoun of coffee you are using).
Cold brew time
Ideally, you should cold brew your coffee for around 24 hours. At the very minimum, though, you should brew it for 12 hours in the fridge.
If you are really in a rush and can only brew overnight, you could try jump starting it by starting out with a warmer water before later brewing in the fridge. It may not be 100% cold brew, and the purists may take offense at the suggestion, but you should still end up with a fairly great tasting coffee.
I think it's best to experiment and find what works best for you, your taste, and your schedule.
How long is cold brew coffee good for?
Normally, it's said that cold brew coffee is good for up to a week when stored in the fridge at full concentration. You can really safely keep it for up to two, but after the first week, you'll start to notice a deterioration in flavor. Once it starts tasting stale, you'll want to toss it and make a fresh batch.
If you decide to dilute your homemade cold brew coffee, I'd recommend only diluting the amount you intend to drink at that moment. Once you dilute your homemade cold brew coffee, you are reducing its shelf life to only a couple of days.
For best shelf life, store in the fridge at full concentration.
French Press Cold Brew Coffee
While you don't need any special equipment to make cold brew coffee, one of the easiest ways to make it is to use a French press. A French press is a type of pitcher with a special straining plunger that is used to make coffee or tea. It's very simple to use. When making teas or hot coffee, you add your tea or ground coffee beans to the bottom of the container and then cover with hot water for the desired brewing time. When ready to serve, you press down on the plunger and pour out the coffee or tea.
For cold brew coffee, the process is the same. You'll add your coffee and cold water to the French press and place it into the fridge for 12-24 hours. Once you are ready to use the cold brew coffee, you push the plunger down. The plunger keeps the coffee grounds at the bottom of the pitcher, and its strainer allows you to pour out a perfectly strained cold brew coffee with absolutely no effort.
Caffeine caution with cold brew coffee
While cold brew coffee tastes great, you need to be careful when making the switch. It also has around twice the caffeine as normally brewed coffee (or more). Some people, like me, might be very sensitive to the increased caffeine and react negatively to the change.
When I was younger, I didn't realize that I was overly sensitive to caffeine. In fact, I'd often go study at a coffee shop at night, drink some coffee while studying, and I fell asleep with no problem afterward. I assumed that caffeine didn't really affect me.
One summer, my mom decided to buy a cold brew coffee machine. It was a fancy, slow drip cold brew coffee machine. (Something like the one below).
It came with lots of wonderful recipes for making a variety of specialty flavored coffees, and I was excited to try them. I had been working outside in the garden and occasionally came in to make myself an iced coffee to cool off. After a while, I started to feel dizzy and a bit nauseous. My first thought was that I was suffering from some sort of heat stroke due to the heat outside, so I came in to cool off.
The next day, though, I made myself more coffee and enjoyed it in the cool indoors. When I started to experience the same symptoms, I realized it was the coffee! Because of the increased dose of caffeine in the cold drip coffee, I felt symptoms that I wasn't experiencing with a normal cup of coffee. I ended up using less or diluting it with the same amount of water before using it.
I've since found that any time I have too much caffeine, I experience the same unpleasant symptoms! While this may not happen to you, it's a good thing to be aware of, just in case.
How to Make Cold Brew Coffee
Craving more?
Subscribe to my newsletter for the latest recipes and tutorials!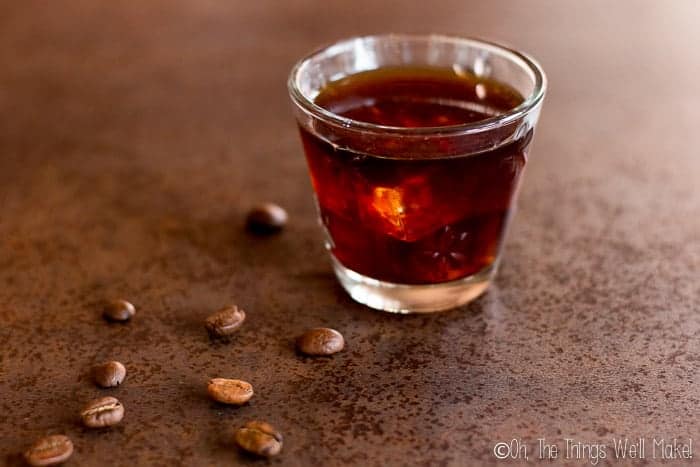 Instructions
Grind the coffee beans to a medium to coarse grind.

Add the ground coffee and water to a jar, a French press, or a cold brew coffee machine. The recipe above makes 1 cup, or 8 ounces, of cold brew coffee, but you can toggle the amounts to see how much you will need for a larger batch.

Stir together the ground coffee and water and cover the jar or French press. If using a cold brew coffee machine, follow the instructions for your particular machine. (Some are more like a French press while others use a slow drip system.)

Place in the fridge for 12-24 hours. (24 hours is ideal.)

After 12-24 hours have passed, strain your coffee with a strainer or by pressing down the plunger of the French press if you are using one.

You can now serve your cold brew coffee as is, dilute it, or mix it with other ingredients to make a homemade specialty coffee.
Serving:
4
ounces
|
Sodium:
6
mg