One of Spain's signature recipes, churros are a delicious fried pastry that makes a delicious breakfast or snack. They're also quite simple to make at home with this easy recipe.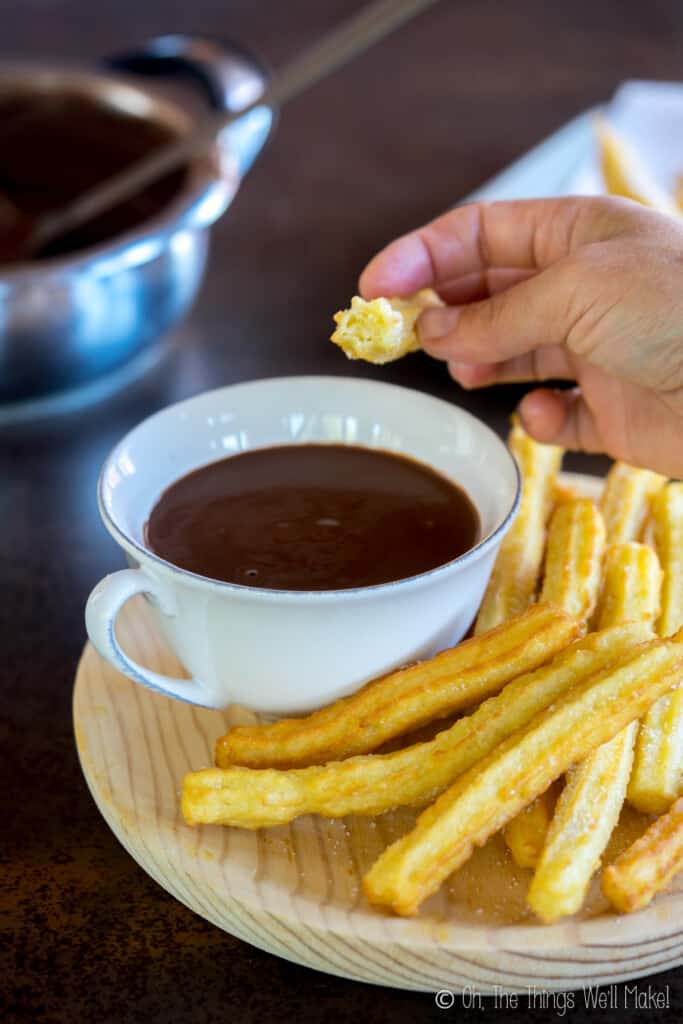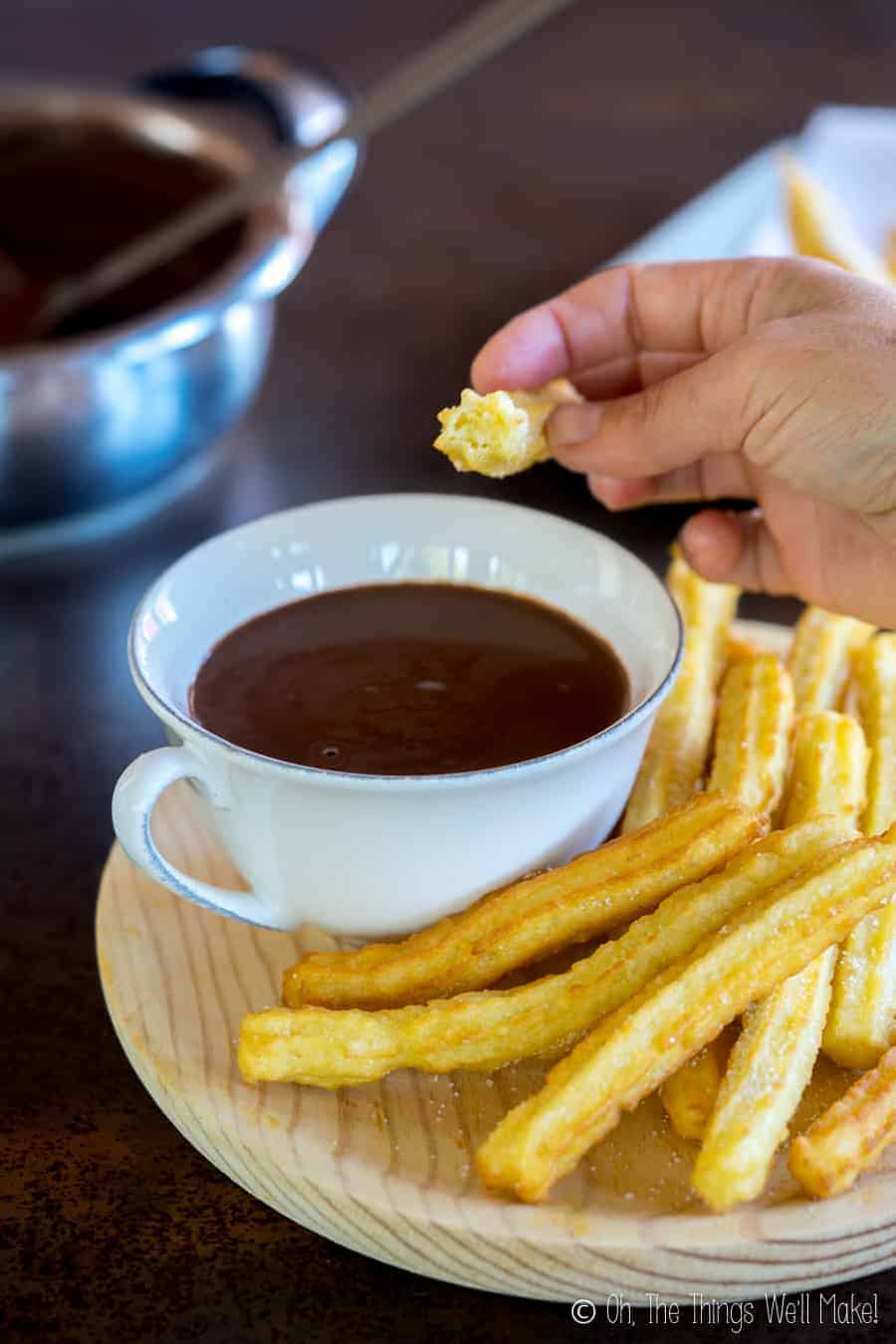 What are churros?
Churros are a simple fried pastry. They're basically the Spanish equivalent of a donut. Rather than being served in a donut shape, though, churros are normally served in a rod or loop shape. As the dough isn't sweet on its own, churros are usually served sprinkled with sugar.
They're also often accompanied by a thick hot chocolate known as chocolate a la taza. People normally dip the churros in the hot chocolat3
While they can often be found for breakfast at bars or cafés, churros are also commonly found as street food. They're sold at fairs, holiday celebrations, and flea markets from mobile churrerías. These churrerías are the Spanish equivalent of cotton candy or elephant ear stands at fairs back in the US.
In my town, the most popular churros are those that are sold in the All Saints' Day fair. The Caspolina, the most popular churros truck here, is known to have long lines of people waiting to buy them almost every night the fair is in town.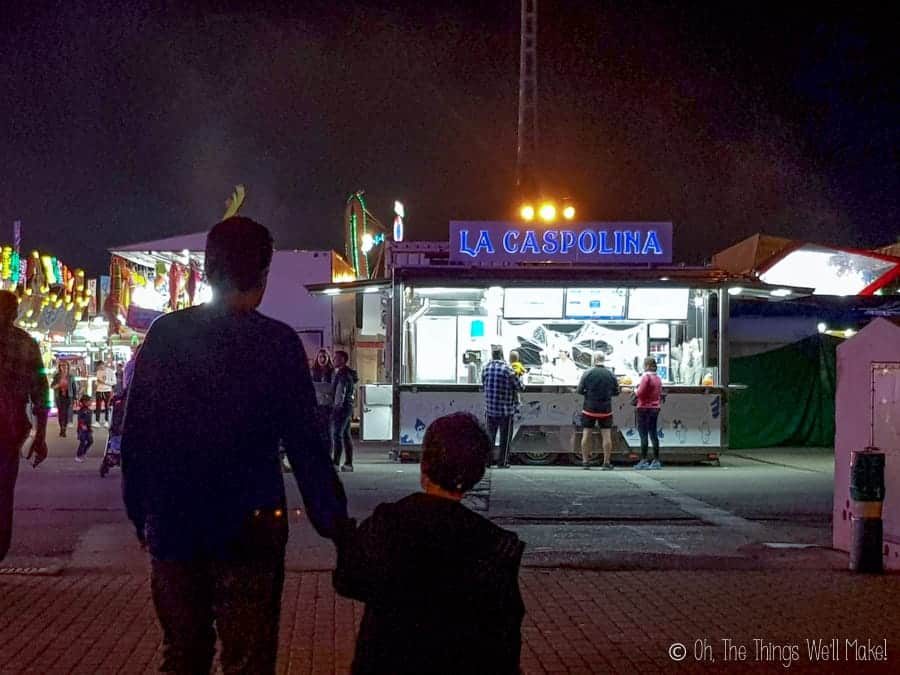 Types of churros
The churros from street trucks are normally served in paper cones for carrying around. They can be found plain, sprinkled with sugar, covered in dark or white chocolate, or even filled with pastry cream.
My husband knows and often talks to the owner, and one night he gave us a new savory variety to try (one that wasn't officially on the market yet): churros bathed in a homemade salsa brava.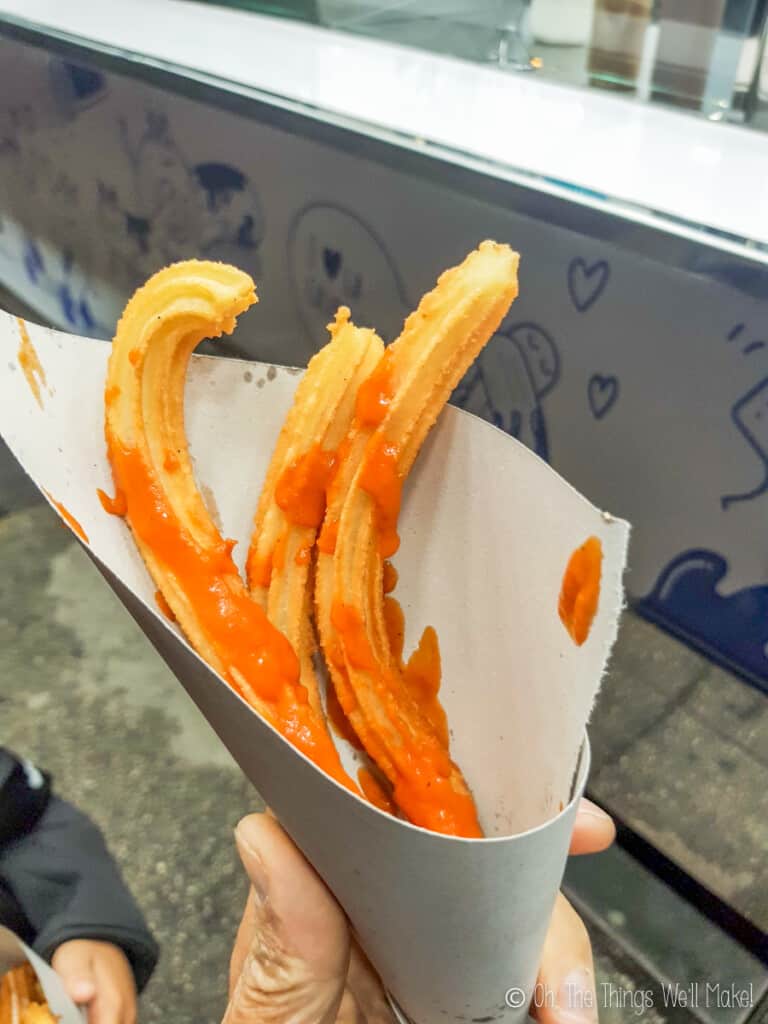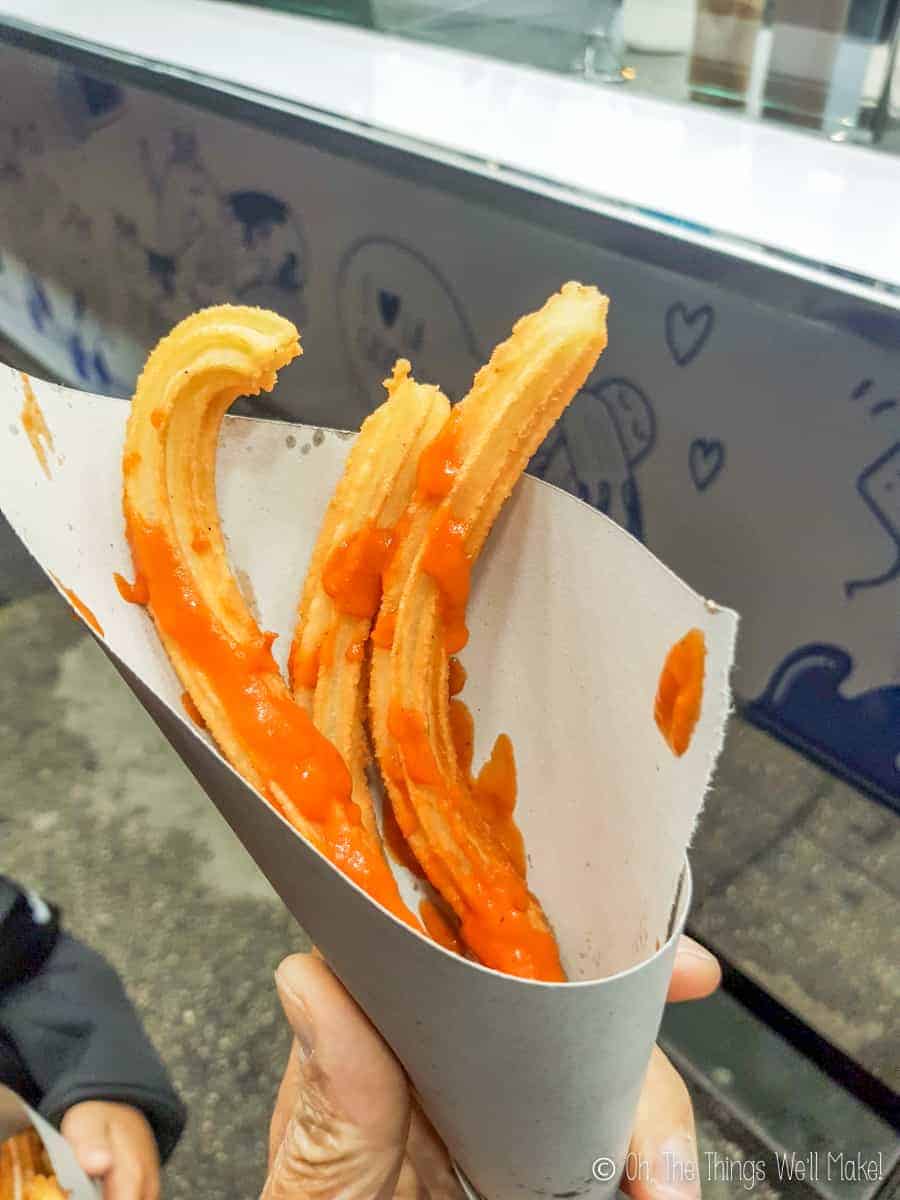 He also told us how delicious they are when sliced open and filled with ham and cheese. (I've yet to try that myself.)
Pizza churros, anybody?
Churros vs. Porras
In my area of Spain, churros are normally quite thin and striated. The striations are formed as the dough passes through the star-shaped tip or plate of the machine that dispenses the dough. These striations are said to help give a crispier, more well-cooked churro.
In other parts of Spain, "porras" are more popular. They are a thicker type of churro that is fried without the typical striations. They also are often made with baking powder to give a lighter, less dense dough.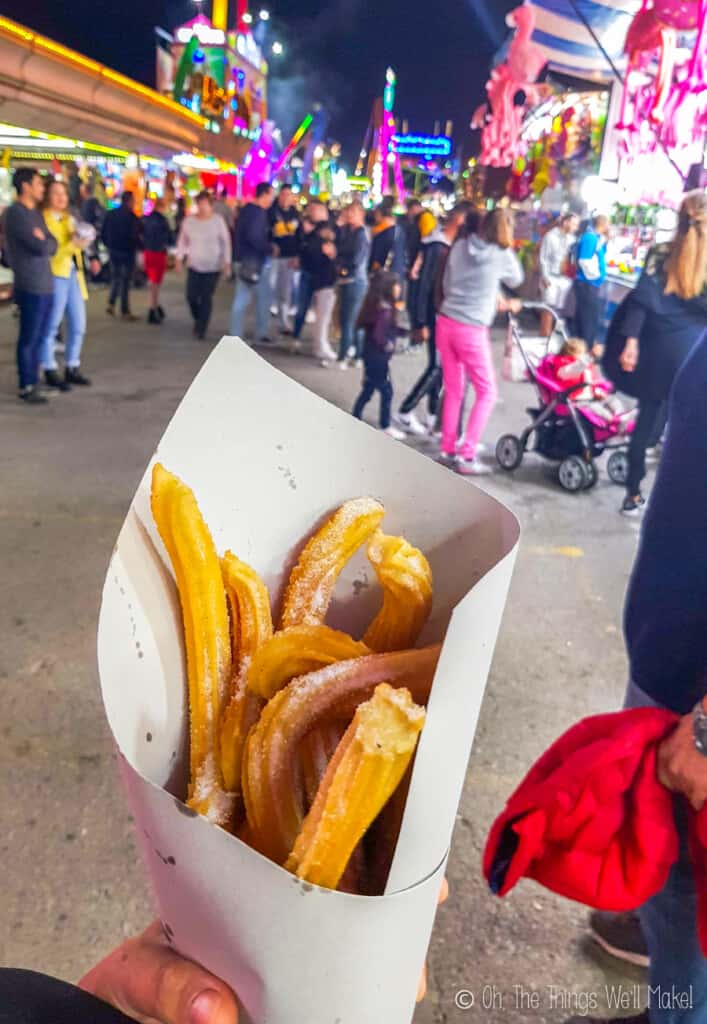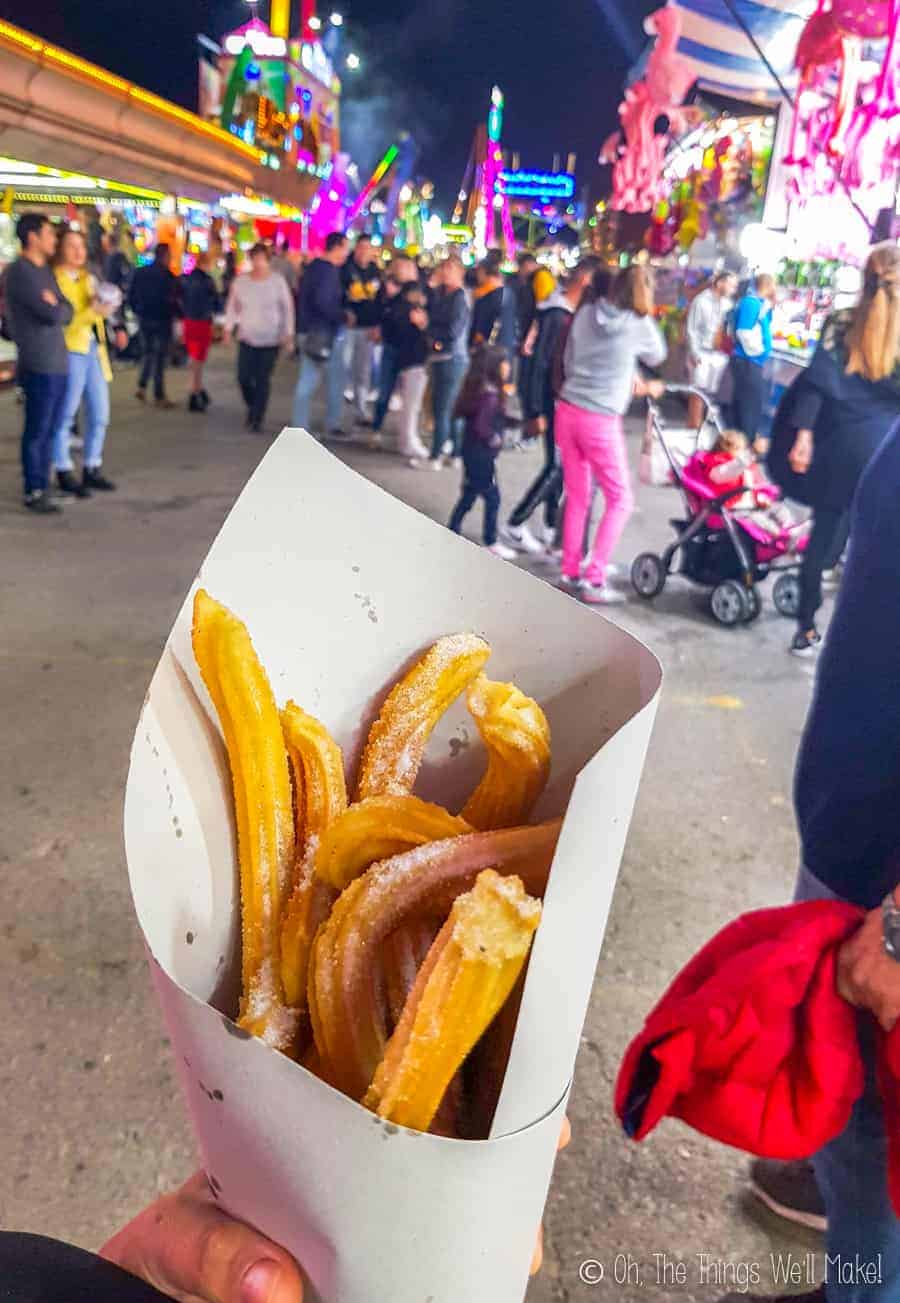 How are Spanish Churros different?
Spanish churros are a bit different than their Latin American counterparts.
Rather than being sprinkled with cinnamon and sugar, the distinct flavor of these churros comes from being fried in olive oil.
(It drives me a bit crazy when I see things labeled as being "churros flavored" just because they are covered in cinnamon and sugar. I have yet to see churros here served with cinnamon.)
Olive oil is one of the most popular oils used in Spain. Olive trees are abundant here. I walk past wild olive trees on my mountain hikes all of the time. In fact, we used to have one in our backyard (but it sadly succumbed to a termite attack).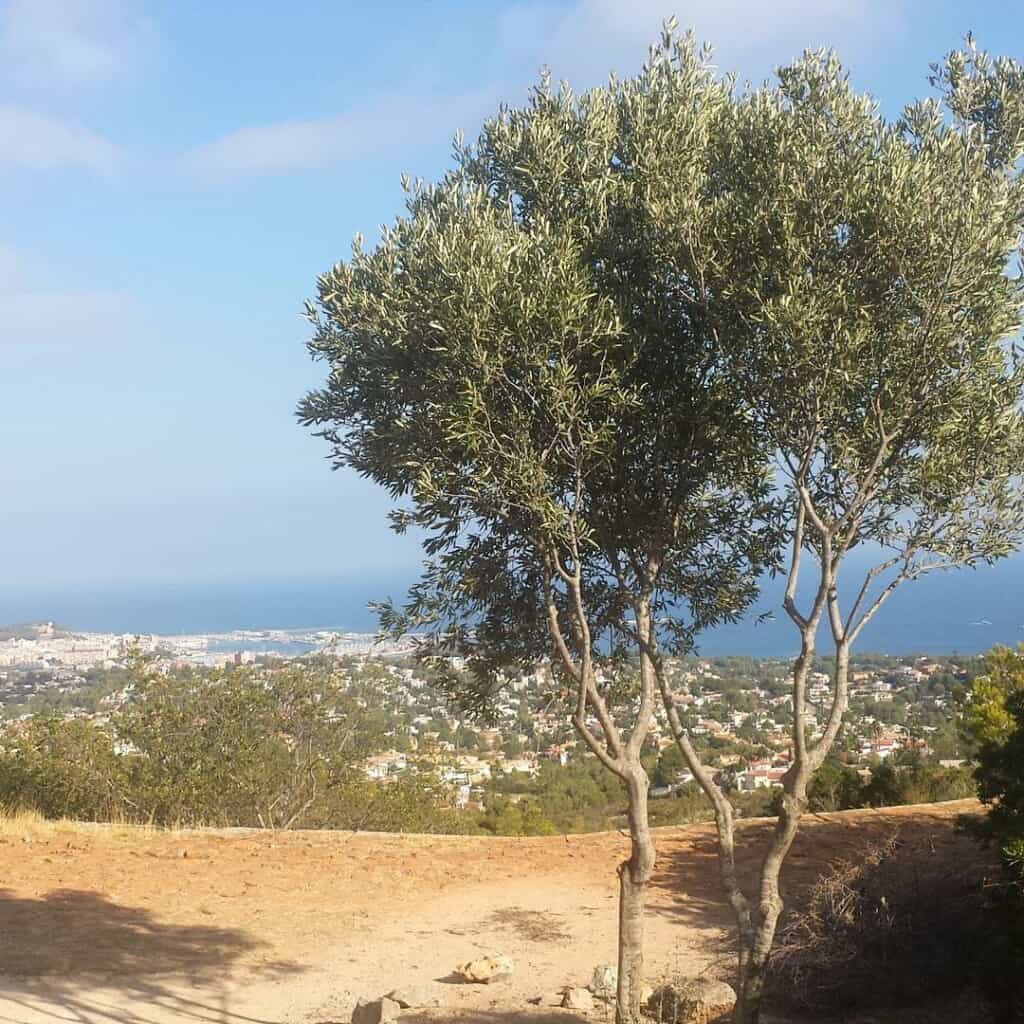 Some people use extra virgin olive oil. Others prefer to use one with a milder flavor. It's your choice, of course. While you can fry the churros in a different oil, it won't give you that same authentic flavor that olive oil does.
Churros con chocolate
When sold at bars and cafés, churros are almost always offered with "chocolate a la taza," a Spanish hot chocolate. Spanish hot chocolate is much thicker than the typical American hot chocolate. It's perfect for dipping or scooping up with a spoon. Luckily, it's also quite easy to make at home!
Spanish Hot Chocolate: Chocolate a la Taza
Spain's version of hot chocolate is thick and meant for dunking churros and sweetbreads into it. Learn how simple it is to make chocolate a la taza for chocolate and churros using only 2 ingredients!
Check out this recipe

Forming the churros
There are several ways that you can shape your churros.
Your first option is to buy a special churros dough dispenser meant for dispensing the dough directly into the hot oil. Most of us aren't going to be making them enough to warrant buying something specifically for churros, though. Am I right?
Some people use a piping bag with a star-shaped icing tip. Keep in mind that the dough ends up being quite stiff, so it can be difficult to dispense from a piping bag. Also, it can be hard to find star-shaped piping tips large enough to make an ideal sized churro. Most piping tips are small and made for icing cakes.
For making my churros, I used the same thing I ended up using for making my homemade chorizo sausage, a cookie press. In fact, the special churros dispensers they sell for home use look a lot like a normal cookie press. Cookie presses usually come with a variety of plates for making different shaped cookies. I used the star-shaped one for making churros.
Cookie presses come in both manual and electric varieties. I found an electric cookie press for around the same price as a manual one, so I bought it for ease of use.
Where to dispense the dough
When they make churros at the fair, a special machine dispenses the dough directly into the hot oil. It dispenses and cuts the dough automatically as the oil moves in a circular pattern below. The movement of the oil keeps the churros from sticking to one another.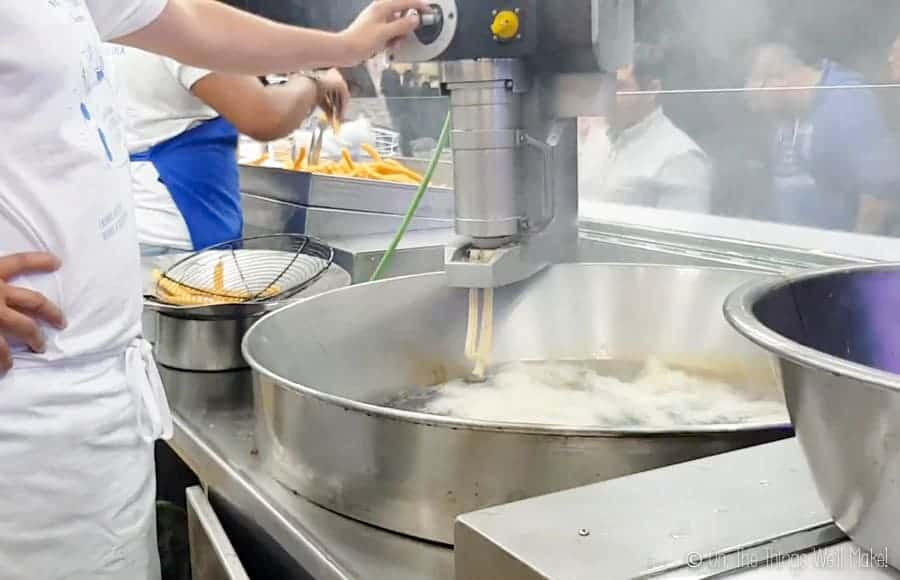 When making homemade churros, I used to dispense the dough directly into the oil, too. It was very difficult to dispense and cut at the same time over the oil, though, especially since you also have to worry about them not sticking to one another.
With time, I found that it was much easier (and safer) to dispense the dough onto a clean cloth first. With the churros on the cloth, you can easily cut them into an ideal size and then carefully add them to the oil.
Storing Churros for Later
If you want to make your churros ahead of time, the formed dough can be frozen for later.
To freeze for later, dispense the dough onto a tray with parchment paper. Place the tray in the freezer until the churros have completely frozen. Once frozen, remove the churros from the tray and store them in a freezer bag in the freezer until you want to use them.
To cook them, you can either defrost them or cook them directly from frozen. Either way works well.
Customizing the recipe
There are 2 main ways to make the churros dough.
Making churros with a choux dough.
I normally make churros using a choux-type dough. A choux dough is a pastry dough made with only water, flour, butter, salt, and egg. It's the same type of dough normally used for making puff pastries and eclairs. I like the color, flavor, and texture obtained with that dough.
To make a choux dough, you heat the water, salt, and butter until they reach their boiling point. You then remove the water mixture from the heat and add in the flour. Once the flour is mostly incorporated, you add in an egg.
On the other hand, churros are also commonly made with only flour, water, and salt (with an optional dash of olive oil). That makes those churros naturally vegan.
Making vegan churros
If you'd like to make vegan churros, it's quite easy to adapt my recipe. Rather than melting the butter in water, the water can be heated with salt and a dash of olive oil.
Use equal parts water and flour. That means you'll be using a bit more water than used in the choux dough to compensate for the missing liquid of the egg.
When the water reaches its boiling point, remove it from the heat source and add in the flour. Stir quickly to obtain a thick dough. (You can add a little more water, if needed.)
At that point, the churros are made in the same way as the others.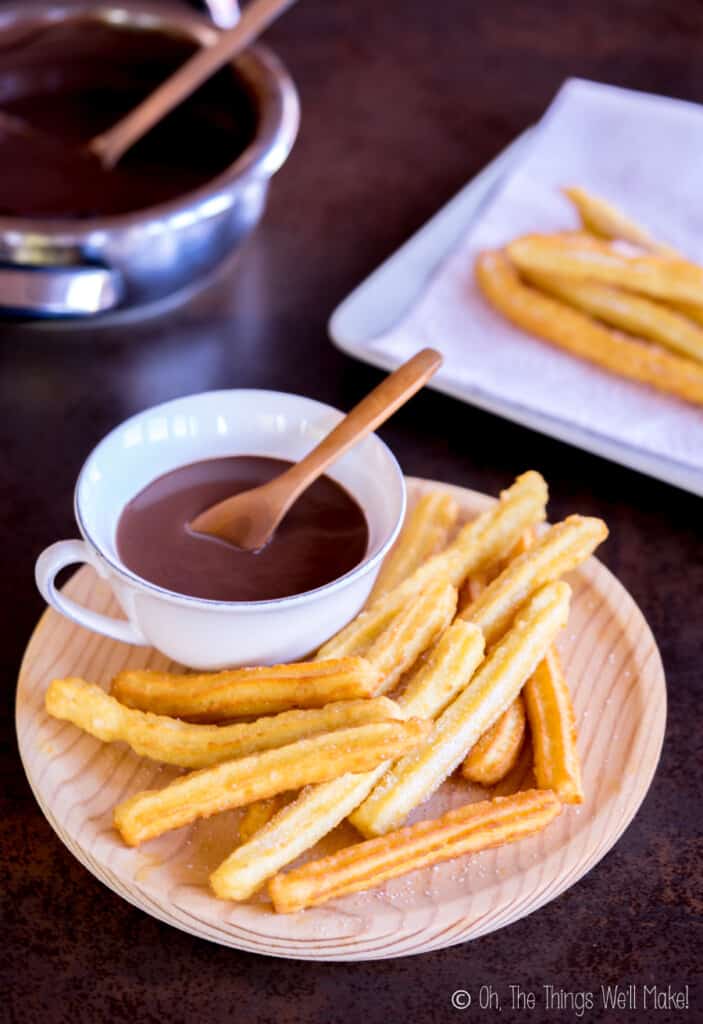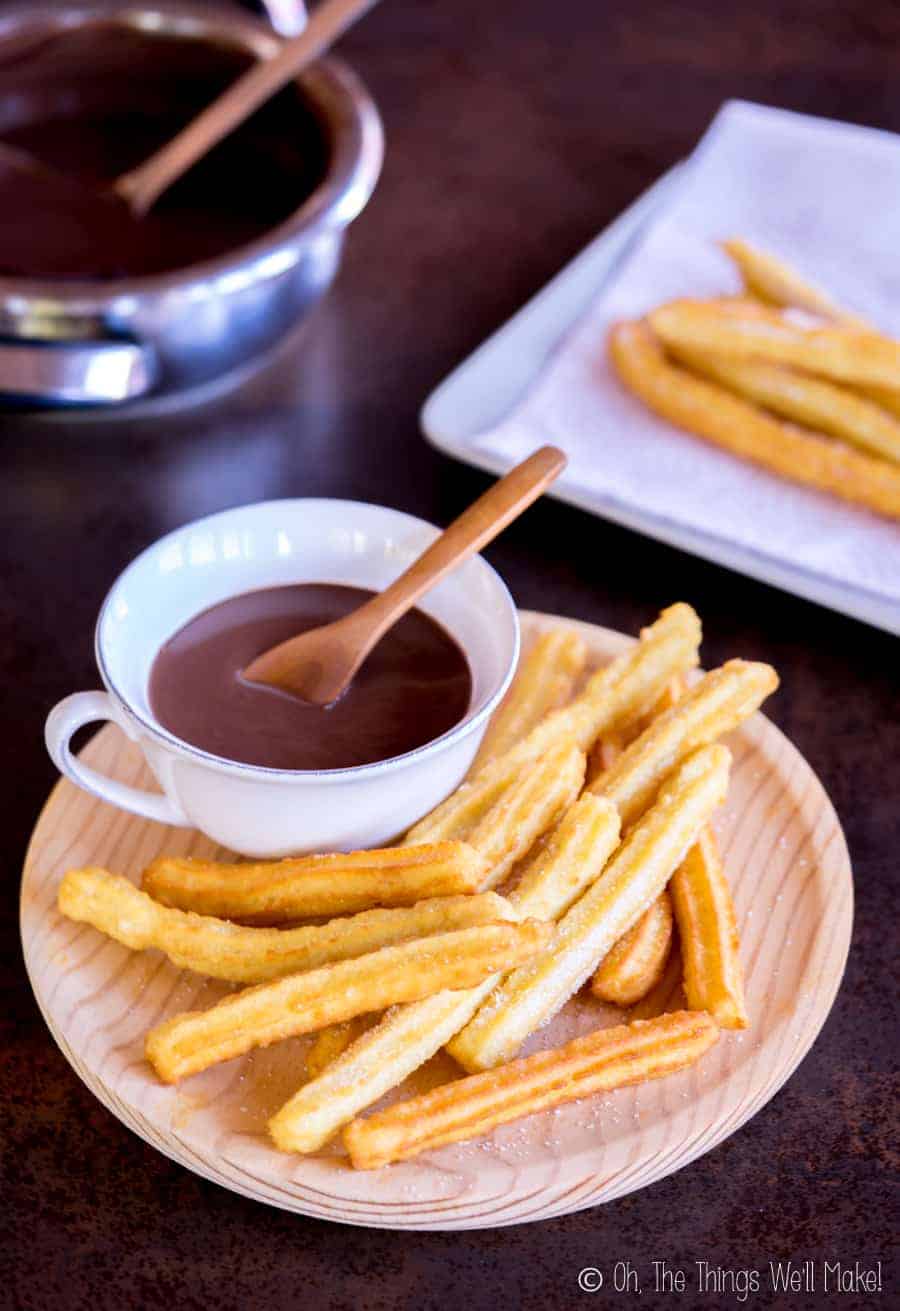 Gluten-free (Grain-free) Churros
For those with gluten allergies or sensitivities, churros can be made with tapioca starch instead of wheat starch. I have a recipe for grain-free churros on the blog.
Gluten-free Churros Recipe – Spanish Style
Avoiding gluten? You can still enjoy delicious, Spanish-style churros at home with this easy recipe. These churros are gluten-free, grain-free, and dairy-free, but are definitely not lacking in flavor.



Check out this recipe

Getting the right texture
When making churros, you want to cook them long enough so that they aren't raw in the center, but not so long that they become overly dry. To achieve that, the temperature of the frying oil is important.
Ideally, the oil should be at a temperature around 190ºC/375ºF. This ensures that the churros turn out perfectly when golden brown.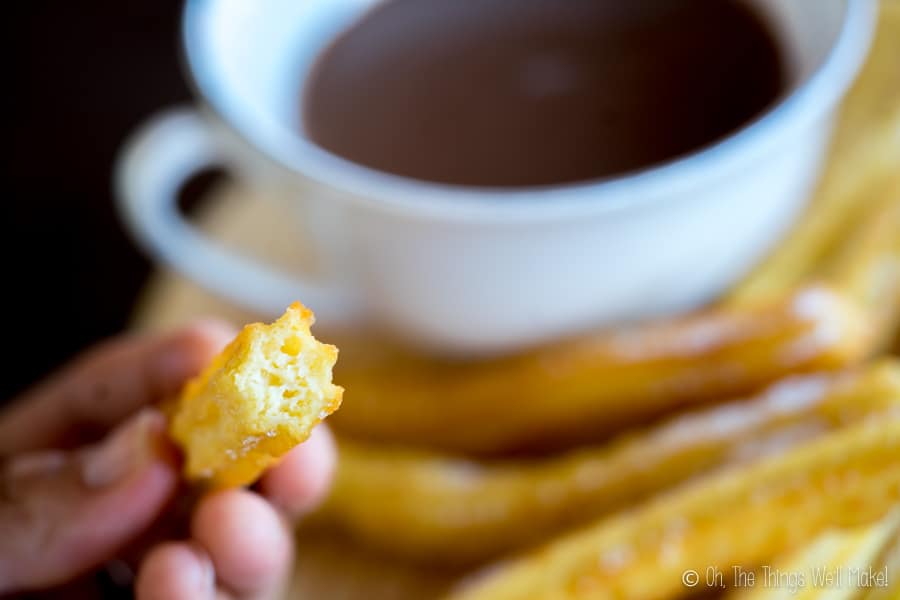 Watch me make churros
You can also see a clip of how they make them at the fair here at the beginning of my video.
Easy Churros Recipe
Craving more?
Subscribe to my newsletter for the latest recipes and tutorials!

Easy Spanish Churros
One of the more popular recipes in Spain, churros are a delicious fried pastry sold in bars, cafés, and from food trucks. They are often accompanied by a thick Spanish hot chocolate for dipping them.
Print
Rate
Ingredients
For Choux Dough
1 1/3

cups

water

1

Tbsp.

butter

1/4

tsp

salt

1 1/2

cups

flour

freshly ground using the pastry setting

1

egg
For Vegan Churros
1 1/2

cups

water

1

Tbsp.

olive oil

1/4

tsp.

salt

1 1/2

cups

flour
Instructions
Mix the water with the butter and salt over medium to high heat on your stove. If making the vegan churros, mix the water with olive oil and salt.

When it begins to boil, remove it from the heat.

Immediately mix in the flour until it's completely incorporated into the water mixture. If making the vegan version, you can skip to the shaping step. You can add water, if needed, to get a thick, workable dough.


For the choux dough version, add the egg, and mix well until all of the ingredients are completely combined. You will end up with a very thick batter.

Heat the olive oil in a pan over medium heat. You'll want to use enough oil for the churros to be able to float in the pan without touching the bottom.


To shape the churros, load the batter into a churros dispenser, heavy-duty piping/frosting bag, or a cookie press. I use an electric cookie press with a large star-shaped disk. If you are using a piping bag, use the biggest tip you can find. A star-shaped tip will make your churros look more authentic.

Pipe the churros onto a clean cloth and cut them to a size that will fit in your pot for deep frying.

When the oil has warmed to around 190ºC/375ºF, you can begin to add the piped dough into the hot oil.

Cook until the churros are golden brown.

Remove from the oil, and immediately sprinkle with granulated sugar.

Continue with the process until you have finished using up all of your dough.
Notes
Nutritional information is based on the dough before deep frying it. Deep frying normally more than doubles the calories of the foods. The fat amount will also increase with frying.
You can also make gluten-free/grain-free churros.
To make the churros ahead of time, the dough can be dispensed onto a tray with parchment paper and frozen. They can then be stored in a freezer bag until you are ready to fry them. (You can fry them directly from frozen or defrost them first.)
Serving:
1
churro, not fried
|
Calories:
68
kcal
|
Carbohydrates:
11
g
|
Protein:
2
g
|
Fat:
1
g
|
Saturated Fat:
1
g
|
Cholesterol:
8
mg
|
Sodium:
47
mg
|
Potassium:
18
mg
|
Fiber:
1
g
|
Sugar:
1
g
|
Vitamin A:
10
IU
|
Calcium:
4
mg
|
Iron:
1
mg
Churros are delicious when served with some homemade Spanish hot chocolate.