You don't need to buy expensive equipment to do your own silk screening. Learn how to silkscreen with common materials that you may already have at home.
For my son's Wall-E party, I wanted to do something a bit different, and wanted to make use of my t-shirt sleeve pouch idea for making cute, easy party favor bags. Considering the theme of the movie Wall-E, I thought it was particularly fitting to use recycled materials for the party favors, so I made good use of the sleeves of old t-shirts we had sitting around the house.
Once I had my favor bags sewn up, I was stuck on how I was going to decorate them. I was, after all, making enough in case all of his class decided to show up to the party, and he has 25 kids in his class! I knew that I'd be inviting a few other kids, too, so I had 30 favor bags prepared.
My first thought was to use my Silhouette Cameo to either cut Wall-E's out of iron-on vinyl for each pouch, or out of freezer paper to make stencils for painting each one. I like painted designs better, but making 30 freezer paper stencils didn't sound like much fun. Then I remembered something that I have been wanting to try for awhile, silk screening.
Silk screening is perfect for making multiple copies of one design because once you have your screen made, it is easy to whip out one painted design after another.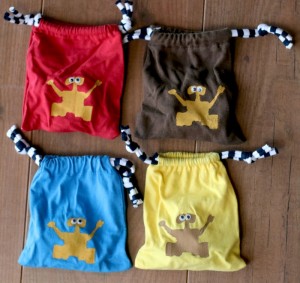 I looked into buying silk screening materials, but they weren't cheap, and I thought it would be a waste to spend so much money for a silk screening kit for such small, simple designs. Plus, I always like doing things myself whenever I can.
So, I raided our garage for supplies, and found a few pieces of wood from which I could make a frame. I went through my cloth stash to find a cloth with a loose weave for my screen, and I looked through my craft supplies to see what I could use for blocking off the screen, and I decided on "puffy" fabric paints. I had seen tutorials online that used Modge Podge, but I can't find that here in Spain, and wasn't sure how permanent that would be anyway.
Let's do some Easy Silk Screening!
Here is how I made my screen.
1. Using a staple gun to staple the strips together, I made a small, rectangular frame out of spare strips of wood.
2. Once my frame was ready, I stapled a layer of light-weave cloth over the frame. To stretch it evenly, I began by stapling it to the frame on one side, moving to the opposing side next, and then worked my way to the other two sides. I then cut off the excess fabric.
3. Once my frame was ready, I cut my design, in my case a silhouette of Wall-E, out of contact paper.
4. I stuck my contact paper design onto the frame, and painted around it carefully with the "puffy" fabric paint.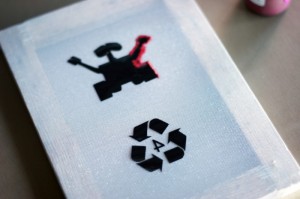 5. Set the frame aside, and once it is completely dry, peel off the contact paper. If you need to, you can fix the details with a little more fabric paint.
Now you can use your frame for silkscreening!
1. Prepare your favor bag, or whatever you want to silkscreen, by stretching it over a spare piece of cardboard. This not only ensures that your fabric is held smooth, but also keeps the paint from passing to the back of the bag.
2. Place your screen over your fabric with your design in place where you want to paint it.
3. Add some paint in a line across the top of your design. It's a good idea to practice first on a spare piece of fabric. It took me a few tries to get it right!
4. Using an old credit card, or something similar, pull the paint across the frame, making sure it gets pushed into all areas of your design.
5. Pull your frame up, and admire your work! Easy as that!!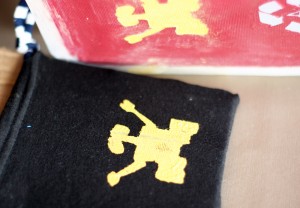 Now you can embellish your work with goggly eyes or rhinestones, if you like.
Want to see how it works on Video?