Keep your car smelling fresh with this easy, natural DIY car air freshener using the essential oils of your choice.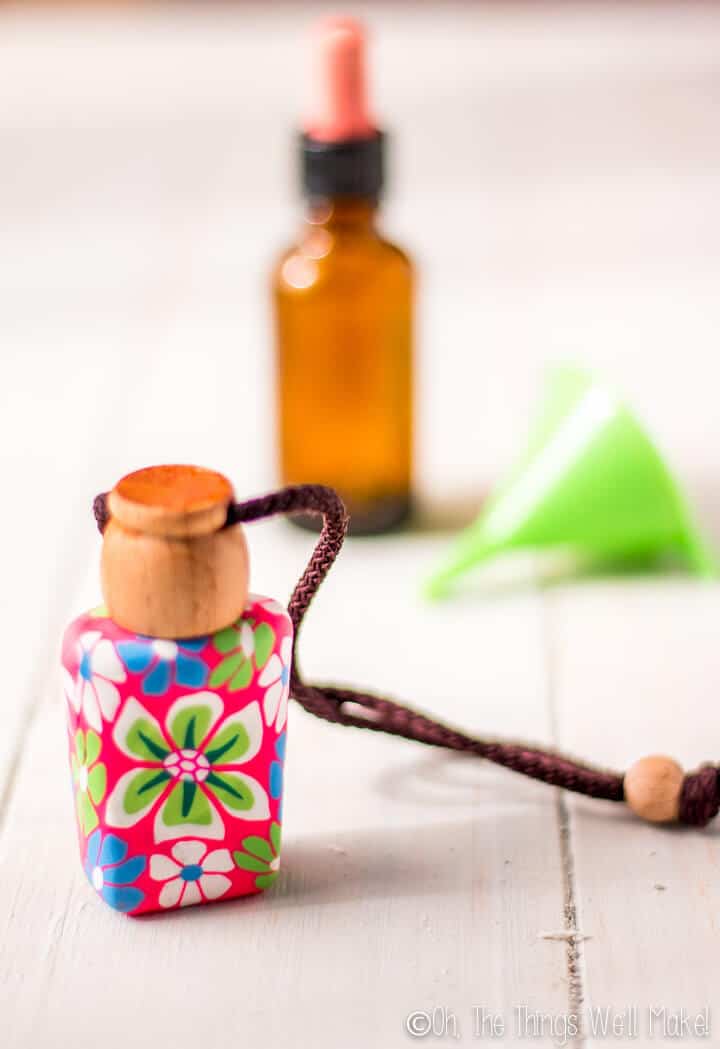 While I enjoy having a car that smells fresh and clean, I can't stomach the smell of most artificial fragrances. I've always had issues with people wearing too much perfume and then coming too close, or being in the car with someone who uses way too much fabric softener on their clothes. (I, myself, prefer to use a few drops of essential oil in either my homemade laundry soap or on my wool dryer balls, or both!)
Many artificial fragrances either make me nauseous or make it harder for me to breathe (I have a history of asthma). So, even before knowing that artificial fragrances could be potentially harmful, I've never been one to have one of those cardboard pine trees hanging from my car's rear view window.
Watch how to use the natural DIY car air freshener
The dangers of artificial fragrances
One of the main reasons that I started making a lot of my own natural products was to avoid the artificial fragrances used in most products. Unfortunately, the ingredients in fragrances don't need to be disclosed, despite the fact that it is becoming more apparent that many of the commonly used ingredients can be detrimental to our health.
The ingredients in some artificial fragrances may be carcinogenic, endocrine disruptors (meaning that they can affect your hormones), allergenic, and they could pose other potential problems to your health. I know that some definitely trigger respiratory issues for me, and I worry about how the artificial fragrances in cosmetics will affect my husband and son's sensitive skin. (My son has atopic dermatitis, so I've switched to fragrance free almost everything around the house.)
Often, I'll find a product with ingredients that don't look too bad to me, but then there's the "fragrance" enigma in the ingredient label that has me wondering if I should buy the product or not. I have also noticed when looking up products in the EWG Skin Deep® cosmetic database that some cosmetics would have an otherwise reasonably safe rating if it weren't for the fragrances they use. Not being sure about the safety of most artificial fragrances, I tend to stick to either using only essential oils or using no fragrance at all when making my own products.
I know that the topic of synthetic versus natural chemicals can be a heated debate. There are times, like with iron oxide pigments, that I prefer an iron oxide that has been synthesized in a lab over a naturally found one that may be contaminated with unsafe levels of heavy metals. So, no I don't think all synthesized products are "bad" and that all natural products are "good," but that's a whole other topic for another day. In the case of artificial fragrances, I don't know enough about each type of artificial fragrance to be able to make an educated choice about which ones to use. So, I choose to do what I think works best for my family, using a mixture of fragrance free and naturally fragrant ingredients when possible, and try to share my findings with all of you. I think by now you probably know that I tend to prefer the more natural options for everything I make, but my main motivation when choosing ingredients is to always choose what I think is the most safe.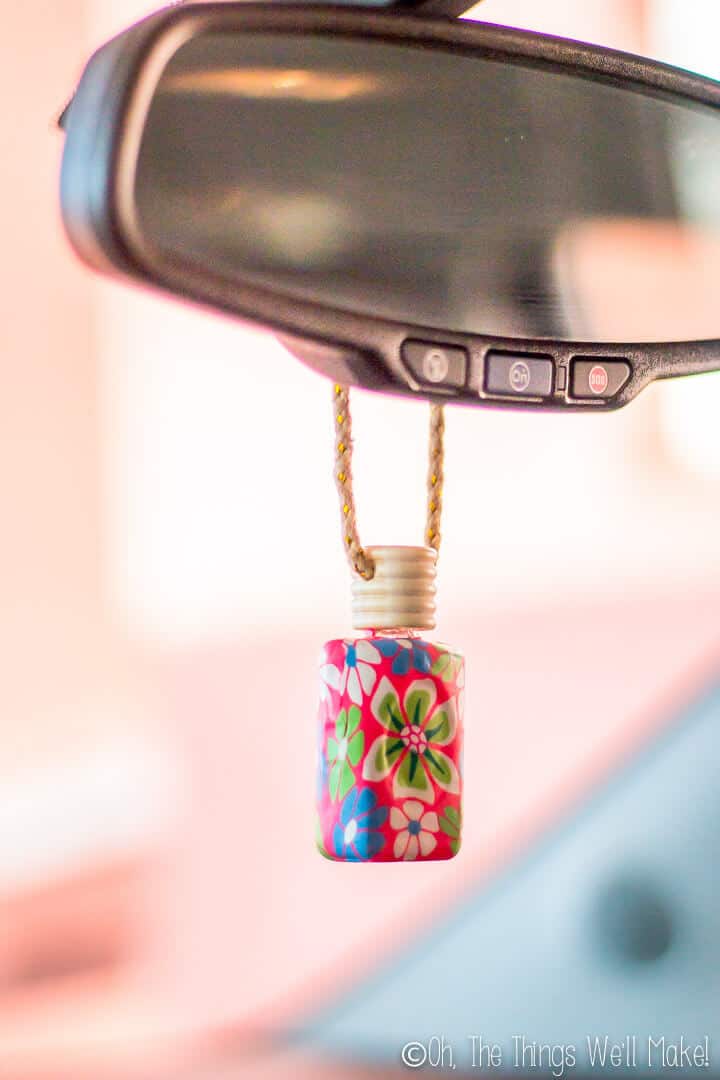 Types of essential oil car air fresheners
I've been using tiny glass bottles with wooden caps that can be hung on the rear view mirror for several months now. The tiny glass jars come in both plain glass and decorated varieties (I have both types), and look cute when hung from your mirror.
To get the air freshener to give off more fragrance, you tip the bottle over. Because the cap is made out of wood, it absorbs the essential oil and alcohol mixture which then evaporates into the air giving your car a nice fresh scent.
I have since seen another type of essential oil car air freshener. These vent clip air fresheners use a felt circle within a stainless steel "locket." You add a few drops of the essential oil of your choice to the felt, and when you use your air vent, it helps disperse the fragrance in your car. While I haven't personally tried these (yet), they have really good reviews, and look pretty nice. I may have to order some soon. If you've tried them already, I'd love to hear how they work for you!
How long does the fragrance last?
It's really hard to give a good estimate of how long a bottle of the air freshener lasts. It depends a lot on how strong you want the fragrance and how often you tip the bottle over to wet the wooden cap. It probably also depends on the temperature outside, the ratio of alcohol to essential oils that you use, and the type of alcohol you use. This is one of those cases in which I tend to use more inexpensive essential oils, and often buy large bottles of citrus essential oils or lavender, so they are cheaper per ounce, to use for this type of application. (I also add the same oils to my washing machine and wool dryer balls.)
For me, I'd say that the bottle lasts me a couple of weeks normally. I also have a 6 year old son who likes to tip the bottle over and have the scent be stronger. Even if you don't tip the bottle over, the oil/alcohol mixture is constantly evaporating, so you'll have a subtle fragrance in the car even when you do nothing.
From what I've read online, the locket vent type essential oil car air fresheners last a couple of days with a couple of drops of essential oil.
Natural DIY Car Air Freshener
Looking to make more?
Subscribe to my newsletter for the latest projects (and recipes)!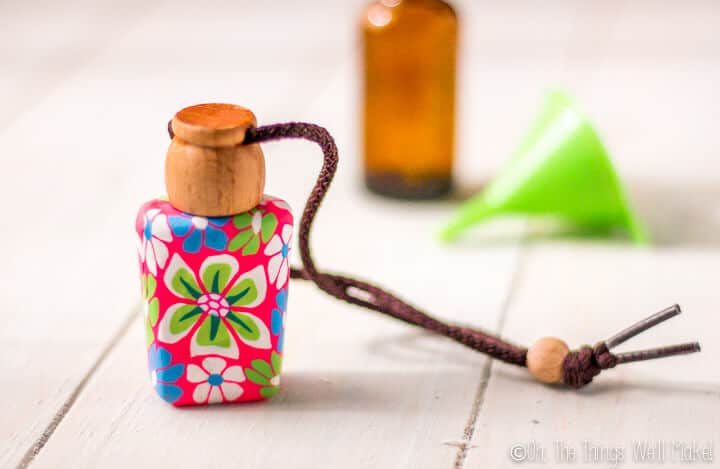 Natural DIY Car Air Freshener
Keep your car smelling fresh with this easy, natural DIY car air freshener using the essential oils of your choice.
Print
Rate
Servings:
1
air freshener
Materials
5

ml

alcohol

denatured alcohol, vodka, etc.

5

ml

essential oil

of choice
Instructions
Open the air freshener bottle and remove the small plastic stopper underneath the cap if your model includes one.

Pour the alcohol into the bottle. I've found using a small funnel helps. The alcohol should fill around half of the bottle. Since most air freshener bottles are 12ml, 5 ml is a good estimate. I started using a perfumer's alcohol (basically a denatured alcohol without much scent of its own), but that was rather expensive. I was afraid to use a denatured alcohol because I thought that its own scent would be overpowering, but in practice I haven't found it to be a problem. It works just as well. I've even tried vodka, which has also worked well and may even last a bit longer due to its lower alcohol content (meaning slower evaporation).

Fill the rest of the bottle with an essential oil of your choice. The instructions with the bottles I bought suggested using a 50%/50% mix, but lately I've been using a little more alcohol and a little less essential oil. I haven't found too much of a difference between how strong the scent is or how long it lasts between doing the different concentrations, so it may end up being a bit less expensive that way.

Put the wooden cap on the bottle without the plastic stopper. Tip the bottle over to wet the cap with the alcohol and essential oil mixture.

Hang the bottle from the rear view mirror of your car. Adjust the length of the cord in a way that keeps the bottle from hitting your windshield in case of going over bumps. Any time you need to add a bit more fragrance to your car, just tip the bottle over for long enough to wet the wooden cap again. You can use the plastic stopper under the cap to keep the liquid from evaporating when not in use.