Easily make these low carb, crispy, flaxseed vegan and paleo tortilla chips and taco shells in less than 30 minutes, using just three simple ingredients!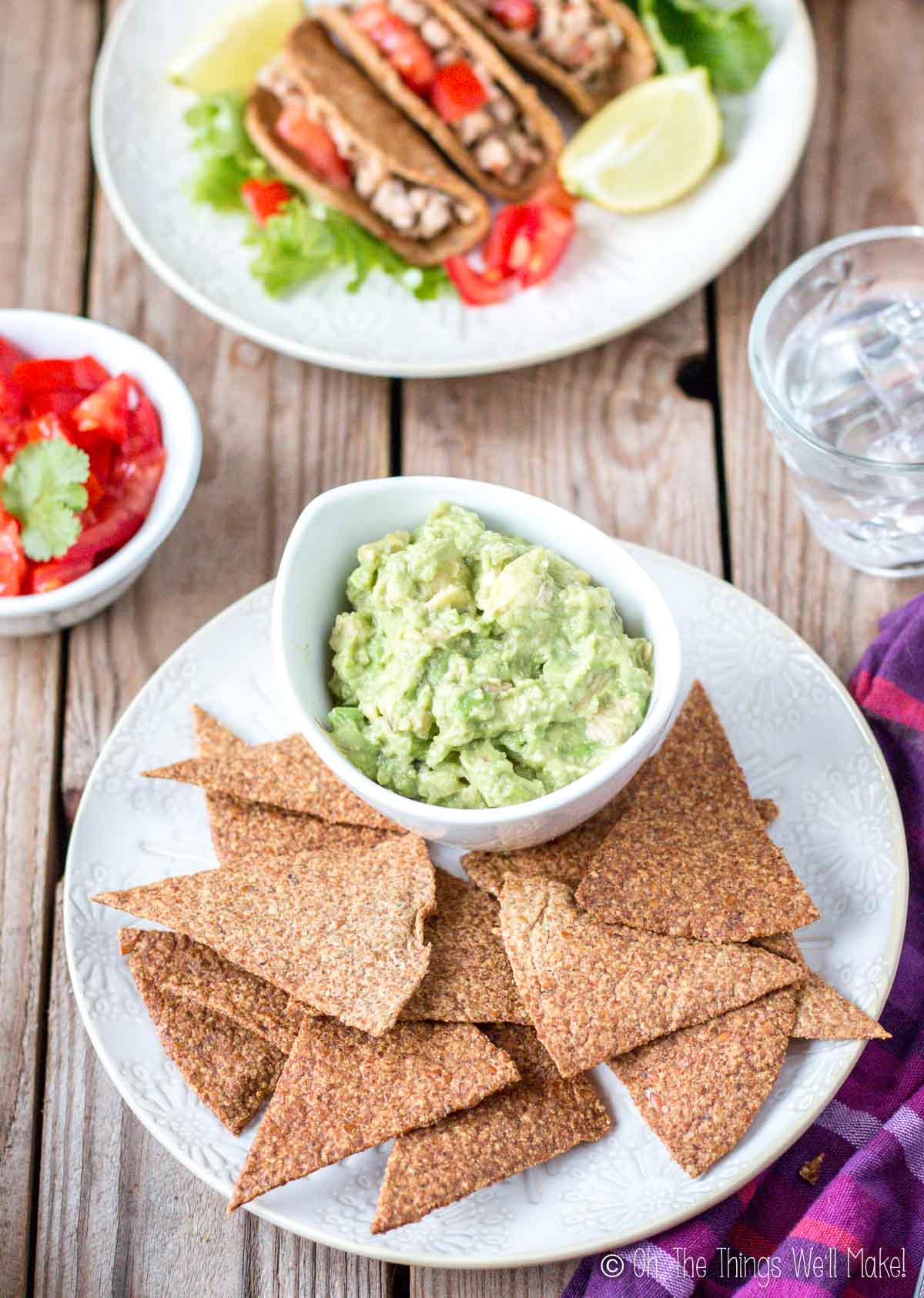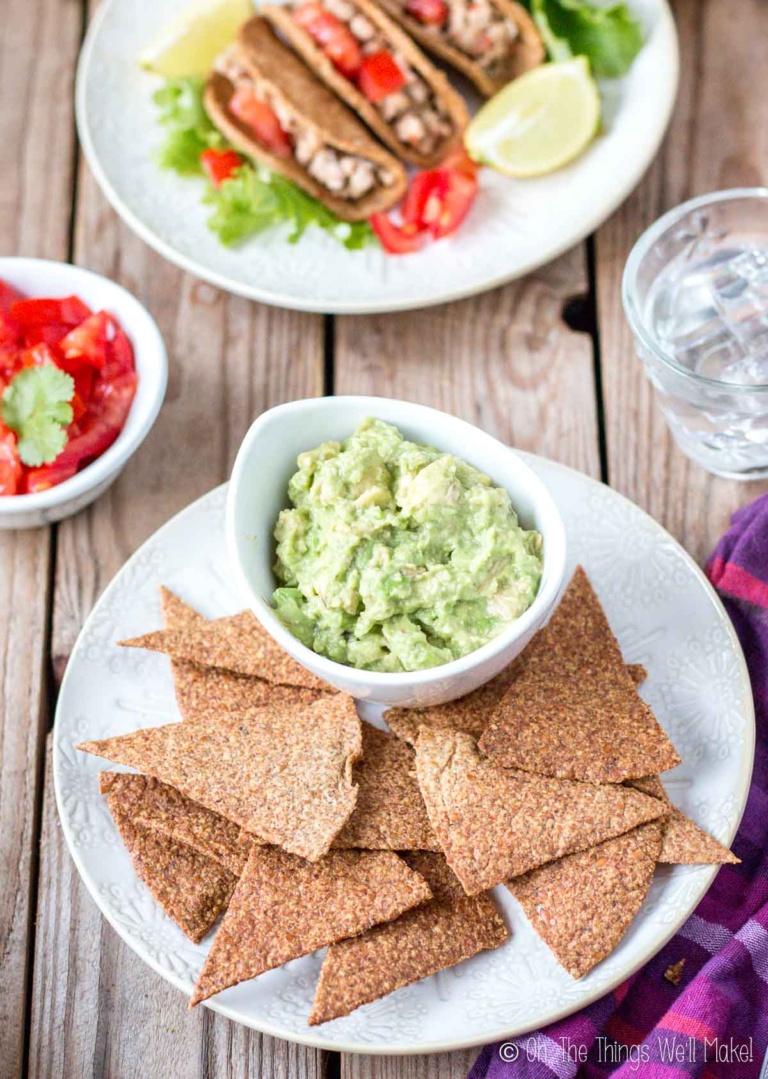 A while back, you may remember that I came up with a couple of ways to make flaxseed tortillas, one using eggs, and one without. At first I more often made the flaxseed and egg tortillas because I found them to be easier to make. Plus, having hens, I tend to have a surplus of eggs that I want to use up. When I first started making the vegan flaxseed tortillas, the ones without eggs, I used enough water to easily mix the ground flaxseeds with the water. I didn't realize, though, that I didn't really need that much water and that the excess water was what was making it take so long for me to make the tortillas really work. During the cooking process, you are working to evaporate off the water so that the dough is no longer sticky and so that it holds up into a perfect tortilla shape.
It wasn't until I had received several messages from people telling me how much they loved them, and about how great they were baked into chips, that I decided to play with the recipe a bit more and see if I could make the most of the concept and make it the best it could be.
Through the process, I realized that there was a much easier way to use this concept. I greatly reduced the water in the recipe, and I also changed the method I used for making the tortillas themselves.
Originally, I told people to push the dough into the pan and keep pressing it into a tortilla using a spatula while you were cooking it. That method worked well for me and allowed me to make a perfectly circular tortilla (the exact size of the bottom of my pan), but I have to admit that it was a bit of a tedious process that went through various stages of a stickiness, especially when using an excess amount of water, before finally working out right. The idea was to press the tortilla as thinly as possible, which for me was somewhere around 1-2mm thick.
It turns out, though, that if you don't have a perfectly smooth, silicone spatula like the one I originally used, following that process was easier said than done. Plus, when using an older pan, the dough did stick at times to the bottom of the pan. (I'm using an older pan in my new video about making tortilla chips and you can see that some of the dough does stick in the bottom of that pan when I'm forming my dough. The dough that stuck there did flake off once the moisture evaporated, and I probably wold have been able to make a tortilla in it had I continued with the process, but I can see why that would scare people off from finishing out the process to the end.)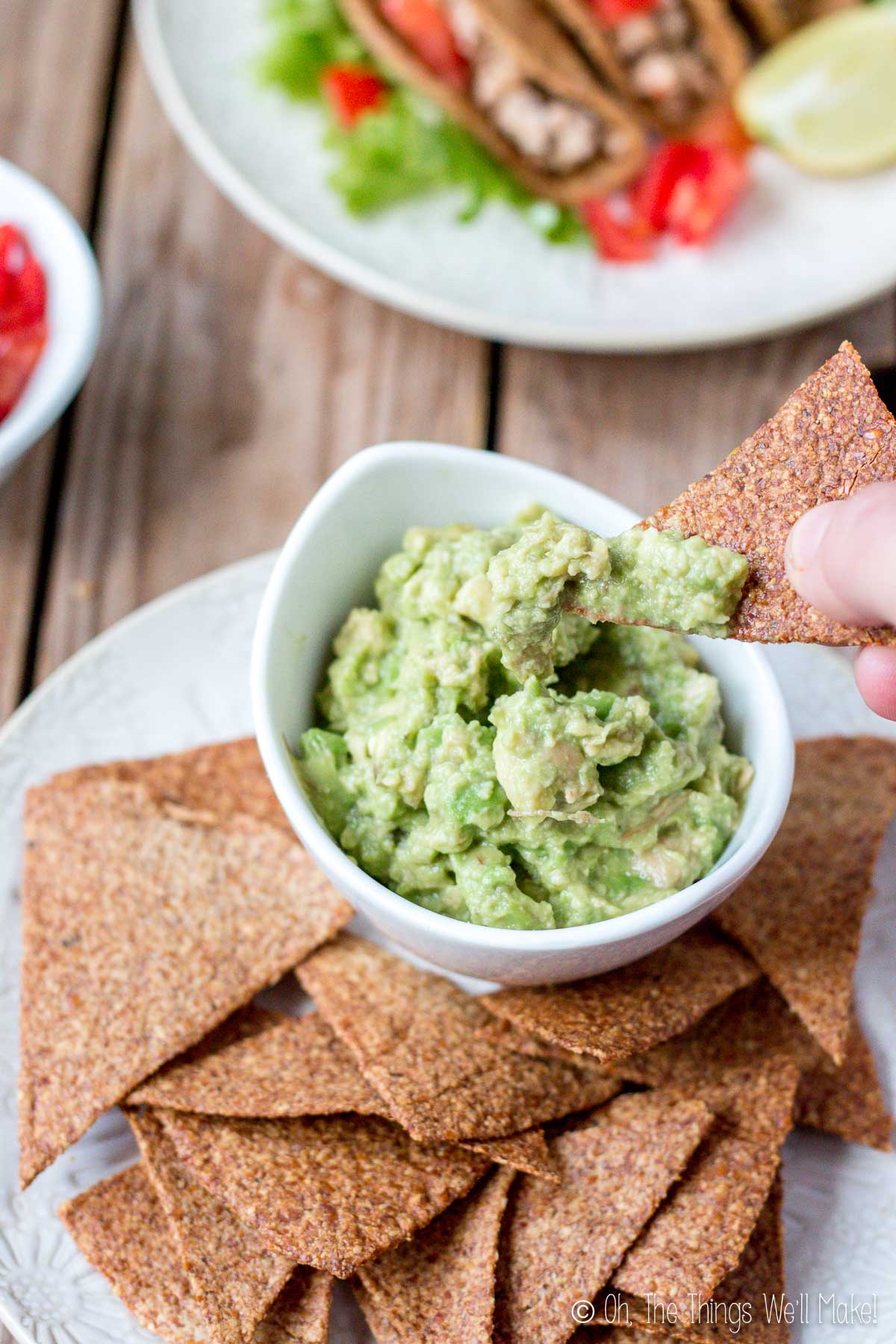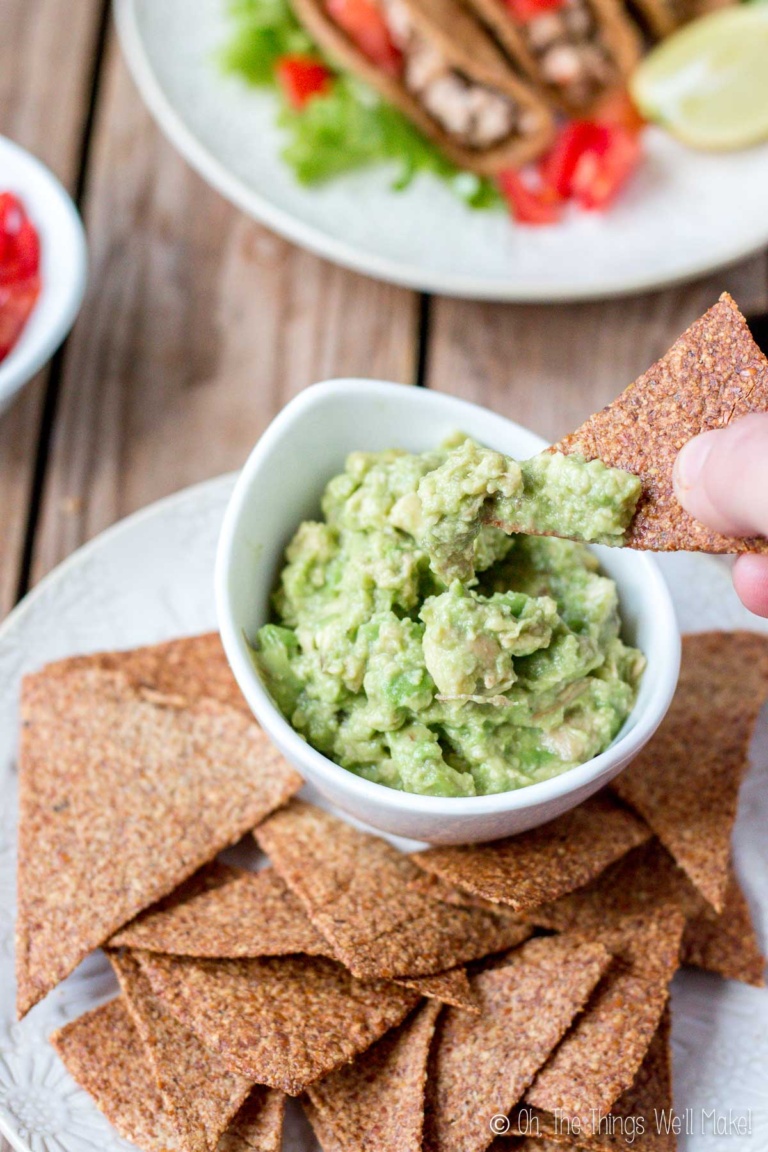 My new method is super easy and quick- so much so that I was able to make the tortilla chips and taco shells in the video using one hand- while filming with the other! 🙂 Also so much so that I have been making the tortilla chips pretty much every week since I made the great discovery. Paired up with some homemade guacamole or salsa, these are pretty great and actually taste pretty close to "regular" tortilla chips made with corn.
While you can use either golden or brown flaxseeds for making this recipe, I think the lighter colored ones make more authentic looking tortilla chips. I used the golden flaxseeds in all of the pictures in this post. That said, since there are black tortilla chips on the market, perhaps the brown flaxseeds wouldn't really make such strange looking tortilla chips.
I'm concentrating on how to make flaxseed paleo tortilla chips here in this post, but if you want to better see my tips for making tortilla shells, check out my post about making the taco shells on the Rubies and Radishes blog or watch the video below:
Ready to make some paleo tortilla chips?
Craving more?
Subscribe to my newsletter for the latest recipes and tutorials!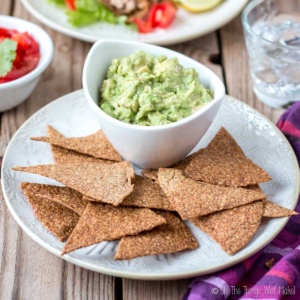 Flaxseed Paleo Tortilla Chips and Taco Shells
Easily make these low carb, crispy, flaxseed vegan and paleo tortilla chips and taco shells in less than 30 minutes, using just three simple ingredients!
Makes about 24 chips
Print
Rate
Servings:
4
6 chip servings
Ingredients
1/2

cup

flaxseed meal

1/8

cup

water

1

pinch

salt
Instructions
If you don't have flaxseed meal, you can easily grind your own in your blender.

Preheat your oven to 175ºC/350ºF, using a convection setting if you have one.

Preheat a skillet to medium high heat.

Mix together the flaxseed meal, water, and salt in the preheated skillet using a spatula to immediately combine the ingredients and push them together into a dough ball. The heat of the skillet helps to make the dough less sticky and more workable, so it's a good idea to use the spatula to help work the dough in the skillet for around a minute before forming it into a ball and using it.

With the help of two parchment sheets or sheets of wax paper, roll the dough into a very thin sheet. Make it as thin as possible so that it will crisp up quickly in the oven without getting air bubbles.

Once the dough has been rolled thinly, cut it into tortilla chip shapes. I find it easiest to cut the dough into round/oval shapes first and then use a pizza cutter to cut each circle into 8 triangles. I can usually form 3 circles from which I can cut 24 tortilla chips with each batch.

Bake in the oven for 8-12 minutes, checking the dough periodically for crispness.

Once crispy, remove from the oven and serve with guacamole or homemade salsa.
Calories:
106
kcal
|
Carbohydrates:
5
g
|
Protein:
3
g
|
Fat:
8
g
|
Sodium:
16
mg
|
Potassium:
162
mg
|
Fiber:
5
g
|
Calcium:
51
mg
|
Iron:
1.2
mg