Super quick and easy to make, this strawberry chia seed jam can be whipped up with minimal time and effort, and doesn't need excess sugar for gelling.The other day, I was having fun in the kitchen trying to make up a sort of dough with yucas. You see, I love making grain free breads using tapioca flour, but tapioca flour gives some of the recipes an off flavor that I don't really like and that I have to hide with other flours like almond flour or coconut flour.
What seemed strange to me was that I don't notice that flavor in cooked yuca itself. After some reading, though, it seems that while the yuca is also known as the cassava plant, yuca or tapioca flour isn't usually interchangeable with cassava flour. While cassava flour supposedly uses the entire yuca, tapioca flour is typically referring to just the powdered starch.
What does this have to do with strawberry chia jam, you ask?
Great question, of course. I was getting to that.
Because I can't find cassava flour here in Spain, I decided that I would just use the yuca plant itself to make a sort of dough. I cooked up some yuca, pureed it in the food processor, and ended up with a sticky mess that I decided to solidify somewhat with a bit of coconut flour and almond flour.
To my surprise the dough firmed up into a non-sticky, super elastic and easily workable dough.
The only problem is that adding so much coconut flour and almond flour together made the dough a bit too sweet for the empanadas that I was going to try to make.
Why did I want to make some strawberry chia seed jam?
I decided to work with my newly made dough and make some paleo pop tarts, but I needed something to use as a filling.
I never have jams or jellies at my house. To be honest, I've never really liked jams or jellies. I find them too sweet, and in general I don't love the flavor of cooked berries.
I gave it a little thought, though, and remembered having seen a My friend Krystal's recipe for chia seed jam. While her pictures were beautiful, I never really looked at the post, thinking why would I? I don't even like jam anyway!
Today was a different day, though, and I was ready to give it a try. Most jams use a ton of sugar because the pectin works with the sugar to help thicken them up. There is a fun way, though, to thicken up a fruit puree and make a much more natural jam without so much sugar.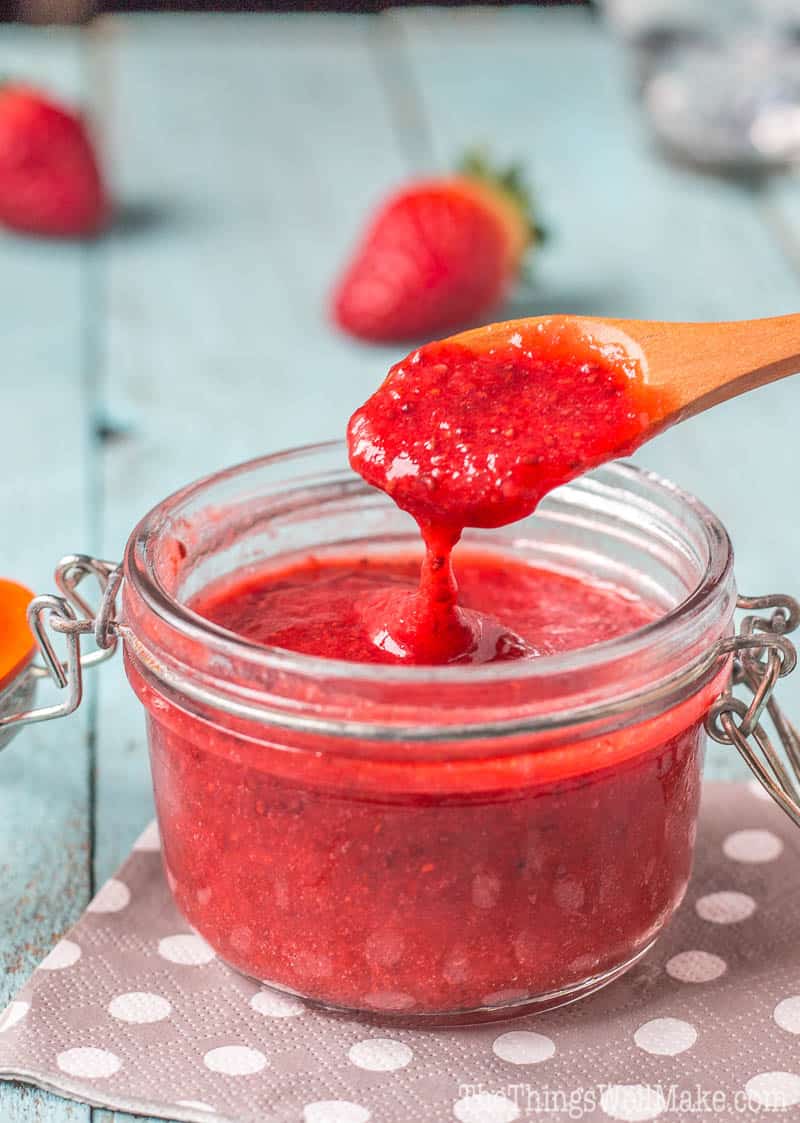 How do you thicken low sugar jams naturally?
So glad you asked…
Chia seeds are a seed from a plant in the mint family that have gained popularity in healthy living groups because of a few of their interesting properties.
Chia seeds are considered a superfood by many because they provide a high percentage of nutrients and antioxidants for the number of calories they provide. They are a good source of proteins, fiber, and minerals that are important for your bones (like calcium, phosphorus, and magnesium) which makes them a great addition especially to a vegetarian or vegan diet.
What makes them perfect for making something like this strawberry chia jam, though, is their ability to absorb liquids and then to gel up, thickening whatever puree/liquid that you use them in.
I made a trial batch of jam just using strawberries, honey, lime juice and chia seeds, and it was good, but I felt like it was lacking something. I ended up adding in a little bit of my homemade vanilla extract, and that totally changed it for me. I absolutely loved the combination. That said, feel free to experiment to find what combination works best for you…
Strawberry Chia Seed Jam
Craving more?
Subscribe to my newsletter for the latest recipes and tutorials!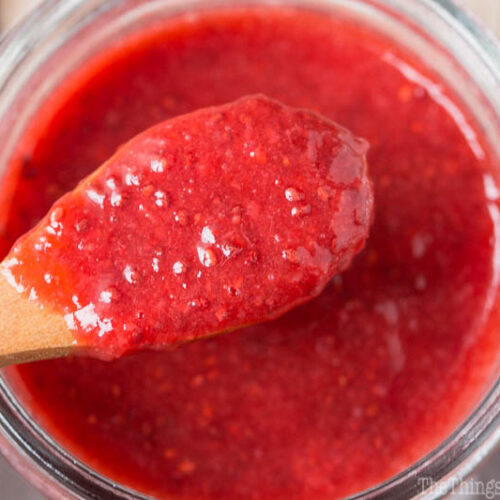 Strawberry Chia Seed Jam Recipe
Super quick and easy to make, this strawberry chia seed jam can be whipped up with minimal time and effort, and doesn't need excess sugar for gelling.
Print
Rate
Instructions
Add the washed and chopped berries (or puree for a smoother jam) to a saucepan over medium heat and star and cook until the berries are softened in the case of the chopped berries, or fully warmed through in the case of the fruit puree.

Add in the honey or sweetener you choose along with the juice of half a lime and continue to stir over the stove until the sweetener is well incorporated. If using chopped berries, press against them with a wooden spatula to help make more of a lumpy sauce. If using fruit puree, keep stirring until it appears to slightly thicken.

Remove the pan from the heat and add in the chia seeds and vanilla extract. I made my first batch without the vanilla, but I later realized that adding in the vanilla gave it a depth of flavor that completely changed the jam for the better.

Thoroughly stir in the chia seeds and wait a couple of minutes for them to gel up and thicken your jam. If you feel like it is not thick enough, you can try slowly adding in more chia seeds a little at a time.

Store in the refrigerator for up to 1-2 weeks. The jam will slightly thicken up when cold.
Serving:
1
Tbsp.
|
Calories:
18
kcal
|
Carbohydrates:
3
g
|
Potassium:
28
mg
|
Sugar:
2
g
|
Vitamin C:
9
mg
|
Calcium:
12
mg
|
Iron:
0.2
mg
If you are using this jam as a filling for homemade pop tarts, I'd suggest adding a little more honey or sweetener that what you'd normally use for jam. I used less than 2 Tbsp. honey when I made a jam for eating on yogurt or rice cakes, but I found it to be lacking sweetness when used in my first batch of pop tarts.