Keep the mosquitos away using the best essential oils for repelling mosquitos. I'll also share how to make a homemade mosquito repellent spray.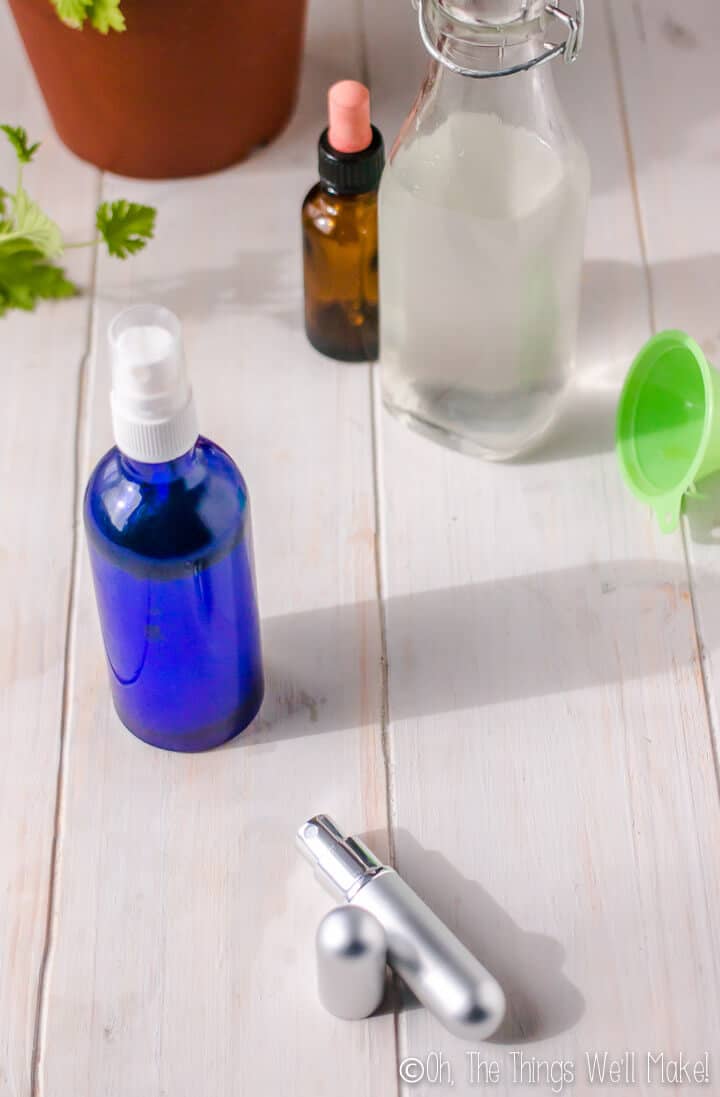 I've told you in the past about my son's sensitive skin, and all of the skin problems he has. Not only does he deal with the rashes associated with atopic dermatitis, but he also has strong reactions to mosquito bites. Whenever he gets bitten by a mosquito, he ends up with a big, inflamed bump that bothers him for days. His complaining about the itchiness and pain of the bumps often keeps both of us up at nights!
Preventing the mosquito bites in the first place is, of course, the best way to keep both of us happy and sleeping well. Here in Spain, the most common way to prevent mosquito bites in kids is with bracelets that use essential oils to keep mosquitos away. While they help, my son gets sick of wearing the bracelets everywhere, and they really only cover a small portion of his body anyway.
Do essential oils work as a mosquito repellent?
Essential oils have become unbelievably popular in the last decade, with claims of healing and preventing a myriad of things, as well as natural and DIY combinations for everything from household cleaning and laundry to aromatherapy and mood enhancement. While some claims may seem more than a little outrageous, there is one thing some of these oils can definitely not only prevent, but treat: insect bites!
Because they do work gently, they are used in the repellent bracelets used by so many kids here in Spain.
With the summer months upon us, hopefully you'll find the following list of essential oils helpful. These oils are said to prevent insect bites, and will come in handy to anyone venturing outdoors for fun in the sun!
Watch me make the homemade mosquito repellent spray.
Essential oils for mosquito repellent
Citronella
It should be no surprise that citronella essential oil is #1 on the list. With a proven track record of warding off pesky mosquitoes and other annoying bugs, it is one of the most reliable oils, which is why it shows up in most homemade mosquito repellent recipes. Many people find its fragrance unpleasant, but it is worth adding it to your mix if you are one of those people who seem to get eaten alive when you dare to step outside during these warm days.
This oil is safe for use by people of all ages over 6 months for aromatherapy purposes, and is safe to apply topically as long as it is heavily diluted. (You need to be especially careful about dilution when using on young children's sensitive skin.)
Tea tree essential oil
Tea tree essential oil is a great multipurpose insect repellent. It works well as a mosquito repellent, but is also is great for getting rid of and preventing fleas and other parasites in animals. (It is safe to use topically on dogs when highly diluted.) You could consider adding some to my homemade dog shampoo bar soap! Tea tree essential oil also keeps lice away. That's why I also used it as one of the top ingredients in my homemade lice repellent spray.
Tea tree essential oil not only works great as a natural insect repellent, but is very useful for all kinds of skin issues, including insect bite relief.
Tea tree oil is another essential oil that is generally safe for people of all ages over 6 months, as long as it is diluted for topical use.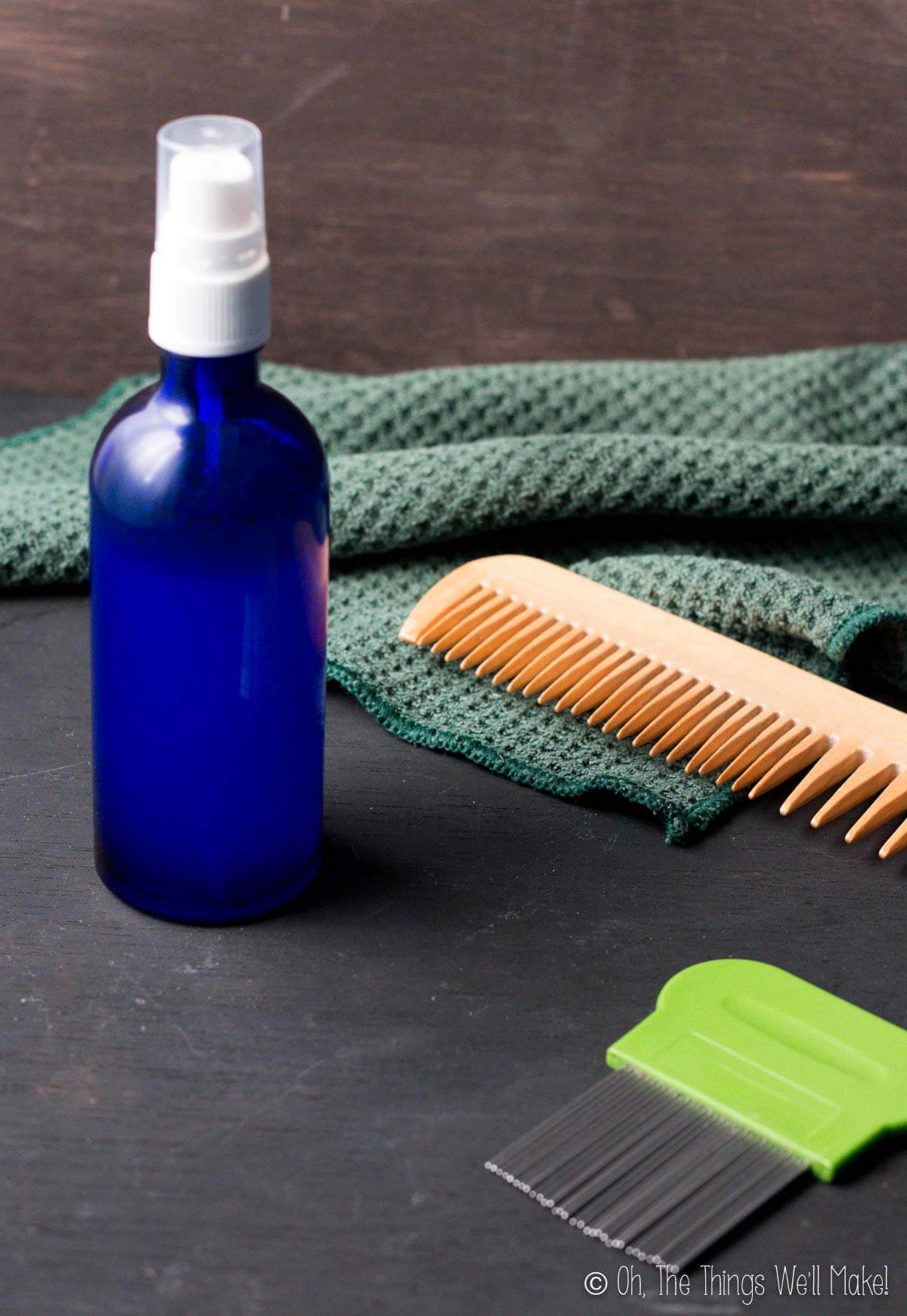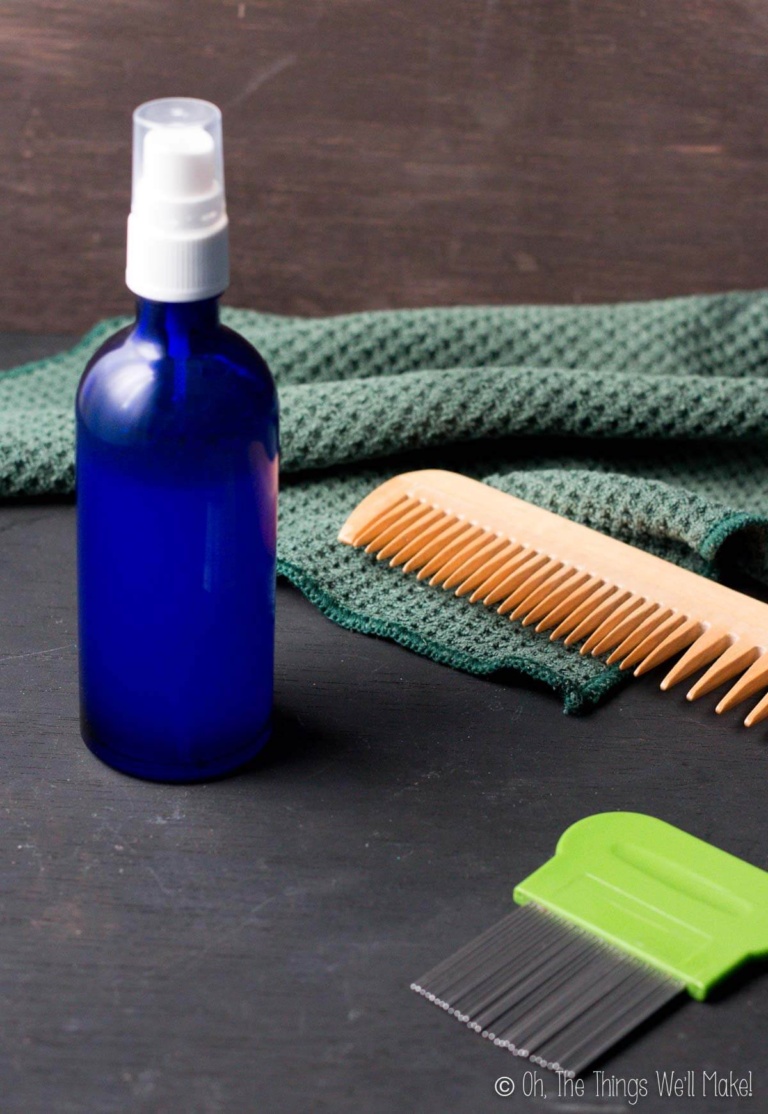 Lavender essential oil
Lavender essential oil has always been one of my favorites. I love its fragrance, and it's the one I use most in my homemade soaps because it tends to last longer than most other essential oils in soaps.
A lot of people don't realize that lavender essential oil also helps with the prevention of bug bites and infestations. (That's why I added it to both my lice repellent spray and dog soap.)
Lavender essential oil may be the mildest essential oil on the list, and is one of the only oils said to be safe for even babies between 3-6 months of age (as long as it is diluted well when using with babies). It can be used both topically and in a diffuser to ward off many different kinds of bugs. It can even protect your clothes from moths, which is why I showed you how to make lavender sachets for your closet.
Lavender is normally suitable for people with sensitive skin and those with allergies to strong smells due to its lighter intensity. That's also why it's great for repellents for younger children.
Lemongrass essential oil
Lemongrass essential oil is closely related to citronella oil, but its odor intensity is much more pungent than sweet. Lemongrass has a citrus like scent that I happen to love, but the strength of its smell is highly unattractive to many kinds of bugs, especially mosquitoes and flies. (Be aware that lemongrass and spearmint oils can attract bees.) Lemongrass oil is also known for its purification of air, making it a very valuable oil.
While it is generally a safe essential oil, it should be reserved for children over the age of 2 to be on the safe side!
Peppermint essential oil
Peppermint essential oil smells pleasant to most humans…but not so much to bugs! That's what makes it a more attractive oil to use for people who hate the overwhelming fragrance of some of the other oils on the list like citronella. It not only has been shown to keep bugs away, but it kills many insect larvae before they can even hatch into full-grown insects.
It is generally said that you shouldn't use peppermint essential oil on children under the age of 6(or should at least use caution when doing so). It can also be irritating to the skin, which is why it needs to be diluted for topical use, especially when you use it in sprays for children.
Other essential oils that may prevent mosquito bites
I once bought an essential oil blend meant to be used as an insect repellent, and it was a mixture of lavender, lemon and clove essential oils. Because all three of those essential oils are generally safe for use with children (lemon after 6 months of age, and clove for children over the age of 2), they are good oils to consider when developing a mosquito repellent for your entire family.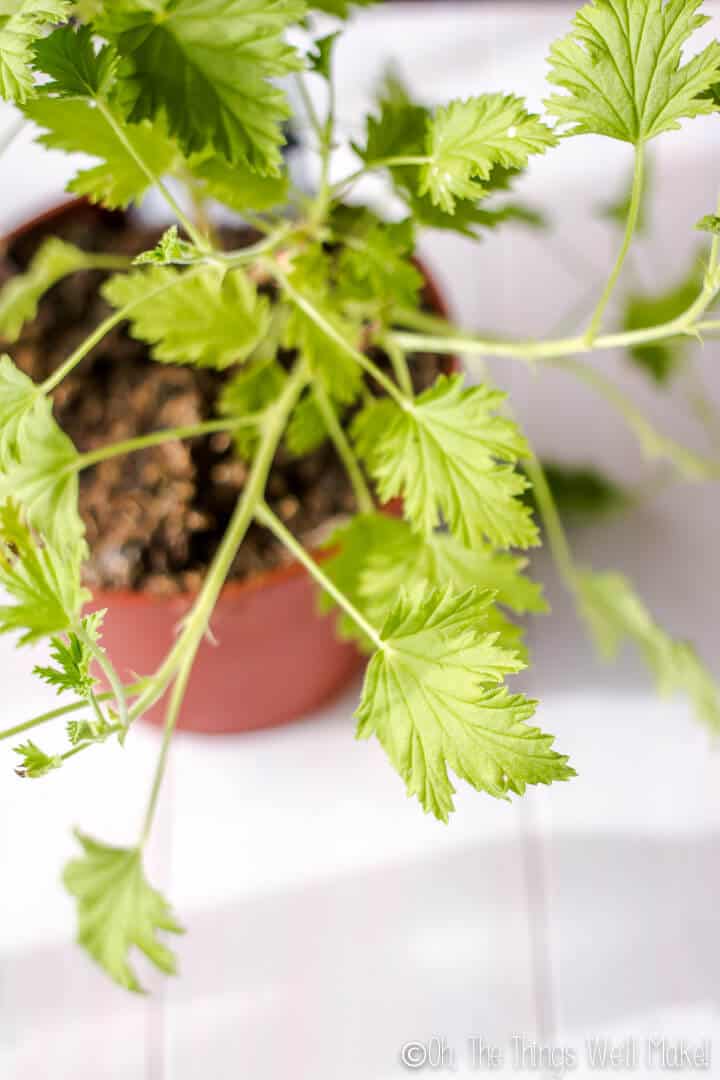 Geranium is another safe oil (for children over 6 months) that may also be helpful for repelling mosquitos as well as other insects. It's another oil to consider adding if you happen to already have it in your home.
Any of these oils can be used alone or combined in a blend to make your own custom homemade mosquito repellent.
You can either add the oil blends to water or you can add them to carrier oil like coconut oil. The blends can be used as a topical spray or diffused to prevent and ward off bugs.
DIY essential oil mosquito repellent
Looking to make more?
Subscribe to my newsletter for the latest projects (and recipes)!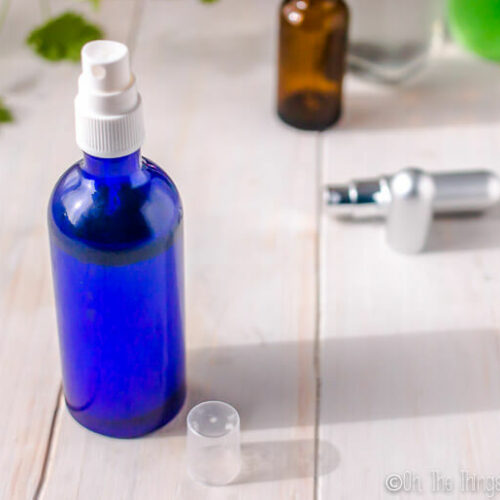 Homemade Mosquito Repellent Spray Recipe
Keep the mosquitos away using the best essential oils for repelling mosquitos. Makes 100ml.
Print
Rate
Instructions
Add all essential oils to a glass spray bottle. This is easiest when using a funnel. You can use a mixture of repellent essential oils of your choice, ending up with around 80 drops of essential oils total.

Add the neem oil to your mixture. Neem oil is optional, but also does a great job at keeping mosquitos away. (It does have a rather potent scent, though, so if it bothers you, you can either reduce the amount or leave it out completely.)

Add the alcohol to the bottle. The alcohol is also optional, but it helps to somewhat mix/emulsify the oils into the water mixture. The oils and water will still separate, so you will need to shake the mixture before each use, but it will help dissolve them better each time.

Fill the rest of the (100ml) bottle with distilled water or lavender water. We had just made lavender water with my new distiller this past weekend, so I used that as it's potent fragrance should also help against mosquito bites.

Cap the bottle and shake the mixture before using.

Shake and spray the mixture on your skin before heading outdoors or when in mosquito infested areas. Do not ingest!
Notes
I like to keep a 100ml spray bottle at home, but also fill a travel atomizer, normally used for perfumes, to keep a pocket sized repellent in my purse. You never know when you'll be out at night, so it's always best to be prepared!
DIY mosquito repellent for younger children and sensitive skin
30 drops lavender essential oil
25 drops tea tree essential oil
10 drops geranium essential oil
10 drops lemon essential oil
Add the oils to a 100ml spray bottle. Fill the rest with water. Shake before using. Do not ingest.
As with all essential oil use, use carefully, and at your own risk; every person and body reacts differently to different things.
Are there any other oils you have had luck with keeping insects and other pests away?
What other oil blends help with bug repellant and bite/sting relief?