Perfect for carnivore and keto lifestyles, this butter egg latte is a tasty and healthy alternative to coffee. It's a delicious and satisfying way to start your day or to enjoy whenever you're craving something warm and filling. This recipe is not just for those on a carnivore diet, but can be enjoyed by anyone looking to fuel their day right with a great source of protein and healthy fats. Rich and indulgent, it will leave you feeling energized and satisfied throughout the day.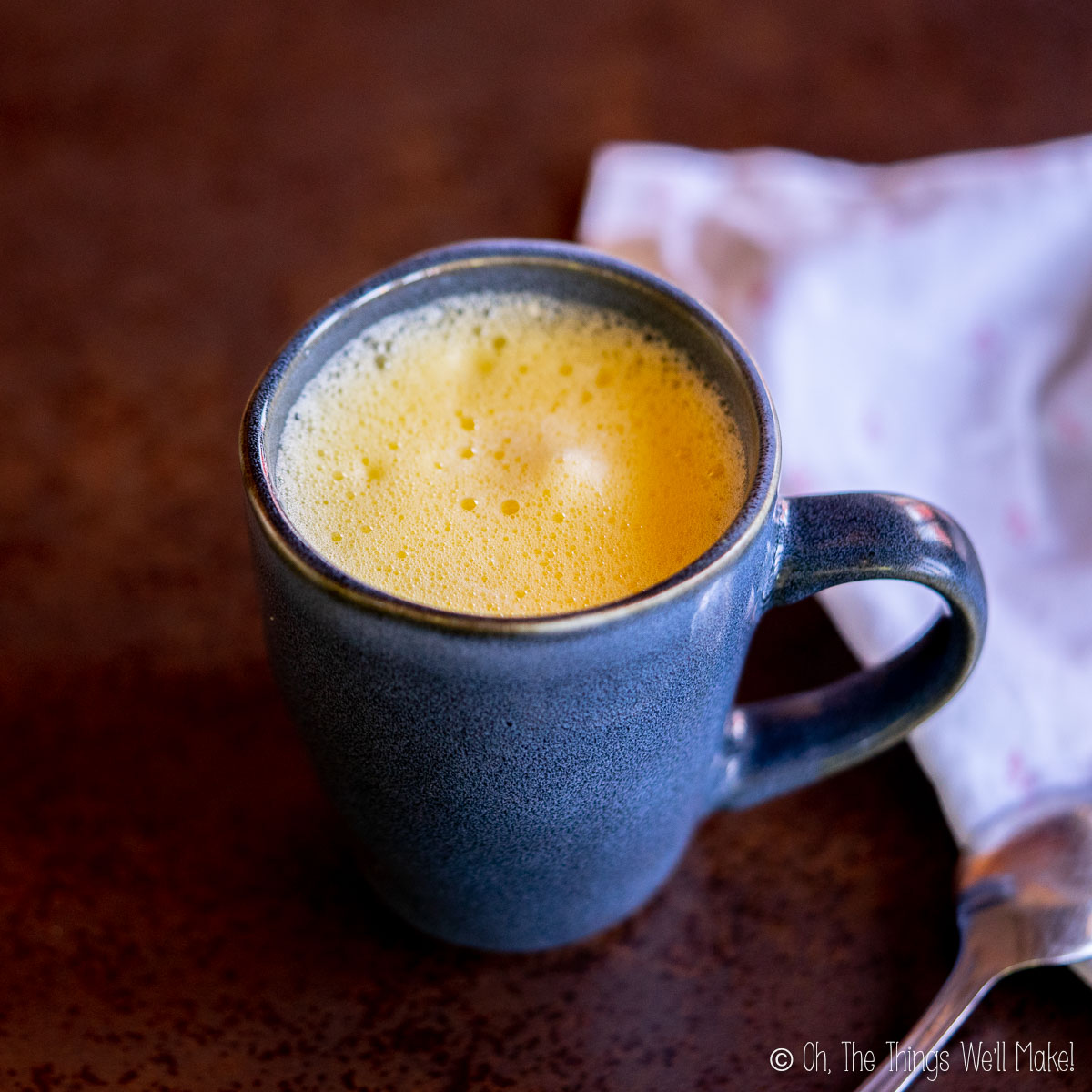 What is it?
The butter egg latte is a warm frothy drink made without coffee. Butter or egg lattes are popular choices among those following either a keto diet or a carnivore diet and looking to ditch coffee or tea from their morning routine.
This fatty latte combines both. Blending the egg and butter with hot water provides a rich, creamy, and frothy texture that mimics that of a regular coffee latte. It's a delicious and nutritious way to start your day.
Rich in healthy fats, which help provide energy and satiety, it can keep you full longer. This can help you resist the urge to snack unnecessarily, making it an aid for weight loss. It's a great alternative to coffee for people looking for a caffeine-free drink that is both filling and delicious.
Benefits
One of the biggest benefits of this butter coffee variant is its high-fat content, which makes it incredibly filling and satisfying. This means you'll be less likely to snack, and you may have more sustained energy throughout the morning.
Thanks to the addition of eggs, this latte is also a good source of protein, which can help support muscle growth and repair. Not only is it caffeine free, but it's also sugar-free, gluten free, and nut free.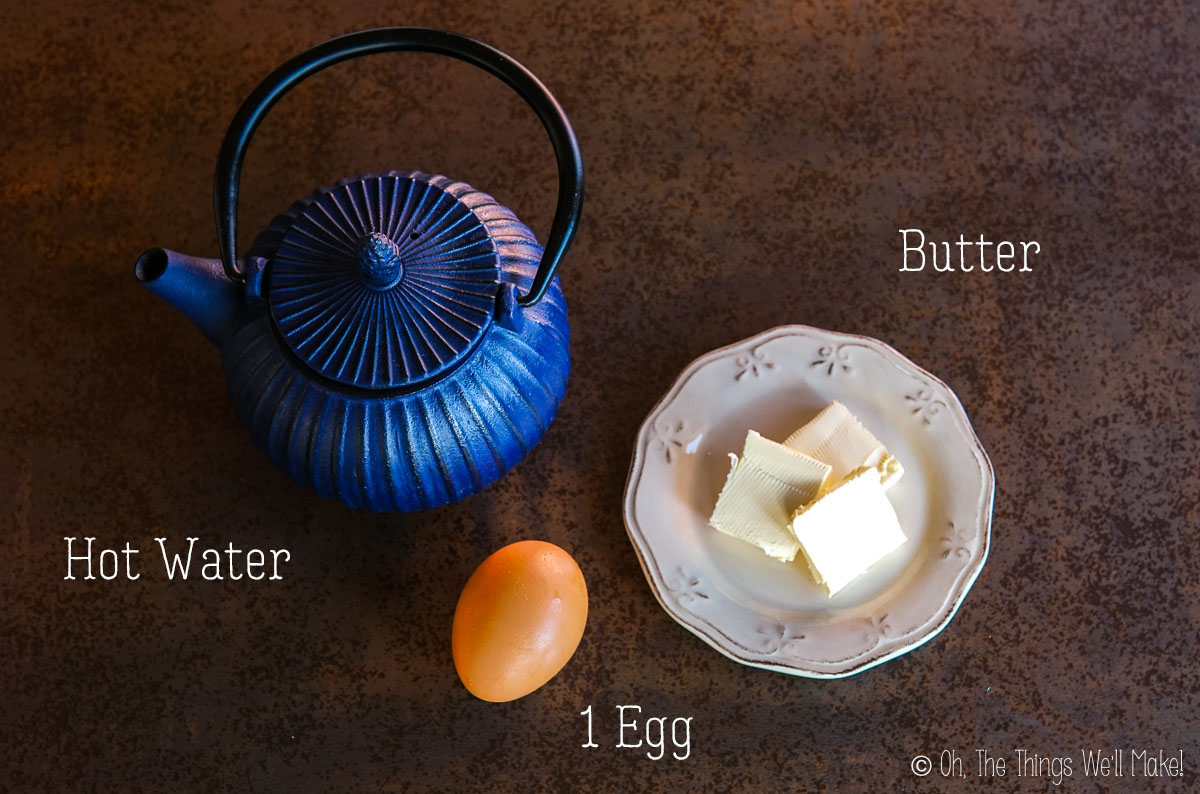 Ingredients
This recipe is made with only a few simple, high-quality ingredients that are compatible with the carnivore diet, keto, and other low-carb eating plans. To make one latte, you'll need 1 egg, 1-2 tablespoons of butter, 1-2 cups of hot water, and salt, to taste.
I use fresh eggs from my hens for this recipe. If you are uncertain about the quality of your eggs, or are otherwise concerned about using raw eggs, though, consider pasteurizing your eggs before beginning.
How to pasteurize eggs
While the risk of salmonella poisoning is low, there is some risk when consuming raw eggs. To avoid issues, you can pasteurize your raw eggs before using them in recipes.
To pasteurize eggs, place them in a pot and cover them with water. Heat the pan until the water reaches 138-140ºF/59-60ºC. Keep the water at that temperature for at least 3 minutes. (If eggs are very large, do it for 5 minutes.)
Don't allow the temperature to get much hotter than that or you will end up cooking your eggs!
After the time has passed, remove the eggs from the hot water and cool them by rinsing with cool water. You can use them immediately or store them in the fridge until needed.
Variations
If you want more of a bulletproof coffee egg latte, you can substitute some or all of the butter with MCT oil or coconut oil instead. You could also add some coconut milk or cream.
For a carnivore variation, I occasionally use either brown butter or ghee in mine. Brown butter adds a toffee-like flavor and some of the butter's protein solids. Ghee is the best choice for those carnivores who are sensitive to dairy. (It isn't "dairy-free" but does remove most of the lactose and casein.)
Optional ingredients
While not carnivore, you can spice up your keto latte with vanilla extract or a low-carb coffee syrup. Chocolate, caramel, or vanilla flavors would probably work well in this recipe.
For those who want some sweetness without increasing the net carbs, try adding sweeteners like erythritol or stevia.
Some people also like to add collagen powder for an added protein boost. Consider topping your egg latte with some whipped heavy cream!
Procedure
Bring around 2 cups of water to a boil in a tea kettle or a pot over the stove. (Or use your microwave, if you prefer.)
Meanwhile, separate your egg, adding the egg whites to a small bowl or glass and the egg yolk directly into a large serving mug. Add 1-2 tablespoons of butter to the mug with the egg yolk.
While the water is heating up, use a milk frother or an electric beater of some sort to whip up the egg whites until they are stiff and frothy.
Once the water boils, pour some of it over the egg yolk and butter. Immediately, blend it together with the hot water. Add more hot water, as desired, and continue to blend all of the ingredients together until the butter has fully melted and all of the ingredients are completely combined.
Add some salt, to taste. Pour the whipped egg whites over the hot butter mixture and stir them into the rest of the ingredients. Serve your egg latte immediately!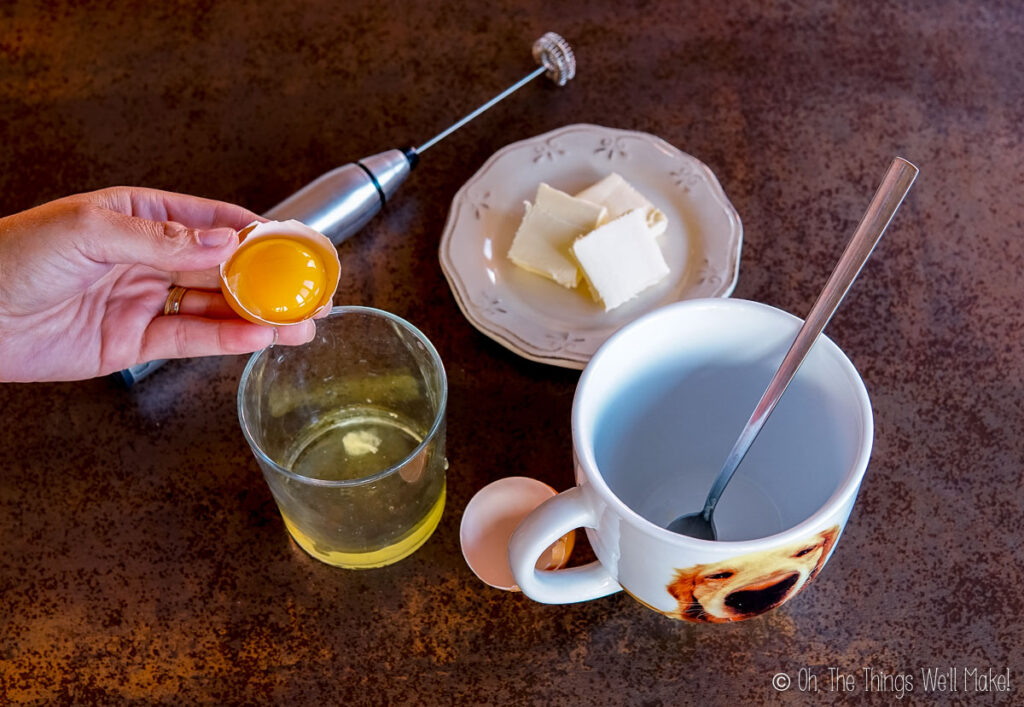 Expert tips
For the highest quality beverage, use high-quality ingredients such as raw, grass-fed butter and eggs from pasture-raised chickens.
Make sure to blend the ingredients together thoroughly to create a smooth and frothy texture. A milk frother works well for this, but you can also use an immersion blender with the right attachments. (Some milk frothers even have whisk attachments!) I'd suggest using a frother with detachable attachments to make cleaning easier.
Begin by adding a small amount of hot water to help the ingredients emulsify and create a silky texture. You can then incorporate more water as desired. By incorporating it little by little (and submerging the frother before turning it on, when possible), you can avoid splashing your latte all over your counter.
Don't be afraid to experiment with flavors. Consider adding a sprinkling of spices like cinnamon or nutmeg over your egg latte. You can also make this with American-style coffee in place of the hot water. Chai tea (or other teas) could also be used instead. (Learn how to make chai tea in bulk.)
Video tutorial
Craving more?
Subscribe to my newsletter for the latest recipes and tutorials!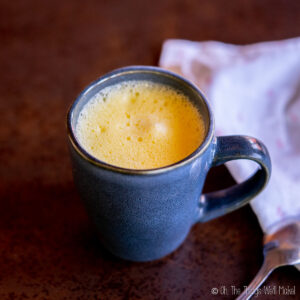 Butter Egg Latte
Perfect for carnivore and keto lifestyles, this butter egg latte is a tasty and healthy alternative to coffee. It's a delicious and satisfying way to start your day or to enjoy whenever you're craving something warm and filling.
Print
Pin
Rate
Ingredients
2

cups

hot water

Add as much as desired

1

egg

1

tablespoon

butter

or ghee, can add more

salt

to taste
Instructions
Heat up the water to boiling.

Separate the egg. Add the egg whites to a small bowl or glass. Add the yolk directly to your large serving mug.

Whip the egg whites with a milk frother, a small electric beater, or an immersion blender.

Add the butter to the mug with the egg yolk.

Pour a small amount of the boiling water over the egg yolk and butter and immediately whisk it all together with the milk frother or whisk. As the butter melts, add more hot water as desired.

Pour the whipped egg whites over the mixture, and gently stir all ingredients together.
Notes
The hot water can be substituted with American-style coffee or tea. (Chai tea would work very well in this recipe. Learn how to make Chai tea in bulk.)
Feel free to make this using only the egg yolk. The white can be saved for other recipes like cloud bread.
Serving:
1
large mug
|
Calories:
194
kcal
|
Carbohydrates:
0.3
g
|
Protein:
6
g
|
Fat:
19
g
|
Saturated Fat:
11
g
|
Polyunsaturated Fat:
1
g
|
Monounsaturated Fat:
6
g
|
Trans Fat:
0.02
g
|
Cholesterol:
202
mg
|
Sodium:
63
mg
|
Potassium:
61
mg
|
Sugar:
0.2
g
|
Vitamin A:
238
IU
|
Calcium:
25
mg
|
Iron:
1
mg