With fall apples giving this coffee cake its moist texture, which contrasts with its crispy crumb topping, this paleo apple crumb cake is definitely one of my favorite paleo treats.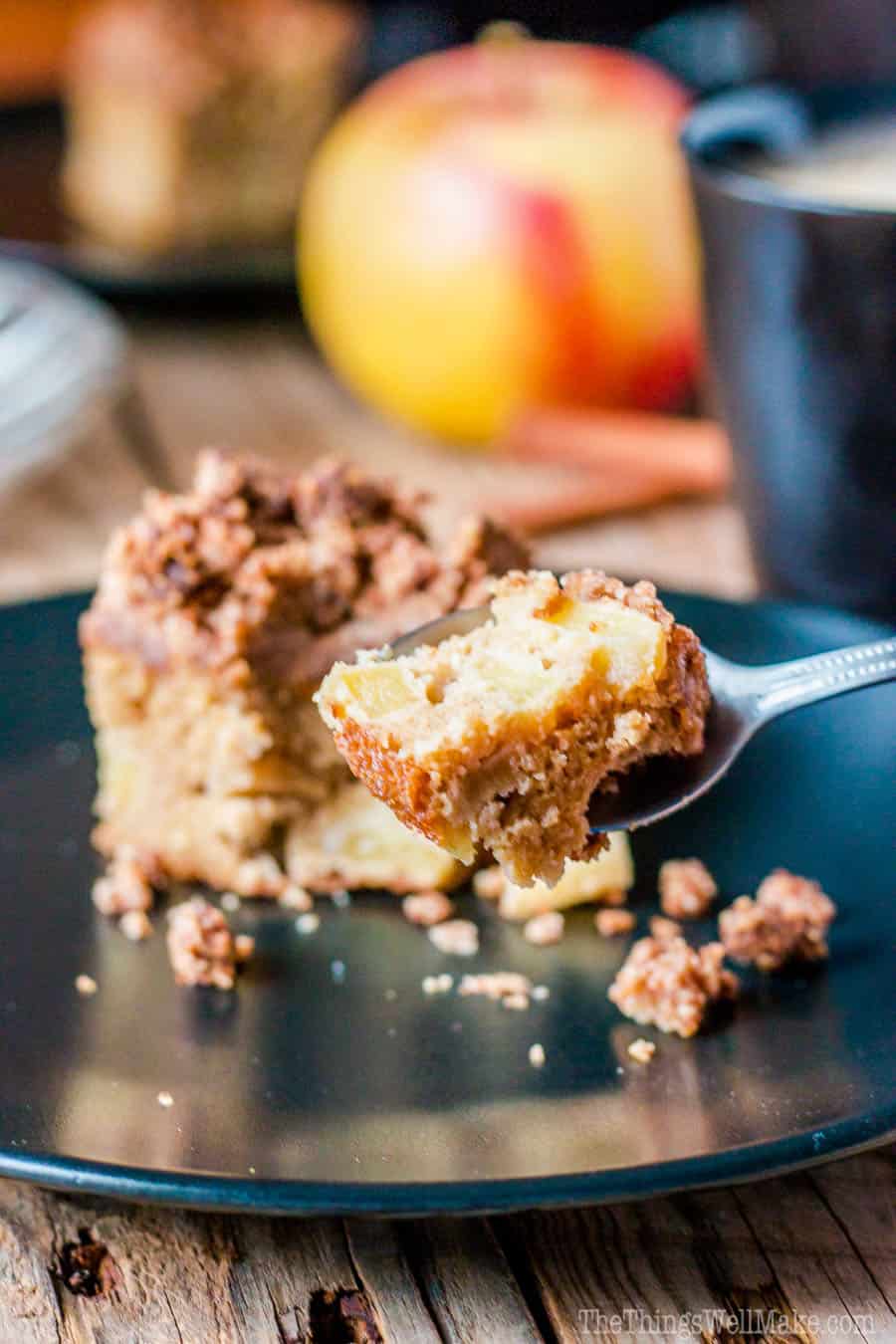 I'm really excited to be sharing this recipe with you this week. Before switching to a mostly paleo diet, my favorite coffee cake was an apple crumb cake made with wheat flour. What I love about apple crumb cake is that the apples within the cake itself make the cake moist and sweet without having to add a lot of sugar, but the crumb layer on top also gives you something crispy with a touch of salty sweetness.
The play on textures and flavors makes the apple crumb cake an exceptional treat that I didn't want to miss once I cut wheat from my diet. Luckily I was able to adapt the recipe pretty successfully using a combination of almond, coconut, and tapioca flours. I didn't want to add a lot of sugar to the recipe, to keep things as healthy as possible, but despite the fact that it isn't overly sweet, my husband told me it was good. (And he never eats almond cakes of any kind.) That said, if you have a sweet tooth, you'll likely want to increase the amount of sugar, especially of the cake itself, or you could try adding more diced apples to make it sweeter.
I've also found that I like this cake better after it's been sitting in the fridge overnight, but even when I burn myself as I try to eat it fresh out of the oven, it's good. (Am I the only one who does that?)
Now that I'm happy with the way this turned out, I'm looking into making something similar using pumpkin puree. You know I love my pumkin recipes. It's almost embarrassing how many are up on the blog by now, and still I just can't stop. I love pumpkins and butternut squash, and I also love anything with pumpkin spices.

Paleo Apple Crumb Cake
Preheat the oven to 350ºF (180ºC).

In a medium sized bowl, mix together the dry ingredients of the cake.

Add the coconut oil and vanilla extract, followed by the eggs, one by one, beating well after each addition.

Grease a 9 inch pan, and pour the mixture into the pan. I like to use a silicone square pan.

Prepare the crumb topping by mixing all of the dry ingredients together until well combined.

Pour the crumb toping over the cake mixture in the pan, pressing down on them until they stick to the top of the cake.

Bake for 35-40 minutes, or until a toothpick inserted into the center of the cake comes out clean.
This post is also available in Español.