Save money and control the ingredients by making your own liquid soap from scratch. It's easier than you may think, and it's a sustainable way to clean naturally.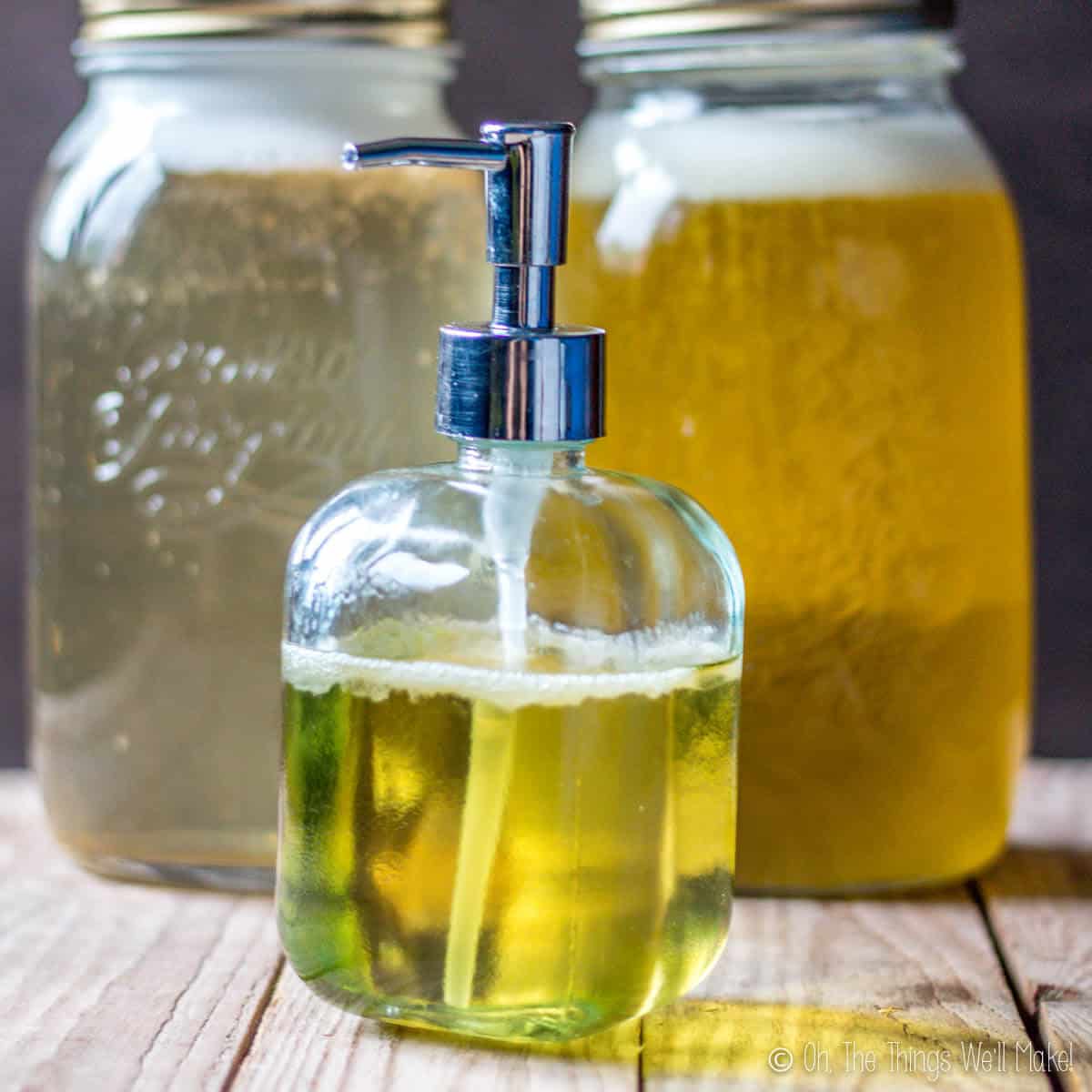 Why Make your own liquid soap?
Making your own liquid soap may be one of the most rewarding DIY projects you can make. Most people find liquid soaps more comfortable to use than bar soaps.
They are very useful in a variety of situations, being a multipurpose product. I use mine for everything from washing up in the shower to general cleaning around the house and hand washing dishes.
Those who prefer natural cleaning alternatives generally feel more comfortable using true soaps as they consider them more natural than other surfactants. Making your own is more sustainable because you can make large batches and reuse the packaging.
Because true liquid soaps, like the line of Dr. Bronner's Liquid Castile Soap, tend to be pretty pricey, by making your own, you can save a lot of money.
What distinguishes liquid soap from bar soap?
Some people try to make liquid soap from bar soaps by grating the bar soaps and dissolving them in water. While I've tried that, I was never happy with the results.
The reason it doesn't generally work well is that true liquid soaps are made differently. They use a completely different lye. The lye used in liquid soaps doesn't make a hard bar of soap. Instead, it makes a pliable soap paste that is later diluted in water.
NaOH vs. KOH
Soap is made by a chemical process, called saponification, that converts oil and lye into soap and glycerin. In the case of bar soap, the lye used is sodium hydroxide (NaOH). In the case of liquid soap, potassium hydroxide (KOH) is used instead.
When looking at soap recipes, keep in mind that you can't just switch out one type of lye for the other and expect to make a decent soap. Depending on the type of lye chosen, you may need more or less of it for the same amount of oil. When making any changes to the oils used or the lye used, you'll have to run the new recipe through a lye calculator. That's the only way to know if you'll have excess oils or lye.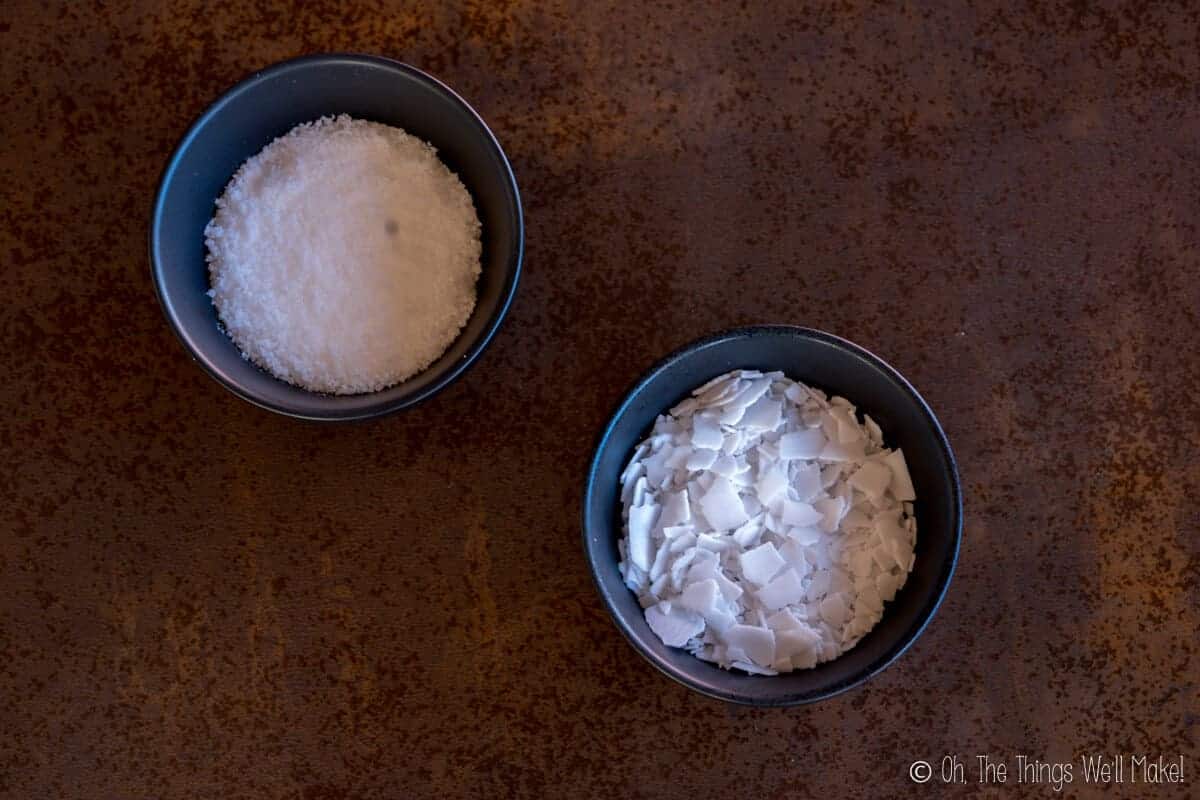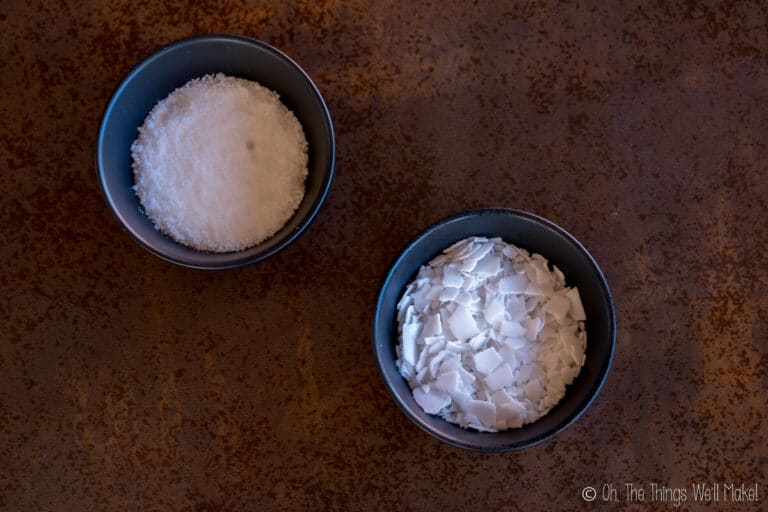 Cold Process vs. Hot Process
While bar soaps can be made with either a cold process (where you don't need to cook the mixture) or a hot process (where you cook it before pouring the mixture into molds), liquid soap is generally made with a hot process. When you mix the lye and oils, you end up with a soap paste that will later be dissolved in water to make a liquid soap.
Most people choose to cook the liquid soap paste. During the cooking process, the saponification process completes and the soap paste becomes more translucent. That allows you to make a nice, clear liquid soap.
Diluting liquid soap
Once you've finished making your liquid soap paste, you can store it for later or dilute it to make a liquid soap.
When you dilute the liquid soap paste in water, you can also add a fragrance by adding several drops of essential oils or fragrance oils.
For a clear soap, the soap paste should be diluted in distilled water. Distilled water is free from the impurities and minerals that may be present in tap water. These minerals can lead to a cloudy or even an opalescent looking liquid soap.
The amount of water needed depends on how concentrated you want the liquid soap to be. I generally use 1 part of soap paste to 1-3 parts distilled water.
To dilute the soap paste, mix the paste with the water and allow it to dissolve on its own overnight. You can speed up the process by mixing the soap paste with the water over heat. (Some soap pastes may need the help of heat to thoroughly dissolve.)
Read more about how to dilute liquid soap paste.
Does liquid soap need to be cured?
One of the advantages of making liquid soap is that it doesn't need a curing time in the same way that bar soaps do.
Bar soaps are generally cured for several weeks before using them. During the cure time, the soap dries and hardens, and the crystalline structure of the soap is modified. During that process, the soap usually improves, often giving more lather. Because it hardens, it also keeps longer.
During the hot processing of the liquid soap, the saponification process is finished. That means that all of the lye is reacted with the oils, leaving none behind. So, as long as you are following a good recipe (and have followed it correctly), you will have a soap that is safe to use as soon as you've finished making it.
Liquid soap doesn't need to dry and harden either. Quite the opposite is true. It needs to be diluted with water.
It also doesn't have the same type of crystalline structure. So, it doesn't need the extra time for restructuring.
How long does liquid s0ap keep
Liquid soap pastes, when stored in a cool, dark environment, can keep for years without issues. I generally store them in a well sealed glass or plastic container. Some people store the paste in ziplock type bags.
For the longer lasting soaps, I generally store them in paste form and only dilute enough liquid soap to fill the dispensers I plan on using. Even diluted, though, liquid soap generally keeps well for several months.
One of my soap pastes started to smell rancid after several years. I found that it still worked well as a general cleanser. It just didn't smell good when left unscented. I used it up as quickly as I could for general house cleaning.
Does liquid soap need a preservative?
Whether or not liquid soap needs a preservative is a controversial topic.
I personally don't use one.
Liquid soap, and soap in general, has a high pH (generally 9 or above). At extreme pH's, products are generally self-preserving. While there are some bacteria and other microbes that do grow in extreme pH ranges, the microbes that we generally need to worry about for contaminating cosmetics don't.
Some people do use preservatives for their soaps, but very few preservatives are effective in the pH range of soap. For more information about preservatives, check out my guide to natural preservatives.
Neutralizing liquid soap (& testing pH)
Many people make their liquid soaps with a "lye excess" to ensure they turn out completely transparent. They later "fix" the lye excess by "neutralizing" their liquid soaps.
I personally don't make my liquid soaps with a lye excess (nor do I superfat them). I instead make my liquid soaps exact. I've found that when making soap in that way, I don't have problems with cloudiness.
For soaps meant for face and body, you could slightly superfat the liquid soap, but I don't recommend going over 2-3% superfatting if you want a clear soap.
For more information, read my post about neutralizing liquid soap.
Troubleshooting liquid soap
Over the years, I've received many questions from people who have made one of my recipes and were worried they did something wrong. The most common problem is cloudiness.
Luckily, cloudiness is generally just a cosmetic problem. It could be caused by anything from using tap water (vs. distilled water) to having used too much oil.
If you've tried to make liquid soap and something doesn't seem quite right, check out my post about troubleshooting liquid soap problems.
The zap test
To check for safety of the soap, many soap makers rely on what is called the zap test. To zap test a liquid soap paste, run your wet finger over the surface of the paste and then touch your soap-covered finger to your tongue. If the soap is caustic, it gives a zapping sensation. (This has nothing to do with flavor.)
If the soap doesn't zap (if you can't tell, it doesn't), then it doesn't have any more active lye, and should be safe to use.
Liquid soap recipes
Over the years, I have developed and tested various recipes for liquid soap. While I assumed that they would be quite different from each other, I haven't found that to be the case.
Bar soaps made with olive oil are completely different from bar soaps made with coconut oil. Coconut oils soaps are very hard and white. They are very good cleansers and provide a lot of bubbly lather. Unfortunately, bar soaps made with coconut oil tend to be drying.
On the other hand, soaps made with only olive oil tend to be more conditioning and less drying, but they don't provide much lather. Some people find them to be "slimy".
So, for bar soaps, I usually combine several oils to get a well-balanced soap.
When it comes to liquid soaps, I was expecting the same thing to happen. I made a batch of liquid Castile soap made with only olive oil and a liquid soap made with only coconut oil. My plan was to combine them, as needed, for different uses around the house.
I no longer bother making several different types of liquid soaps at once. I've found that both olive oil and coconut oil make wonderful multi-purpose liquid soaps. They both seem to clean well and both provide good lather. I haven't found any of my liquid soaps to be particularly drying either.
Pure liquid Castile soap
The first time I made a liquid soap, I made this recipe. Pure Castile soap is made with only olive oil. That makes this recipe ideal for those with coconut allergies.
While pure Castile bar soap doesn't generally provide much lather, this soap lathers and cleans well.
Easy DIY Liquid Castile Soap Recipe
Made with only olive oil, this pure liquid Castile soap is easy to make and mild. It's perfect for face and body, and for cleaning around the house.
Check it out!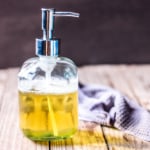 Liquid Coconut oil Soap
This has become my favorite liquid soap recipe because of its simplicity. Using refined coconut oils, it's very inexpensive to make. It makes a clear, light-colored liquid soap with a clean scent.
Homemade Liquid Coconut Oil Soap
Making your own homemade liquid coconut oil soap is simple, thrifty, and very rewarding. Coconut oil soap provides lots of lather and cleaning power for all purpose cleaning.
Makes 1-2 Gallons of soap (See notes below.)
Check it out!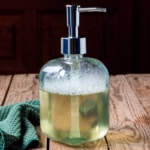 Dr. Bronner's liquid Castile soap copycat recipe
Dr. Bronner's liquid Castile soaps are generally liquid soaps that have been made with a variety of different vegetable oils. They aren't "true" Castile soaps in the sense that they don't use only olive oil. In fact, they generally use more coconut oil than olive oil.
I tried making a copycat version on their baby-mild soap by using the same oils. While it turned out well, I think theirs uses more coconut oil and less of the other oils, especially the hemp and jojoba oils.
Dr. Bronner's Unscented Baby-Mild Copycat (Updated)
Dr. Bronner's soap is a great all-purpose cleaner, but it can be quite expensive. Learn how easy and rewarding it is to make your own liquid Castile soap at home.
Check it out!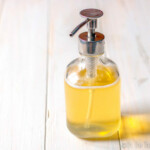 Multipurpose liquid Castile Soap
Because I found the copycat recipe to have too many oils like jojoba and hemp, which led the soap to have a creamy layer that floats on top, I decided to formulate a mixed oil recipe without the hemp and jojoba oils. This recipe uses only olive oil and coconut oil.
Multipurpose Liquid Castile Soap
This version of liquid soap uses only coconut oil & olive oil, making for a simpler, less expensive soap recipe.
Check out this recipe