This laurel berry soap, or Aleppo soap copycat recipe, is a modified Castile soap that is mild, conditioning, and great for a number of skin conditions.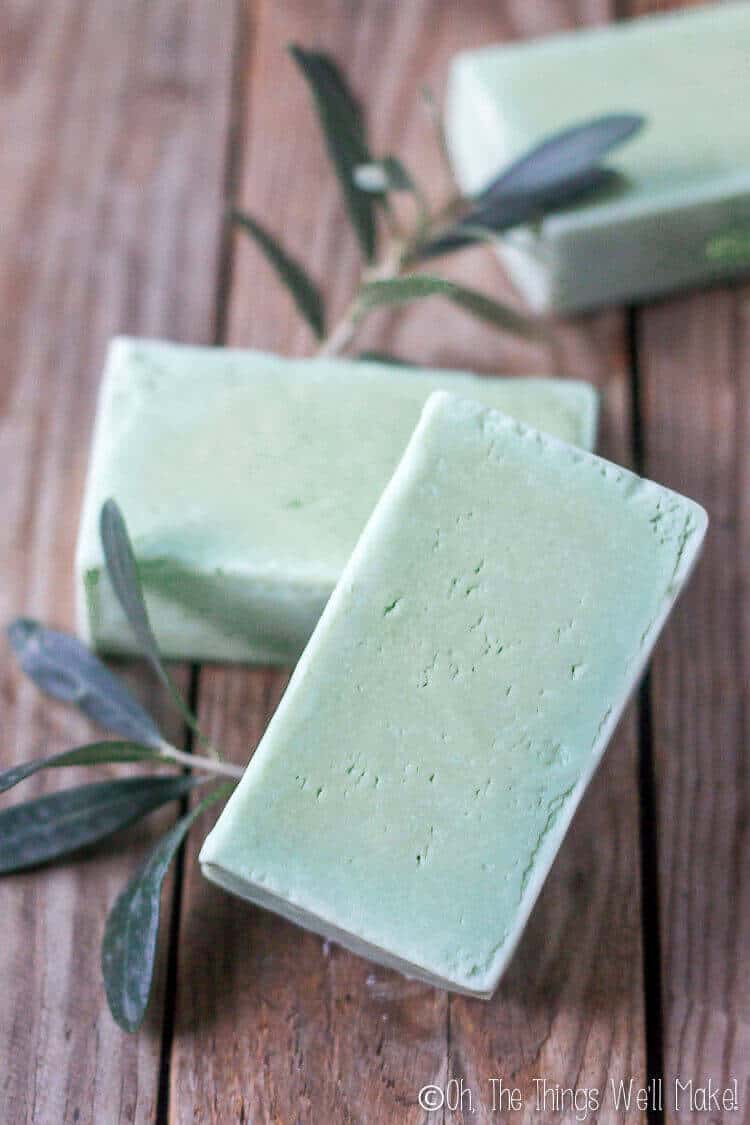 Why would you want to make Aleppo soap?
Aleppo soaps are one of the most prized, and most expensive soap bars, that you can find.
These soaps are said to help with a number of skin conditions like acne, eczema, psoriasis, and other dermatitis types. Some people use it on their hair and say that it helps with dandruff and other scalp conditions. It's a mild soap that soothes the skin and may have natural antibacterial and antifungal properties.
Here is an example of a bar of Aleppo soap sold on Amazon:


What is Aleppo Soap?
Thought to be one of the first soaps made, Aleppo soap is a modified Castile soap made from olive oil and laurel berry oil. I call it a modified Castile soap because it isn't made with 100% olive oil like my pure Castile soap recipe.
Laurel berry oil is a more expensive oil, and the price of a bar of Aleppo soap usually depends upon the percentage of laurel oil used. Soaps with a higher percentage of laurel oil tend to be darker in color and more prized. Most Aleppo soaps have between 5 and 30% laurel berry oil, but you can find them with other percentages too.
Being a Castile soap, it is usually cured for long periods of time to allow it to harden and for its quality to improve. During the curing time, the soap usually develops a golden hue on the outside while retaining it's beautiful green color on the inside (which can be seen if you cut a bar of Aleppo soap in half). You can find photos of bars of Aleppo soap that have been cut in half in this article about Aleppo soap benefits.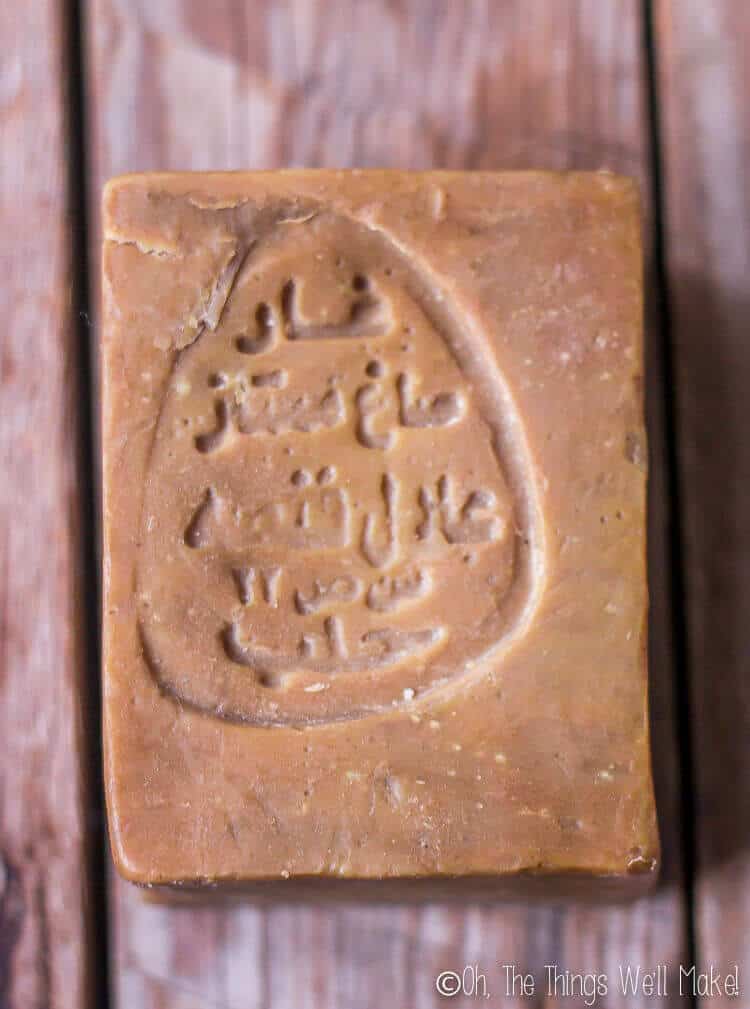 Aleppo soap is associated with the city of Aleppo, Syria, where they have continued to make the soap for what is said to be thousands of years. Unfortunately because the war in the region has forced many of the soap makers to leave their businesses behind, it is becoming increasingly more difficult to buy authentic Aleppo soap made in Syria.
Some of the Aleppo soap makers who were forced to leave their city are trying to build their businesses again in new locations.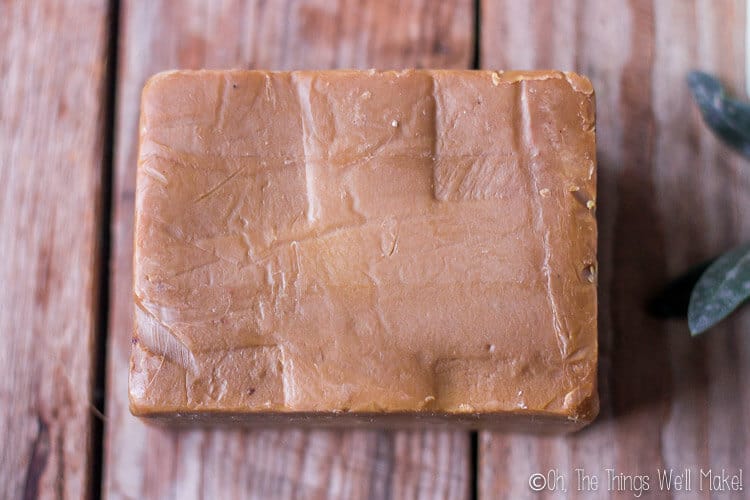 How is Aleppo Soap Made?
Aleppo soap is normally made using a type of hot process technique. It probably doesn't use the hot process method as we know it today, though, but rather uses a boiled soap process in which the oils are boiled with the lye over a number of days. There is a bit of confusion outside of the Aleppo soap-making community about the exact technique and why the soap is boiled for so long.
After reading discussions in a number of forums, my guess is that part of the reason for boiling the soap for so long is that traditionally ashes were used to react with the oils, which is much different than making soap with a commercial lye. When using ashes, it is impossible to be able to calculate exact amounts needed to complete the saponification process of the soap.
It is very possible that part of the boiling process uses salt water as a sort of purifying step. I've read that salt water was often used in the production of Aleppo soap, so it would make sense that it may have been used in a salting out process which is sometimes used to rinse away any excess lye that may be left in soaps.
I found this thread in a forum with an explanation of the process of making Aleppo soap that would support those ideas.
Once the soap is formed, it is poured and spread over the floor of large rooms, where it is spread out to the desired thickness, and then smoothed. It is later stamped and cut, and the formed bars of soap are stacked and allowed to cure for several months.
This video shows the interesting process of making Aleppo soap:
While some of the soap makers seem to continue to use the same traditional methods for making Aleppo soap, others now use a more "normal" hot process or a cold process technique for making it.
What is laurel berry oil?
Laurel berry oil is an oil that is extracted from the fruit of the bay laurel tree.
What are laurel berry oil benefits?
This prized oil is known most for being used in Aleppo soaps, but also has muscle relaxant properties which makes it a great oil for massaging in areas of sore joints and muscles. It may also help improve arthritis symptoms.
Laurel berry oil is a soothing oil that helps improve skin and scalp conditions. Because it is said to help with dandruff and thinning hair, many people swear by using Aleppo soap on their hair. (I personally haven't tried it as I haven't found that my hair reacts well to using (any) soap on it.)
Apart from being known to improve skin conditions such as acne, eczema, rosacea, psoriasis, it's antifungal and antibacterial properties may also improve fungal infections and bacterial dermatitis.
Apart from it's other benefits, in soap, the laurel berry oil helps add a bit more lather to an otherwise very low-lather Castile soap. (Soaps made with only olive oil are very conditioning, but are also low lather soaps that aren't as high cleansing as many other soaps.)
Watch me make this laurel berry soap
Why did I choose to make a cold process laurel soap?
Because we are using modern methods and a commercial lye for making our laurel soap, there is no need to complicate the process with boiling it down to remove excess lye. We can calculate the recipe to be superfatted, meaning that we will use more oils than what are needed to react with the lye in our recipe. My recipe below was calculated with a superfatting percentage of 5%. This means that we will end up with some unreacted oils in the soap that are conditioning for our skin and hair, and that our soap won't have any unreacted lye in it.
While we could use a modern hot process technique, I don't see any benefit to choosing it. A hot process technique cooks the ingredients to speed up the saponification process, meaning that the lye and oils have fully converted to soap before being poured into the molds. The problem with this method is that you end up with a thicker mixture that is more difficult to work with and that doesn't pour or smooth as well in your molds. As we won't be stepping on our soap to smooth it out as the Aleppo workers do, I prefer to use a cold method process to get a nice looking bar of soap.
Some people choose to use hot process methods in the hopes that they can use their soap sooner. I've found, though, that all soaps benefit from a curing process. During the curing process, the soap gets harder and other chemical processes continue. This is especially true of pure Castile soaps and other soaps with a high percentage of olive oil like Aleppo soaps. Note that Aleppo soap, despite being made with a hot process of sorts, is cured for several months (I've read between 9 months and a year) before being sold to the public.
Why is my soap green and not golden like the Aleppo soap?
During that curing process, the soap is said to change from green to golden on the outside. While I did wait a couple of months to take pictures and post them with this recipe on the blog, I haven't waited anywhere near the 9 months to a year that Aleppo soaps are said to cure before being sold.
Being impatient, I tried a bar of my soap and have to say that I already really like it. Without any additives or scents, it has an unusual medicinal, but pleasant, scent that I actually quite like. I'm excited to see how it changes with time, though, and will update this post in several months with my findings.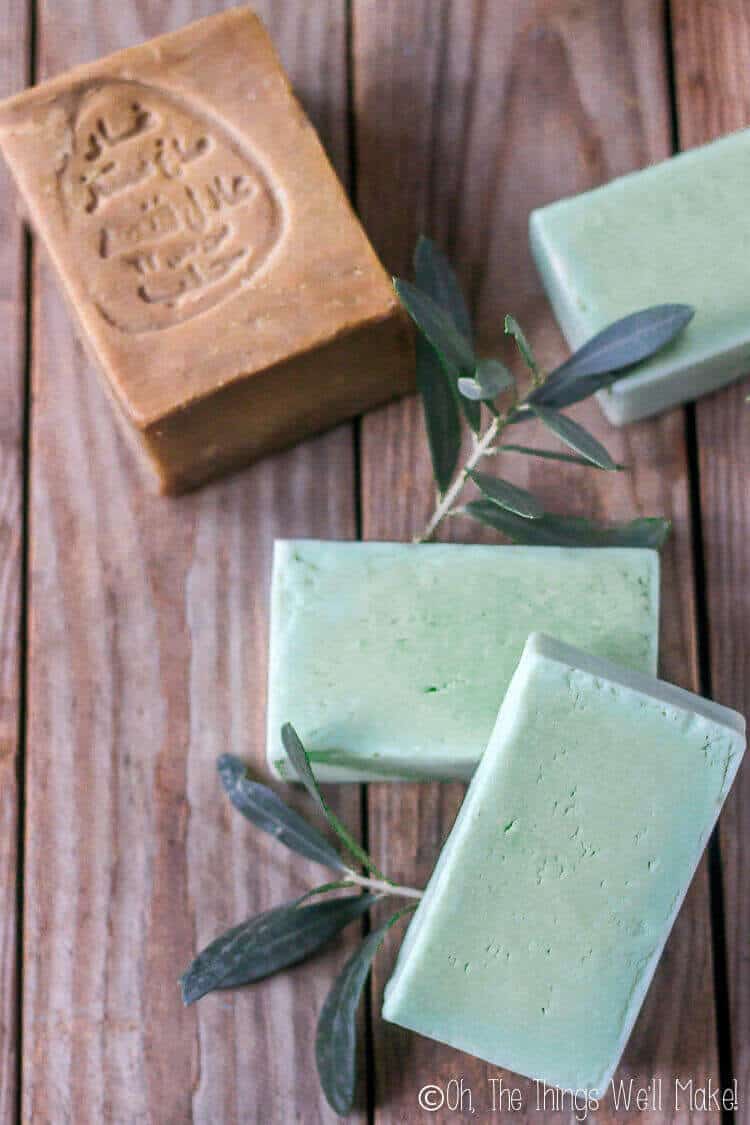 It will be interesting to see if my soap takes on a similar golden color to the Aleppo soap I bought from the store. I'm also looking forward to seeing if they behave similarly when used. Only time will tell…
Laurel Berry soap (Aleppo Soap Copycat Recipe)
Looking to make more?
Subscribe to my newsletter for the latest projects (and recipes)!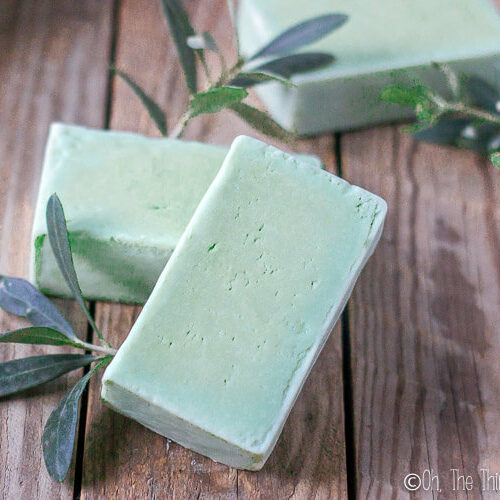 Materials
450

g

olive oil

150

g

laurel berry oil

228

g

water

78

g

lye

aka. Sodium hydroxide (NaOH)

18

g

fragrance or essential oils

optional- I didn't use any
Instructions
Weigh out the lye and the water in separate containers. I now usually use stainless steel bowls for this step. (Other metals may react with the lye, while some plastics may be melted and some glass bowls may crack from the sudden heat of the chemical reactions when you mix the water and lye together.)


Add the lye to the bowl of water. (Do not add the water to the bowl of lye.) Stir the water and lye together thoroughly in a well ventilated area. You will notice that the lye solution will heat up and get cloudy. It will also give off fumes that you should avoid inhaling.

Allow the lye solution to set in a place where it won't be disturbed by animals or small children while you measure out the oils.

Weigh out the olive oil and laurel berry oils in a large bowl. At this point you can use ceramic, glass, stainless steel or plastic.

Pour the lye mixture into the oils and gently stir them together. It's OK if the lye mixture is still warm.

Once you have thoroughly combined the lye solution and oils, you can begin to blend them with an immersion blender. As you blend the ingredients together, they will begin to thicken and become more opaque.

Your mixture will thicken to the point of looking like a creamy salad dressing or light mayonnaise. This point is called "trace" in soap making. At this point you can add in any extra fragrances, essential oils, or other additives as desired.

Pour the soap mixture into molds and allow to harden for a couple of days before unmolding. (You can unmold as soon as you feel the soap is hard enough. The amount of time will depend upon the temperature of your environment, humidity, molds used, etc.)

Cut the soap into bars as needed. Don't wait too long to cut the bars of soap or the soap will get too hard and brittle to cut easily.

Allow the bars of soap to cure for at least a month before using it. Ideally you should wait several months. Olive oil based soaps like this one are normally allowed to cure for several months before using them. The soap will harden and improve with time.