If you're looking for the perfect paleo pita for your gyros, souvlaki, kebabs, or sandwich or salad wraps, this is the perfect easy and quick recipe.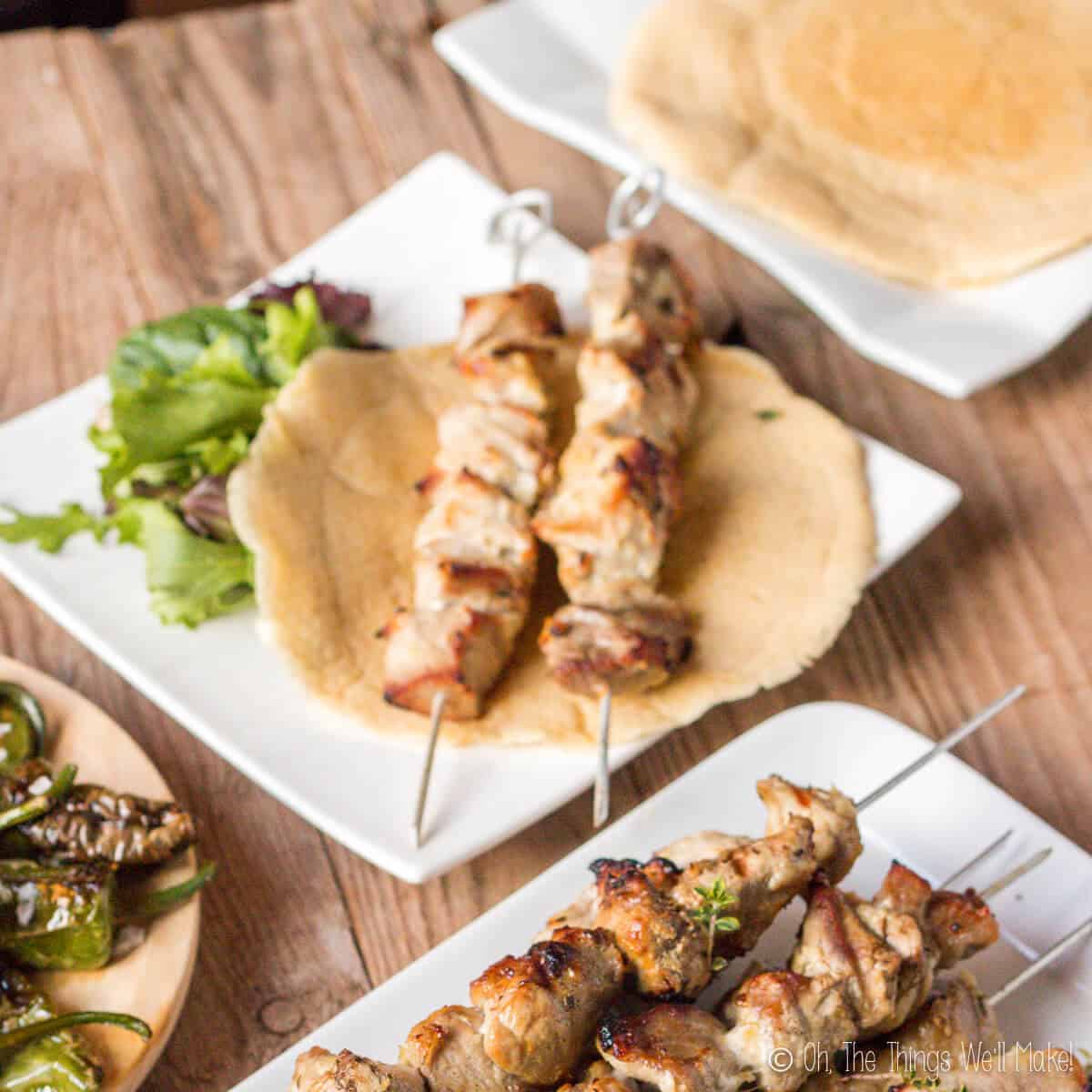 Not too long ago I shared with you a recipe for my homemade souvlaki marinade, and showed you how I made my souvlaki. I had accompanied each of them with a paleo pita, and promised that I would share my recipe soon.
Today is that day.
Homemade Paleo Pita Uses
This paleo pita recipe is great for making a grain free flatbread to accompany souvlaki, gyros, or for making wrap sandwiches. The garlic and herbs help to give it a little extra flavor, but you can easily adjust them to suit your taste.
I've also used these, when made into smaller circles, as the bread for paleo sausage biscuits using my homemade sausage patty recipe.
Paleo pita texture
I took a picture of the consistency of the pita when eating it, so that you can see that although this is a paleo pita, it is very bread-like. It is also quite thick. It uses the elastic quality of tapioca flour to make a pliable wrap that holds together quite well.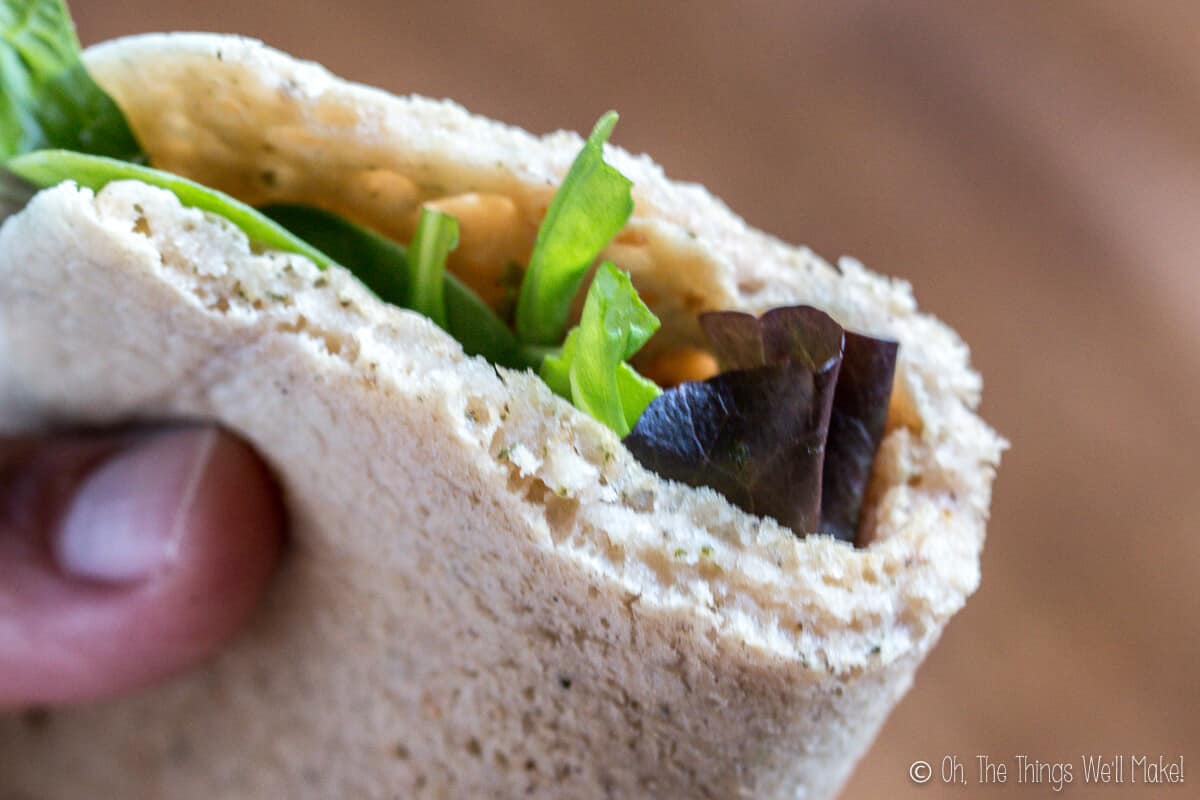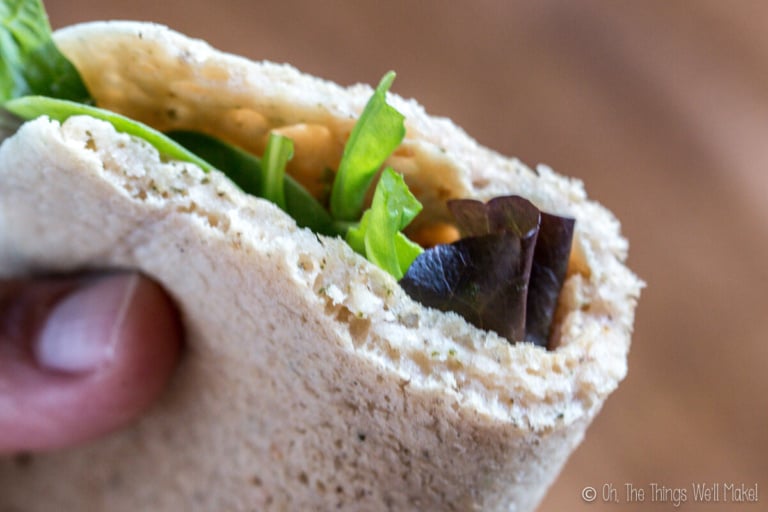 If you are looking for something thinner, you can thin these out with a little more water.
Paleo wrap alternatives
On the other hand, if you are looking for something tortilla-like that is thinner and lower in carbohydrates, I have a couple of options for you.
Not too long ago, I shared with you my vegan flaxseed paleo tortilla recipe. They take advantage of the gelling ability of the flaxseeds, to make a pliable wrap without eggs! What's super great about them, is that they can be beaked into a wonderful paleo tortilla chip or taco shell!
For a super quick and easy thin and pliable wrap, I'd suggest trying my paleo tortillas with flaxseeds and eggs.
With all of that said, some days you just really want something that tastes and feels like bread.
For those days, I give you my paleo pita recipe…
Homemade Paleo Pita
Craving more?
Subscribe to my newsletter for the latest recipes and tutorials!
Homemade Paleo Pita Recipe
If you're looking for the perfect paleo pita for your gyros, souvlaki, kebabs, or sandwich or salad wraps, this is the perfect easy and quick recipe.
Print
Rate
Instructions
Preheat your skillet to medium heat. Add a few drops of oil to the pan and wipe it off with a paper towel, making sure to wipe a thin layer of oil over the entire pan.

Thoroughly mix together all of the ingredients. The mixture will be relatively thick, like a pancake batter.

Pour around 1/4 (a rounded 1/2 cup) of the batter into your preheated skillet and use circular motions to try to swirl the batter and get it to cover the pan.

Flip the pita when you start to see bubbles come up as you do with pancakes. Lightly brown and cook the other side for around a minute.

Remove the pita and repeat the process until you have used up all of the batter.
Serving:
1
6 inch pita
|
Calories:
236
kcal
|
Carbohydrates:
31
g
|
Protein:
5
g
|
Fat:
11
g
|
Saturated Fat:
1
g
|
Cholesterol:
40
mg
|
Sodium:
425
mg
|
Potassium:
15
mg
|
Fiber:
2
g
|
Vitamin A:
110
IU
|
Vitamin C:
0.8
mg
|
Calcium:
50
mg
|
Iron:
1.4
mg
You'll notice that all of my wraps are pliable and great for wrapping anything from salads to meats to make wrap sandwiches. Wrap sandwiches are one of my favorite lunches, especially in the summer.

Storing these paleo pitas
While these pitas are best when served fresh, you can also make these ahead and save them in the fridge for later. Just make sure to seal them in a plastic bag or something similar first so that they don't dry out and lose their flexibility. You'll want to gently warm them before using them, or they can be a bit rubbery.
I'd love to hear what you like making with pitas and other wraps!