This paleo dim sum recipe uses a paleo pasta filled with flavorful ginger and pork and is steamed to perfection to make these amazing Asian potstickers.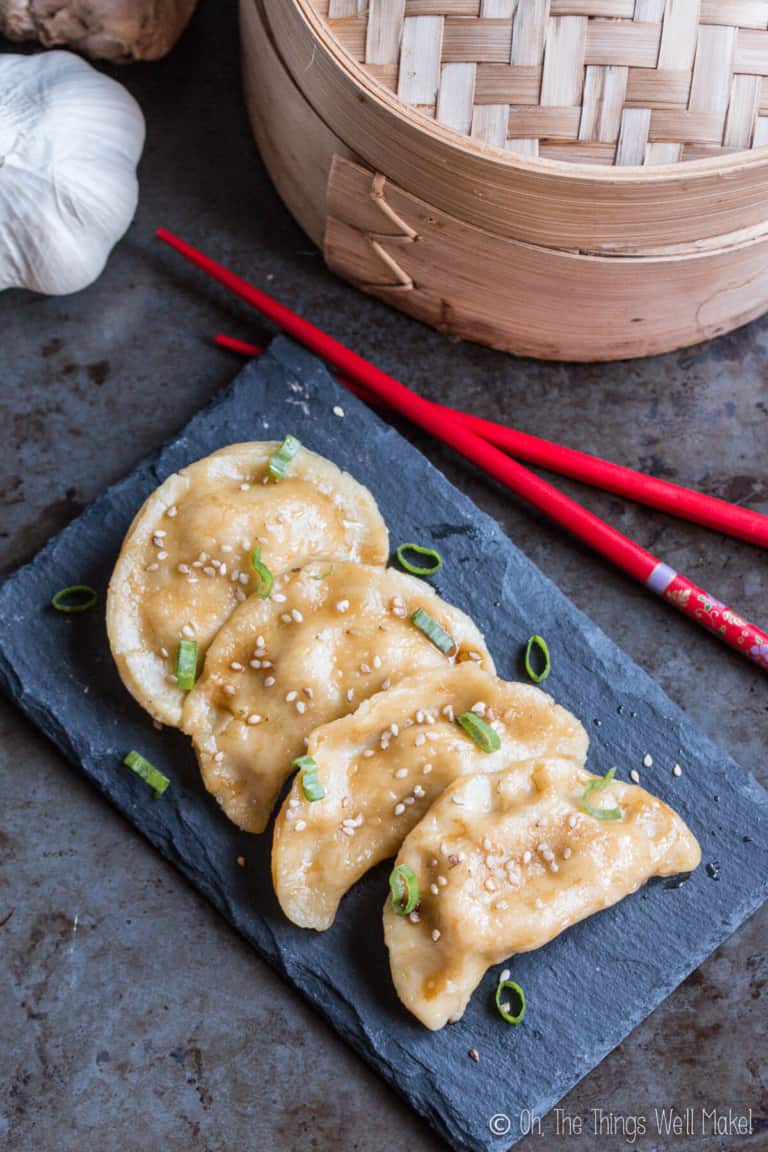 The other day I was having cravings for pasta or something similar, but I didn't want to have the usual rice noodles that I occasionally eat when the rest of my family eats homemade wheat pasta. Ever since going gluten free and mostly grain free, I don't have that many cravings for bread or pasta, but every once in a while it's bound to happen.
I was determined that I wanted to make a sort of grain free pasta, and started experimenting with different mixes of grain free flours to try to get the right consistency for making pasta. I ended up coming up with a combination that made a tasty pasta, but the mixture was a bit too delicate for pulling though the pasta maker as I have always done with traditional wheat flour.
This pasta worked better with a rolling pin and cutting by hand. The dough itself is quite delicate, but the pasta, once boiled, actually has a pretty solid consistency resembling wheat pasta al dente; the flavor isn't that different either!
As I was rolling out the flour and looking through my fridge, trying to decide what I wanted to make myself to eat, I though about using the pasta dough to make something I've wanted to try making for quite some time. I decided to try to make myself a paleo dim sum recipe.
To be honest, I wasn't quite sure what I was getting myself into, or if it would work out, but I kept going anyway. I'm so glad I did because I can truly say that I enjoyed this recipe.
You can probably tell that, despite being an American girl living in Spain, I like to try making and paleo-fying a lot of Asian recipes. I don't know why, but I guess it's because I'm attracted to the exotic flavors like ginger, soy sauce, litchis and matcha.
With that introduction, let me share with you my paleo dim sum recipe.
I hope you enjoy it as much as I did. (Even my husband liked this one.) 🙂
Craving more?
Subscribe to my newsletter for the latest recipes and tutorials!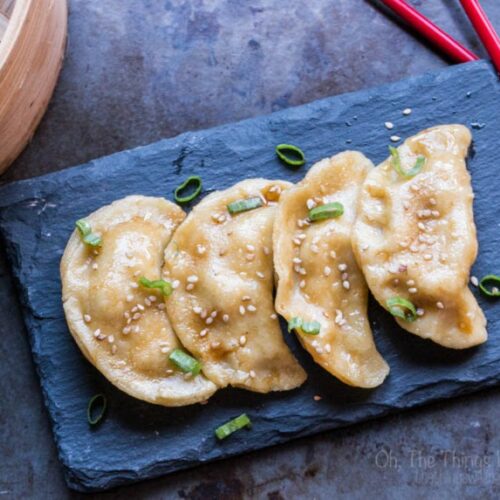 Instructions
Mix together the almond flour, tapioca flour, and eggs. It's easiest if you use your food processor, and you should end up with a grainy mix that holds together well when compacted.

Make a ball of the mixture and knead it as best you can. If needed, add a little bit of hot water. I like to add hot water because it seems to help make the dough stick together better.

Let the dough set while you begin to make the filling. Brown the ground pork in a frying pan over high heat, adding in the minced garlic cloves and salt and pepper to taste once browned.

Grate your ginger root and it to your filling mixture. I like to add a lot of ginger to give it a favor punch, but you can add as much as you like.

Roll out your dough with a rolling pin. If you're having issues with the dough sticking, I've found it easiest to roll the dough out between two layers of parchment or wax paper. try to get a very thin layer of the pasta dough.

Use a circular cookie cutter (or the edges of a glass or whatever you have available) to cut out circles of pasta dough.

Brush the inside of the dough with a little water and add a spoonful of the filling mix to the center of the dough. (How much you use will depend upon the size of your circles.)

Fold the dough circles in half and pinch the edges of the dough together with your fingers to seal the potstickers closed.

Once you have finished making your dim sum, you are ready to steam them. I used a bamboo steamer to steam mine in a wok over some simmering water. To keep them from sticking to your steamer of choice, line it with cabbage leaves or parchment paper or something similar. (There is a reason these are called potstickers.)

Keep steaming until the pasta changes texture and looks cooked (Or you can taste one to check for doneness.) It took me about 10-15 minutes to steam each batch.

Remove from the heat, and serve with a dipping sauce of your choice. I mixed together a little soy sauce, sesame oil and Asian plum vinegar, but to make it totally paleo you can substitute out the soy sauce for coconut amino or something else.