Impress your valentine with this romantic dessert ravioli: heart shaped chocolate ravioli with chocolate mascarpone filling and raspberry sauce.
Last time I posted my basic pasta recipe. It's something that I make quite often now because my son's favorite meal happens to be pasta with chicken and pesto sauce. He's obsessed with pesto sauce, and I grow lots of basil plants and make and freeze large batches of homemade pesto sauce to ensure that I always have some on hand for quick meals. (If you follow the link, you can find my recipe and tips for freezing and storing for later!
Seeing as I've been experimenting a lot with pasta lately, I thought I'd make a special dessert ravioli for Valentine's Day!
Actually, I started out making my basic pasta recipe, and tinting it pink with some beet juice. If you don't have any beet juice on hand, you can either use some beetroot powder or make an extract as I did when I made natural food colorings at home.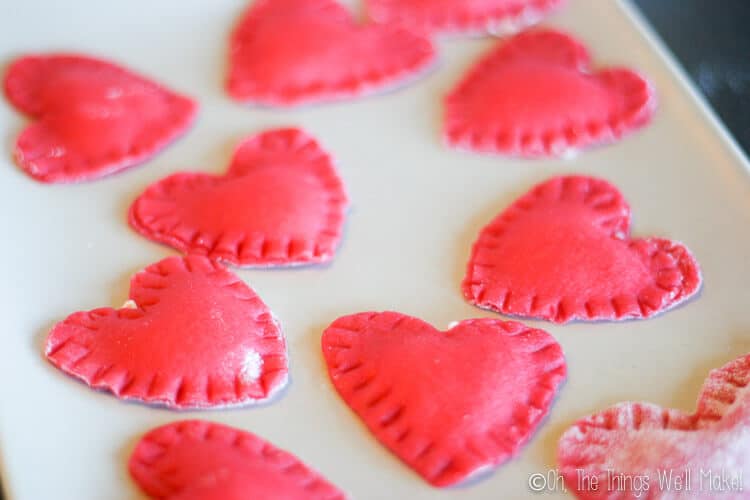 My first attempt at a dessert ravioli was the the regular pasta dough tinted pink and filled with a strawberry cream cheese filling. They were pretty enough, but didn't have a lot of flavor to them. The pasta itself lacked sweetness, and the cream cheese melted when I boiled the pasta. The resulting flavor just wasn't there.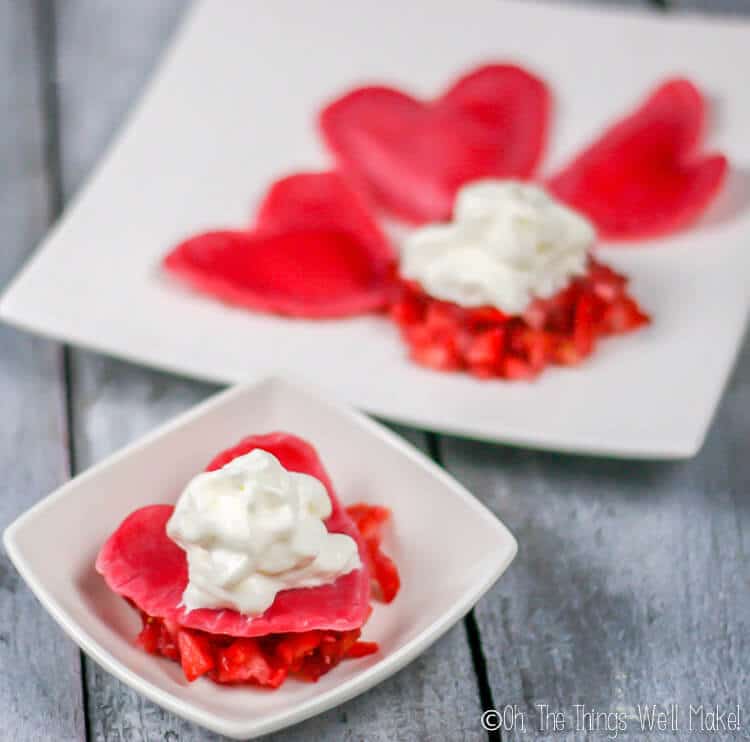 I think you could definitely make a better recipe using the idea, or you could make a pink pasta dish for fun for Valentine's day, but I decided against sharing that recipe here because it was a bit of a flop!
Rather than give up, I decided to stick with my heart shaped ravioli idea, but wanted to give the pasta itself a better flavor, so I flavored the pasta with a bit of cocoa powder and a touch of honey. I wasn't quite sure what the outcome was going to be; I had never tried pasta in a dessert before (other than my pink, strawberry ravioli disaster).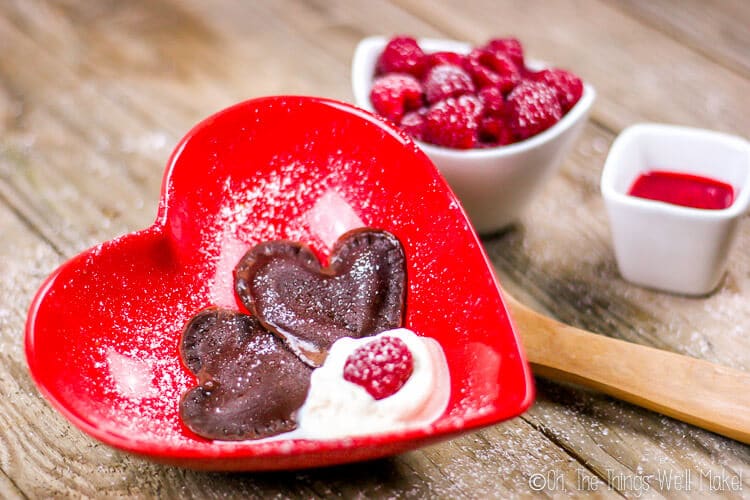 The outcome was much better than espected.  With both my husband and son being chocolate lovers, they also loved the heart shaped chocolate ravioli!
To make the chocolate pasta, I added a heaping tablespoon of cocoa powder and about a tablespoon of honey to my basic pasta recipe.  Because of the amount of liquid in honey, the dough was a lot more sticky, and I had to add in more flour to compensate.  It worked out well, but I will admit that the dough was much harder to work with than usual, and I had to work in smaller pieces.  The pasta itself didn't taste sweet anyway, so the next time I left the honey out. I have yet to experiment with adding a touch of powdered sugar, which I think would probably be the best option for making a sweet, yet workable dough.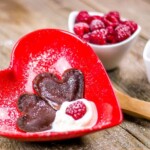 Chocolate Pasta Dough
Perfect for romantic dinners and dessert ravioli, this chocolate pasta dough makes for wonderful Valentine's Day treats!
Print Recipe
Instructions
Add all of the ingredients to the bowl of a food processor.

Process the ingredients until they are fully combined. You are looking to get a big crumb like texture. If the dough compacts itself into a sticky dough, you'll want to add a bit more flour. If it makes tiny crumbs that don't stick together easily, you'll need to add a tiny bit of water.

Pulse again, and adjust until you get the right consistency. You can now remove the dough from the food processor and start to knead it. Dive the dough into 2 smaller balls of dough to make it easier to work with.

Flatten one of the balls of pasta as best you can, and begin to run it through your pasta roller on its widest setting. To help get the dough more pliable, it's a good idea to fold it in half and run it through the machine at the widest setting a few times.

Now you are ready to make a thinner past by adjusting your machine down to a narrower setting. Don't skip numbers, but instead work your way down and run your past through the machine at each setting. This sounds tedious, but only takes a couple of minutes to do!

Work your way down to one of the thinnest settings, until you reach your desired thickness for your ravioli. (You may want to experiment as very thin may be hard to work with and may not hold up well to boiling, but too thick may not make for a delicate dessert.)

You are now ready to use your chocolate pasta for making your chocolate ravioli!
Once I had my pasta dough, I rolled it out into thin sheets.  I then quickly prepared my filling.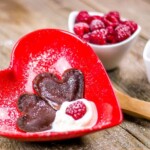 Chocolate Mascarpone Filling
This simple chocolate mascarpone creme filling is very quick to make and is the perfect filling for chocolate ravioli or crepes. It also makes a great topping for homemade pancakes and waffles!
Print Recipe
Instructions
Mix all of the ingredients together until they are fully combined.

Your chocolate mascarpone filling is now ready for filling or topping your favorite recipes!
How to make the chocolate ravioli
Once you have both the chocolate pasta and the chocolate mascarpone filling prepared, take one of the sheets of chocolate pasta, and mark it with the (heart shaped) cutter that you plan on using to cut out the ravioli. You don't want to cut all the way through, but are only marking it to know where to place your filling.  I pushed harder than I needed to because I wanted to make sure it would show up in the picture. You don't want the pasta to break, though, because you'll lose the filling when you cook the pasta, and the filling is the best part!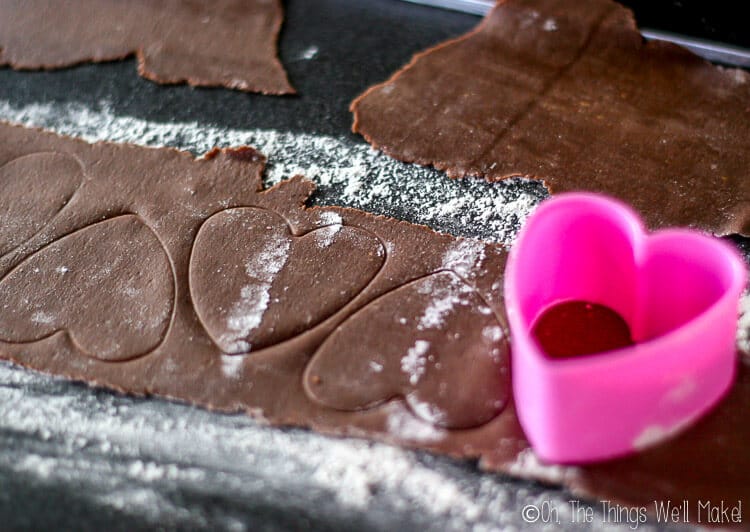 Spoon some filling within the markings you just made. The first time I made these, I used a rather small heart cutter. If you use a larger cookie cutter, each ravioli can have more filling. As I find the best part of this dish to be the filling, it's something to keep in mind. You want to add as much filling to each ravioli as you can, but don't try to force it in because if the pasta breaks, you'll lose your filling when you cook it.  You also need to leave room around the sides so that you can seal your ravioli closed.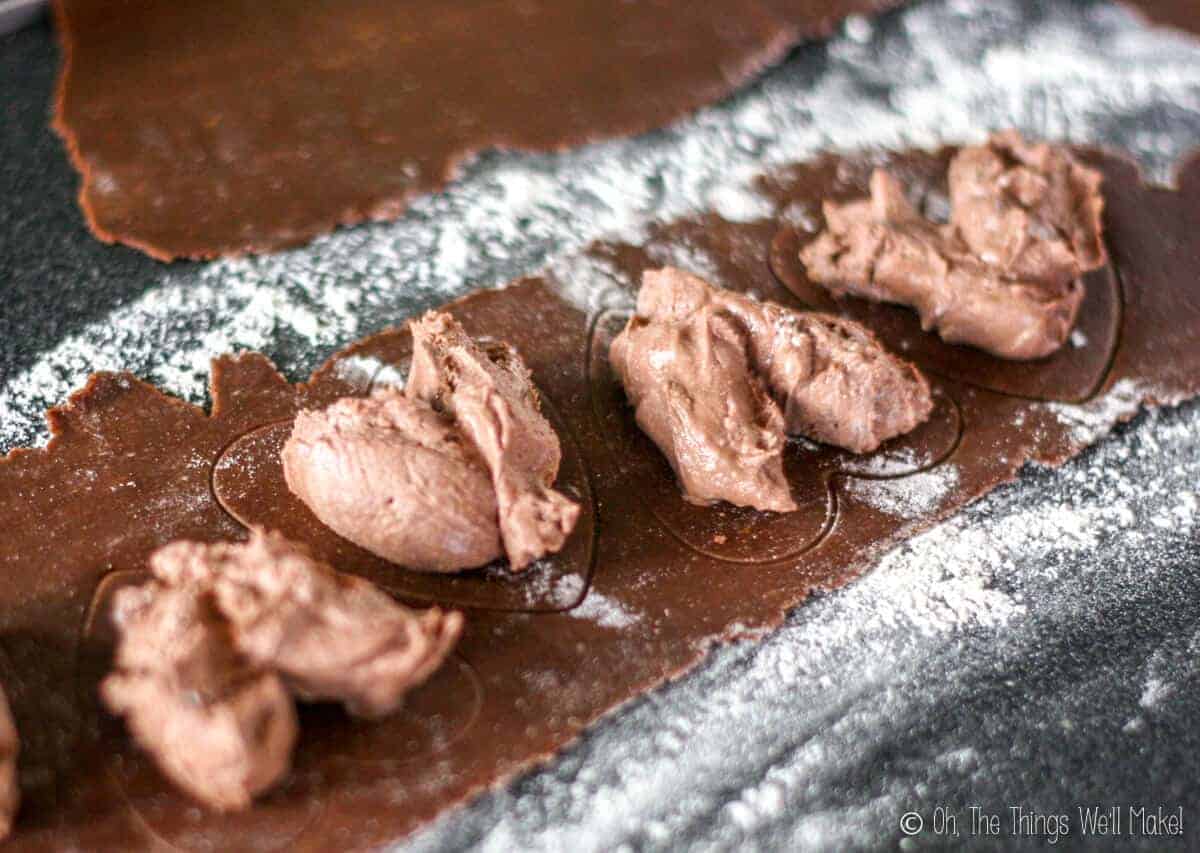 Next you'll want to cover the heart shaped filling with another sheet of chocolate pasta. I did a few at once, but it would probably be easier to cover one at a time. You want to let the pasta conform to the shape of your filling, carefully guiding it into place with your fingers.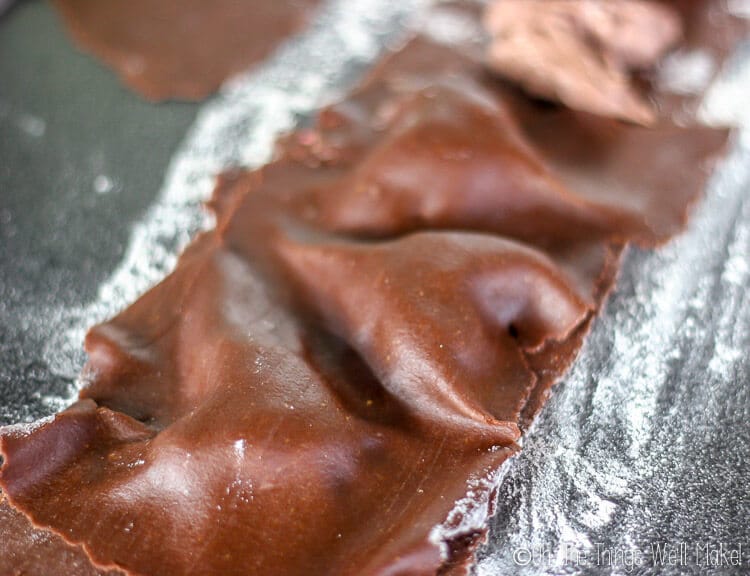 Once you have the second sheet of pasta in place, you can start to cut out your ravioli.  Use your heart shaped cutter, being careful to leave space all around the filling, and cut through all of the layers. Once you cut out the ravioli, you can seal the edges with a fork.
Repeat the process, making as many ravioli as you need.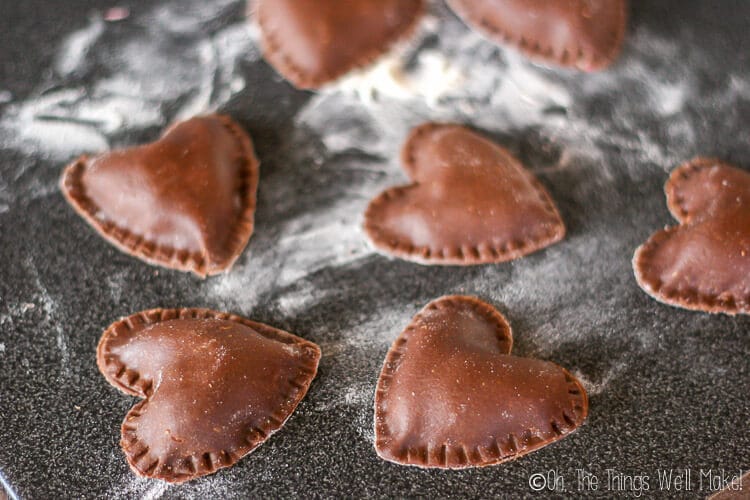 The recipe for the chocolate mascarpone filling was enough for 1 dozen ravioli.  If you use larger cutters, or want more than that, you can double or triple the recipe as needed.
Once you have your ravioli ready, you can either cook them and let them cool to serve them chilled, or cook at the last minute, and serve warm. I tried them both ways, saving some for my pictures, and preferred eating them chilled.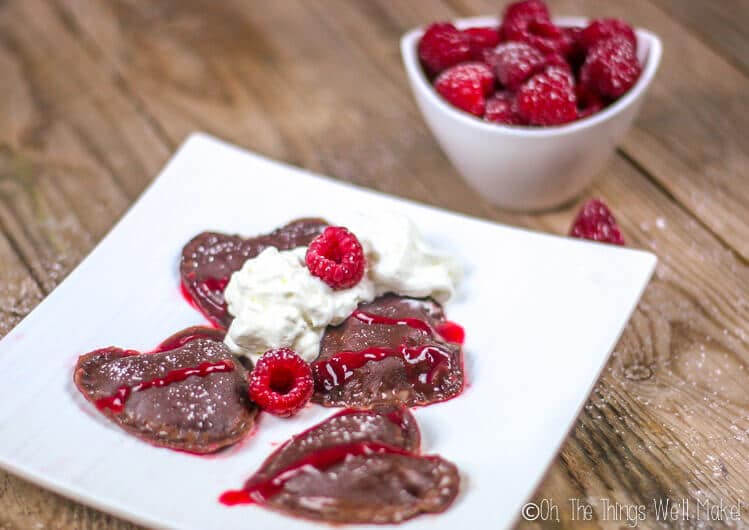 To cook your ravioli, boil some water, and then throw a couple of ravioli into the water at a time. I didn't try to add too many at once because I didn't want to risk them sticking together and breaking. As they are delicate, I only left them in the boiling water for around a minute, or maybe even a little less than that. (Fresh pasta dough cooks very quickly, and doesn't need to cook for very long anyway.)
I served my chocolate ravioli with a raspberry puree and some homemade whipped cream.
To make the puree, I thawed some frozen raspberries, and pureed them using a hand held blender. I then strained the seeds out with a stainless steel mesh strainer, pushing it through with a large spoon. I sweetened the raspberry puree with a little bit of honey to taste.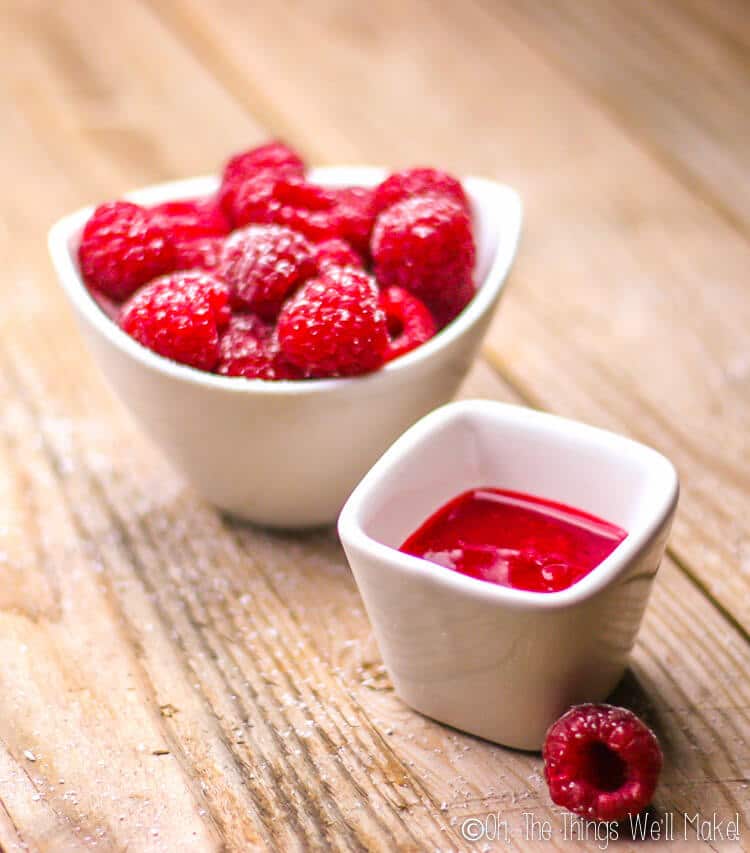 That's all there is to it!
To serve, place a few chilled (or warm) ravioli on a plate. Serve them with a raspberry puree, or another sweet sauce of your choice, and whipped cream. Garnish with some fresh raspberries if you have them on hand!
Have a very Happy Valentine's Day, everybody, and a great weekend, whether you choose to celebrate it or not!