One of the most important ingredients in cosmetic formulation, emulsifiers allow you to combine water-based and oil-based ingredients, forming a smooth product that glides over your skin and hair. Learn what they are, why and how to use them, and which are some of the best to use.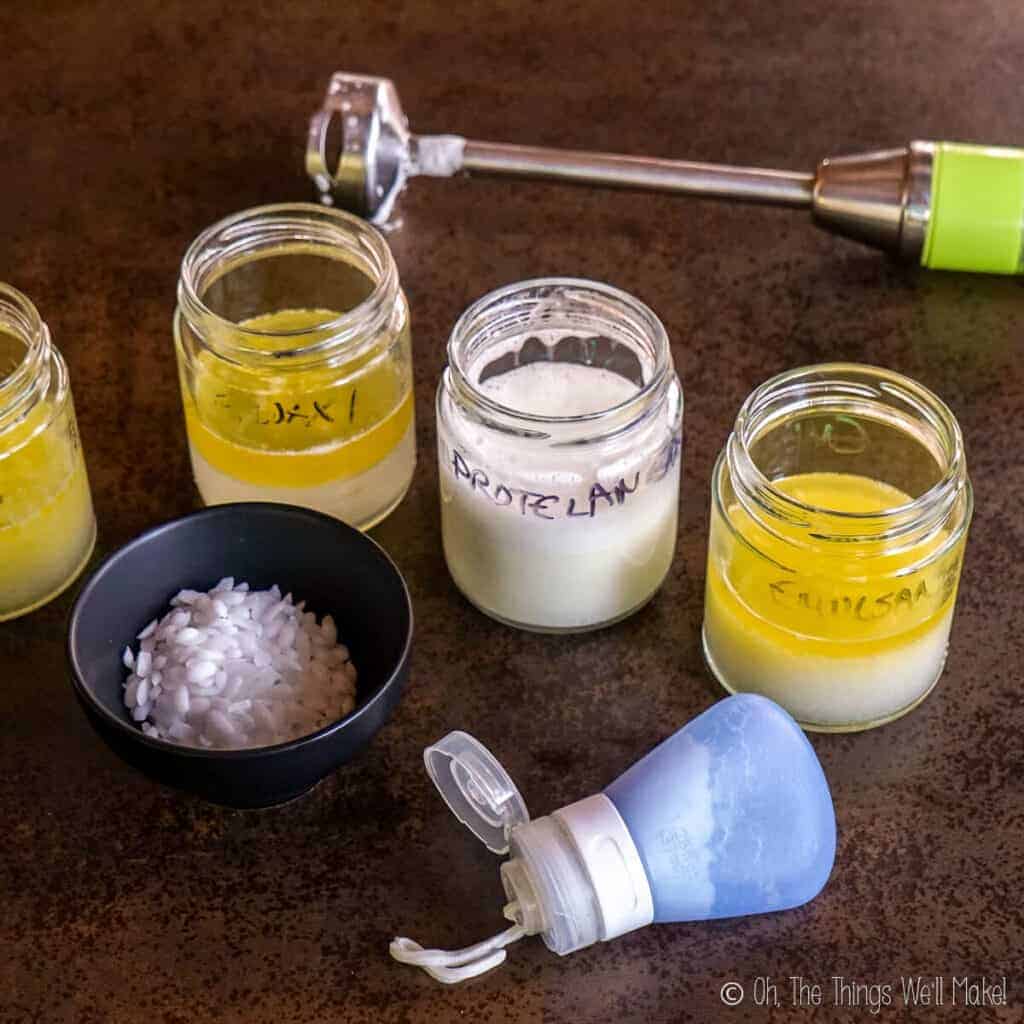 Many people stick to making simple recipes like body butters or lotion bars because they are too intimidated to work with emulsifiers and preservatives. Body butters and lotion bars are great recipes for those who are beginning their cosmetic making journey.
Those recipes have their limitations, though. Lotions and moisturizers are lighter and generally more pleasant to apply. They tend to be cheaper to make because the main ingredient is normally water. Because they include water, along with the oils, they also do a better job of hydrating the skin.
Why and when to use an emulsifier?
If you've ever tried mixing oil and water by shaking them up in a bottle, you'll notice that the oil and water don't mix together well. If you shake hard enough, the oil may initially break up into small droplets that are dispersed within the water, giving the appearance that they've mixed. Once you allow them to settle, though, they separate into 2 layers with the oil layer floating on top of the water layer.
To keep the small droplets of oil dispersed within the water so that they don't separate into their own layer again, we need an emulsifier.
What is an emulsifier?
An emulsifier is basically a type of stabilizer that helps keep the oil droplets dispersed throughout the aqueous ingredients (like water). These stabilizers prevent the tiny droplets from coming back together and forming their own layer.
Most emulsifiers used in cosmetics are referred to as emulsifying waxes because of their waxy-like texture. They are usually sold as solid beads or flakes.
How do they work?
Emulsifiers have both a water-loving part and an oil-loving part. The oil-loving tails get drawn to the droplets of oil. The emulsifier molecules come together around the oil droplets with the water-loving part on the outside. Because the water-loving head is in contact with the water, the oil droplets are no longer "rejected" and repelled from the water.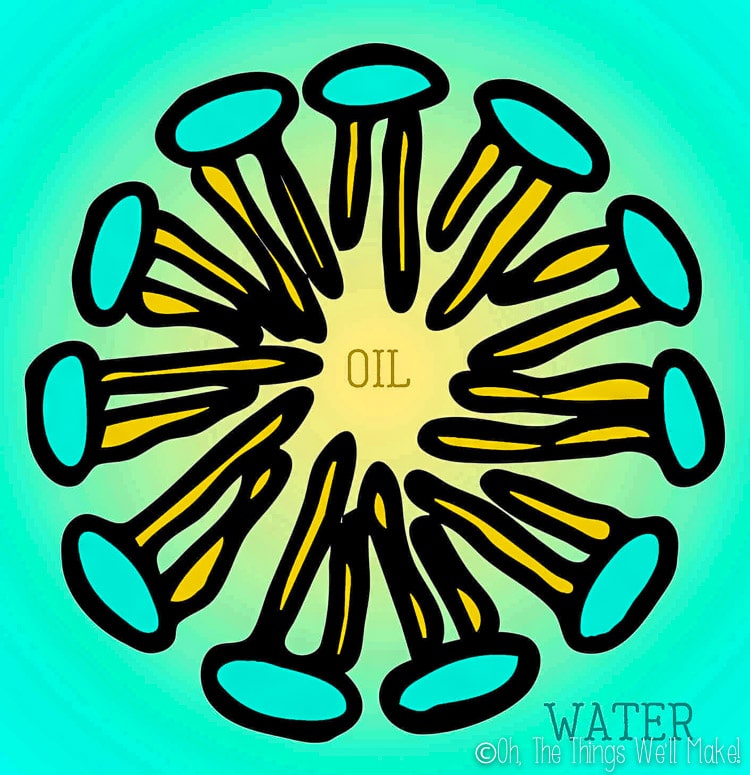 Cosmetic uses
Lotions, moisturizers, and conditioners generally have a mixture of aqueous ingredients like water or hydrosols and non-aqueous ingredients like oils, butters, and/or waxes. To allow for these ingredients to stay together in a homogenous mixture, emulsifiers are used.
There are many types of emulsifiers on the market. Gone are the days of only being able to buy a general "emulsifying wax." Now, one can find natural and synthetic options made with a variety of ingredients.
Lotions and moisturizers vs. conditioners
All emulsion-based cosmetics have a lot in common. They use a variety of oils, water, and some sort of emulsifier. There is really very little difference between what one would call a "lotion" and what one would call a "moisturizer."
Lotions can really be quite simple. They may use only one oil or a variety of oils. They may use only distilled water or may add some floral waters or distillates. Then, it's all held together with the emulsifier. Some people say that a lotion is thinner and has more water. Others consider lotions to be a moisturizer for their body vs. their face.
So, I guess you could say that moisturizers are more of a specialized lotion. Most facial lotions are called moisturizers. They are often a bit thicker than a lotion, but not always. Because they are used for the face, they also often have other additives like vitamins and antioxidants to help improve the appearance of fine lines and wrinkles.
Conditioners seem like a totally different type of product, but they are really just a lotion for hair. You could use your homemade body lotions on your hair, but in your hair, it's easy to notice the difference between different types of emulsifiers.
What really sets conditioners apart from "regular" lotions is that they are normally made with cationic emulsifiers and/or other cationic ingredients that help "condition" the hair. This helps detangle hair and reduce frizziness.
Emulsifiers and preservatives
Once you add water to your homemade cosmetics, you'll also need to add a preservative if you want your product to be safe and free of contaminants. So, emulsifiers and preservatives generally go hand in hand. A preservative will help guard against a variety of pathogenic microbes like mold and unwanted bacteria.
Many people fear using preservatives because they consider them to be unnatural or dangerous. There are, however, many types of preservatives that are safe and allowed in organic and natural cosmetics. It is much safer to use an adequate preservative than it is to risk infections from bacteria (that are normally invisible). It's likely that you'd see mold growing in a lotion, but you may use one that is laden with pathogenic bacteria without any visible signs.
Today, I'll be focusing on the different types of emulsifiers, but I figured it was important to bring to your attention the need for preservatives in products with water in them. For more information about how and why to use preservatives (and which ones you can use), check out my Beginner's Guide to Natural Preservatives.
If you don't use a preservative, you should keep your product in the refrigerator, and treat it like a fresh food (meaning- use it up within a week or so).
How do you use an emulsifying wax?
The procedure for using emulsifiers can vary from type to type. Some can be added to the water phase. Others, like Plantasens® Natural Emulsifier HE20, can be added to the water and oil phases together in the same container.
So, there are some exceptions, but most emulsifying waxes are melted with the oil-based ingredients and later combined with the water phase.
Normally, you will heat the water-based ingredients together and the oil-based ingredients together (with the emulsifier) before combining them all together. The water-based ingredients and oil-based ingredients should be at a similar temperature when you combine them for the emulsion to work.
As the mixture cools, you should periodically mix together the ingredients to help form a more stable emulsion. Using a mixer, like an immersion blender, can really help ensure a more stable emulsion that won't separate with time.
Using a blender/mixer
When you mix the ingredients with a blender or high-speed mixer, you are breaking up the oil particles into smaller droplets than what you'd be able to do by hand. That disperses the oils more thoroughly throughout the water.
By forming smaller droplets, the oil particles are spread out through the water and are much less likely to come back together to form larger droplets that would separate out. That's why using a blender to create tiny droplets helps ensure a more stable emulsion.
Can you substitute one emulsifier for another?
When writing a recipe, I normally refer to one specific emulsifier. So, I get questions about substituting emulsifiers all of the time. Understanding the differences in emulsifiers is key to knowing how and when you can successfully substitute one for another.
Most of the time, yes, you should be able to substitute the emulsifier in a recipe for another one that you might happen to have on hand. There are some things that you need to consider when making the switch, though.
Differences in texture and consistency
Even when using the same type of emulsifier, different emulsifiers create emulsions with different textures. Some will make thicker emulsions than others when used at the same concentration. Some will feel lighter and smoother than others. Some give more of a cream-like consistency, others feel more like a mousse or even somewhat like a gel. I've even heard some people refer to certain emulsifiers as having a "soapy" feel.
While you may be able to make a successful lotion with a different emulsifier, it may not have the same creamy texture as the one in the original recipe. Don't automatically assume you did anything wrong if your resulting product doesn't look like mine. It could just be a difference in the emulsifier.
Different types of emulsifiers
Changes in the texture and consistency aren't the only differences you might see, though. Not all emulsifiers are created to make the same sorts of products.
Oil in water (O/W) vs. water in oil (W/O) emulsifiers
The vast majority of emulsifiers sold for cosmetics are "oil in water" emulsifiers. That means that they are meant to emulsify a smaller amount of oil in a larger amount of water.
If you try to use an oil-in-water emulsifier to add a small amount of water to a body butter, it probably won't make a stable emulsion. (I did try it once, but can't remember exactly what happened. I do remember that it definitely wasn't what I was hoping for.)
For adding a small amount of water to a mostly oil-based product, you'd need a water-in-oil (W/O) emulsifier.
Cationic emulsifiers
Many people ask about substituting the emulsifier used in my homemade conditioner recipe. I chose to use BTMS, which is probably the most common cationic emulsifier used. It gives the best detangling and slip of any of the ones I've tested.
For those who are looking for more natural alternatives, though, there are a few that you can try instead. They are generally harder to find and, in my opinion, don't give the same feel. One of the most common choices is Emulsense™ HC. It is palm-free and Ecocert and COSMOS approved. Its ingredients are Brassicyl Isoleucinate Esylate and Brassica Alcohol.
Varisoft® EQ65 is another choice. Its ingredients are Distearoylethyl Dimonium Chloride and Cetearyl Alcohol.
I'm working on updating my conditioner recipe post, and will be giving more information about both of these in the update.
How much emulsifying wax should you use?
The amount of emulsifying wax needed to achieve a certain consistency will depend on the emulsifier chosen. Generally, when you buy an emulsifying wax, it will come with dosage information on the package. Common dosage falls between 2-9% of the recipe by weight. That means for every 100g of lotion you want to make, you'll probably be using somewhere between two and nine grams of emulsifying wax.
Generally, using less emulsifier will result in a thinner lotion and using more will result in a thicker cream. If you try to use too little emulsifier, though, you may not be able to make a stable emulsion and the water and oils may separate.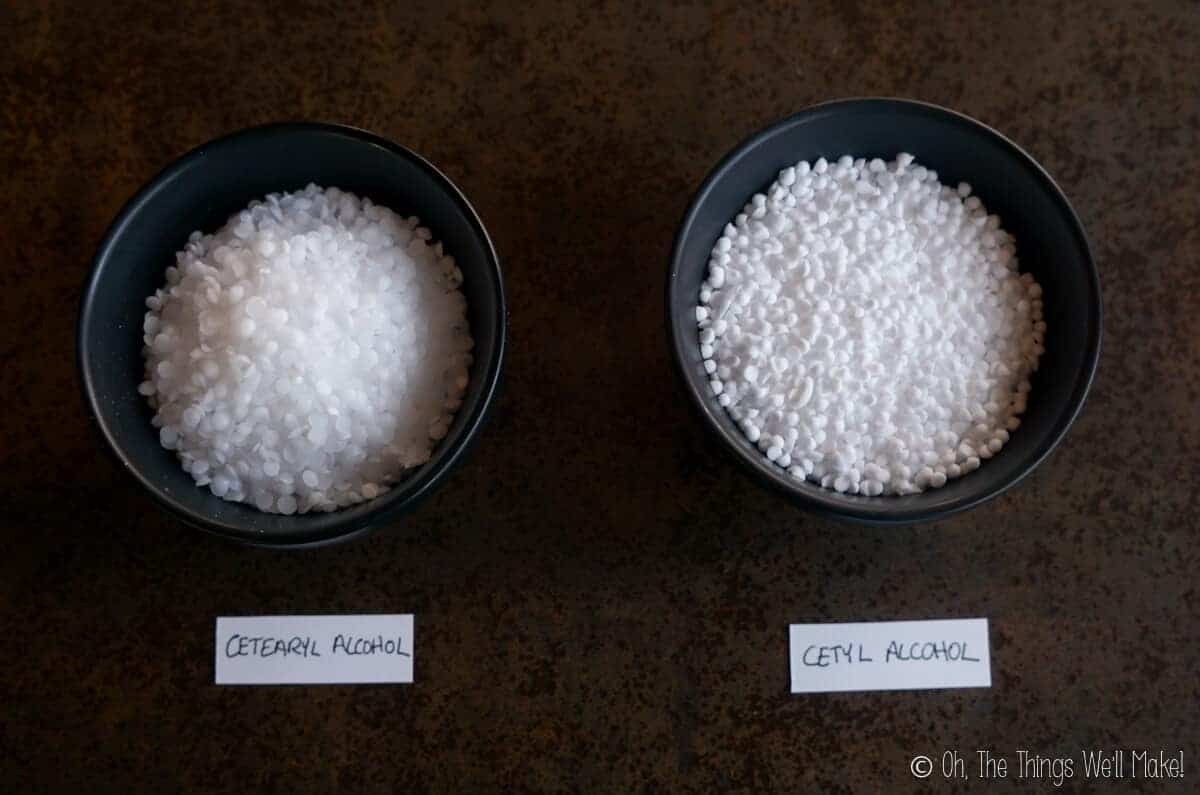 What are co-emulsifiers?
Using a blender and/or using more emulsifying wax aren't the only ways to help achieve a more stable emulsion. Using co-emulsifiers can also help.
Co-emulsifiers are often used in conjunction with emulsifiers to help thicken and stabilize emulsions. Normally, they aren't good emulsifiers on their own and would need to be used in very high amounts to emulsify on their own. Common co-emulsifiers are cetearyl alcohol and cetyl alcohol.
Although both of them are called "alcohols," they are much different than ethanol, the type of alcohol you drink, or isopropyl alcohol. Both isopropyl alcohol and ethanol can be drying in cosmetics. These fatty alcohols, though, can actually be good for your skin. Because they have emollient properties, that's especially true for dry skin. Emollients can soften skin and help soften and detangle hair.
Comparing several emulsifiers
As an experiment, I made several batches of the same simple lotion recipe only altering the emulsifier used. I only tested the O/W emulsifiers because the W/O emulsifiers can't be used with the same recipe in the same way. My goal was to evaluate the feel and appearance of lotions made with different emulsifiers.
Seeing as I live in Spain and can get good quality olive oil quite inexpensively, I chose olive oil for my lotions. I used 35g of olive oil, 65g of distilled water, 5g of emulsifier, 1g Sharomix preservative, and 1 g lavender essential oil. I followed the same procedure for all of the batches, the one explained in my post for how to make a homemade lotion.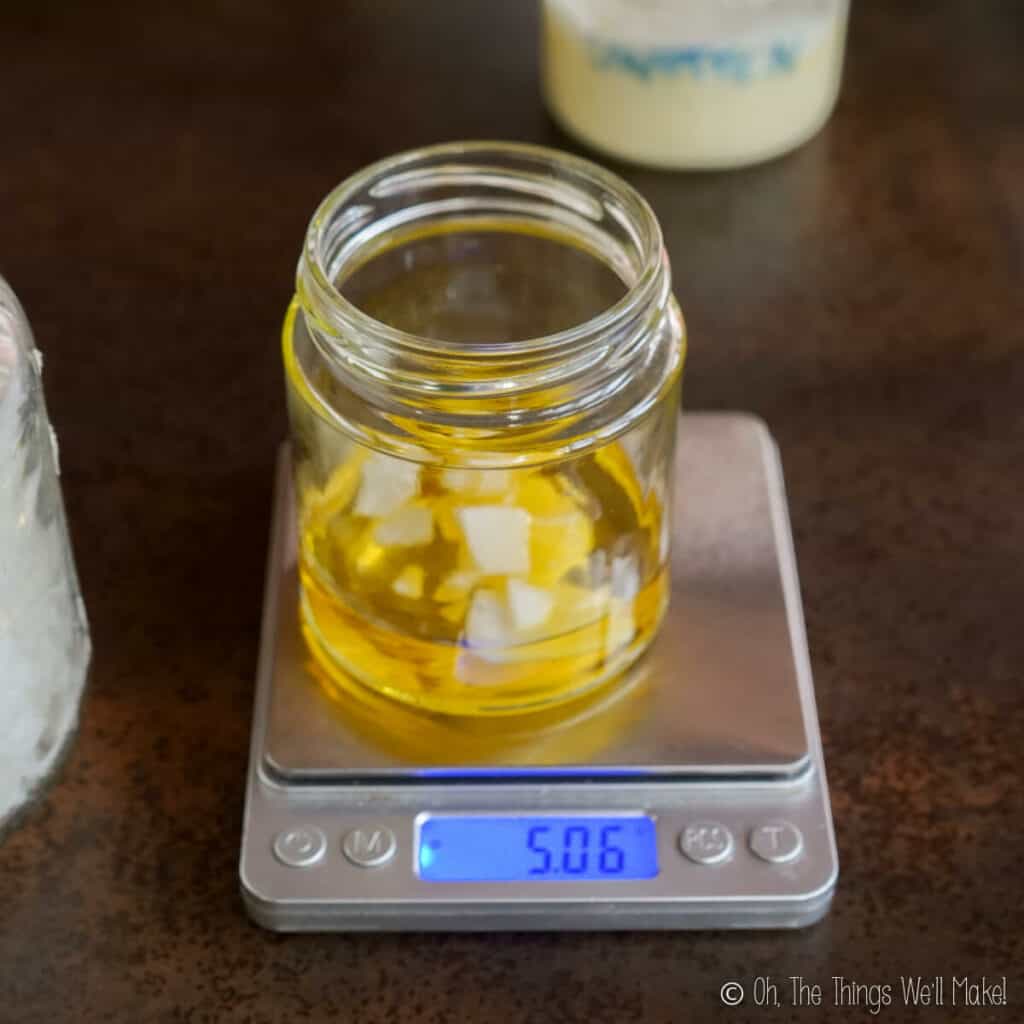 Over the next days, my husband and I tested out the various lotions and tried to describe each of them. While many of them made lotions with a similar appearance, some made lotions that were much lighter or heavier than the others.
As I test out more different types of emulsifiers, I will update this post with new photos and more thoughts on each of the various emulsifiers.
Olivem® 1000
INCI: Cetearyl Olivate, Sorbitan Olivate
Company: Olivem®
Dosage: 3-5%
Olivem 1000 is an olive based emulsifier that is used for oil-in-water mixtures. (The same company makes another emulsifier, Olivem 900, that is a water-in-oil emulsifier.)
Olivem made a white lotion that was slightly thinner than some of the others, but was a nice consistency. (It wasn't liquidy.)
Montanov™ 68 MB
INCI: Cetearyl Alcohol (and) Cetearyl Glucoside
Company: SEPPIC
Dosage: 4-5%
Montanov is a completely natural emulsifier that is COSMOS, BDIH, & Natrue approved. It's made from coconut oil and tapioca and is 100% biodegradable.
Montanov 68 might just be my favorite emulsifier. It makes a lotion that isn't especially thick nor thin. It has a silky feel that I love for making my homemade moisturizer.
Lanette® N
INCI: Cetearyl Alcohol (and) Sodium Cetearyl Sulfate
Company: BASF
Lanette N is an anionic emulsifier with a pH of around 6.5 – 8.0.
Lanette N made a very thick and creamy lotion. It went on quite opaque but was absorbed into the skin quickly. The lotion itself wasn't as white as some of the others. (Because I used extra virgin olive oil, the oil component of the lotion is quite yellow/green.)
Protelan ENS
INCI: Cetearyl Alcohol (and) Glyceryl Stearate (and) Sodium Lauroyl Glutamate (and) Stearic Acid
Company: Zschimmer & Schwar
Recommended dosage: between 5-10% (5% gives a body milk consistency, while 8% gives an average cream consistency.)
This is another ECOCERT certified, vegetable-based emulsifier with renewable and biodegradable components. It's said to make a "silky" lotion.
When I used Protelan ENS at the same concentration, the first time I made it, it made the lightest, thinnest lotion of all of the emulsifiers tested. The lotion was very liquid and didn't hold its shape. (They recommend 5% dosage for a "body milk" consistency, so that makes sense). While that may sound like a disadvantage for a lotion, it can be used to your advantage in certain products that need to be on the thinner side.
For example, one of the main problems I had when making my roll-on deodorant recipe was that I had a hard time making a thin enough product that would easily roll through the dispenser. I used smaller quantities of the different emulsifying waxes, which made for a lighter lotion, but then separated again. Next time, I'll definitely try making it with Protelan ENS! It makes for a very stable, very light emulsion!
Interestingly enough, though, when I retested it a few months later, I ended up with a thicker emulsion. I'm not sure what happened. It was likely either user error or a problem with my scale when I measured. I may have cooked for too long without compensating for the water that evaporated away. I'll be retesting again to see what sort of emulsion I generally end up with when using Protelan ENS at a concentration of 5% in a lotion. In any case, it appears to make a stable, light lotion if needed.
Emulsan
INCI: Methyl Glucose Sesquistearate
Recommended dosage: 2-3% for lotions, approx. 2-6% for creams. If used with co-emulsifiers, you can use a bit less (around 4% is a good general starting point for testing).
Emulsan is an ECOCERT-approved emulsifier that is said to be safe for use in sensitive areas like the eyes and for sensitive skin. It is said to be stable in creams from pH 3.5 up to 8.5 and in lotions from pH 5.5 to 8.5.
I have found both Emulsan and Emulsan II for sale and have bought both. I have tested Emulsan, but haven't tested Emulsan II yet. Both are PEG-free emulsifiers with the same ingredient, Methyl Glucose Sesquistearate.
Emulsan made a very light lotion, just as Protelan ENS had the first time I used it. That said, I had worked a bit too quickly when doing that batch of tests. The jar with the Emsulan and oil started to tip over in the water bath when the water started to simmer. I thought I had caught it before it fell enough to lose some of the emulsifier, but now I have my doubts. I'll re-test Emulsan when I get around to testing Emulsan II. That way I'll also be able to better compare the two.
Plantasens® HE20 Natural Emulsifier
INCI: Cetearyl Glucoside (and) Sorbitan Olivate
Company: Clariant International Ltd
Plantasense is a natural emulsifier that is said to speed up the emulsion process because both the water and oil phases can be heated in the same pot. Despite this, I followed the same procedure as I normally do for lotions to keep all factors the same.
While Plantasense HE20 is said to be of low viscosity, making it ideal for sprayable products, my lotion made with around 5% wasn't runny by any means. It made a light, creamy lotion that had an airy, mousse-like consistency.
Polawax™ NF
INCI: Cetearyl alcohol and polysorbate 60
Company: Croda
Recommended dosage: 2-10%, or 10-15% for a thick body butter.
Polawax is a non-ionic, vegetable based emulsifying wax. It's the least "natural" of the emulsifiers I tested as it includes polysorbate 60 and is not compatible with ECOCERT/COSMOS.
Despite its good reputation for making lotions of "excellent texture," Polawax was probably my least favorite of the different waxes. It made a very thick lotion that my husband described as aioli. (If you aren't familiar with aioli, it's a garlic sauce or "mayonnaise" that is commonly made here in Spain.) When I asked him to elaborate on that, he couldn't really, so I'll give it a try.
I think what he was seeing was that it had a solid, almost gelatinous texture. It goes on feeling almost gel-like, but then gets creamy and is absorbed quickly into the skin. In the end, it's not so different from the others. I don't think it has a "bad" texture or feeling, but it wasn't my favorite either. (And, of course, I normally stick to more natural options.)
Emulsifying Wax 1
INCI: Potassium palmitoyl hydrolyzed wheat protein, glyceryl stearate (and) cetearyl alcohol
Recommended dosage: 4-10%
Emulsifying wax #1 is a vegetable based, ECO-CERT approved emulsifier.
Under 5%, they recommend a co-emulsifier and/or thickening with a gum. Interestingly enough, I didn't find that necessary at all and actually found the resulting lotion to be quite thick in comparison to the ones made with most of the other emulsifiers.
Emulsifying Wax Nº2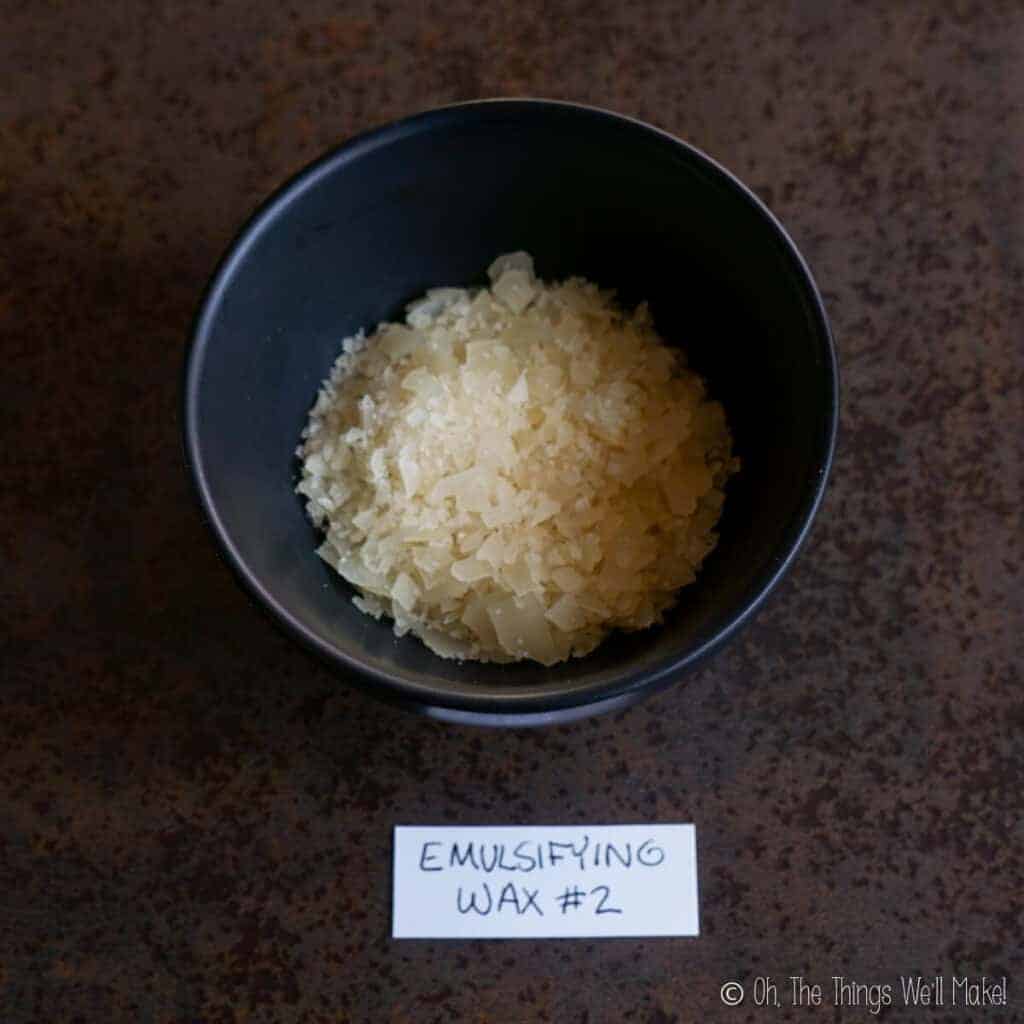 INCI: INCI: Cetearyl Wheat Straw Glycerides, Cetearyl Alcohol
Recommended dosage: 3 – 5 %
Emulsifying wax Nº2 conforms to BDIH standards for certified natural cosmetics. It works best as an emulsifier when the oil phase is between 25 and 40%. At lower percentages, they recommend combining it with a co-emulsifier like Cetyl alcohol or a gelling agent. I haven't tested this emulsifier yet, but will add my comments about it (and photos) when I do.
Emulsense™ HC
INCI Name: Brassicyl Isoleucinate Esylate (and) Brassica Alcohol
Company: INOLEX Incorporated
Emulsense HC is one of the few natural cationic emulsifier than can be used to make naturally certified hair conditioners. (It's ECOCERT/COSMOS compliant.)
Its suggested dosage is 6.5%-16%. I made my lotion (or conditioner) at around 5% instead, though, because I wanted to follow the same recipe for each emulsifier.
Even at the 5% dosage, Emulsense HC made a thick and stable emulsion. That said, they suggest incorporating some glycerin to help make more stable emulsions.
The pH of Emulsense HC is around 3.5. If using a higher dosage, the final product may be too acidic to be ideal for your hair. If you need to bring the pH up, they suggest using L-Arginine vs. other alkalinizers.
They also highly recommend using their preservative, Spectrastat OEL, to preserve emulsions made with Emulsense. (The emulsions may brown with time if using other preservatives.)
For more information about pH, check out my post about why pH important in cosmetics and how to alter it.
BTMS (BTMS-25)
INCI Name: Behentrimonium Methosulfate (and) Cetearyl Alcohol
Recommended dosage: 2-10%
BTMS-25 is the emulsifier that I generally use for my hair conditioners (both the regular conditioner and the solid conditioner bar). Because it is a cationic emulsifier, it gives conditioning properties to both skin and hair. It's especially important to make use of these conditioning properties in hair to give the conditioner detangling properties and to soften the hair.
Unfortunately, BTMS isn't accepted for use in certified organic products. For those sorts of products, you'd want to use something like Emulsense HC or Varisoft® EQ 65. The problem with those is that they are generally harder to find, more expensive, and don't give the same slip. They also have some other limitations (such as Emulsense needing a specific preservative and pH adjuster).
BTMS can be found in various formats. The most common ones are BTMS-25 and BTMS-50. BTMS-25 has less than 30% Behentrimonium Methosulfate and more than 50% Cetearyl Alcohol.
BTMS-50 has an INCI of Behentrimonium Methosulfate (and) Cetyl Alcohol (and) Butylene Glycol. It uses Cetyl alcohol instead of Cetearyl alcohol as a co-emulsifier. It also uses Butylene Glycol, which is generally regarded as safe, but that some people avoid because they don't want use use "glycols" in general.
Normally, you can substitute one for the other, but BTMS-50 has a greater concentration of Behentrimonium Methosulfate (around 50%) so you can consider using slightly less of it in your formulations (and can add some more Cetyl alcohol or some Cetearyl Alcohol as a co-emulsifier, if you feel you need it).
If used in quantities above the recommended dosage of 2-10%, the smell can be a bit unpleasant. When used in that range, though, you generally can't notice it, especially after adding essential oils or other fragrances to your finished product.
TEGO® Amid S18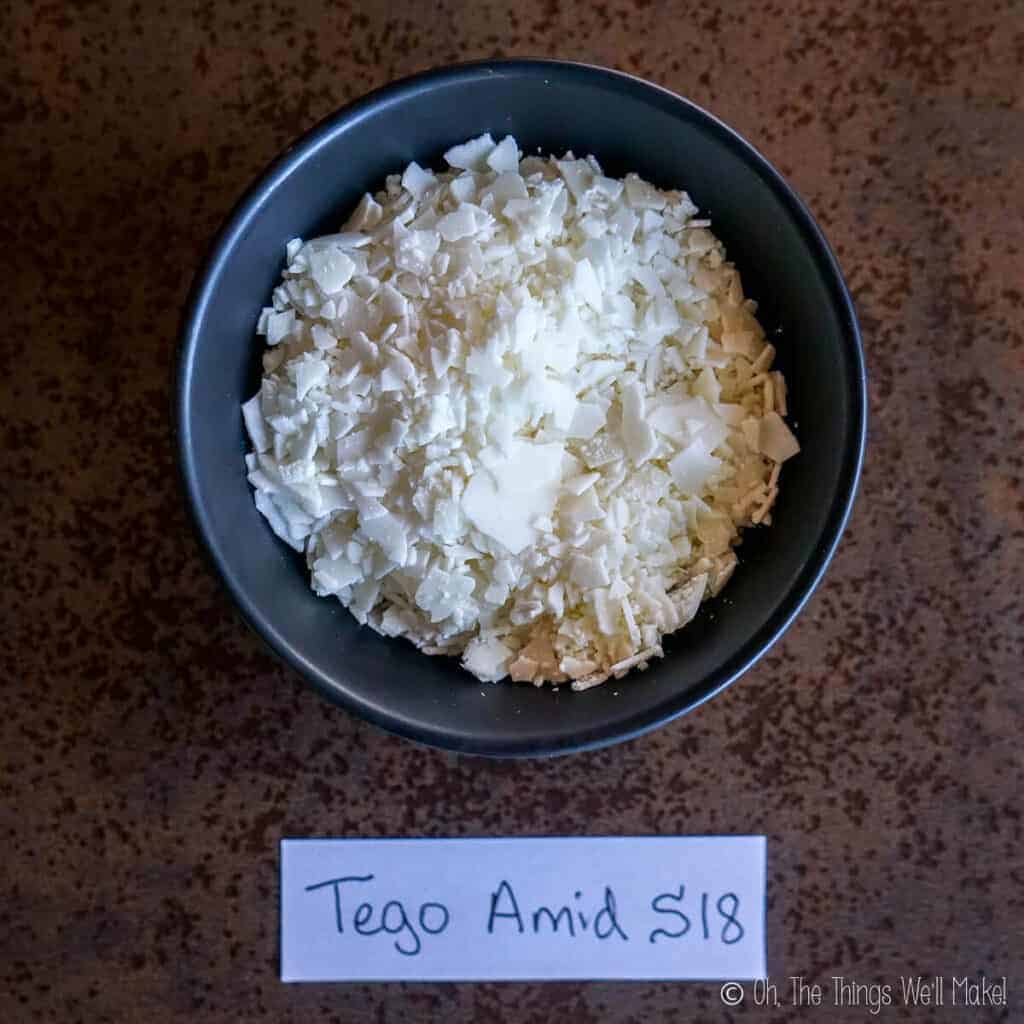 INCI: Stearamidopropyl Dimethylamine
Recommended dosage: 1-3%
Tego Amid is a cationic emulsifier that I bought from one of my suppliers to test as another alternative to BTMS. It can be used to add conditioning properties and to help thicken both shampoos and conditioners. They don't recommend using alone, though, and suggest using it in combination with other emulsifiers.
I haven't tested this one on its own, and am not sure if I will or not.
As I test out more emulsifiers, I'll update this post with my findings. If you have other questions, let me know in the comments so I can also update the post with frequently asked questions!

Free Formula Botanic Masterclass!
Running now…
9 free 10-minute classes to help you learn to begin developing professional-grade natural cosmetics in your own home!