I always love a good challenge, and homemade papadums from scratch is something I've been wanting to try to make for quite some time, but they are made with urid flour, something that I couldn't find here in Spain, even for ordering online.
Last spring I tried out the candida diet for a couple of months. I cut out most grains and sugar, and one of the things I relied on to get me through my snacky cravings was papadums. Unfortunately, the little Asian store where I bought them closed, and I could only find plain, boring, overpriced papadums at the supermarket.
I was determined to make my own, but, after some research, learned they were made with the flour from "urid lentils," and I had no idea what they even were. I searched online for urid flour, but couldn't find any that could be sent to me here in Spain for a reasonable cost.
I gave up on the idea for awhile until….
One day I was shopping in a new fruit and vegetable shop run by a Pakistani family, and found bags of urid "lentils" (aka. urad beans). They also had some papadums for sale (These very ones, actually), which I bought, of course, but I also bought some urid lentils for trying to make my own homemade papadums from scratch.
Having participated in the Wondermill grain mill challenge, I have a great grain mill for making flours, perfect for situations like this one. Ironically, most of the time it isn't used for grains, and I tend to use it mostly for grain free flours.
I made my first batch of homemade papadums with the whole urid bean (lentil), but the peel changed their texture and made them a dark color. The dough was a bit difficult to work with, too, but I was getting the hang of it.
They were good, but weren't what I was looking for.
One day when shopping at a new store, I came across some peeled lentils for sale. I decided to buy those to give making homemade papadums a try. If the urid beans are usually called urid lentils, how different could they be? Right?
Well, not so much.
I told a friend about my plans and she replied, "You know that you can peel your own lentils, right?"
"What!?!?"
I didn't know what I was getting myself into, but I bought myself more urid lentils to give it a try. For some reason I decided that the whole urid would be easier to peel than the split urid (urid dal), so I bought those. (Next time, I'll probably try the split ones!)
I soaked the urids overnight, and while it was true that you could easily rub the skins right off from the urids, I basically had to go one by one, and it was very time consuming.
Determined to come up with a better way, I smashed the urids just enough to split them and get many of them separated from their skins, and decided that I would rinse the skins off.
It worked, more or less, but still was time consuming because not all of the urids had separated well for their skins, and the skins didn't float as well as I thought they would. I put the smashed urids in a jar of water, shaked them to help separate them from their skins, and then poured off the water and skins.
The skins didn't float as well as I hoped, but the process still worked when done carefully because the urids themselves were kept inside by the lip of the jar when I poured the lighter skins off with the water. I repeated the process several times, and then took off the skins of the individual urids with remaining skins. It was easier, but still time consuming. I think that if I had begun with split urids, though, that it would have been much easier.
In any case I eventually ended up with a couple of cups of peeled urid, ready for drying and grinding into urid flour.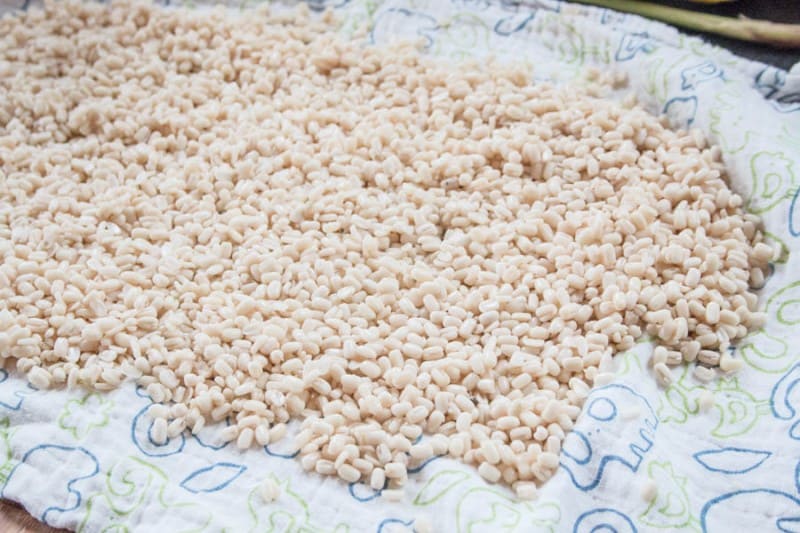 If you can find urid flour, or even just peeled urids, do yourself a huge favor and use those!
After I ground my two types of flour, I was (finally) ready to get started making homemade papadums.

Would I make them again?
If I could get ahold of either peeled urids or urid flour, most definitely!
Once I had my flour made, the process of making homemade poppadums was actually quite simple, and I loved the results.
What didn't I love so much?
Peeling all of the urid!!
I'm glad I did it because it was an adventure and a learning experience, but it's not something that I'd choose to do every day.
Next time I'd love to try other spice combinations, like adding turmeric and maybe a bit of cayenne. Cumin is still my favorite addition to papadums, though!
I hope you'll try making them and let me know how it goes!


This post is also available in Español.