Cleanse your hair gently with this DIY clarifying shampoo that uses natural surfactants to remove dirt and leave your hair clean and soft.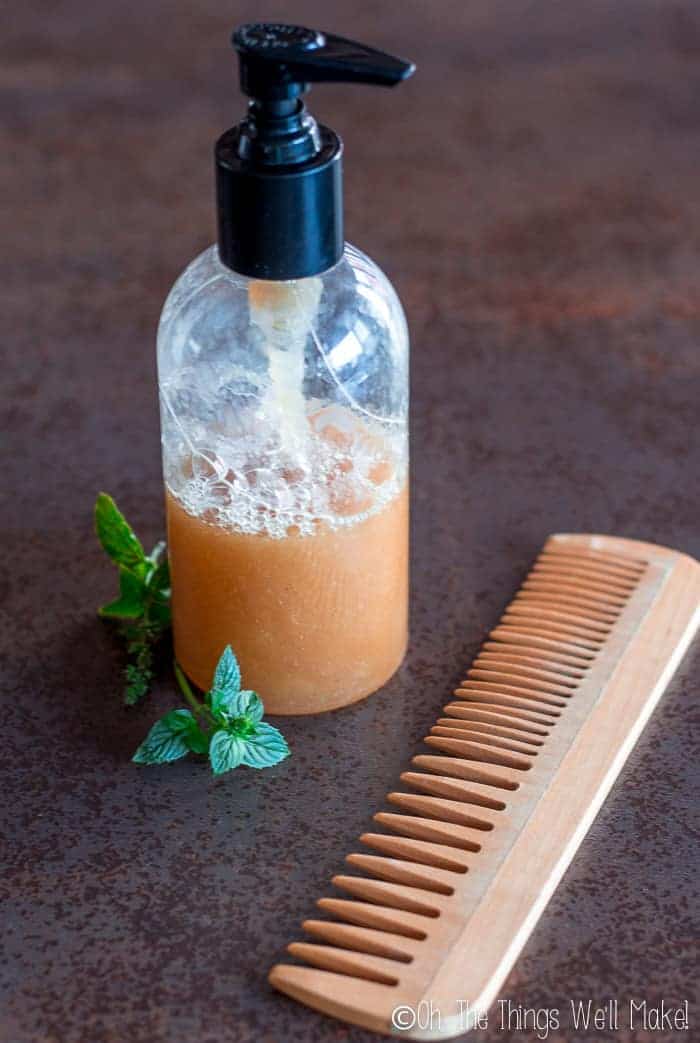 Because many of you have found me through my soap recipes (like my liquid Castile soap or my easy beginner soap), I often get requests for a soap-based shampoo. While I love making soap, I never use soap for my hair because it leaves my hair dry and unmanageable. Some people are able to cleanse their hair with Castile soap and are quite happy with it, but I'm not one of those people.
I'm not alone, though. Castile soap isn't an ideal shampoo for hair because the pH of soap is high yet our hair and scalp have a more acidic pH. Not only can an alkaline shampoo increase the negative charge in the hair making the hair more prone to friction and damage, but it can also be irritating to your scalp.
In an attempt to remedy this issue, most people who wash their hair with soap or soap-based "shampoos" will follow it up with a vinegar rinse to lower the pH again. Not everybody reacts well to vinegar rinses either. I, again, am one of those people and I don't like the feel of my hair after a vinegar rinse.
Choose natural surfactants
You want a "natural" alternative, but soap may not be the best option. So what's left?
Natural surfactants, of course!
Surfactants have a bit of a bad rap. It's partly because harsher surfactants like SLS Sodium Lauryl Sulfate and Sodium Laureth Sulfate can be found in just about every conventional product at the supermarket. It can be found in everything from household cleaners to shampoos, shower gels, and even toothpaste! (You can make your own toothpaste sans SLS, too!)
I'm actually not even an SLS hater, to be honest. (Shocked?) I use it in my homemade version of Dr. Bronner's Sal Suds just like they do (I'll share my recipe soon!), but I reserve it for general cleaning around the house. For my skin and hair, I choose milder, more natural surfactants instead!
With time, more natural surfactants are being developed to meet consumer demands! I wrote more about them and shared a list of some of my favorites in my post about working with natural surfactants! (If you aren't familiar with natural surfactants, I recommend reading that post as a great starting point for making your own homemade products!)
Who is this shampoo best for?
Because this is a fairly gentle shampoo, it should work well with most, if not all, hair types.
Those who follow the curly girl method for developing waves or curls and keeping their hair hydrated can use this shampoo as a "low poo" alternative. (No, I didn't come up with that term.) It makes a good starting point for beginning the process and for occasional washings when normally using co-wash.
You can use it as often as works best for your hair. I have been developing my natural waviness over the last few years by rarely using shampoos and sticking to very gentle ones when I do. I usually use this shampoo around once a week and for my other "washing," I either co-wash with my homemade conditioner or I use a DIY conditioning shampoo. (Yet another recipe that I'll be sharing with you shortly!)
Why make your own clarifying shampoo?
It's very difficult these days to find shampoos free of harsher surfactants like SLS. When you make your own shampoo, you can control which surfactants you use.
Many shampoos also have other ingredients that may not be right for your hair. They may contain non-water soluble silicones, harsh preservatives, and artificial fragrances.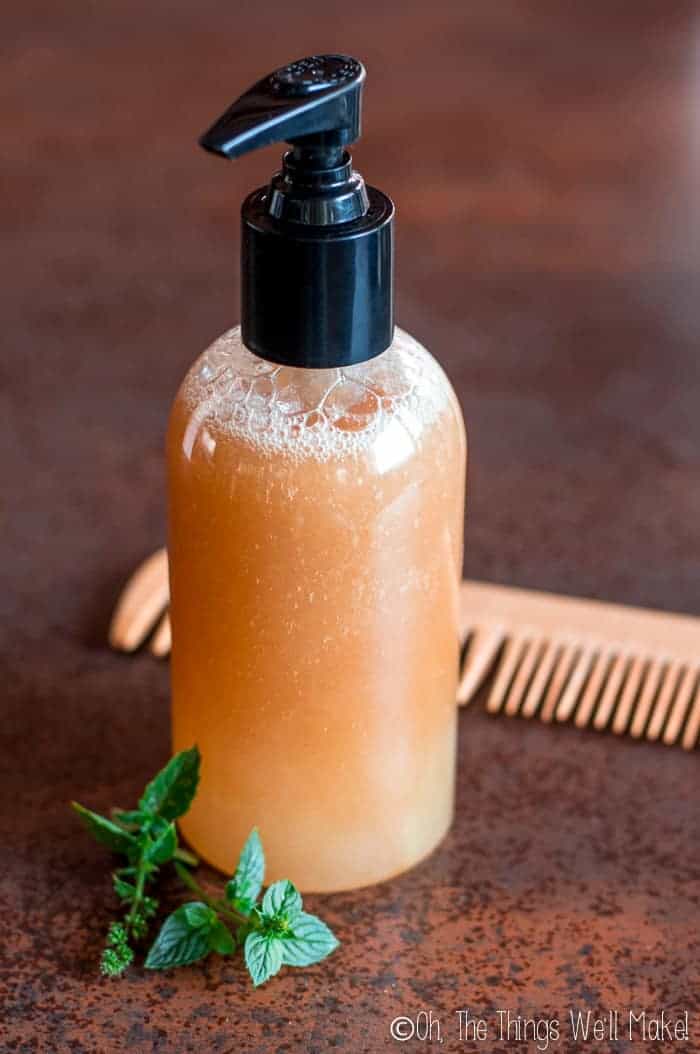 Customizing your DIY clarifying shampoo
What it comes down to, though, is that when you make a product, you can control the ingredients and customize the recipe to suit your needs. While most of us aren't that in tune to our hair and will use just about any shampoo that doesn't have harmful ingredients, those that are doing processes like the curly girl method to maintain perfectly hydrated curls and waves are often very in tune to what their hair needs in terms of vitamins and proteins. Your hair may show more need for protein, for example, so you can adjust the amount you add to your hair care products. Looking for a shampoo without protein, you can make it without too! Making your own shampoo allows you to fine tune it to perfectly suit your hair from batch to batch.
Vitamins and Proteins
In this shampoo, I chose to use d-panthenol (provitamin B5) to help nourish the hair, but you could also add some hydrolyzed wheat protein or silk protein to give your hair extra nutrients. (Just use the suggested range for each particular ingredients, as suggested by the supplier, and exchange any water-soluble additions for part of the water in the recipe.)
Distilled water or floral waters
In the shampoo in the photos, I actually used an infusion of peppermint leaves in distilled water as the water component of the recipe. I like mint for shampoos because it leaves your scalp feeling nice and refreshed, and just feels clean to me. That refreshing feeling is said to help stimulate the circulation in the scalp and may help stimulate hair growth.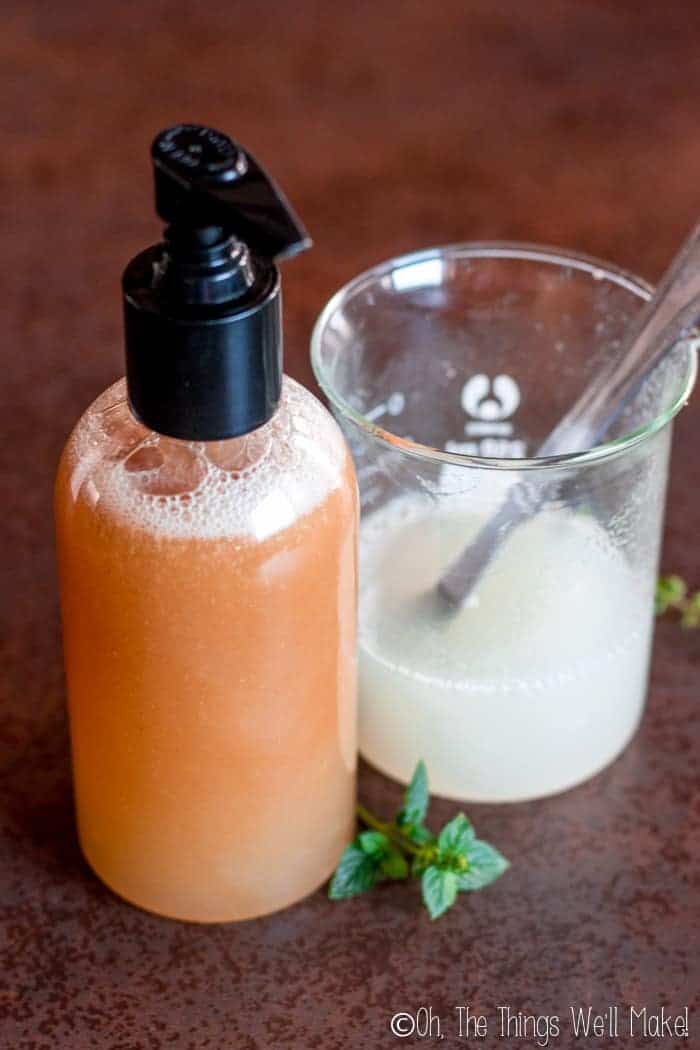 Prefer to use a floral water or some other infusion? Go for it. It's your shampoo. Nettle tea would also make a good base as nettle is also said to be great to help fight hair loss. You could have the best of both worlds by using a nettle infusion and some peppermint essential oils.
The surfactants
You can experiment by changing up some of the surfactants in this shampoo. I used a mix of non-ionic surfactants (coco glucoside and decyl glucoside) as well as an amphoteric surfactant (coco betaine) to help boost the foaming. Because my husband likes a lot of lather to his shampoo, and I'm not using any of the harsher anionic surfactants like SLS, I'm using a relatively high percentage of surfactants in this recipe. You can reduce the percentage of surfactants added to make for an even gentler shampoo, but you will probably find that it will also lather a bit less.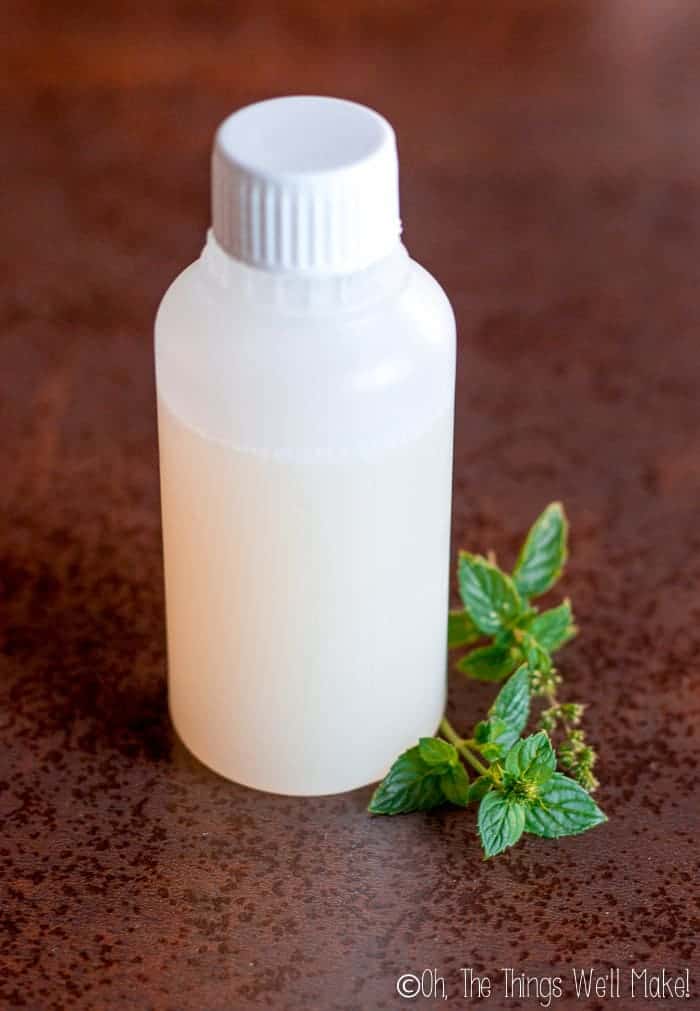 Natural DIY Clarifying Shampoo
Looking to make more?
Subscribe to my newsletter for the latest projects (and recipes)!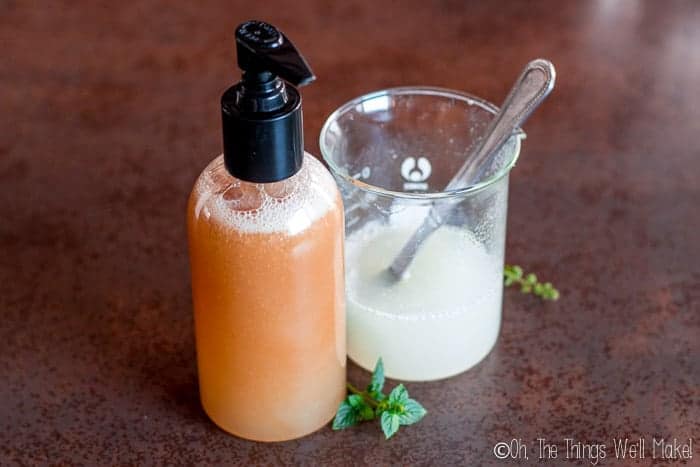 DIY Clarifying Shampoo
Cleanse your hair gently with this DIY clarifying shampoo that uses natural surfactants to remove dirt and leave your hair clean and soft.
Print
Rate
Instructions
Mix together the glycerin and xanthan gum until the xanthan gum is fully incorporated into the glycerin. Pre-mixing the xanthan gum into the glycerin will help ensure that you don't get lumps in your shampoo as xanthan gum can be tricky to mix into water.

Once you've incorporated the xanthan gum into the glycerin, you can begin to add the other ingredients. Slowly stir in each ingredient keeping in mind that vigorous stirring can cause foam production, making it more difficult to work with the shampoo.

Once you've finished mixing together all of the ingredients, check the pH of the shampoo with a pH test strip. You want your shampoo to fall in a slightly acidic range. (A pH of 4-5.5 is an ideal range to aim for.) You also want to make sure that the pH is suitable for the preservative that you are using.

If you need to adjust the pH, you can bring it down with the addition of a few drops of lactic acid or can raise the pH with either baking soda or sodium hydroxide (aka. lye). Otherwise, you are ready to bottle and use your natural homemade clarifying shampoo.