Clear up your skin with this easy, DIY charcoal face mask which is great for oily, combination, and acne prone skin.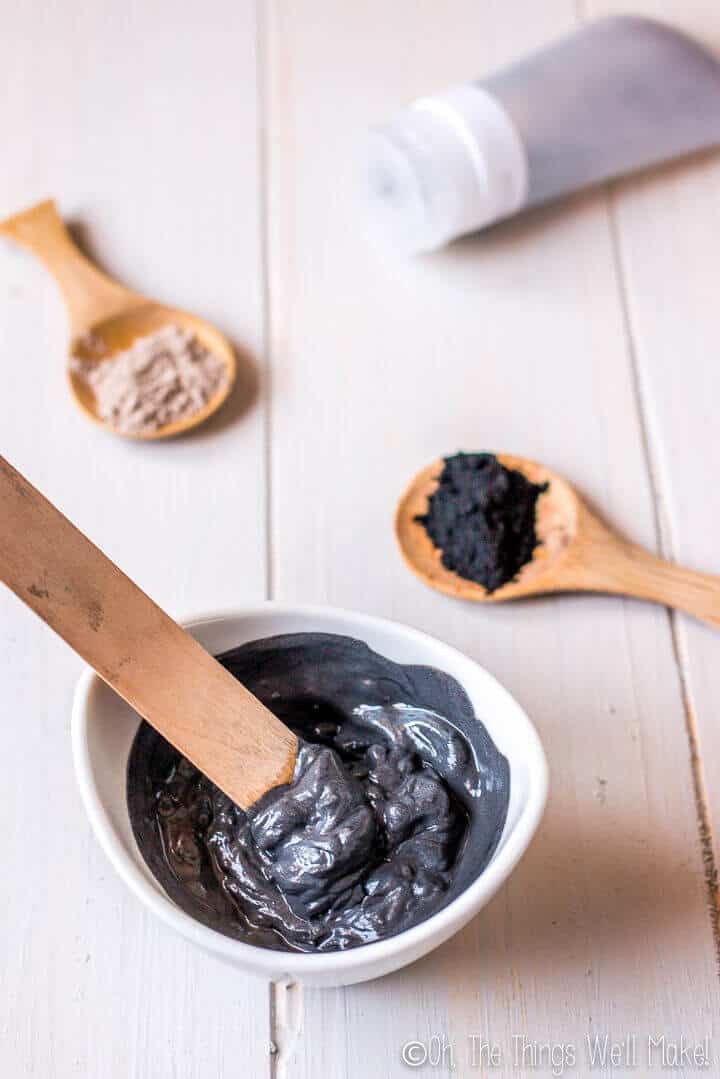 For the last 30 years of my life, I've battled with acne.
It all started in my teens, and when it was at its worst, I was using topical medications like Retin A, and taking antibiotics every day. I didn't realize that there were any cons to taking antibiotics all of the time, and just did what my dermatologist suggested. I had no idea that beneficial bacteria grew within our digestive tract, and didn't know that my constant antibiotic use was killing them all off.
To be honest, I'm not even sure that my skin was really that much better while using everything prescribed by my dermatologist, but I continued to use everything in the hopes of one day having perfect skin.
Watch me make the DIY Charcoal Face Mask
Ways to prevent acne
Fast forward many years, I still don't have perfect skin, but I am much more able to control my acne.
My skin is noticeably better when I'm eating lots of vegetables, clean meats, fish, and eggs, and limited sugars and processed foods. I'm pretty sure that dairy and sugars aggravate both my skin and my digestive issues, so I try to mostly avoid them, or stick to having small amounts occasionally rather than eat those sorts of foods every day. My triggers might not be the same as yours, but my suspicion is that most people with acne will have certain foods that will aggravate it.
I've finally started to use a homemade facial cream for oily and acne prone skin that allows me to moisturize without breaking out. I've come to realize that not all oils and moisturizers will aggravate acne, and that some non comedogenic oils can actually help balance the oils in your skin to help clear it.
When I do have the occasional breakout, I have found that this DIY charcoal face mask does a really great job of helping to clear up my skin. I also try to remember to use it weekly, even when I'm not battling acne, to help keep my skin clean and clear.
What skin types benefit most from this DIY charcoal face mask?
While everybody can benefit from the occasional facial mask, I think that bentonite clay masks are best for people with oily and combination skin. If your skin is both oily and acne prone, this mask is especially good for you!
People with normal skin may be able to tolerate certain clay masks, especially those made with milder clays, but I think that people with dry and sensitive skin should generally stay away from clay masks and use more hydrating facial masks instead.
What is bentonite clay?
Bentonite clay is a type of clay that is normally formed from broken down volcanic ash, and is a very absorbent clay. It is thought to be antimicrobial, which helps in the fight against acne. It's also thought to be extremely good at absorbing heavy metals and toxins from surrounding areas. That's the main reason that most people will say not to store or mix bentonite clay in metal containers.
Bentonite clay is often taken orally by people trying to detox themselves of heavy metals and other toxins, but it is also great as a topical treatment of skin conditions like acne or even eczema and psoriasis.
The pH of bentonite clay
Bentonite clay, like other clays, is naturally alkaline. It's pH normally falls somewhere between 8 and 9, or just slightly higher than 9, which makes is more alkaline than some other clays that are used for facial masks.
For that reason, some people with sensitive skin find that mixing bentonite clay with water, or anything with a neutral or alkaline pH, can be irritating to their skin.
Distilled witch hazel has a slightly acidic pH, somewhere around 5, so it helps to neutralize the alkalinity of the clay. If you don't have witch hazel on hand, and don't want to buy it, you can use plain distilled water instead.
If you have sensitive skin, and find that this DIY charcoal clay mask irritates your skin if mixed with water, you can try using apple cider vinegar or aloe juice as the liquid. Both aloe juice and apple cider vinegar have an acidic pH that will also help neutralize the alkalinity of the bentonite. (Aloe vera juice is said to have a pH of 4.5-5.5, while apple cider vinegar has a pH of between 2.9 and 3.3.)
Why use witch hazel?
Witch hazel is one of my favorite alternatives to distilled water in natural cosmetic recipes. It helps fight against acne, and can also help with skin inflammation, healing sores, killing bacteria within your pores, etc. In this recipe, it also helps to neutralize the alkalinity of the clay which helps make the mask more mild for those with sensitive skin.
I use a distilled witch hazel, rather than one with alcohol in it, and I find it works really well in this facial mask. If you find that witch hazel is irritating to your skin, for whatever reason, though, you can replace it with distilled water, aloe juice, or apple cider vinegar. (Aloe juice or apple cider vinegar are both acidic and will also help balance the pH of the mask.)
The benefits of activated charcoal
I already introduced activated charcoal, and some of its benefits, to you when I shared my recipe for an activated charcoal face soap here on the blog. Lately it is very popular in cosmetics, especially in facial cleansers and masks.
As with bentonite clay, activated charcoal is said to attract toxins to help "detox" your skin. When used in a facial mask, it can help clear out pores which helps make them smaller. It is also thought to help absorb excess oils and balance the oils of your skin, which in turn helps clear up acne.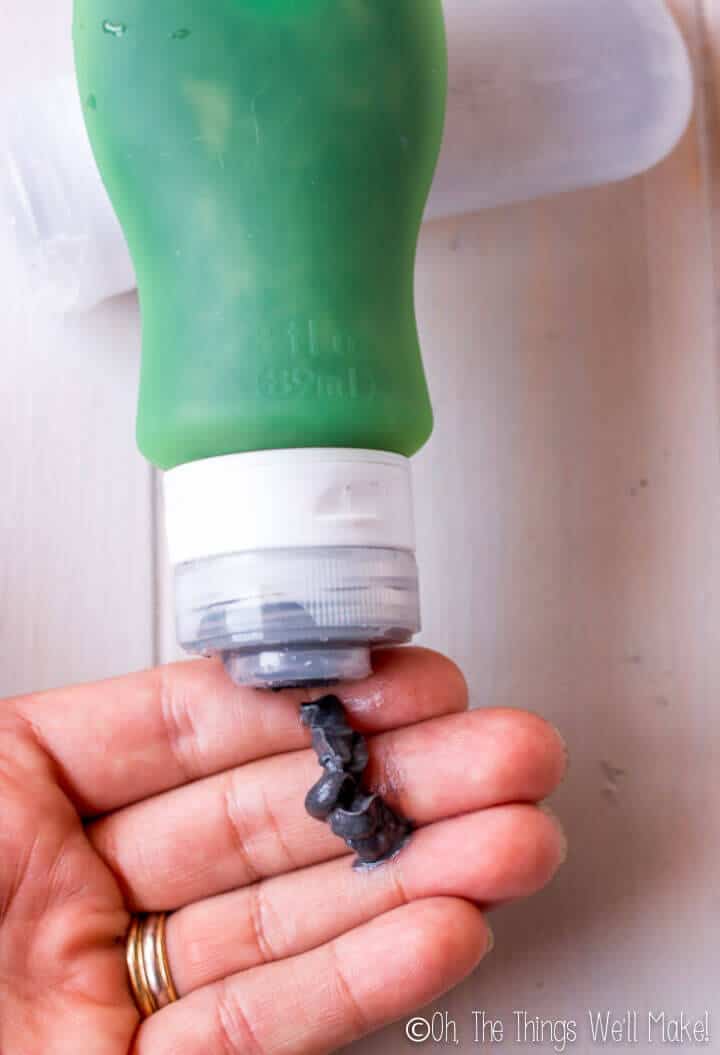 Storing your DIY charcoal face mask
While it's simple enough to mix together some activated charcoal, bentonite clay and water or witch hazel whenever you want to make a face mask, it's much more convenient to make a batch and use it up as you need it over the next couple of months.
As with any cosmetic with water in it, bacteria can start to grow in an already hydrated facial mask. Because the pH of bentonite clay tends to be on the high side, it will probably take some time for bacteria to form, especially if you begin with a pure clay, use distilled water, and mix it and conserve it in a way that bacteria isn't introduced into the product. (I store mine in silicone tube dispensers that allow me to dispense the clay without touching what is in the container.)
That said, because you can't really know without testing it if your batch has become contaminated by bacteria unless you have it tested, something that isn't practical or possible for most DIY-ers, you should use some sort of preservative for storing your hydrated facial mask.
I choose to use Leucidal when preserving my homemade clay masks. I've already talked a bit about Leucidal, a preservative made from fermenting radishes with a particular strain of bacteria, in my post about how to make a basic lotion. In the case of clay masks, I choose it over some of the other natural preservatives that I often use because it is effective at pH levels of up to around 9.
Because the pH of bentonite clay can be above 9, you should test out the pH of your particular clay before trying to preserve it with Leucidal. I do this by mixing a small amount in some distilled water and check the pH of the aqueous solution with some inexpensive test strips. When making the mask with distilled witch hazel, my mask is well within the effective range for the preservative.
If you only use water, though, and your clay mask does have a pH higher than 8, you can add a few drops of apple cider vinegar or lactic acid to help bring down the pH slightly before adding the leucidal to preserve it.
For masks, I usually use somewhere around 3% Leucidal by weight. I add it into the water component before mixing the clay into it. When I weighed out my mask ingredients using the measurements below, it ended up weighing around 85g without the preservative. A 3% concentration of Leucidal would be somewhere around 2.7 grams, so I like to use around 3g of preservative just to be on the safe side. When using Leucidal in this way, especially if being careful about not contaminating the mixture with bacteria, it should keep for around 3 months without bacterial/mold growth.
DIY Charcoal Face Mask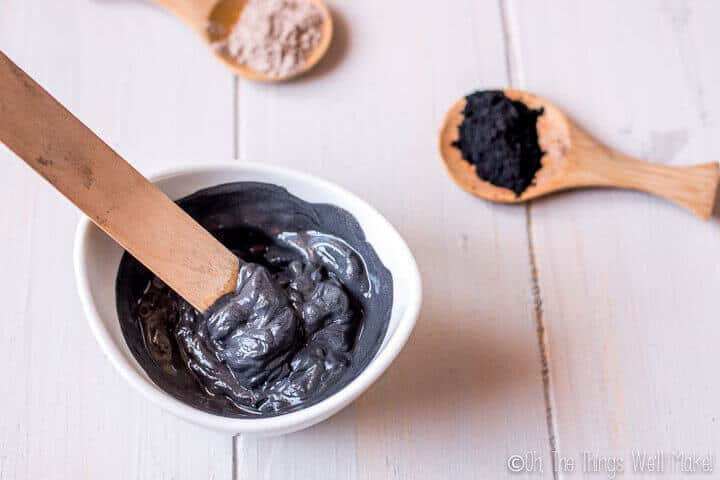 DIY Charcoal Face Mask
Clear up your skin with this easy, DIY charcoal face mask which is great for oily, combination, and acne prone skin.
Ingredients
Instructions
If you are using a combination of liquids like water and witch hazel, mix them together now. Remember that if you have sensitive skin, you can neutralize the clay somewhat by using witch hazel, apple cider vinegar, or aloe juice to lower the pH as needed. If using only water, the pH of the mask will be higher, which can be irritating to some people's skin. At this point, you should also add in any preservatives if you plan on using them to save the leftover mask for later.

Mix together the bentonite clay and the activated charcoal using plastic or wooden silverware. (Don't use a metal bowl.)

Add the clay mixture to the liquid mixture, and allow the clay to absorb the liquid little by little.

Stir together all of the ingredients, mixing them until they are well combined.

You can now apply the facial mask or store it for later. I like to store the facial mask in a silicone travel tube so that it can easily be dispensed without touching the clay inside the tube. This helps prevent bacterial contamination. Make sure to use an airtight container so that the clay doesn't dry out before you can use it. (That said, it is possible to rehydrate the clay if that does happen.)

Spread a thin layer of the mask all over the face, leaving the area around your eyes and your lips uncovered.

Allow the mask to completely dry.

Rinse the mask off completely with cool water and gently pat your skin dry.
SaveSaveSaveSave
SaveSave
This post is also available in Español.