There are several ways to make a homemade limoncello, limecello, or mandarinecello. I put several methods to the taste test. Which do you think won?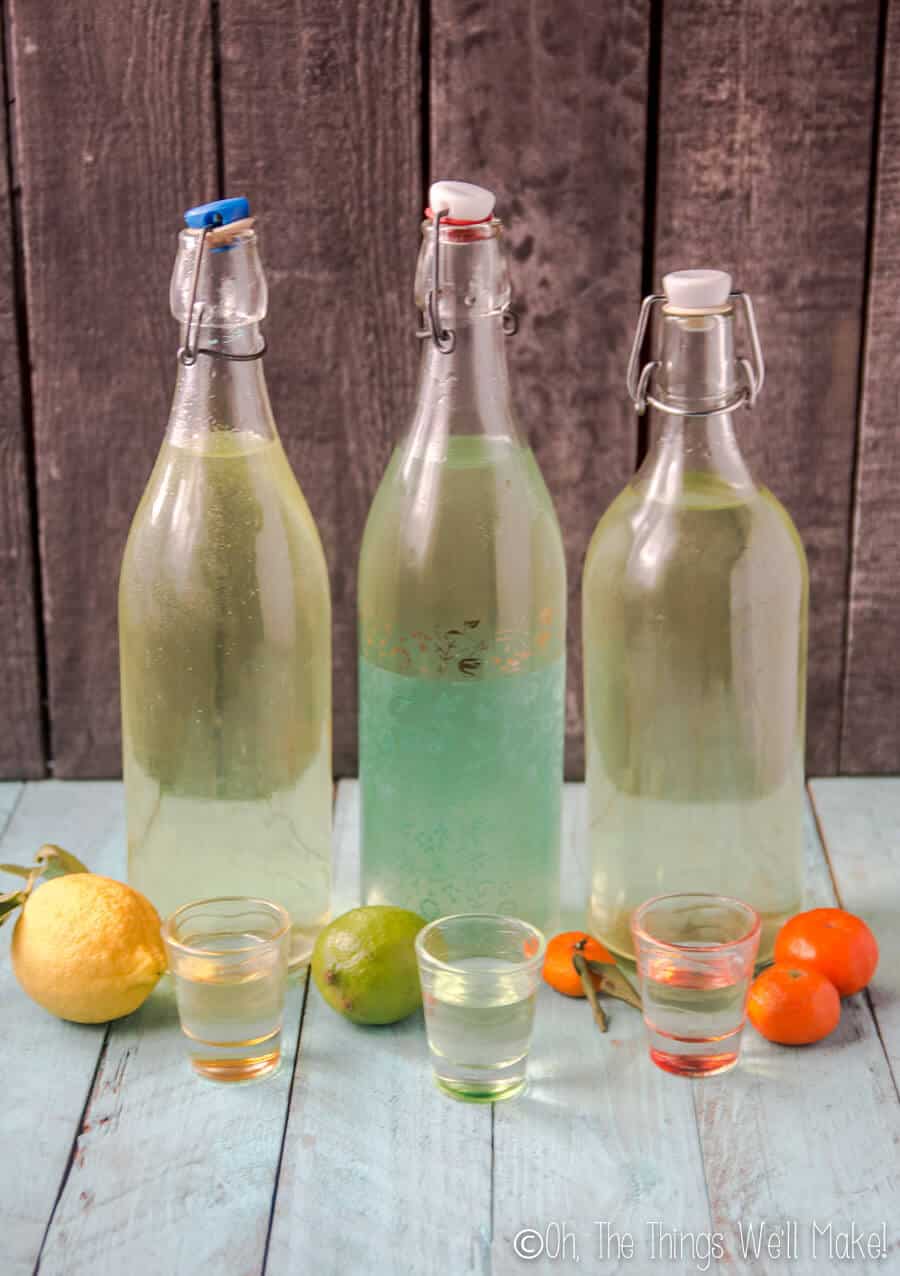 I've been making my own homemade liqueurs for quite some time now. Not only is it a money saver, but it allows you to experiment and make exactly what you want, using the ingredients you choose.
Here in Spain it is quite common for restaurants to serve you a shot of a liqueur as a special after dinner treat when you pay your bill. One day, after having eaten at a new restaurant, they offered us several different choices, and my husband surprised me by asking for limoncello. (He normally asks for mistella, a locally made wine liqueur made from muscatel grapes.)
"Hmmmm, he likes limoncello," I thought as it occurred to me that I had been wanting to make limoncello again for quite some time now, but never got around to it because I thought I'd be the only one drinking it.
Limoncello is an interesting liqueur that gets its flavor from the skins of lemons, but you can make variations of the liqueur using other citrus fruits like limes to make a homemade limecello and tangerines to make a homemade mandarincello. Seeing as we have several citrus trees in our yard (lemon, key lime, and clementine tangerine, to be exact), I decided to give making limoncello, limecello, and mandarinecello a shot using fruit from our trees.
When making limoncello, limecello, or mandarincello (or any other variation), you should look to find organic citrus fruits. Even if you aren't normally that picky when it comes to using only organic or not, in the case of these homemade liqueurs, you are infusing the oils of the zest into your liqueur. Along with the oils, you'll also get the color, flavor, and pesticides (if any), that remain in the outer layer of your fruit. To be on the safe side, I prefer to go organic all the way when it comes to making these, and by using my own fruit, I know exactly where it came from. 🙂
There are 2 popular methods for making homemade limoncello and its variations.
The quick, immersion method of making homemade limoncello
The quick method of making limoncello really only takes a matter of days, or even hours if you're in a real hurry. It basically consists of zesting the fruit, and adding the zest to vodka or some other strong alcohol without a lot of flavor, and allowing it to rest for hours or days until achieving the desired color and strength of flavor. You later strain the alcohol, add in some sugar syrup, and bottle up your finished homemade limoncello.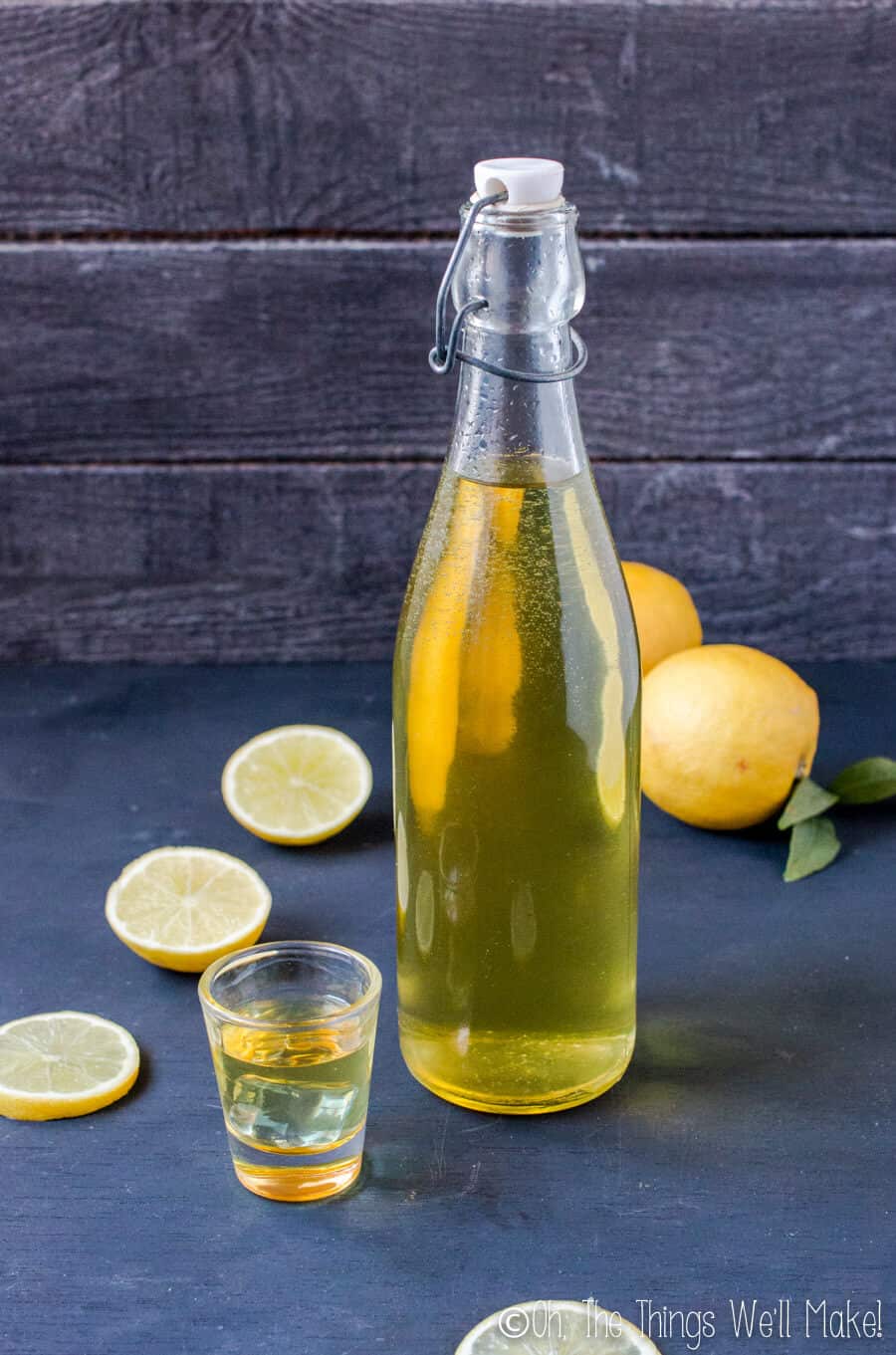 I had already tried this method in the past, and thought the result were good.
What I hadn't tried yet was another method that is normally said to make a superior limoncello.
The suspension method of making homemade limoncello
In the second method of making limoncello, the lemon peels don't actually touch the alcohol!
Rather than zest the citrus fruit, you suspend it in a cloth hammock over the alcohol in a sealed jar. Over several months, the alcohol vapors will rise up and condense on the fruit, and fall back down into the jar, imparting its delicate flavors into the liquid below.
You need at least 2 months for this method to work its magic, but it is normally said to give a superior, smoother limoncello with more depth of flavor so the wait should be worth it. It also gives a much paler looking liqueur because the alcohol isn't ever in direct contact with the peels.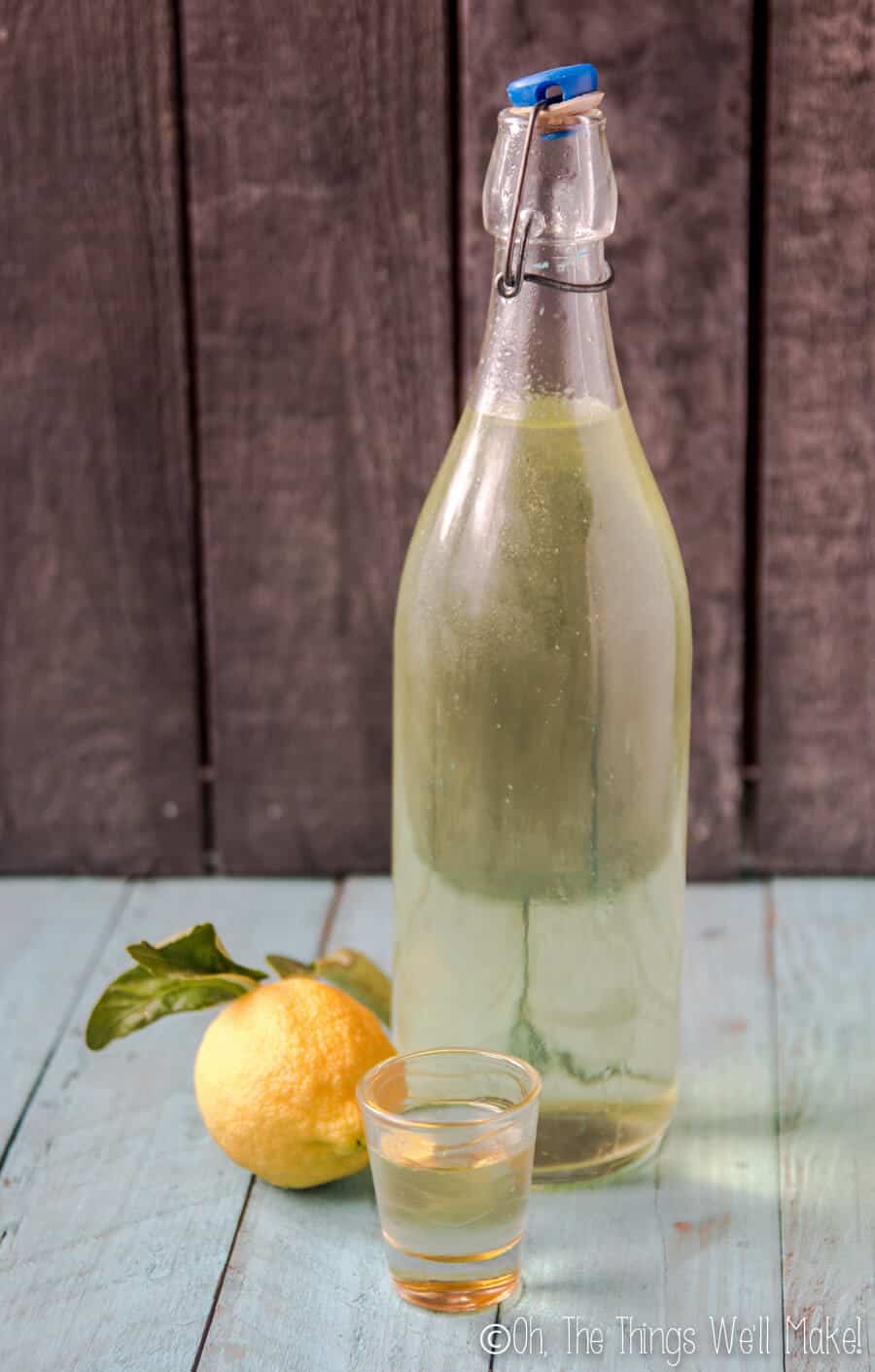 The combination method of making homemade limoncello
If you feel like you prefer the smoothness of the suspension method, but want the vibrance of the immersion method, you can also try using a combination of the two.
First, you suspend citrus fruits in a large jar over alcohol for several months, and then after removing the fruit, you add the zest of new fruit for an hour or so before straining and adding the sugar syrup. The idea here is to add in some of the oils by the immersion method into the already flavored and smooth limoncello base made by the suspension method.
Make sense?
Which method for making homemade limoncello is best?
When I first strained the bottles of limoncello, limecello, and mandarincello made by suspending the fruits in large jars over vodka last Christmas, I was really surprised by their smoothness, and was sure that I had made the best limoncello ever.
I decided that I wanted to add just a touch of added color and flavor, though, so I took the zest of fresh fruits and immersed them in the liqueurs for around an hour or so. (The combination method)
Once I strained the alcohol, I added in a simple sugar syrup, and bottled up the mixture. I was very proud of my smooth, sweet, homemade liqueur.
But then I thought to myself… It's a shame to waste this citrus zest from which I worked so hard to carefully remove the bitter white parts.
I took a small bottle, filled it partway full of vodka, and threw the lemon zest in the vodka overnight and for most of the rest of the next day. (It probably ended up actually being 2 days or so.)
When I finally got around to straining out the lemon peels, I noticed that they had given off a beautiful yellow color to the new batch of limoncello. I tasted the mixture and it had a stronger lemon flavor than the other batch, but also had more of a bite. It wasn't as smooth as the other batch.
I added the sugar syrup to it, and bottled them, and at the time decided that I liked the first batch better, but set the bottles aside for another week or so until some friends came over for a taste test.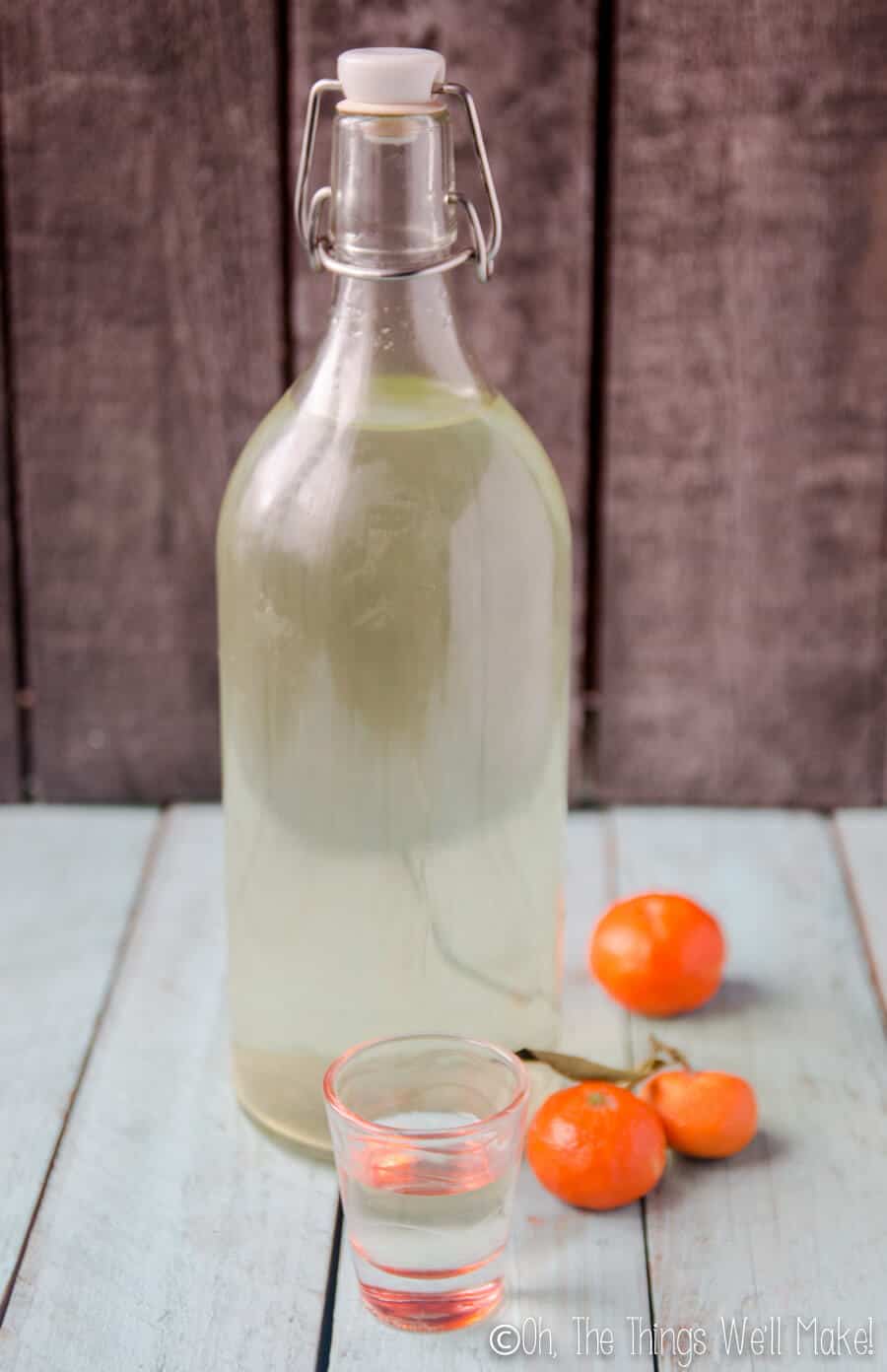 The taste test: Which method of making limoncello is best?
Last weekend a couple of friends came over to eat. After dinner, I decided to bring out the two types of limoncello for a scientific experiment. OK, that's a lie. There was nothing scientific about it, but I told them that I needed help deciding which homemade limoncello was best. Things would have been closer to scientific if I had allowed some people to try one first, and others to try the other first, and if it were a blind taste test, but anyway…
Of course I was sure that the limoncello made with the combination method was going to be the clear winner. I mean after patiently waiting several month for it to brew, it sure as heck better be.
The surprising result?
All four of us preferred the limoncello made by the quick immersion method that day!
Yes, even I had to admit that I did. I think the strong bite of the immersion method limoncello had already mellowed out a bit after resting for a week or so.
Note: Because it appears to improve with time, I'm going to suggest that it's probably best to wait at least a week or two after adding the sugar syrup to serve your homemade limoncello.
I don't know if it was because I served the other limoncello first, wanting to impress them with the best batch at the beginning. The limoncello made with the suspension/combination method is smoother and has more of a perfumed flavor, but it's lacking that strong lemon flavor and color that you normally associate with limoncello. When you try it, you enjoy its light smooth flavor, until you try the other limoncello, that is!
Even though the quick immersion method limoncello isn't as smooth as the other, it has a bold lemon flavor that the other is lacking. Everybody choose it because it was the one that tasted most like lemons, and it's the one that looks most like store bought limoncello!
It's really all a matter of preference, of course, but in our case we all preferred the strong lemon flavor of the immersion method limoncello.
From now on, I'll probably stick to the immersion method and let the zest of the fruit steep for longer. (I'll be steeping mine for at least a week next time!)
For now, I'll probably end up zesting more lemons and limes and throwing them in the suspension method limoncello for a few days to give it more flavor. (Unfortunately my tree no longer has tangerines left, so that one will have to wait until next year.)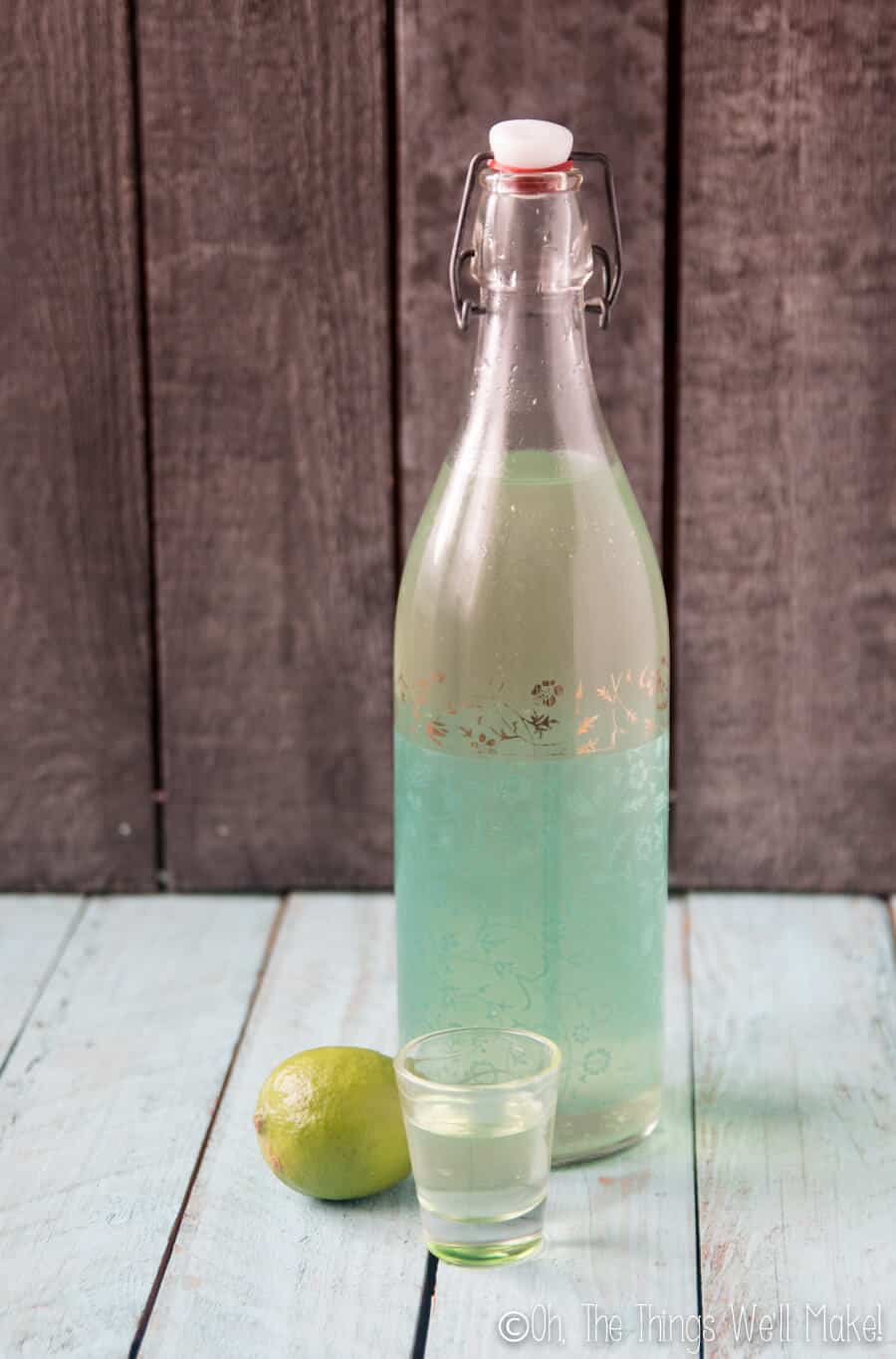 Which of the fruits makes the best liqueur?
Seeing as I normally like limes and tangerines more than lemons, I figured my least favorite was going to be limoncello.
I was just as surprised to find that I actually preferred limoncello to the others! Perhaps that's why it's the most commonly made. 🙂
Of course, having used the suspension method, the flavors from each of the fruits themselves weren't that potent, so there wasn't as big of a difference between them. I'll probably try again next year using the immersion method on all of my fruits, and we'll see which one is my favorite next year!
I'll try to remember to update this post with my new findings.
Have you tried making limoncello, limecello, or mandarinecello? Which method did you use? Which do you prefer?
Video
Craving more?
Subscribe to my newsletter for the latest recipes and tutorials!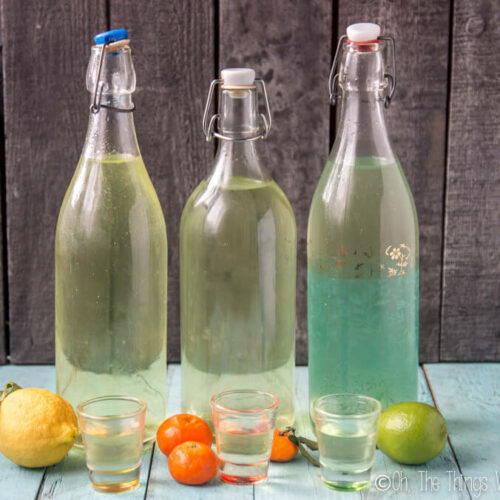 How to Make Homemade Limoncello, Limecello, and Mandarinecello
Makes just over 1 liter, depending on how much sugar syrup you add.
Print
Rate
Ingredients
Immersion method
4

large

lemons

(organic) or several limes or tangerines (You'll need more of smaller fruits)

750

ml

vodka

or other strong alcohol without a strong flavor
suspension method
2

large

lemons

( organic) or several limes or tangerines

750

ml

vodka

or other strong alcohol without a strong flavor
simple sugar syrup
450

g

sugar

(around 2 1/2 cups)

450

g

water

(around 2 1/2 cups)
Instructions
Suspension method
Add the vodka to a large jar with a lid.

Rinse 2 organic lemons. Place the lemons (or other citrus fruit) in a clean cotton cloth and suspend the lemon filled cloth in a jar over the vodka without letting the cloth and lemons touch the level of the liquid.

Carefully twist the lid over the cloth to secure the cloth and lemons in place.

Set the jar aside in a dark, cool place for 1-3 months.

After 1-3 months, remove the cloth and lemons.

Make a simple sugar syrup and allow it to cool. Add the sugar syrup little by little, mixing it with the lemon infused vodka and testing it as you go, and stopping when you've achieved the desired level of sweetness.
Immersion Method
Add the vodka to a large empty jar.

Rinse the fruit well, and then remove the zest from the lemons or other citrus fruits. I find that the easiest method is by using a vegetable peeler to peel off large strips of the peel. Check the back side of the peel for the white pith. If you are removing small strips, in some cases there will be little or no white pith left and you can throw those pieces directly into your jar.

Scrape off the white pith to keep the bitterness from going into the homemade limoncello. I find the easiest way to remove it is to place the peel yellow side down on a cutting board, and then carefully scraping off the white part with a sharp knife. Try not to use too much pressure when using this method, or you'll end up squeezing out a lot of the oils that we want in our liqueur.

Add the lemon zest pieces to the vodka, or other strong alcohol, and seal the jar. Let it rest in a cool, dark place at least overnight, if you're in a big hurry, but it gets better as you leave it to absorb the flavors for longer. I'd suggest leaving it for at least a week to allow it to really absorb the color and flavor. That said, after a couple of days, my batch was already a nice, bright yellow color and had a strong lemon flavor.

Strain the peels from the alcohol as you bottle it by using a fine sieve, cheesecloth or coffee filter in a funnel.

Make a simple sugar syrup and allow it to cool. Add the sugar syrup little by little, mixing it with the lemon infused vodka and testing it as you go, and stopping when you've achieved the desired level of sweetness.
Simple Sugar Syrup
Measure out the sugar and water in a small saucepan. Simple syrups are usually made with equal weights of sugar and water, but as this isn't the sort of recipe that needs to be super precise, you can also measure out the ingredients with a volume measurement like cups.

Heat the saucepan over medium heat while stirring the sugar and water together. Keep heating and stirring until the water is simmering and the sugar has fully dissolved in the water.

Remove the pan from the heat source and allow it to cool.

For this recipe, I used a white, refined sugar so that the resulting limoncello would be a pretty yellow color in the pictures. That said, the nice thing about making these sorts of recipes yourself is that you can control the ingredients. For my home batches, I'll be using an organic demerara sugar next time, and may even try sweetening it with either honey or maple syrup next time instead.

The other nice thing about making this recipe yourself, is that you can control how sweet/strong you want the resulting limoncello to be. As you add more of the sugar syrup, you'll end up with a sweeter, less strong liqueur. I only added around half of the sugar syrup to our batch, and we all felt it was sweet enough for us. Some people may want to add more than even the full batch made with 2 cups of sugar. That, of course, is completely up to you. I would recommend, though, adding the syrup little by little and taste testing along the way so that you don't end up making it too sweet.
Combination method
Begin with the suspension method steps 1-5, followed by the immersion method steps 1-5 using the lemon infused vodka obtained from the suspension method rather than fresh vodka.
Notes
You can use a stronger alcohol like everclear to make limoncello. It is said to better and more quickly absorb the oils form the peels. Of course, it will also give you a stronger limoncello which you may or may not like. You can always add a little more water to the final batch if it's already sweet enough, but still a bit too strong.
If you're in a hurry, and don't have a lot of time, but want to add more flavor to your batch, you can also add a few drops of a food safe lemon essential oil to your batch. I tried it in a small bottle of mine, and really loved the added flavor/scent that it gave the liqueur.
Calories:
148
kcal
|
Carbohydrates:
12
g
|
Sodium:
1
mg
|
Sugar:
12
g
|
Vitamin C:
0.1
mg